Photos by Ryan Belville
---
Thinking about your ride or dream car you drool over each night. Building a project car can quickly take on an exhilarating never-ending life of its own, and each item on your mod list only takes you deeper. We all assume once we get our quick fix with a few simple bolt-on parts or upgrades we'll be satisfied and move on. Well, tuner Aaron Vaccar (and probably most ex-wives / girlfriends), will be the first to say you're in denial if you think that's true!
Within the first few moments of speaking with Vaccar, it was clear this middle of no-where North East Ohio-native lives the enthusiast lifestyle. As the President of ACV Motorsports, Vaccar's company provides services including automotive design, marketing, and online retail shopping. No stranger to the road, Vaccar and his father travel in their custom rig to over two dozen events every show season. "It's not just my job, it's what I live for, I love anything that has to do with this industry," says Vaccar.
His Subaru STi was already a sinister streetcar and show stopping award winner, but the thought-to-be finished project was reincarnated when Vaccar learned The Club (makers of the automotive club security device) wanted him to build a car to promote their brand and Vaccar's own ACVmailorder.com. This opportunity meant his already built and finished Subaru STi was about to be torn apart and overhauled with a new vision in mind.
"Parts were not exchanged just for the sake of changing the car – There were already a lot of quality parts of the car, so any updated products used had to be at least twice as good as what they replace. Two things were on my mind when changing the car… first, it had to look meaner than before and second,Rear_opt it definitely needed to have even more power," Vaccar says smiling.
Obtaining an aggressive look, while still keeping the 'clean' Subaru style is no easy task. Ultimately, Vaccar opted for a full Charge Speed body kit from Japan which he dipped in OEM Platinum Silver Metallic. Some functional additions to the front bumper include a custom aluminum lip brush guard and quick release dzus fasteners to make pulling the front end off quick and easy. Other subtle upgrades include an AeroSync reverse hood scoop and a shaved and wingless WRX trunk – leaving no signs that this is in fact an authentic Sti.
Giving the exterior the most dramatic change is the new wheel and brake combination. "When coming up with ideas, two names quickly entered my head, HRE and Endless. I have been using hand built HRE Performance Wheels exclusively on my Signature Series cars for the past few years now. This time I wanted to try their Competition Series wheels engineered for the track that feature titanium fasteners. HRE created a one-off brushed metal lip, paired with a polished face," explains Vaccar.
The wheels sit tightly over a full set of Endless 6 piston big brakes up front and 4 piston brakes in the rear. "I had always wanted to use Endless brakes on one of my cars mostly for their quality and rarity. If I was going to replace my OEM Brembo brakes, I was going to fully upgrade both the front and back to big brake kits, or nothing at all," he says.
Getting the car to sit slammed, while still maintaining functionality and driving performance was another difficult task. Wheel fitment was clearly dialed in carefully. With the HRE's ordered in an aggressive 19x9 +28, a combination of proper suspension components and settings would be crucial. He sat the Engine_optSTi down on a set of adjustable Cusco Zero2E coilovers, paired with a Cusco E-con electronic dampening controller. The next step was selecting just the right tire size, camber and fender medications to perfectly fit the wheels flush under the fenders.
Turbo XS themselves tuned the STi to a very reliable, drivable 410whp and 419lbs/ft. on a smaller Garret GT30R which is nothing to scoff at. The STi already had a rotated turbo kit, exhaust and intercooler from other brands. During his quest for bigger power, Vaccar replaced previous parts with Turbo XS components. Vaccar started with their new Rotated Turbo Kit for the Subaru WRX and STi. The kit can be configured to come with almost everything you need to make your Subaru a fire-breathing monster. The forced air is chilled with their intercooler kit and exhaust gasses exit through their titanium tip exhaust. Wanting to use the most innovative products available, he also decided to swap the common Garret GT Series turbos, stepping up to a Turbonetics GT-K 550 turbocharger. He also had LowTech in Ohio swap out the standard Tial 44mm flange on the up-pipe in place of one to accept a brand new Turbonetics RG-45 wastegate. Vaccar is optimistic this combination of parts, under the control of Turbo XS's UTEC engine management will produce around 500whp!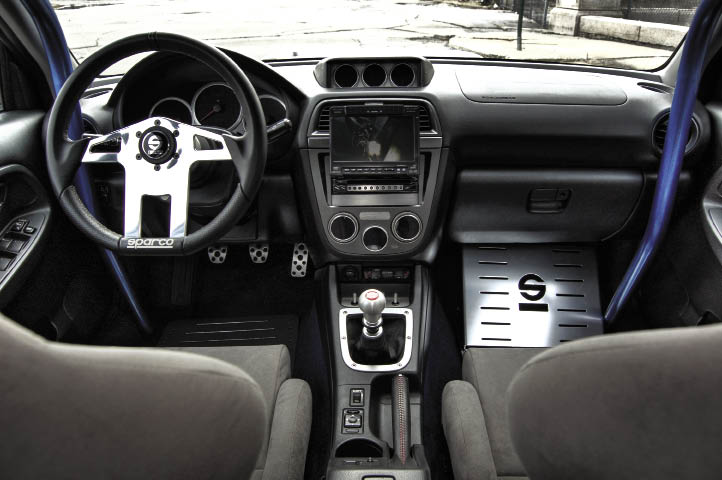 This Subaru may have track-car power, but its clean look and feel is a theme carrying throughout the interior. Structurally speaking, the STi is fitted with a Cusco roll cage and reinforced with two Cusco polished add-on bars. In an effort to be different, Vaccar choose a few rare products from Sparco including their full gray Alcantara Milano 2 seats, real competition series harnesses with harness pads, Sparco Hexagon model steering wheel and aluminum floorProfile_opt plates complete with navigator foot rest. The interior is filled with lots of other bits of customization; including the use of brushed aluminum accents and seatbelt deletes, custom mounting of Nexus gauges and even a rare Night Pager flip-up hub. Portage Trim in Ohio then used authentic Sparco Alcantara to wrap the rest of the interior pieces for a complete, finished look.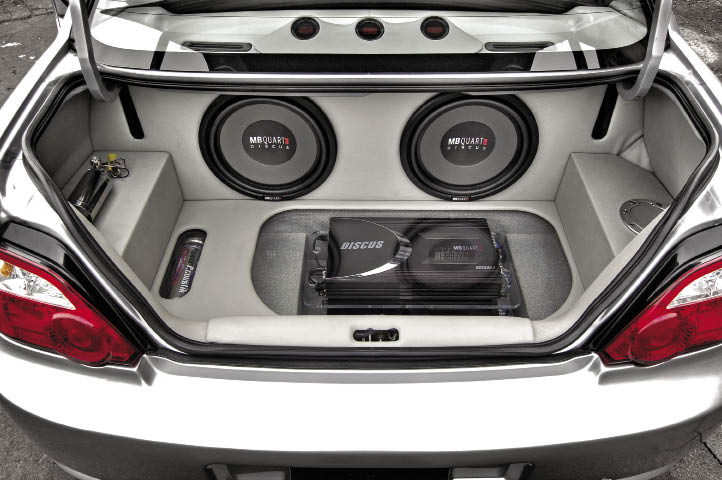 The STi was in need of a great sound system because horsepower isn't the only thing that makes a real tuner car fun to drive! A Clarion in dash flip-out touch screen DVD player controls an array of MB Quart mobile audio products. "Before I was big in the automotive industry, I was a touring musician, so I am extremely particular about sound quality – I recently made the switch to MB Quart Discus series products, and I have not looked back. MB Quart definitely made an impression with me and I will continue to use their products in my other builds. I actually had the opportunity to visit their headquarters in Illinois to share some of my cars using their products – they are a standup company," Vaccar exclaims.
When asked what's next after life on the road this season, Vaccar laughed and hinted at his next big project. "I grew up building hot rods and muscle cars… I'm not quite done with American power. This year I have the pleasure of teaming up with Ford to build something special for 2009 SEMA Show. Keep an eye out for what is to come, because you won't expect it!"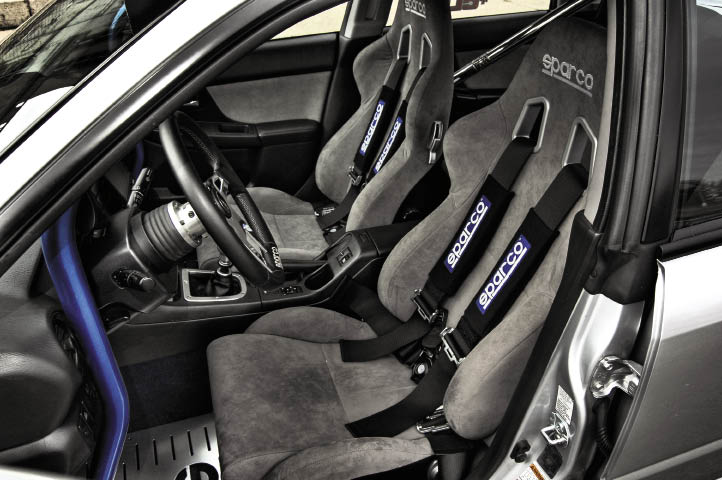 So at the end of all of this hard work Aaron Vaccar and his Subaru STi are finally rolling out on tour! Make sure to catch Aaron at one of the 30-some shows and events he will be attending this year. If you think his STi is hype, be sure to scope out his custom built Trailex aluminum trailer. Where you find his trailer, you'll find Aaron Vaccar often giving away free posters and car parts!

ESSENTIALS
Owner: AARON VACCAR
Location: YOUNGSTOWN, OH
Online: AARONVACAR.COM
Vehicle: 2004 SUBARU STI
power: 650HP / 500WHP (EST.)
ENGINE & PERFORMANCE
Turbo XS UTEC Engine Management
Turbo XS 5-bar MAP Sensor
Turbo XS Fuel Cut Defender
Turbo XS Boost Controller
Turbo XS Front Mount Intercooler Kit
Turbo XS Type H34 Racing Bypass Valve
Turbo XS Rotated Turbo Kit
Turbo XS Titanium Tip Exhaust System
Turbonetics GT-K 550 Turbocharger
Turbonetics RG-45 Wastegate
Perrin Equal Length Header
Perrin V1 Fuel Rail Kit
Power Enterprise 850cc Injectors
Walbro 255lph Fuel Pump
Sun CyperSpeed Hyper Voltage System
Mr. Gasket Thermocap Radiator Cap
JAZ Mini Breather Tank
Agency Power Oil Cap
Optima Red Top Battery
LowTech Relocated Header Tank
Exedy Multi-Disc Clutch/Flywheel
Kartboy Short Shifter and Bushings
Aaron Vaccar Signature Series Engine Cover
WHEELS, TIRES, BRAKES
HRE Performance Wheels C22 19"x9"
Sumitomo Tires 225/35/19
Endless 6-Pot Front Brake Kit
Endless 4-Pot Rear Brake Kit
SUSPENSION
Cusco Zero2E Coilovers
Cusco E-con (Electronic Rebound Force Adjustment)
Cusco Type OS front strut bar
Ingalls Adjustable Camber Kits
EXTERIOR
Charge Speed Type-1 Front Bumper
Charge Speed Type-1 Rear Bumper
Charge Speed Type-2 Side Skirts
Aero Sync Reverse Hood Scoop
Custom Aluminum Lip Brush Guard
Quick Release Front Bumper
Shaved OEM Trunk Lid
Rolled/Pulled Fenders
Canfield Collision Paint/Body Work
INTERIOR
Cusco Roll Cage
Cusco Add-on Polished Cage Bars
Portage Trim Custom Upholstery
Sparco Milano 2 Alcantara Seats
Sparco Competition Harnesses and Harness Pads
Sparco floor plates and Navigator footrest
Sparco Hexagon Steering wheel
Night Pager Flip-Up Quick Release
Autometer NEXUS Gauges: Boost, EGT,
Oil pressure,Oil Temperature, Water Temperature, and Fuel Pressure
Flash Backs Aluminum Seatbelt Deletes,
Gauge Pod/panel, Radio and Switch panels
Pilot Switches
Glove Box Climate Control Panel
Kart Boy Knuckleball Shift Knob
Polished Fire Extinguisher
AUDIO, MULTIMEDIA
Horizon Audio Full Custom Installation
Clarion 7" Flip-out CD/DVD Player/Monitor
MB Quart Discus 6.5" Component Set
MB Quart Discus 5.25" Coaxial Speaker Set
MB Quart Discus DVC 12" Subwoofers
MB Quart Discus 4125 4-Channel Amplifier
MB Quart Discus 500.1 Mono Amplifier
Custom Full Trunk Enclosure
Custom Trunk Lid with 7" Nesa Monitor
Custom Rear Window Deck Lid and Gauge Cluster w/Cyberdyne Digital Amp Temperature Gauges
Custom Intercooler Water Spray Reservoir Cover w/Polished Gas Door
Power Acoustik Capacitor
Optima Blue Top Hidden Trunk Battery
Dynamat Liner
Compustar Security System with Turbo Timer
L.E.D. lights
SHOUT-OUTS
AaronVaccar.com
ACVmailorder.com
The Club
HRE Performance Wheels
LowTech
MB Quart
Trailex Aluninum Trailers
Turbo XS
Turbonetics