Photography by The WD Corp
---
There is no telling what people will do when in the anonymity of being inside a large group. Definitely not the kind of behavior they show when running solo. Need proof? Head out to a sporting event where all kinds of different folks are hurling obscenities and even solid objects at the opposing team. It's something about being part of a larger clique that empowers some individual to do, say and act in any way they want with no retribution or consequence. There is almost a primal force of mob mentality that takes over some of us and that spirit is alive and well in the army of Mobsteel Lincoln Continentals running around the streets of America.
Based on the outskirts of Detroit, Mobsteel is a company that is bent on kicking it oldschool and keeping it gangster. Flatbed some weaksauce Cadillac over there or try and get a tacky White on Ostrich skin custom Lincoln and you'll be sadly mistaken and lucky to escape with only minor cuts and bruises. "At Mobsteel we only do classic 60s Continentals and we even paint them any color you like... as long as it's black," smiles Mobsteel owner, Adam Genei. "Basically, big, black and bad Lincolns are our Mobsteel signature and if you want something else, you know where the F%@#in door is."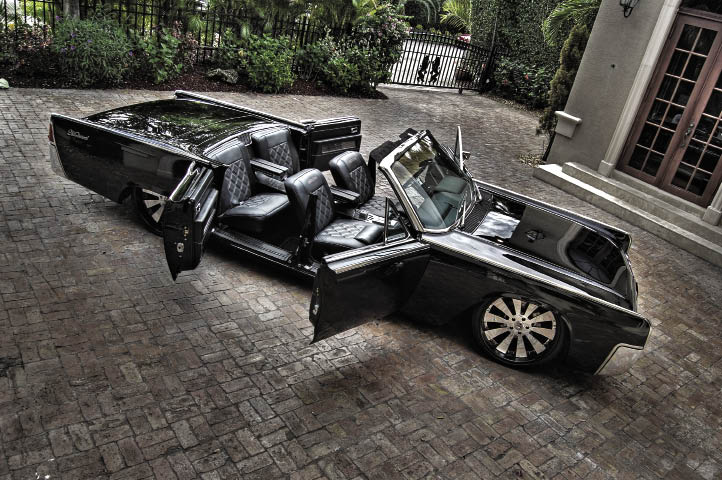 So when a Miami-based millionaire Joseph Safina (a race car driver who's competed in Rolex Daytona 24hr race) contacted Mobsteel headquarters in Brighton, MI Genei was on the same page, when the customer asked for a black-on-black custom sled. The shell was a clean 1964 Lincoln Continental convertible and other than the frame and some metal, most of the car is completely Mobsteel custom order. As with all Mobsteel projects very little Lincoln remains as they flawlessly fabricate almost everything right down to the badging!
The project started under the massive hood where a built 429 CobraJet motor was installed. Austin Jordan in Grand Rapids, MI was contracted to slip this motor inside the engine bay. After it was bolted up, a Magnaflow stainless exhaust system with some angry sounding resonators and mufflers was added. The end result is a healthy 425hp with 430lb-ft of torque to push this 6,100lb car around.
While the motor was being prepped, Mobsteel started their extensive work on the shell of the car. It wasn't until a recent visit to Mobsteel HQ (during a Detroit Metallica concert) that we realized just how much modification is done to the full body because it appears so close to perfect stock condition. The OEM-caliber of their impeccable bodywork is actually so subtle, it's hard to see the difference, but you can bet the body is trademark Mobsteel by the time they are done with it. The car is completely stripped of moldings trim and the handles are shaved clean. They raise the belt-line of the car and smooth out the entire sides ensuring everything is flush. The front and rear bumper are custom Mobsteel, as are of the emblems and badging on the car. After the body is complete, it was coated in 4-coats of SEM Color Horizons Jet Black and then shot in 6-coats of clear for that sinister signature shine.
The rollers are a set of Mobsteel's NY Joe 22-inch alloys. These custom wheels can be ordered in any size and offset but this particular ride runs 22x9.5-inch up front with 22x10-inch out back. Up front are Pirelli P-Zero Nero 256/30R22 and 295/25R22 meats for the rear drive wheels. To get the right stance, Mobsteel fitted the large Conti with their rear sub-frame, which consists of a triangulated 4-link suspension. The Slam Specialties air bag system is used to raise and lower it to get that perect sled like stance. The brakes have all been upgraded to Mobsteel-spec discs 13-inch up front and 12-inch in the back gripped by 2-piston calipers. They even added their own sway bars to reduce body-roll.
The interior received as much or more attention to detail and is decidedly more modern and functional. C&S Stitchworks in Brighton, MI was contracted to reskin the interior with front seats that are 6-way power adjustable. A Billet Specialties wheel is complimented by a 2009 Flex shift knob and Nordskog digital gauges. The custom floating center console is finished in an exclusive Mobsteel material and their logo is stitched into the seats. The focus then moved to the audio when Genei contacted Rockford Fosgate to provide the block rockin' boom. With signals from an Alpine IVA-W505 headunit, the lows head to a Rockford Fosgate 1500.1 mono amp driving twin Rockford Fosgate P3 subs in the trunk. The mids and highs feed into a 600.4 and out to Rockford Fosgate 6.5-inch components with Power tweets. A Rockford Fosgate wiring kit and a capacitor was added to connect it all up.
Mobsteel is responsible for yet another fine Lincoln pumped out of Michigan. This unapologetic machine is brash and angry, so those wandering around in front of it should get out of the way. After all, the Mobsteel motto of "Rides to Die For" can be interpreted a few different ways.
---
ESSENTIALS
Owner: Joseph Safina
Location: Ft. Lauderdale, FL
Vehicle: 1964 Lincoln Continental
power: 450hp with 430lb-ft

ENGINE & PERFORMANCE
WHEELS, TIRES, BRAKES
Mobsteel NY Joe 22-inch alloys - 22x9.5-inch (f), 22x10-inch (r)
Pirelli P-Zero Nero Tires - 265/30R22 (f), 295/25R22 (r)
Mobsteel-spec disc brakes13 & 12-inch w/ 2-piston calipers.
SUSPENSION
Mobsteel triangulated 4-link suspension.
Slam Specialties air bag system
Mobsteel sway bars
EXTERIOR
Mobsteel custom bodywork
Mobsteel chrome bumpers
Mobsteel emblems and badging
4-coats of SEM Color Horizons Jet Black
6-coats of clear
INTERIOR
C&S Stitchworks in Brighton, MI
6-way power adjustable seats
Billet Specialties steering wheel
2009 Flex shift knob
Nordskog digital gauges.
The custom floating center console
AUDIO / MULTIMEDIA
Alpine IVA-W505 headunit
Rockford Fosgate 1500.1 mono amp
Rockford Fosgate P3 12-inch subs
Rockford Fosgate 600.4 4-channel amp
Rockford Fosgate 6.5-inch components
A Rockford Fosgate wiring kit and a capacitor
SHOUTOUTS
Pirelli, Rockford Fosgate, Dynamat
SEM Paint, Magnaflow