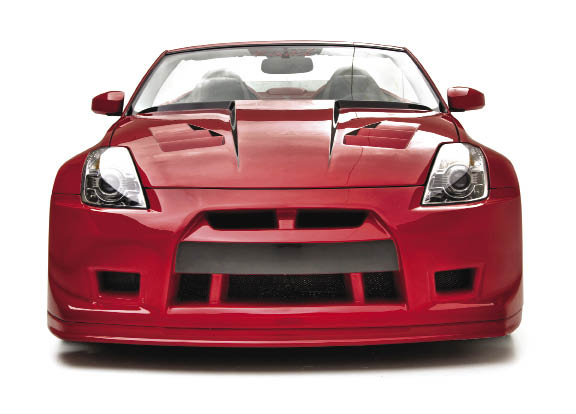 Written by Dave Pankew / Photography by RCH Designs
Huntington Beach in California is an odd place. On the one hand you have loads of tourists from around the globe taking in its beautiful scenery. They are milling around the immense sprawling beaches armed with cameras and usually wearing too much clothes for a sunny day. After the sun dips down, they pack the restaurants and bars to unwind from the days activities over a few pricey cocktails. But on the other side, this place is pretty hardcore. It's home to plenty of fringe surfers, skateboarders, mixed martial arts and extreme sports enthusiasts. There is never a dull moment around here and action can be found at every turn. Huntington Beach has a style all its own, from clothing to music, to bikes and cars. There are loads of young cats rolling in retro muscle cars and lifted OC-style trucks, making it rare to spot highly modified imports at the corner of PCH and Main on any given night.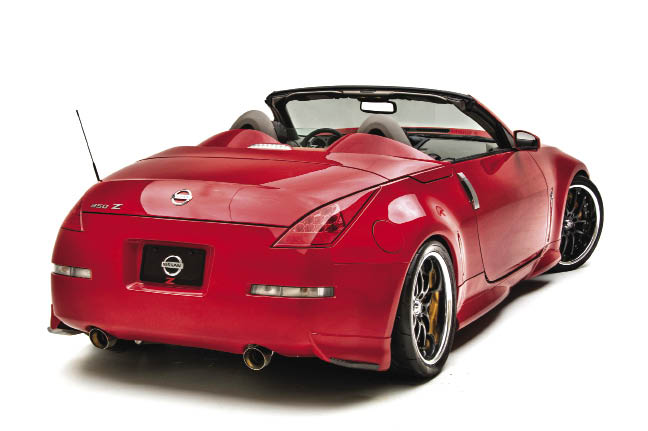 Manny deEncio has bucked the trend at his Huntington Beach customizing business, Automotive Design Concepts with this neck-breaking 350Z. A Muscle car it's not, but it certainly packs a lot of heat under the lid of this Japanese roadster. With a list of clients ranging from a widebdy G37 sedan to outrageous Hummer H1s, deEncio has experience with many different platforms.
On this project, the focus was some basic modifications under the hood starting with a Mishimoto aluminum rad and Mishimoto silicone hoses, plus a K&N Typhoon intake system and a growling Magnaflow 3-inch stainless system. The OEM battery was upgraded more to a powerful race-ready Kinetik Racing Cell.
The exterior though was a totally different deal. The owner wanted some outrageous body styling that would get serious looks and that came in the form of a kit from California-based AIT Racing. The Nissan GT-R inspired looks of the 4-piece kit were complimented by an AIT Racing R1-series carbon fiber hood. The bodywork was performed at Auto Explosion in Gardena, CA who shot the car in flawless PPG Radiance Collection Hell Fire Red and buffed it to perfection.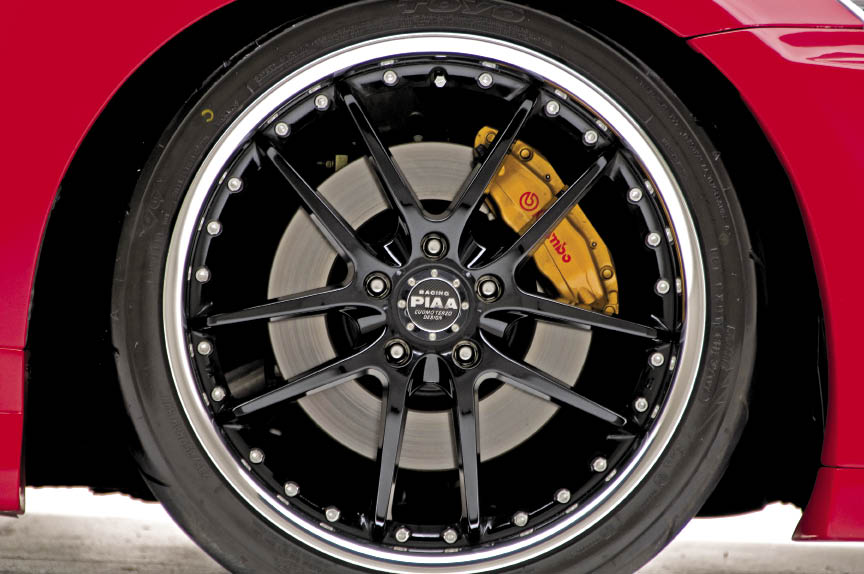 The wheels selected for the project were bound to turn some heads. A set of popular PIAA Super Rozzas were added with 19x8.5-inch front wrapped in sticky-icky Toyo Proxes R888 235/35R19s. On the rear, the Rozzas expand to 19x10-inches with wide 295/30R19 Toyo's camping out in the back. The Brembo brakes, dampers and suspension goodies are all stock with the exception of Eibach Springs which slightly drop the car only 1-inch. Drop the top and we found some subtle moves inside this 2-seater that really set it off.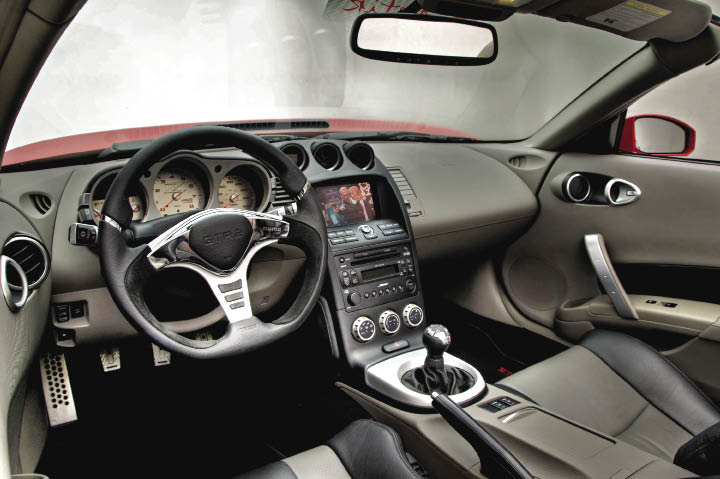 The ADC Upholstery shop in Huntington Beach, CA took the car to re-skin the seats with Katzkin covers. A Momo GTR2 steering wheel and matching shift knob were added in addition to a Momo stainless pedal set. The majority of the factory audio system had to go, making way for what this project is really all about.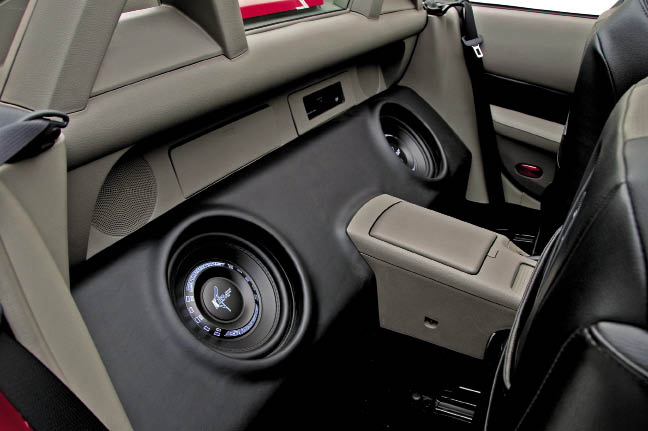 Using the factory DVD Navigation, the balance of the speakers, amps and wiring was pulled in favor of new and improved aftermarket gear. A pair of Crossfire amps, the XP1000D and the XP4802 were wired up to drive the subs. There are three subs installed in the project, twin Crossfire BMF 10-inch subs and a single Crossfire BMF 12-inch in the trunk. The mid-range amp is a Crossfire XP3204 driving three sets of Crossfire HCX652 coaxials inside cab and trunk.
The entire system is lit up by single and powerful Kinetik HC1800 connected by Tsunami gear throughout the car. The end result is a powerful, yet tight sounding install done by the guys over at Pro-Line Car Audio in Irwindale, CA. Builder deEncio considers this Z strictly a demo vehicle that doesn't see much street time. It is a blend of good looks and audio with already inherent performance from the potent VQ35DE. For now, deEncio wants to keep it pretty for the various shows he attends and that is all about staying off the mean streets of Huntington Beach.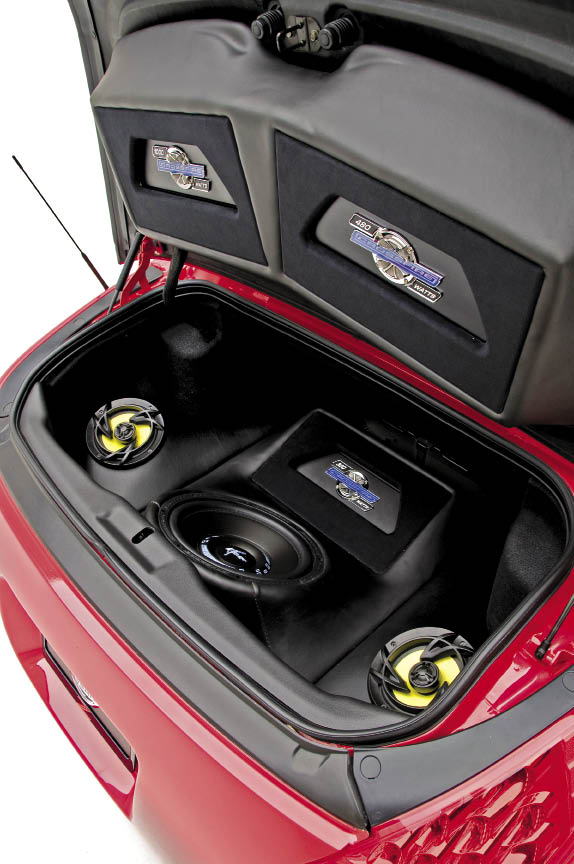 THE ESSENTIALS
Builder: Manny de Encio
Location: Huntington beach, CA
Vehicle: 2008 Nissan 350Z
Engine: Nissan 3.5L VQ35DE-HR V6
ENGINE MODIFICATIONS
K&N Typhoon intake system
Magnaflow stainless exhaust
Mishimoto aluminum radiator
Mishimoto silicone hoses
SUSPENSION
Eibach Pro Line springs
EXTERIOR
AIT Racing GT-R body kit
AIT Racing R1-series hood
PPG Hell Fire Red paint
WHEELS & TIRES
PIAA Super Rozza Wheels
Toyo R888 Tires
F: 19x8.5-inch with 235/35R19
R: 19x10-inch with 295/30R19
INTERIOR
Momo GTR2 steering wheel
Momo GTR2 shift knob
Momo Pedal set
Katzkin leather upholstery
AUDIO / MULTIMEDIA
Factory DVD/Nav
Crossfire XP1000D mono amp
Crossfire XP4802 bass amp
Crossfire BMF 10-inch subs x2
Crossfire BMF 12-inch sub
Crossfire XP3204 mid-range amp
Crossfire HCX652 coaxial x3
Kinetik HC1800
Kinetik Racing Cell (under hood)
Tsunami wiring
SHOUTOUTS
Toyo Tires, AIT Racing, Auto Explosion, Crossfire Audio, Eibach, K&N Filters, Katzkin, Kinetik Power Cell, Mishimoto, License Frame Inc, Magnaflow, Meguiar's, Metra, Momo, PIAA, PPG, Superior Mats, US Speedo