I can predict with almost 100% accuracy when a tuner has grown up in the sport compact scene from a young age. They usually started with a Honda / Acura as their first project car and are now around their low to mid 30s, but still have the urge to tweak their rides. These OGs have been there and done that, likely with an EG or DC2 they modded the seams out of it until there was nothing left to do. They were probably several thousand dollars deep into their rides and likely got tired of dropping money into it and eventually parted-out on eBay.
Enter Eric Shih of Fremont, CA. The former Honda customizer (Accord if you want to get specific) hung up the H-badge and started looking for a car with presence. "I chose the E46 M3 because of its timeless looks," says Shih. "There are plenty of mods available for it, but even in stock form it offers so much performance in a very well-engineered package." He claims it was the perfect package to start modding and could have got crazy carried away with the project, but wanted to keep his BMW drivable.
Shih took the car to the power experts at VF Engineering in Anaheim, CA to have them perform the engine mods that would propel this M3 beast well past the rest of the pack. The 3.2L inline-6 loves boost and that came in the form of a VF Engineering Stage II supercharger. This centrifugal kit comes with a VF Engineering chargecooler to bring intake temps down. A Super Sprint header is matted to a Supersprint downpipe feeding into a Dixis Titanium exhaust. Shih dyno'ed the car to yield 500whp with over 525whp using VP109 race gas on VF's Dynojet. All those extra ponies mandated the driveline be upgraded too, so a UUC lightweight flywheel and high performance clutch made it into the bell-housing.
Since Shih is also a humble TWCompetition member, and the club is known for some of the cleanest rides on the scene. On the exterior, he contracted Carrozzeria Design to fabricate a custom widebody for his E46 coupe, which would be like nothing else out there. He then sourced out some rare upgrades and a few OEM goodies to ramp up the look of the car. Now when we say "OEM" we mean super rare CSL and some Euro stuff that isn't found in North America. A Euro M3 front bumper was installed along with a CSL trunk lid and CSL rear diffuser around the back of the car. Hamann air ducts were added along with a Strassentech splitter and roof spoiler. After the car was shaved, it was taken to Auto Explosion for a few coats of Balloon White paint from Lamborghini. The hood, roof and trunk however are shot in flat white to offset the pearl for an interesting overall impact. Another bold move were the outrageous graphics emblazoned on the sides of the car. Shih gets mad props for having his actual dyno-chart made into the exterior graphics on his car using some BMW motorsport striping. The oversized chart really sends red-light racers a clear message that his M3 is no joke and we're sure the cops aren't laughing either!
As with any TWCompetition member, the rollers are well above the standards out there. Shih sourced a set of wheels from Kinesis wheels. A massive set of 20-inch Kinesis K1020 wheels with widths of 10-inches up front and a whopping 11.5-inches in the backyard found their way onto the project. Falken Tire stepped up with a set of grippy FK452s measuring 255/35ZR20 in front and 305/25ZR20s in the back. Peeking though the matte black spokes and surrounded by a striking candy blue lip are exclusive Brembo LeMans brakes. On the front axles, the setup consists of a 6-piston caliper chomping down on slotted 380mm rotors. The rear Brembo LeMans brakes are 4-piston clamping 345mm slotted rotors to amount to staggering brake performance.
Adding to the dazzling OEM handling of the M3, Shih added some select components to enable the car to do even more. A set of KW Suspensions V2 coilovers allowed for more adjustability and better connectivity to the road. A set of Ground Control sway bars eliminate any roll in his coupe. And finally a Radenergie carbon fiber strut bar ties the chassis up and improves the look of the engine bay.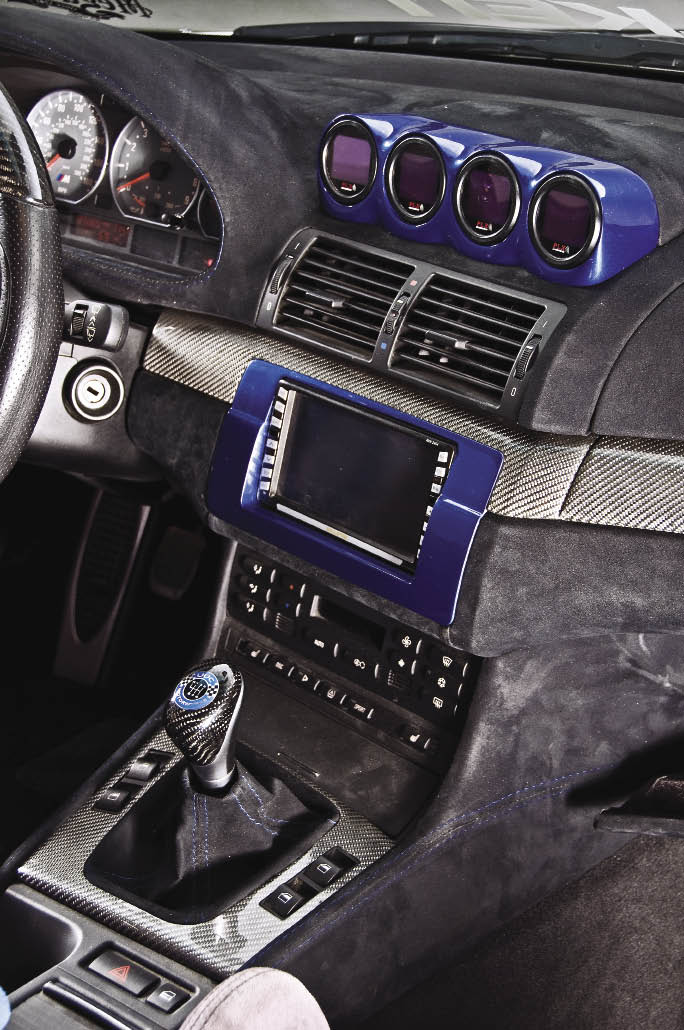 From there, attention turned to the inside of the German muscle car. The dash was wrapped in black suede with a custom blue stitching pattern. The suede treatment carried on to the headliner, pillars, shifter and e-brake boots. Shih added some CSL door panels front and rear, as well as a custom roll bar for a track-inspired treatment. Custom gauge pods house the new OLED gauges from PLX to relay engine data.
A set of Status Racing Ring seats finished in charcoal Alacantara and matching Status Racing harnesses keep occupants strapped in tight. Capping off the look is a UUC CF shift knob and a EAS custom carbon fiber M3 sport wheel.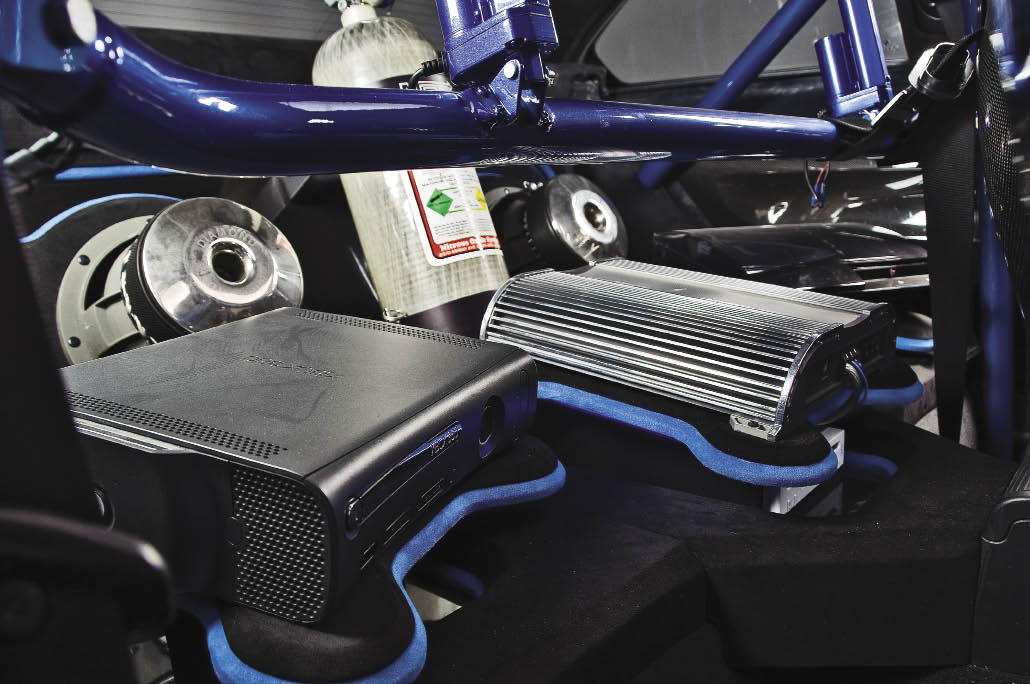 In the I.C.E department, Shih certainly did not skimp on the caliber of equipment. Starting with signals pumped out by an Eclipse AVN 5424 headunit, the balance of the system is all Diamond Audio. This high end equipment is designed and manufactured in the US and is amongst some of the world's best for sound quality.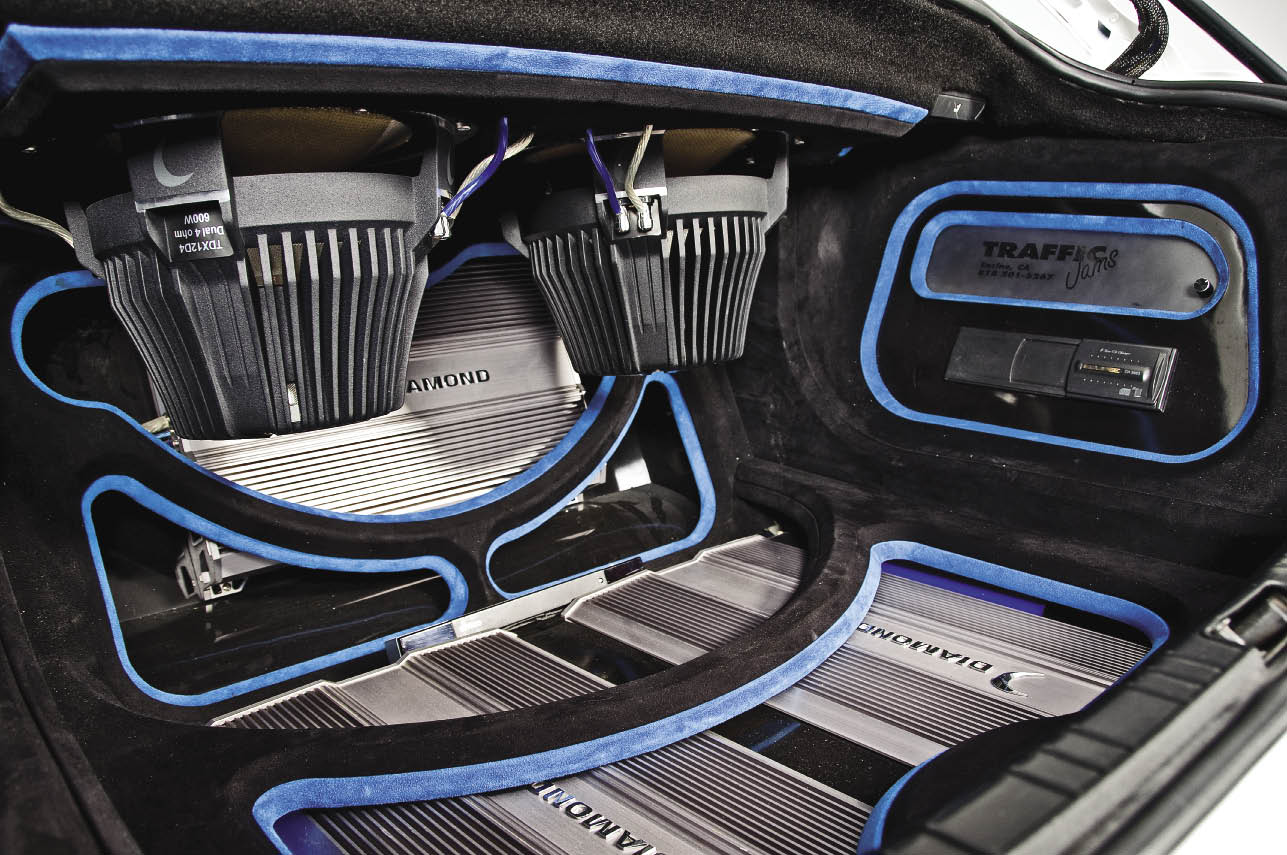 An elaborate black suede trunk enclosure trimmed in teal suede holds two Diamond Audio amps driving twin 12-inch subs mounted in the rear deck.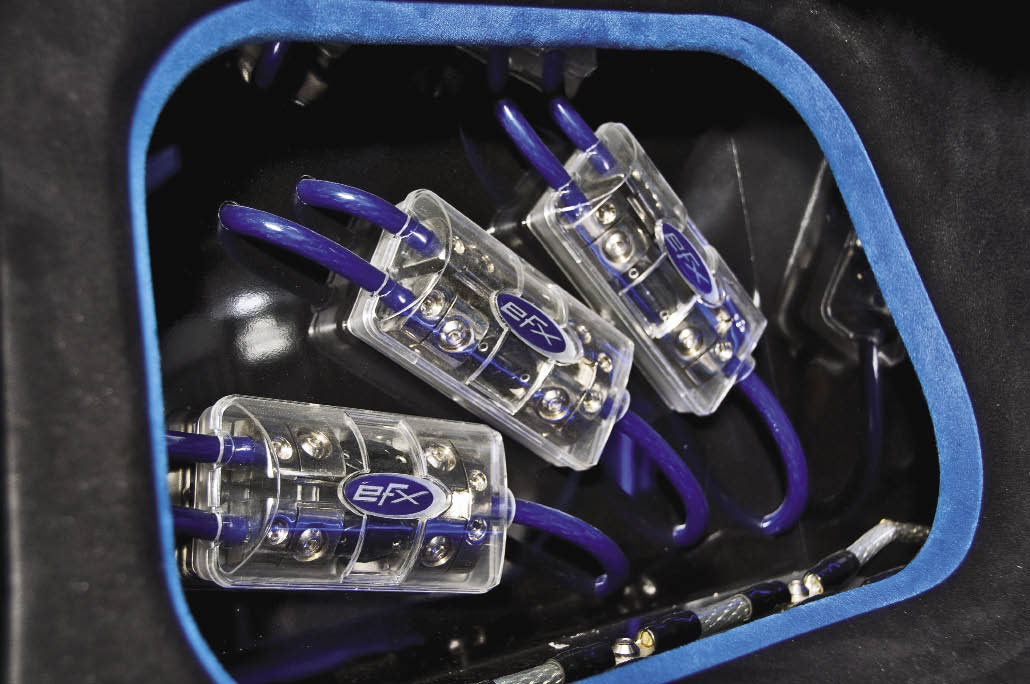 A third mid-range amp drives the Diamond Audio component speakers, two of which are found in the trunk lid along with another monitor. Then there's the arsenal of gaming consoles mounted in the car including (are you sitting down?): XBOX 360, PS3, Wii and a Mac Mini. More than enough to entertain you while kicking it at any car show or waiting for your girl to get ready for a night out. When TWCompetition puts a project together, we expect the results to be award-winning as this BMW before you.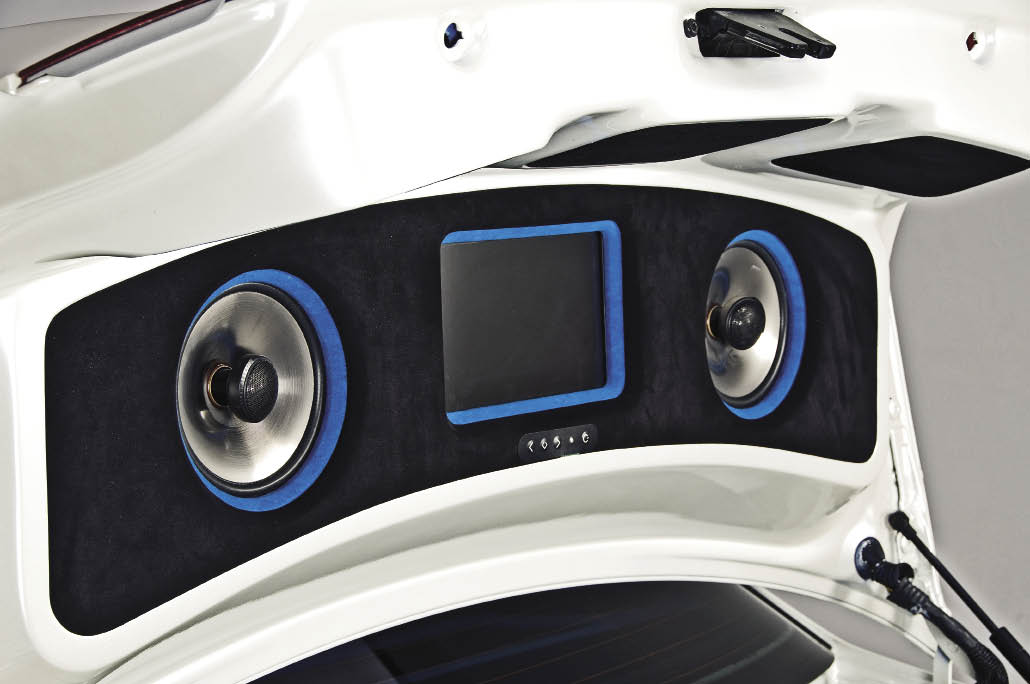 We like that Shih thought outside the box a bit on this build with a solid blend of custom and rare parts. This build packs a bit more of a bite than even BMW engineers could have dreamed of.
Photos by RCH Designs
---
ESSENTIALS
Owner: Eric Shih
Location: Fremont, CA. USA
Vehicle: 2003 BMW M3
Power: 525whp
Engine: BMW 3.2L S54 lnline-6
ENGINE MODIFICATIONS

VF Engineering Stage II supercharger
Super Sprint header
Super Sprint downpipe
Dixis Titanium exhaust
DRIVELINE

UUC lightweight flywheel
UUC high performance clutch
WHEELS, TIRES, BRAKES

Kinesis K1020 wheels; (f) 20x10-inch, (r) 20x11.5-inch
Falken FK425 tires; (f) 255/35ZR20, (r) 305/25ZR20
Brembo LeMans brakes; 6-piston/380mm, 4-piston/345mm
SUSPENSION

KW Suspension V2 coilovers
Ground Control sway bars
Radenergie CF strut bar
EXTERIOR

Carrozzeria custom widebody
Euro M3 front bumper
CSL trunk lid
CSL rear diffuser
Hamann air ducts
Strassentech splitter & roof spoiler
Smoked corners
Auto Explosion for Lamborghini Balloon White
INTERIOR

Black suede wrapped with blue stitching(headliner, the pillars, shift and e-brake boots)
CSL door panels
Custom roll barCustom gauge pods
PLX OLED
UUC CF shift knob
EAS custom carbon fiber
M3 sport wheel
MULTIMEDIA

Eclipse AVN 5424
Diamond Audio mid range amp
Diamond Audio bass amp x 2
Diamond Audio 12-inch subs x2
Diamond Audio components
Eclipse LCD screens
Game Consoles: XBOX 360, PS3 & Wii
Mac Mini
SHOUTOUTS

Falken Tires
Shell V-Power
Carrozzeria Design
Impex Motorsports
VF Engineering
PLX Devices
Status Racing
Frank @ Traffic Jamz
JS Design
Meguiar's
Brembo/Race Technologies