A well-rounded show car is expected to have an awesome paint job, period. Nothing grabs more attention and stares than a vehicle with a hot custom paint. This Cobalt is no exception, and drenched in its Auto Air Candy's Kandy Pornstar Pink, it immediately catches your attention. While some may question the choice of pink on a show car, or any car for that matter, the fact is that this car gets the job done as a show car for Underground Per4mance. Having built an Eclipse and a Civic in the past, Daniel Ibarra is no stranger to building high-profile vehicles. Desiring to move away from traditional tuner platforms, Ibarra, owner of Underground Per4mance in Bakersfield, CA, selected the relatively newer Cobalt platform to work with.
The original goal of the build was to promote Underground Per4mance by creating a unique vehicle that can make a huge impact in the industry. Having years of experience in building import cars in the past, Ibarra wanted to utilize his relationship with companies to help build and promote the not-so-popular base model Chevy Cobalt.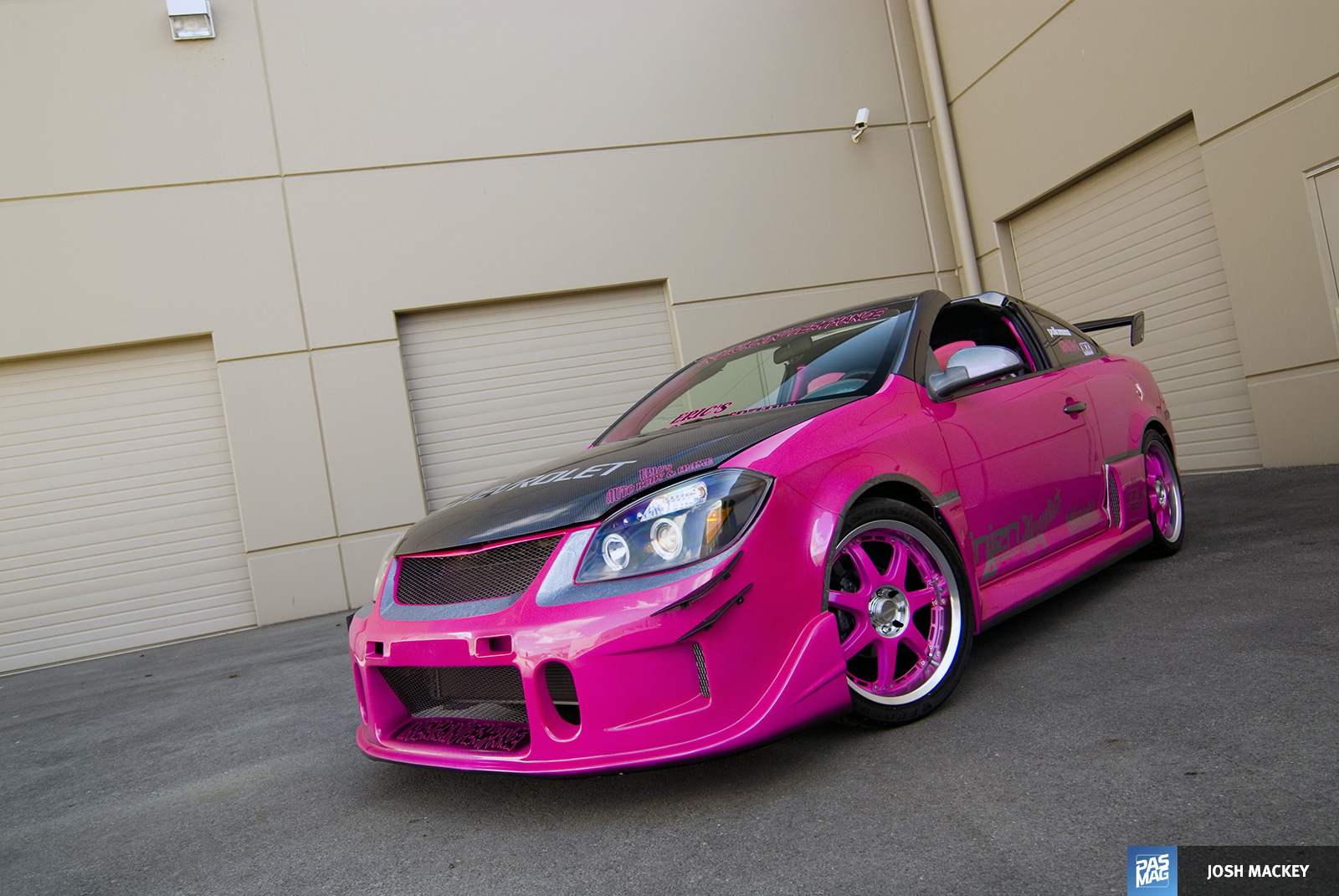 Ultimately, the goal was to make the Cobalt as visually unique as possible. With that in mind, Tim Gonzalez at Eric's Auto Body was brought into the mix to aid in the creation. With the Cobalt under the knife, the roof was cut and the result was one of the first targa Cobalts in the country. The mild front and rear bumpers were replaced with more exotic Buddy Club and Bomex pieces, respectively. The heavy stock hood and trunk were swapped for lighter ViS carbon fibre replacements. ViS also supplied the carbon fibre spoiler for visual zing and down-force. Finally, when all the pieces were fitted onto the car, it was painted Pornstar Pink by Eric's Auto Body. With 10 layers of paint and 10 layers of coat, this car is bound to shine.
TYC projector headlights were favoured over the dull OEM lights while the taillights were smoked to provide the tuner look. At time of writing, we've yet to see a flashier Cobalt on the road and we're not alone: this Cobalt placed "Hottest General Motor" at Hot Import Nights in Seattle, 2006.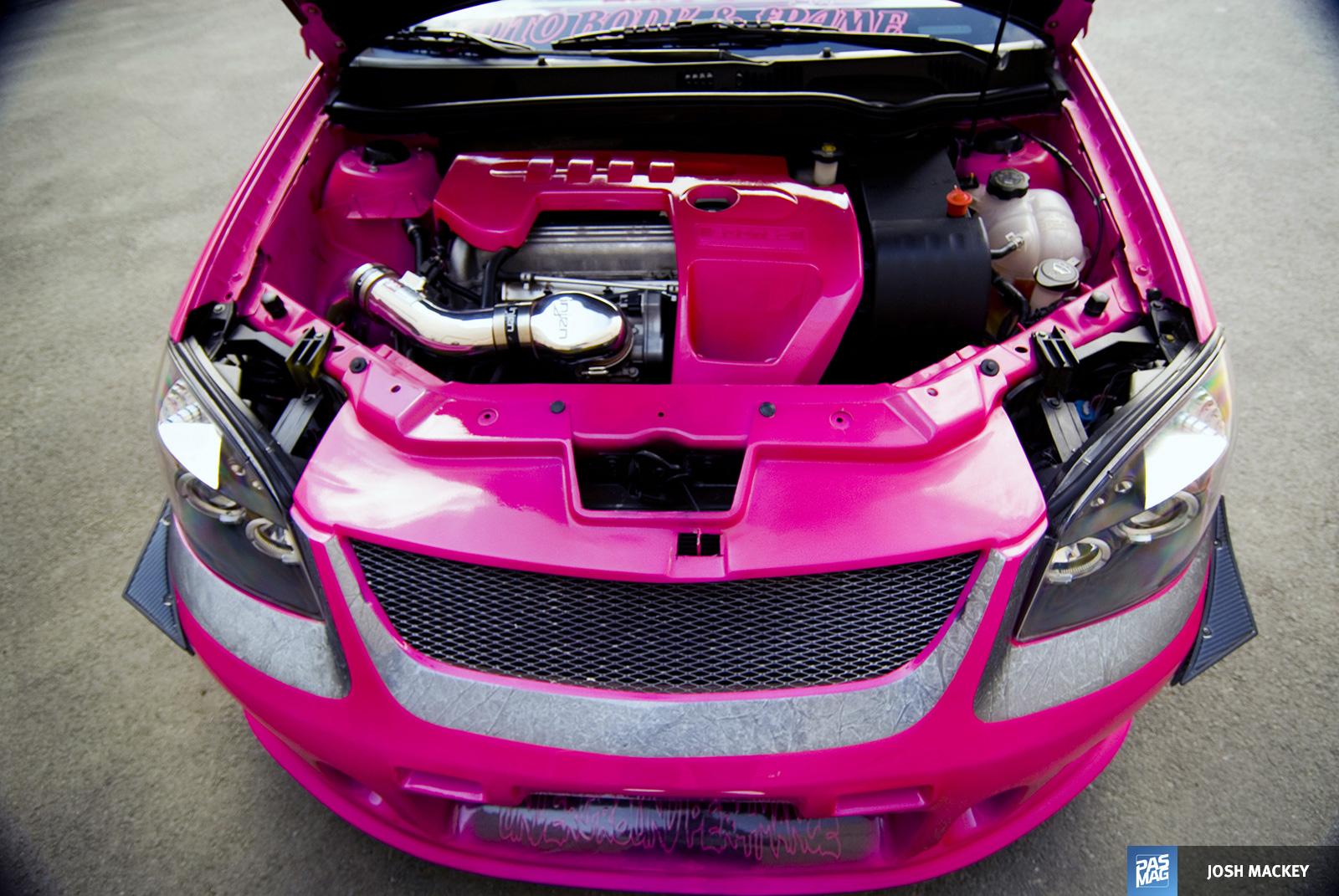 Although primarily built as a show car, this Cobalt packs a mean punch. Nitrous Express's funny gas system was hooked into the motor when that extra boost of power is needed. The stock restrictive air intake was replaced for an Injen RD cold air system with a K&N filter to help suck in that cooler air for aid in combustion. The stock throttle body was bored out while the intake manifold was ported to increase the airflow into the four cylinders. Allowing the exhaust to exit more freely is achieved through a Borla Cat-back Exhaust and a Pacesetter header. While we all know that it is a difficult task to increase power output significantly without forced induction, Daniel has managed to successfully push the little 2.2L Ecotec motor to an estimated 215 horsepower.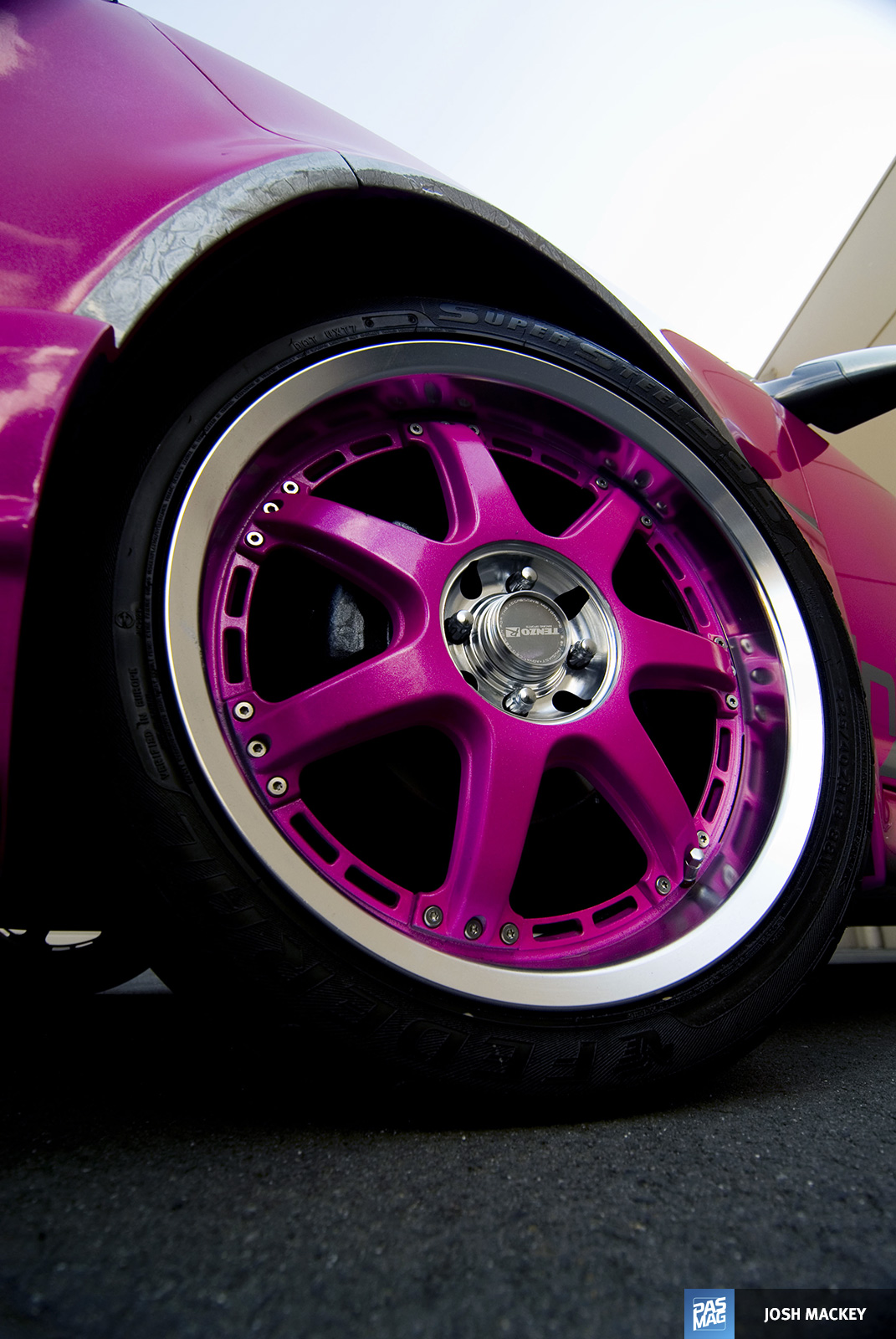 The proper show car requires nice shoes and so indeed this Cobalt was dressed in massive 18 inch AroSpeed wheels custom painted pink and wrapped in Hankook Ventus R-S2 Tires. The mild drop is achieved via Tokico shocks and Progress Sport Springs. Progress also supplied the rear sway bar to allow for more controlled hard cornering.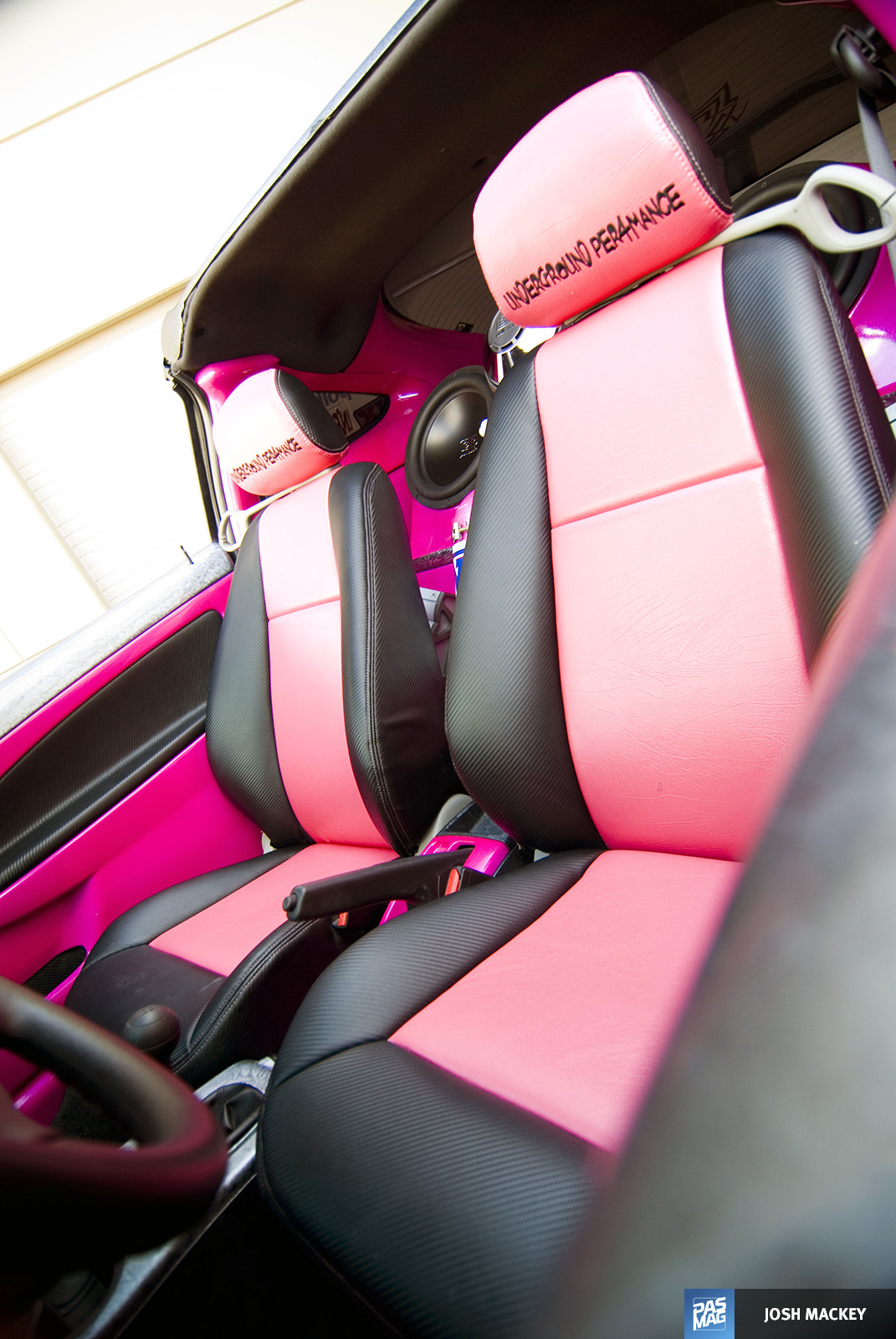 The interior of the car is designed along the same colour theme as the exterior. The stock panels were replaced with custom full fibreglass panels painted in Pornstar Pink. The seats were rewrapped in carbon fibre and pink PVC leather.
Entertainment is provided via a JVC KW-AVX706 double-DIN DVD unit and a 7-inch XO Vision TV. The rear seats were yanked out and replaced with a custom fibreglass box that houses three 12-inch Polk Audio SR124 subwoofers. Providing power to these massive subwoofers is through Polk Audio's C500.1 mono amp. The SR roofers are designed to provide competition-grade bass performance when installed in small sealed enclosures. Two pairs of Polk Audio 6.5-inch SR series speakers replace the stock while Polk Audio's C400 four channel amp provides the necessary power distribution. Based on technology adapted from our top-of-the-line award-winning LSi in-home series, the Polk Audio SR6500 Signature Reference Series 6 1/2" Component System is for people who want the highest-performance sound for their high-performance wheels.
We think it's great that Daniel chose the route that few would dare travel; whether it's by using a more difficult platform or selecting the colour pink as the main theme. Overall, the car was put together well and demonstrates his abilities of creating a show-winning vehicle. Expect to see more coverage of this car as it was a demo vehicle for Auto Air Colours at SEMA 2006 in Vegas.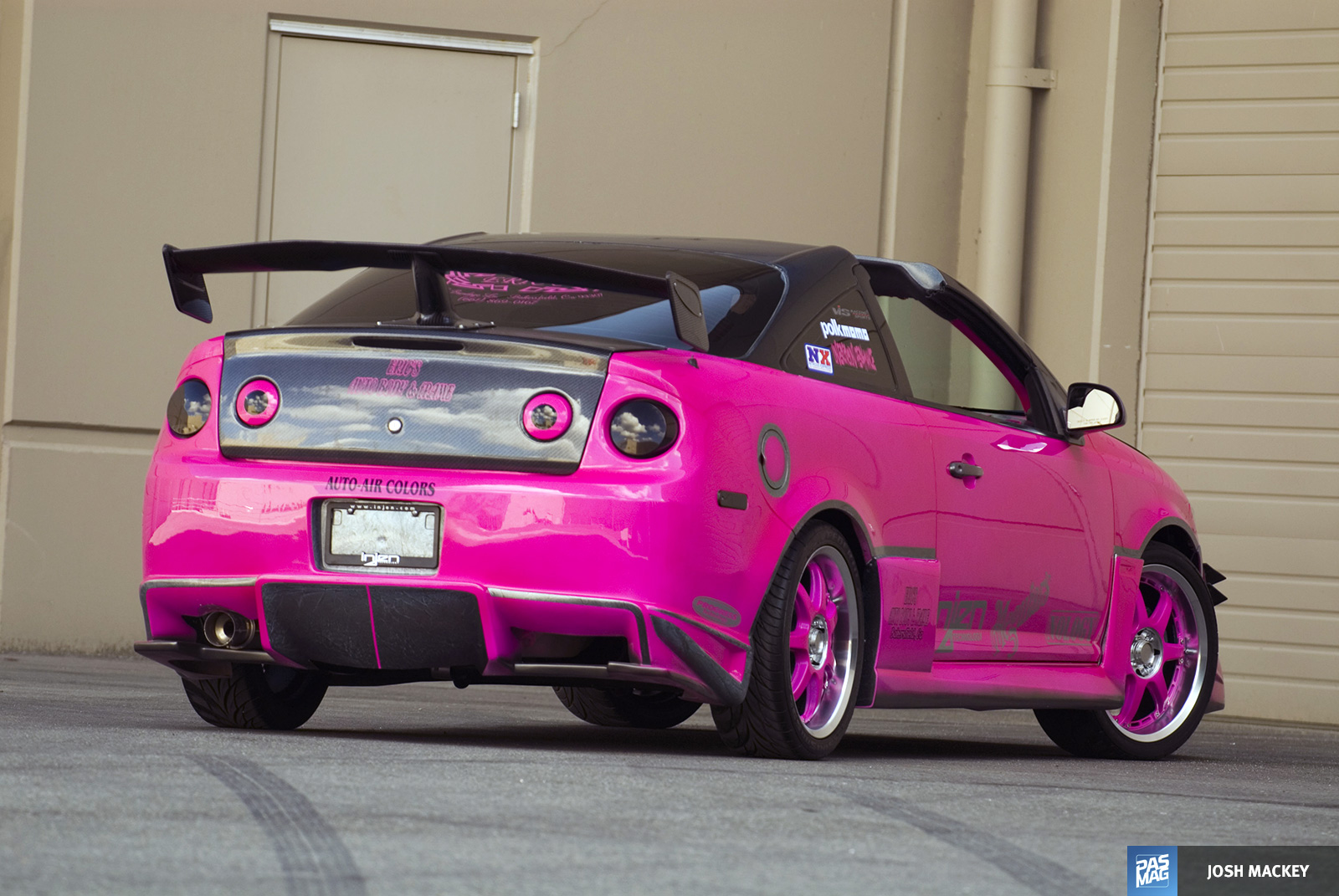 Photography by Josh Mackey (@mackeydesigns)
---
PHOTO GALLERY