Reece Reynolds has always had a love of classic European cars. He first caught the "bug" when his brother had a 1970's Super Beetle, "after seeing how easy they were to work on and how you can do nearly everything yourself, I fell in love," Reynolds mentions, "and I knew I'd eventually own one." Reynolds ended up purchasing a stock 1967 Volkswagen Beetle 1300 Deluxe in late 2017.

Previously, Reynolds has built a few other European cars and he's sold since, or pulled back apart for rework. This includes a 2009 Audi A4 Avant bagged on Rotiform BLQ wheels, as well as a 1976 Audi 80 Fox. This started out as a one-owner car that he was daily driving, and ended up cutting the floor out of it and mating it to a 1969 Volkswagen Beetle chassis. It also included a Skinned Knuckles front air beam, custom rear air suspension and Beetle running gear. "I have since taken the body back off the Beetle pan and am now looking at mounting the Audi Fox to a chassis," states Reynolds.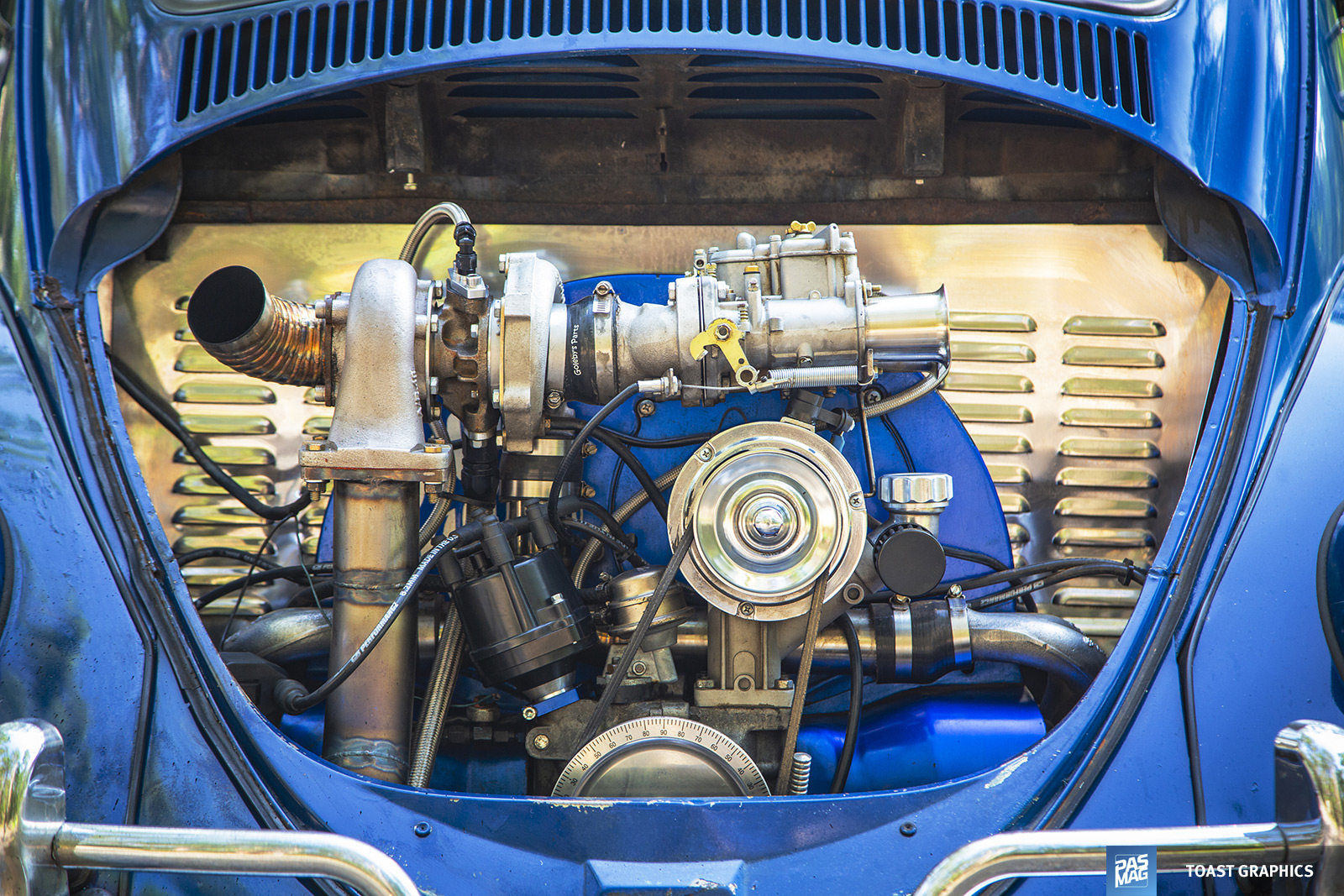 His love for cars has been apparent for as long as he can remember. Like most in the car scene today, it all started with getting his first car and doing some basic modifications, and then wanting to do much more. After owning a diverse range of different cars - European, American, Japanese and British - Reynolds found his place and passion in older cars, and has been happy doing his own thing in the scene since.
Reynolds' favorite aspect of this particular build is how different the style is from what enthusiasts mostly see at shows. A lot of the time you see cars either going for the perfect stance and fitment, or going down the path of a performance-focused build. "With my Bug, it has satisfied my needs of handling great, going fast and then still being able to air out and get the stance I love," he mentions.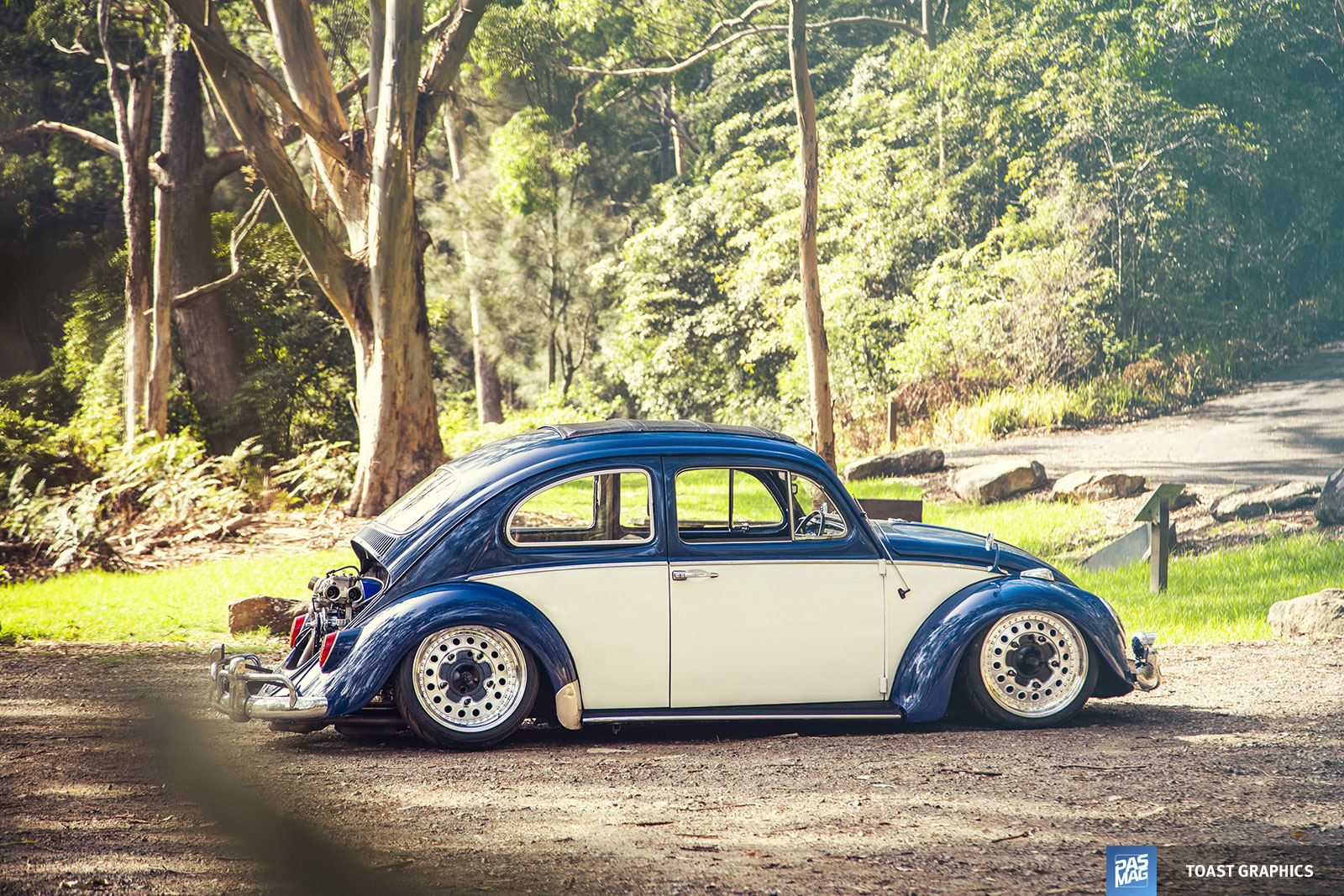 Fortunately, Reynolds hasn't run into any major challenges with this build and has had support from great businesses to help with things, like fabrication or even just knowledge along the way. His intentions for the car were to keep it mostly original, lower and put some period correct wheels on it, but after installing a set of drop spindles and lowering the rear torsion bars, he got the itch to go lower again however kept it as it was. In 2018, Reynolds drove the car to VW Nationals in Sydney, NSW, Australia, and after the show the engine seized due to a broken cam. "After this, I decided to go down the path of building a bigger 1916cc engine and it snowballed from there, Reynolds mentions. Whilst the engine was out, he started to rebuild all the brakes and do a general overhaul of the car, this included a 4-inch narrowed air beam from Skinned Knuckles, Lime Bug Rear Air Suspension and AccuAir's VU4 Air management.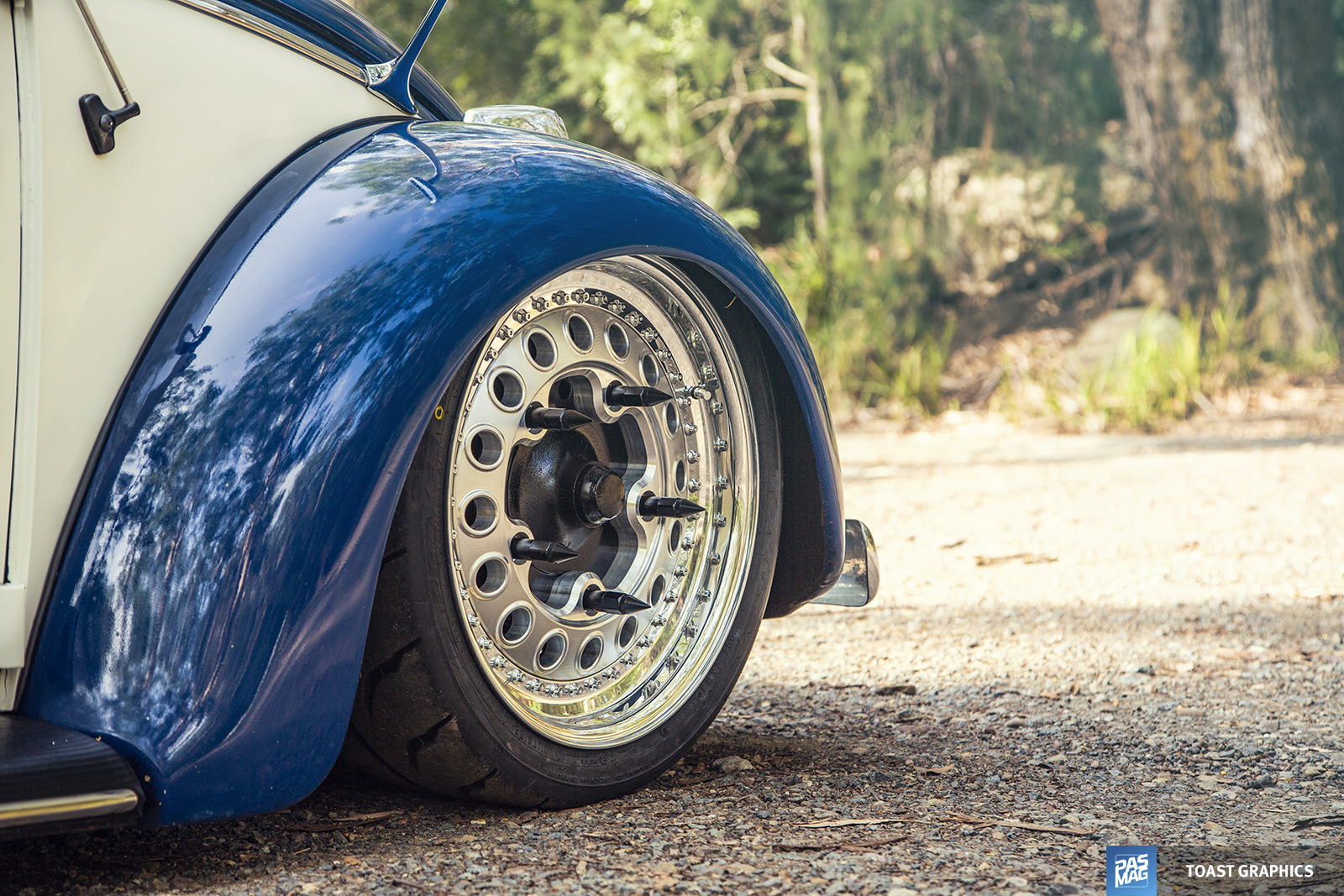 The quality of the product produced by Skinned Knuckles is unrivalled in Australia, and everything Reynolds planned for the Beetle just worked with it. 

The 356 wheel from Rotiform has been his dream wheel since seeing them on Brian from Rotiform's Porsche 356. "I've previously had a set of Rotiform cast BLQ wheels on my old car, he remembers, "and after seeing these 3-piece wide 5 wheels, I knew they had to be put onto a bug!" Reynoolds went in to see his good friend, Marty from Robertson's Tyrepower in Dubbo, they took some measurements, discussed the options they had for finishes, and then sent the order off. The finish product is a polish on polish 3-piece forged wheel with the perfect offsets to suit the car.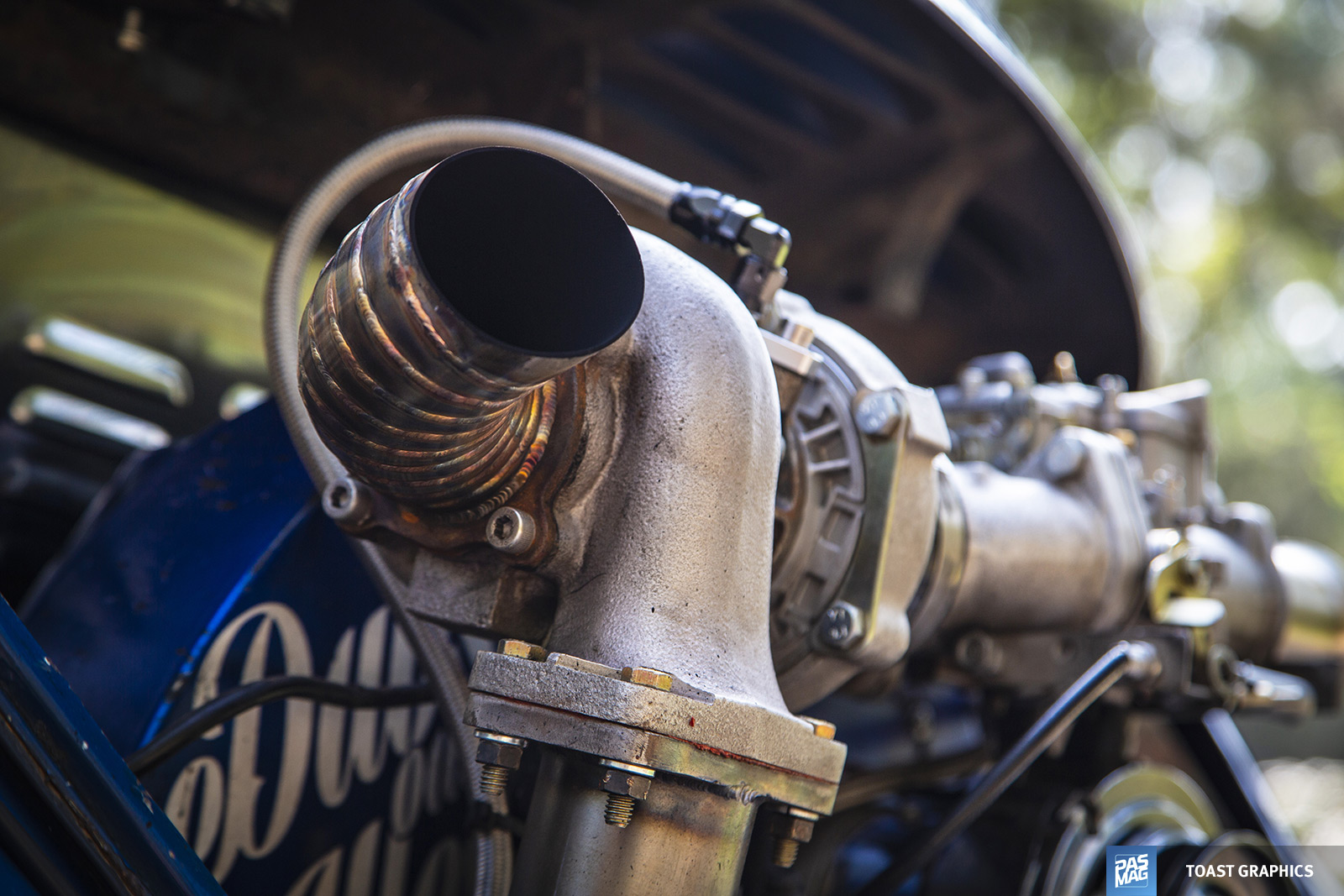 Reynolds mentions that the turbo was a lot of fun converting the already-built 1916cc engine to run a T3 Garrett Turbo. "I started this conversion about 2 weeks before heading to East Coast Cruise in 2019, with lots of help from Henry at Iron Knuckles Fabrication, we managed to get all the exhaust, turbo and carby, fitted and tuned two days before I left for the show." With the time constraints in mind, the fabrication work came out well above his expectations and it's one of the coolest parts about the car now.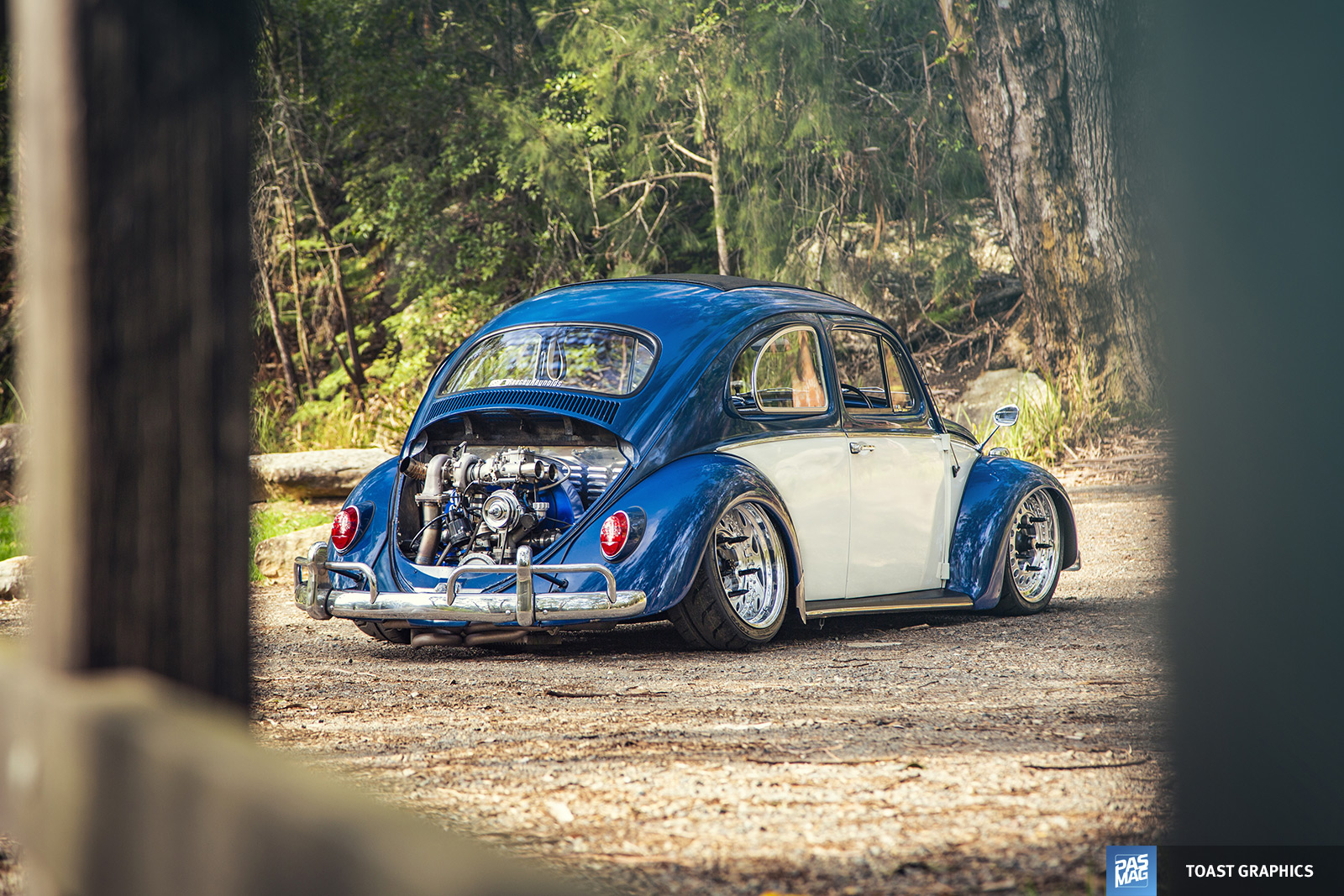 Reece Reynolds' 1967 Volkswagen Beetle is featured in PASMAG #162.
Photography by Toast Graphics (@toast_graphics)
---
ESSENTIALS
Owner: Reece Reynolds
Location: NSW, Australia
Vehicle: 1967 Volkswagen Beetle
Horsepower: 150 (est.)
SOCIAL
Facebook: /ReeceyReynolds
Instagram: @reeceyreynolds
Tuner Battlegrounds Award Winner
Event: Hot Import Nights: Australia
Location: Sydney, Australia
Popular Vote: 80%
ENGINE
CB Performance (forged H-beam connecting rods, forged chromoly crank, Magnaspark electronic ignition, aluminum super duty pushrods, high flow oil pump, CNC-ported 044 Los Panchitos heads w/ dual valve springs and stainless steel valves)
Scat (extended oil sump, rocker covers)
Jaycee leak proof pushrod tubes
Engle mild w110 cam
Rod Penrose Racing balance cooling fan
AA 1.25 ratio rockers
Garrett T3 ball bearing turbocharger
Weber 45 DCOE carburettor
CB Performance turbo manifold
Iron Knuckles Fabrication turbo riser
EXHAUST
Iron Knuckles Fabrication pie-cut dump pipe
DRIVETRAIN
WHEELS / TIRES / BRAKES
Rotiform 356 3-piece wheels - 17x7 +35 (f), 17x8 -5 ®
Toyo R888R tires - 205/45/17 (f/r)
Rebuilt VW drum brakes
CHASSIS / SUSPENSION
Skinned Knuckles front air beam narrowed 4 inches
CB Performance 2.5-inch drop spindles
Limebug rear IRS air ride
Accuair VU4 air management system
VIAIR 480cc compressor
EXTERIOR
Ragtop sunroof
Two-tone paint
USDM (semi-sealed headlights, full red tail lights)
50s-style front bumper
2-inch dropped rear bumper
5-inch fog lights
Aircooled Accessories Albert swan neck mirrors
Rear pop-out quarter windows
INTERIOR
TMI (seat covers, door cards)
Vintage Speed 10.5 shifter
We Are Likewise (OG Neil Diamond Black, Hellboi Dogg Tag Black)
Custom parcel shelf
AUDIO / MOBILE ELECTRONICS
---
PHOTO GALLERY