Photography by Joshua Sweeney
---
Salik Zaki's journey to the top of the Tuner Battlegrounds Competition has been nothing short of determined. Entering into the first-ever Tuner Battlegrounds competition, the kid from Boston was about to embark on a yearlong competition against the top 64 tuner cars from throughout North America with dreams of going big.
His Scion xA is a definite break from the ordinary. The initial offering from Toyota's new youth-oriented brand was awkward at best: tall, frail, with shades of the micro minivans spawned in the early '90s. It almost goes without saying that within the tuning community the xA was completely ignored. But when Zaki's grandfather, an avid car enthusiast himself, bought the car as a graduation gift for him in 2004, it was nearly impossible to pass up. As a kid he idolized his cousins' tuned, PS One equipped Civics, and recognizing the potential he had with such a unique platform, he set out to build something that would stand out from all the rest.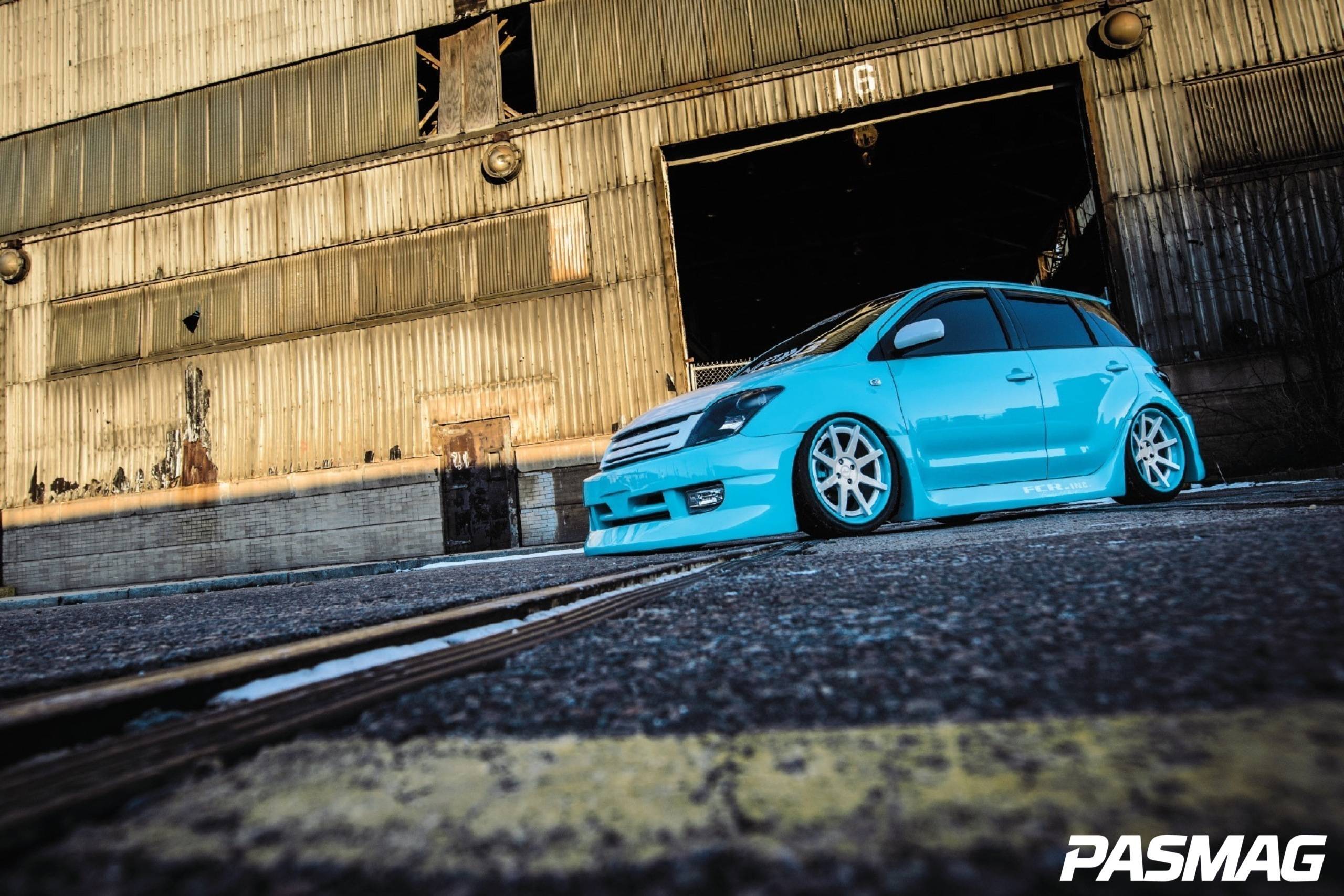 "That's one of the major reasons why I decided to start the build on the car years ago," Zaki said. "Nobody really would consider taking such an ugly looking stock car and turning it into a pretty awesome show car."
He started with some minor modifications. When he left his hometown of New Hartford, New York to attend Boston College, he brought the sticker-bombed, lowered xA with him. For most kids, school means taking a step back from costly projects and car builds, but the move introduced him to an entirely new world that was too hard to resist. He started attending car shows in the area, and the mods were enough to catch the attention of David Medina, Club President of TeamECR. After a few months of scouting, he proposed some mods to push the car to the next level and asked Zaki if he would join the team.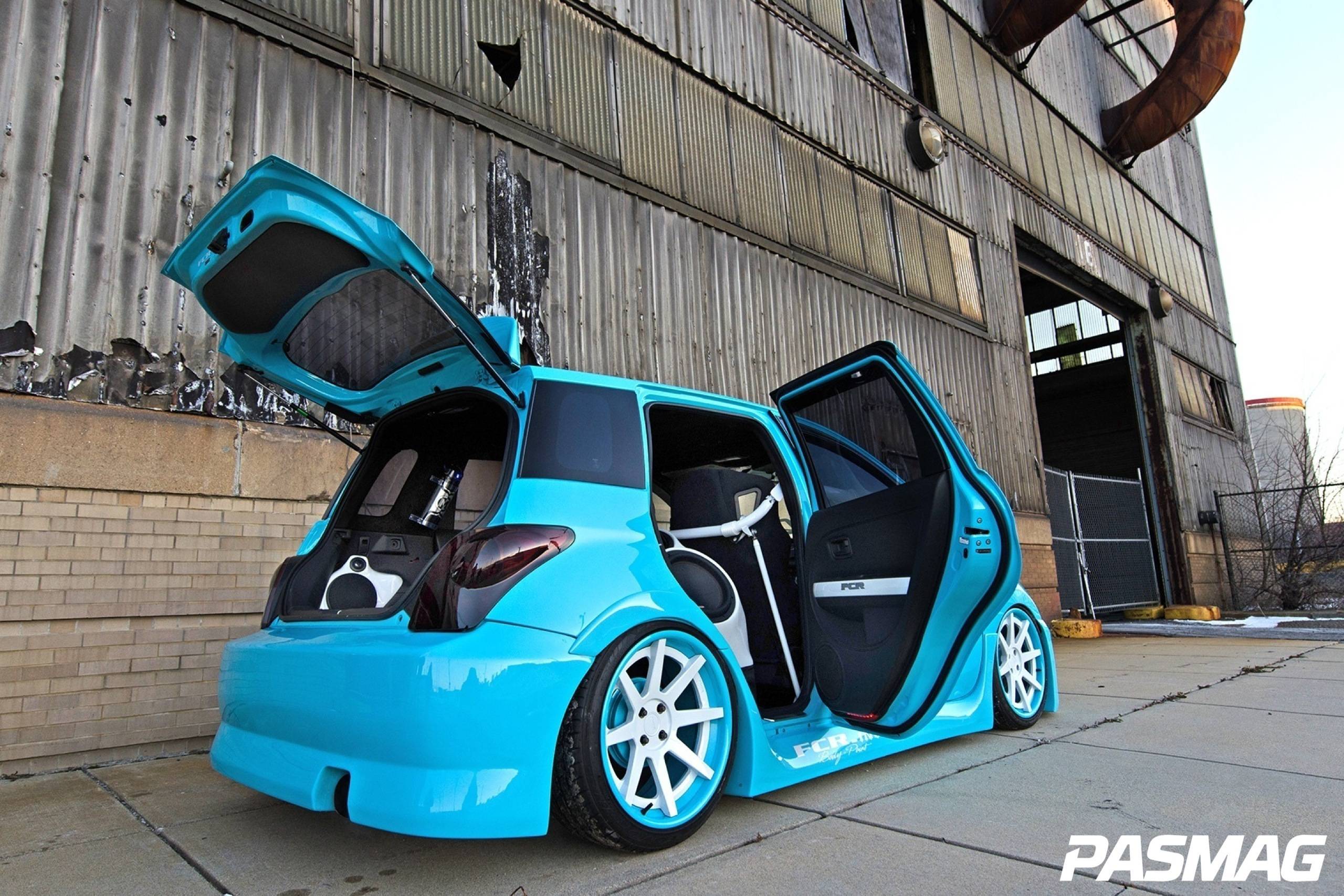 Recognizing his visual game needed the most attention, Zaki visited FCR Inc. in Weymouth, Massachusetts for paint and bodywork. Led by Tony DelGallo, FCR transformed the xA from meek and mild to show floor-ready, complete with a new body kit and four-tone paint scheme that riffed on the original color, using the factory red, with a silver lower body and black roof and hood. The colors were divided using gold flake accents. When it was done, Zaki finally had a car that looked the part.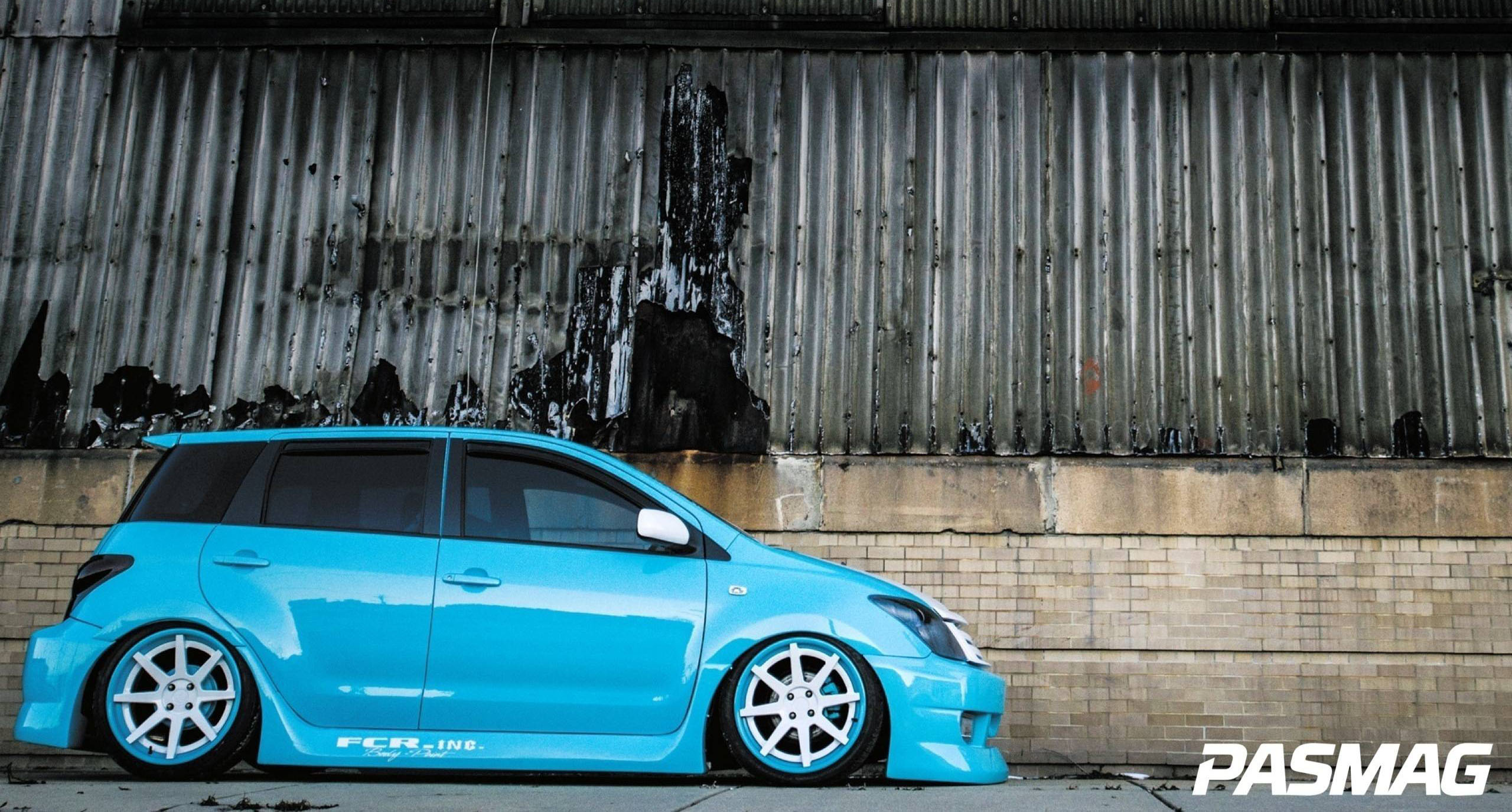 The response he received was far greater than he expected. Scion USA approached him to use the xA at marketing events throughout the area. It brought Zaki a new level of recognition, but it was short lived after a member of a rival Boston car club criticized the car's lack of substance. The incident made Zaki realize he wanted – and needed – to call on his crew and build something nobody had seen.
"I didn't care what it took. [The next day] we started to redesign the whole car; threw the bodykit out, got a new 10-piece body kit, scrapped all the paint, pulled the engine out, redid the door jambs, and came up with this whole Tiffany blue and pearl white color."
The scheme wasn't necessarily planned, but when Zaki was thinking of paint, he knew he wanted something crazy. Originally he was thinking mint green, but when he arrived at FCR, Lead Painter Danny had a PPG turquoise and House of Kolor blue ice flake that was straight old-school. For accents, anything carbon fiber was decidedly too dark, so FCR came up with a special one-off pearlescent white accent that is so secret, Zaki himself doesn't even know what it is. His car is the only one to receive this unique treatment, and let's just say photography doesn't do it justice.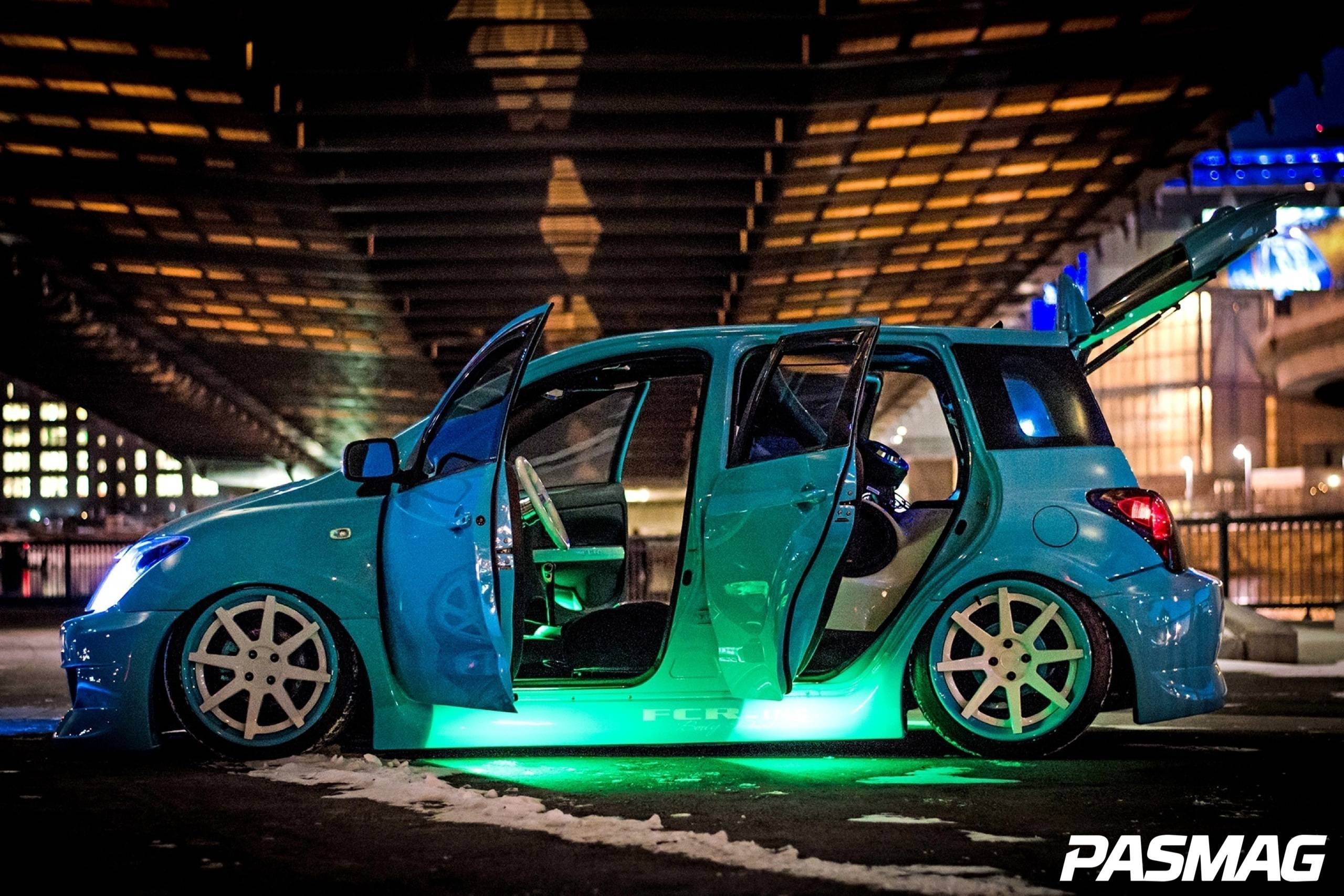 "[The color] speaks to a wide variety of people," Zaki said. "It speaks to the old school car guys who had custom hot rods that color, it speaks to people in their 20s and 30s who are looking for a different color, and it also speaks to a lot of females. Women love that color. A lot of girls think it's cute, so one of the stickers I had on the car last season literally said, "That's cute."
When the car was complete, Zaki made his mark by taking 'Outstanding Paint' honors at its debut show at World of Wheels the very next day. He then followed that up with 'Best in Show' at Hot Import Nights. Suddenly, the xA that was being overlooked by the competition was getting national recognition.
As many readers know, networking is key to success in any area of business, but perhaps none moreso than in the auto and tuning industries. With the hard work of his team and various installers, Zaki built a reputation and a Rolodex with some of the industry's most talented names. Knowing that sponsorship is vital for long-term success, he met Jeff Maldonado of 742 Marketing in California, a company that sets up SEMA-quality car owners with sponsorship and marketing opportunities. From that connection, the two pledged to "Do Work Son," a slogan that would eventually play a vital role in Zaki's future TBG success.
But as his almost-10-year-old project was on a steady incline, Zaki's grandfather passed right before the Tuner Battlegrounds competition. From this point forward, the car became more than just a labor of love. Now it was a representation of his family, his support and the dream of making it to SEMA.
"My grandfather was really into cars. He was always asking me how the shows were going, asking me how the build was going, and when he passed away right before Tuner Battlegrounds, it became like a commemoration. So when we were building the car for SEMA, I looked up for my grandfather since his dream for me was to be bigger in the scene. We weren't just building the car for me, it was also for my grandfather."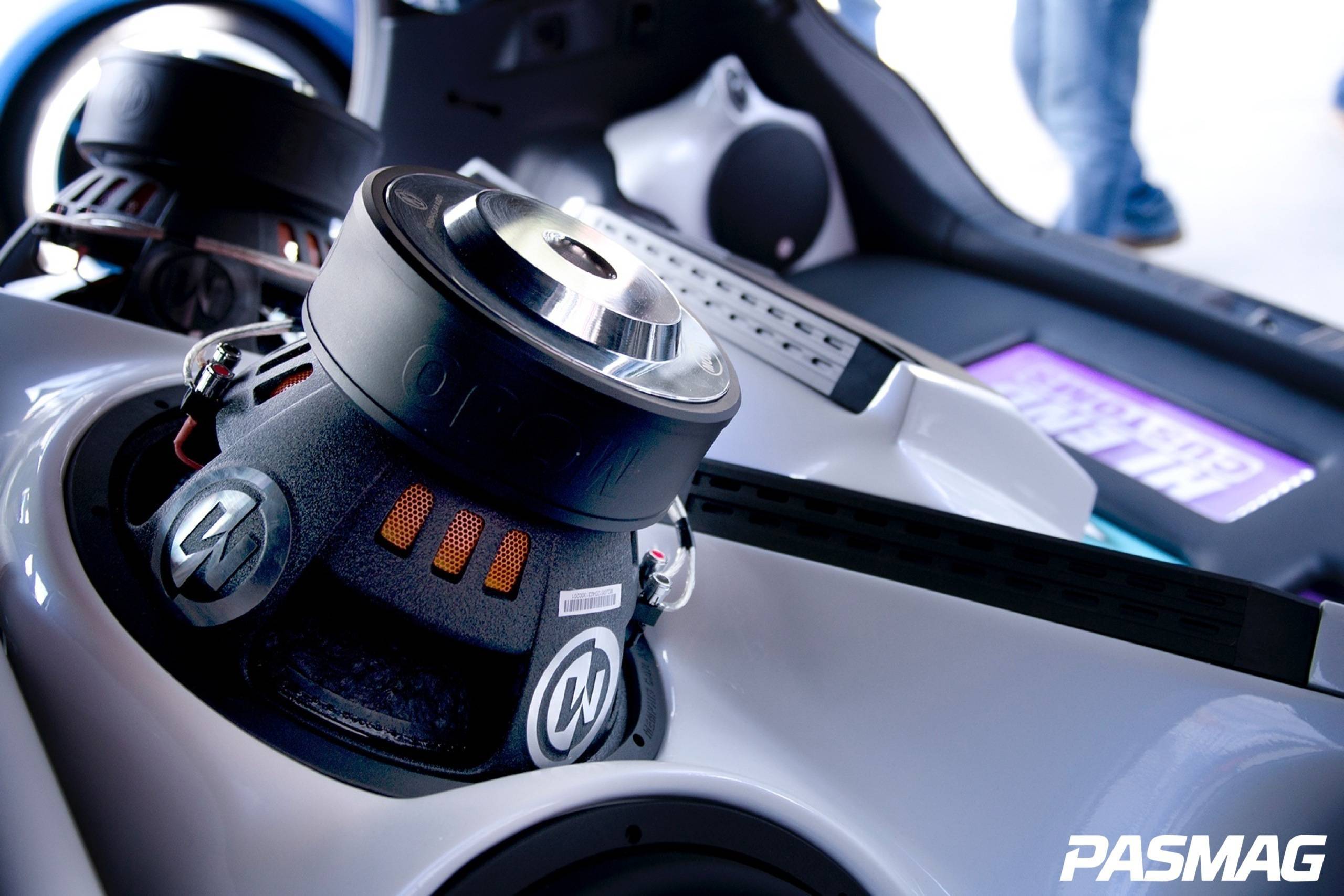 When the Tuner Battlegrounds competition officially began in November 2012, Zaki's Scion was more than holding its own. What began with 382 competitors (287 imports, 47 domestics, 47 Euros and one exotic), was whittled down by PASMAG Facebook followers to the last 64, where Zaki's xA handily beat Brian Requena's '96 Civic hatch. In the Top 32, he was up against the neatly-packed G35 of John Butiu and, once again, Facebook fans voted in strong support of the xA. But it was during the Top 16 where Zaki really felt the support of the TBG community when he beat out David Whitehead's custom copper RSX by 245 votes (2,005 to 1,760). All that stood in the way of a SEMA showdown was Samuel Piazza's menacing Camaro in the Top 8.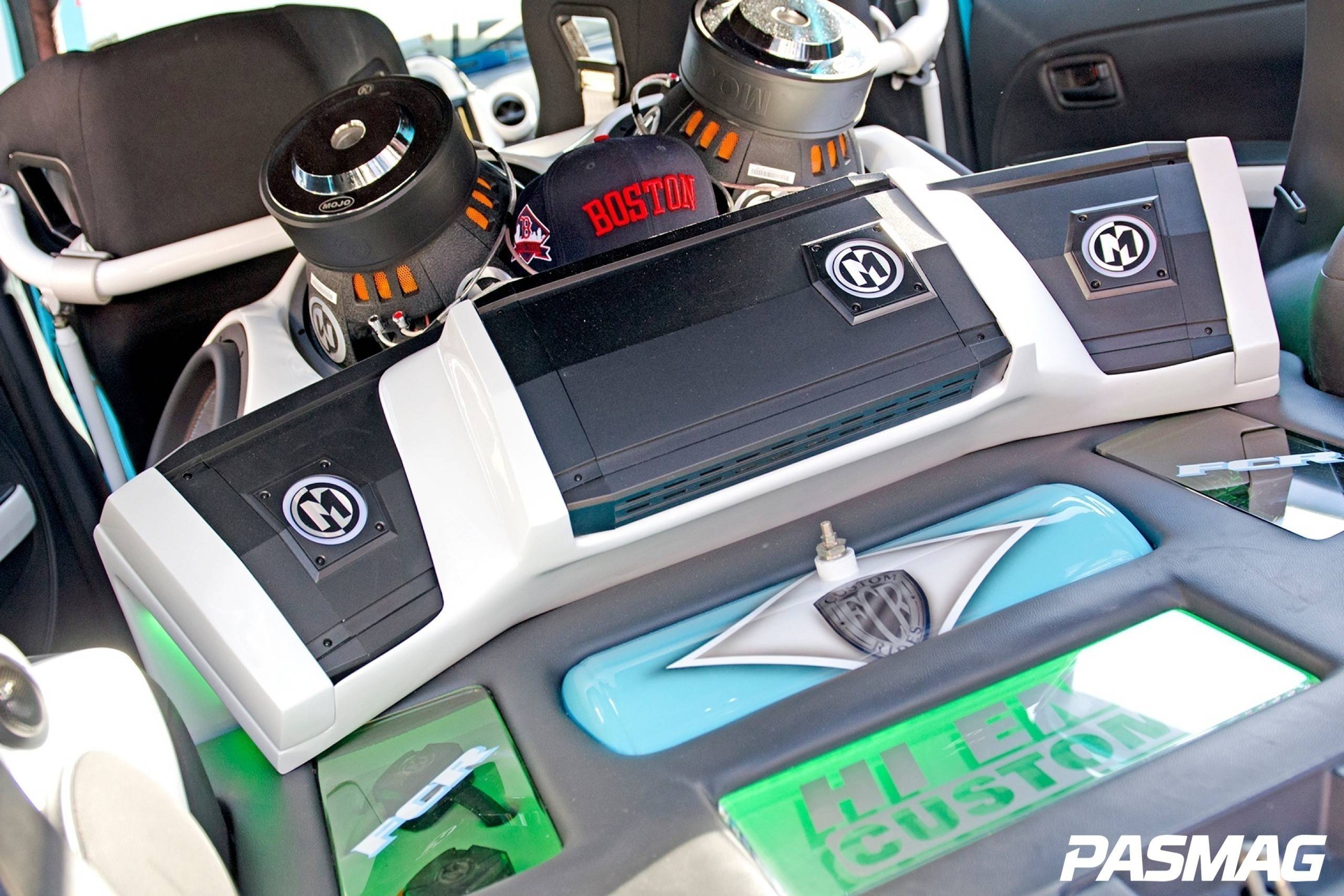 It was just less than a month before TBG finale at SEMA when Zaki found out he was voted into the Top Four against Luigi Arroyo's S2000, Frank Daniel's Chevy Camaro, and Tyler Pflanz's blacked-out Supra. It was a match of performance versus audio, and import versus domestic. The tuner gods couldn't have created a better match-up.
Zaki's SEMA vision was set to be realized, but before anything, he wanted to make sure he had his bases covered. He went to Hi End Customs in Malden, Massachusetts for its first major audio overhaul. Owner Alex Balurdi was tasked with stripping the guts of the interior and filling it with high quality components that pushed some ear-pounding SPL. While FCR was installing the suede liners and paintmatched trim, Balurdi was putting together a package of gauges, ORACLE LED lighting, wiring, TKO Audio visor monitors, a long list of Memphis Car Audio electronics and even a custom subwoofer enclosure, eyeball-measured and fitted like a glove.
"I let him come up with the whole enclosure and back seat build," Zaki said. "I took the back seat out, and let him do his own thing, I trusted him enough to come up with the whole template. And the crazy part is he actually did it without having the car."
All said and done, when the xA finally arrived from FCR, Balurdi was able to build and install everything just two and a half weeks before SEMA. Don't ask how.
The car was worked on up to the 11th hour heading into the Tuner Battlegrounds at SEMA. As part of his new package, Zaki opted for a set of paint-matched custom forged Niche Vector N370s. The only problem was the custom turquoise couldn't be matched at Niche, so just days before the showdown they shipped the wheels to FCR in three pieces, which were painted, shipped back to Niche for assembly, then back to FCR for the install. But with two days left, a leak in the wheel meant they had to go back to Niche for repair, while the xA was loaded onto the trailer and headed to Vegas on three new tires and a replacement.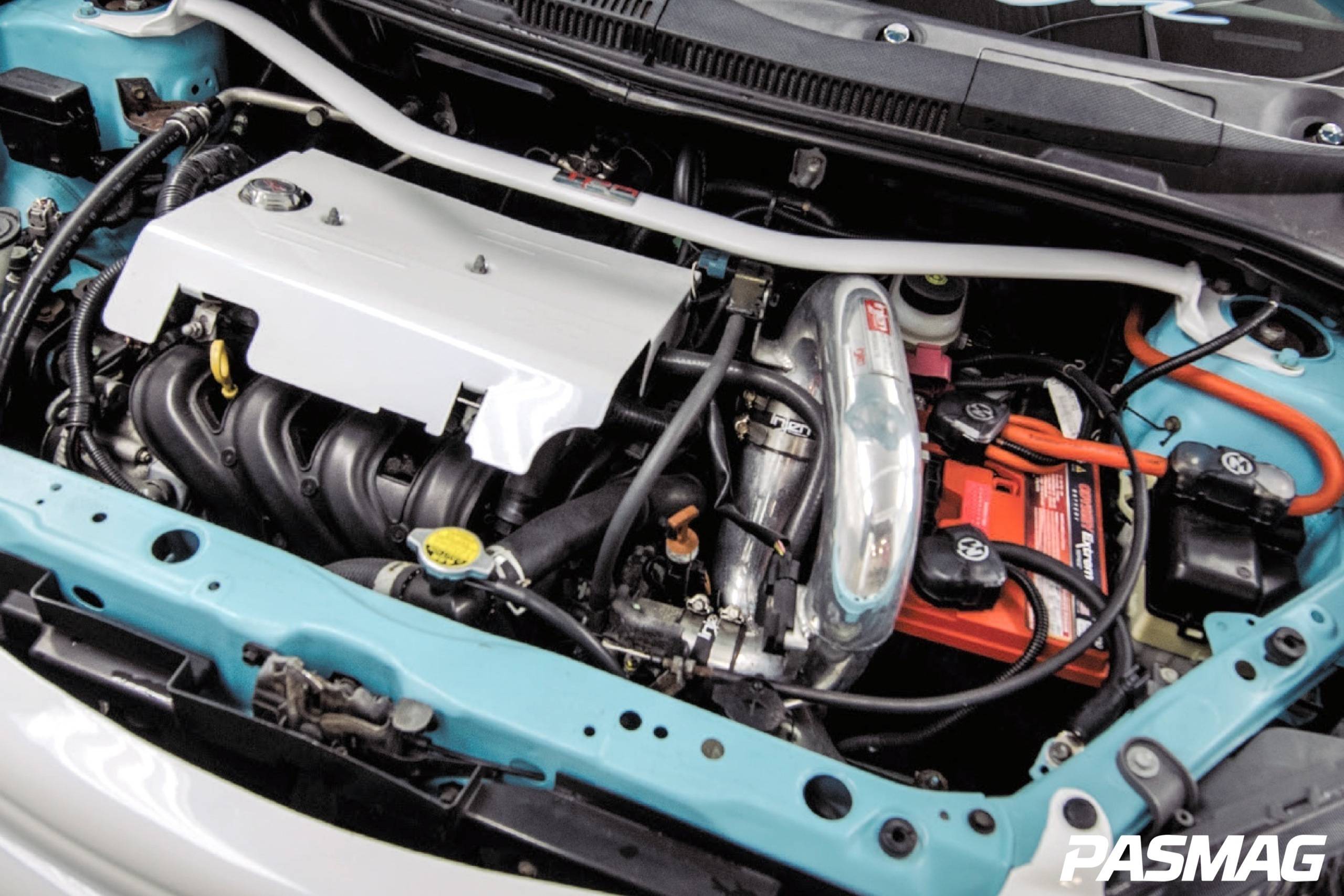 If that wasn't enough of a stressor, while Zaki's xA was en route to Vegas his front bumper suffered a near-catastrophic disaster, nearly being ripped in half and pulled off the car on the trailer. With luck on Zaki's side, Sudden Impact Customs (another Boston area shop who installed his Air Lift air ride) was on site to tape and paint their way past the $3,000 worth of damage. His Niche wheels arrived just in time, and when the doors opened, the effects of SEMA took full force.
Thankfully, he had one of the biggest crews supporting him. Made up of nearly 15 people including installers, builders, detailers and his friends from back home, Zaki made use of all his resources to put together the strongest campaign possible. For the final two rounds of the Tuner Battlegrounds, votes were determined by a 'text to vote' and 'call to vote' system, which meant Zaki and his team had to switch their approach to garner support.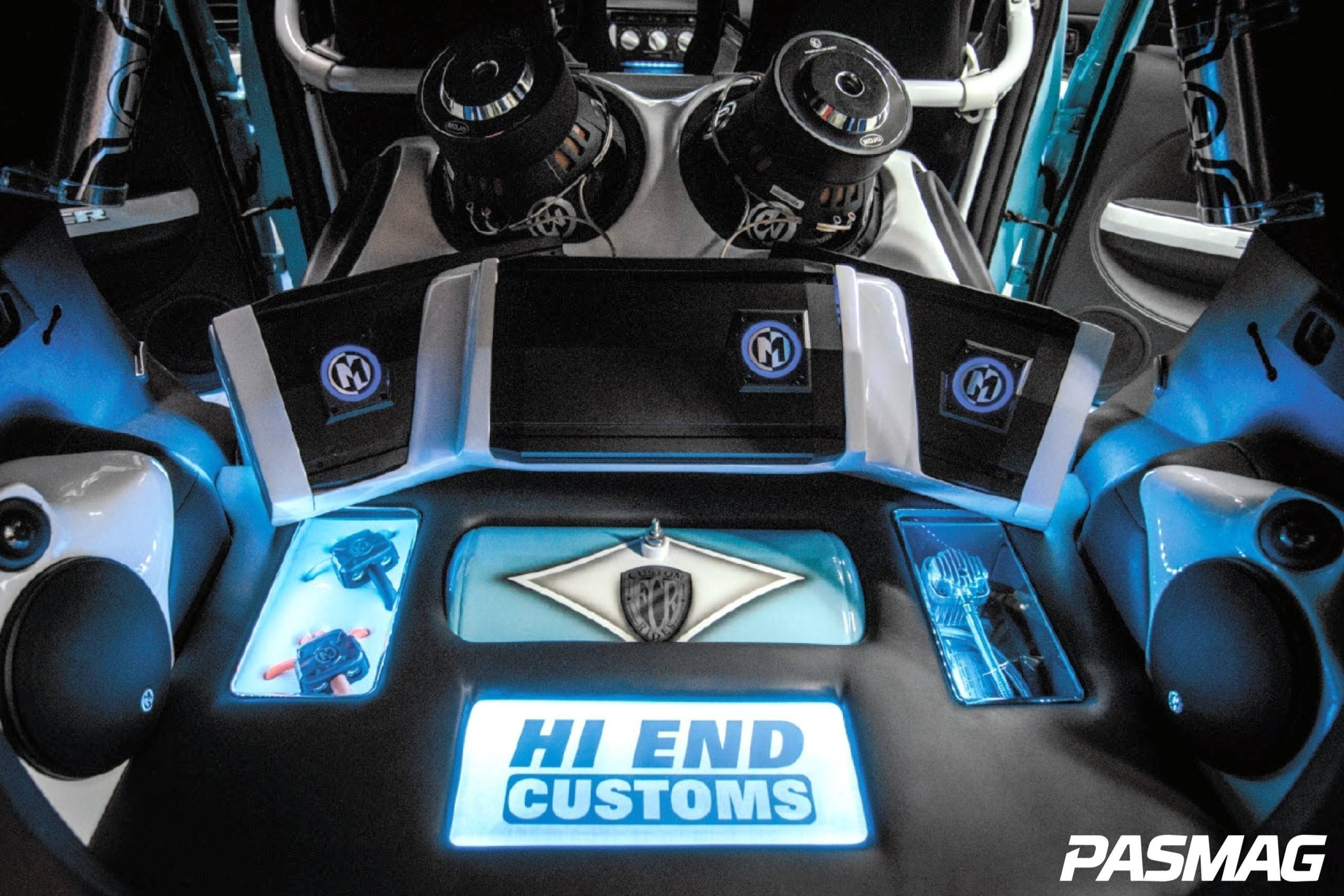 "We went to the [SEMA] show almost three hours before everyone else all four days," Zaki said. "We started promoting, we were telling people to call from their cell phones and text right when the voting was opened. When we were out at the nightclub, we were having a good time, but we were actually getting people to vote for the car. I didn't want to look at it like a vacation, we were there to win it."
When the votes were tallied, it came down to Pflanz's Supra and Zaki's Scion xA – performance versus sound. In the end, Zaki took the Tuner Battlegrounds crown with overwhelming support and the most worldwide votes of any competitor throughout the competition. That once-bone stock xA – his first car and gift from his grandfather – now sat atop the podium as the most voted car in North American tuning circles. All the hard work, all the dedication and all the weight was now off Zaki and his supporters' shoulders.
"You have no idea [how intense it was]," he said. "It was a situation where I didn't even walk around the show until I found out that I won the contest. I couldn't do it I was so nervous."
And while the TBG success is a great story for him and his Scion, perhaps the even greater victory is the one shared by those who helped him along the way.
"I think that speaks to just who we are, what we're all about," Zaki said. "TeamECR is about being different. Sure we collect trophies and prize money, but we make sure we're involved in the community and community events. Yeah we've made it to a certain point, but we're not just focused on getting to the next level as much as we are about getting everybody involved to the next level."
TeamECR was there to help get him and his car ready for the show when he couldn't be there. Hi End Customs is now busier than ever and now works together with FCR on joint body and audio projects, and Zaki is now working with 742 Marketing to expand its operations to the East Coast to help upcoming builders and tuners reach that next level. Even his detailer, Lia "SupahScion" launched her career after showing her best work at SEMA. So while he might be stepping away from any work on the xA in the near future, he and his Boston family will be working hard to make the dreams of the next generation come true. And maybe, just maybe, you'll hear something in the future about the FR-S he just bought, too.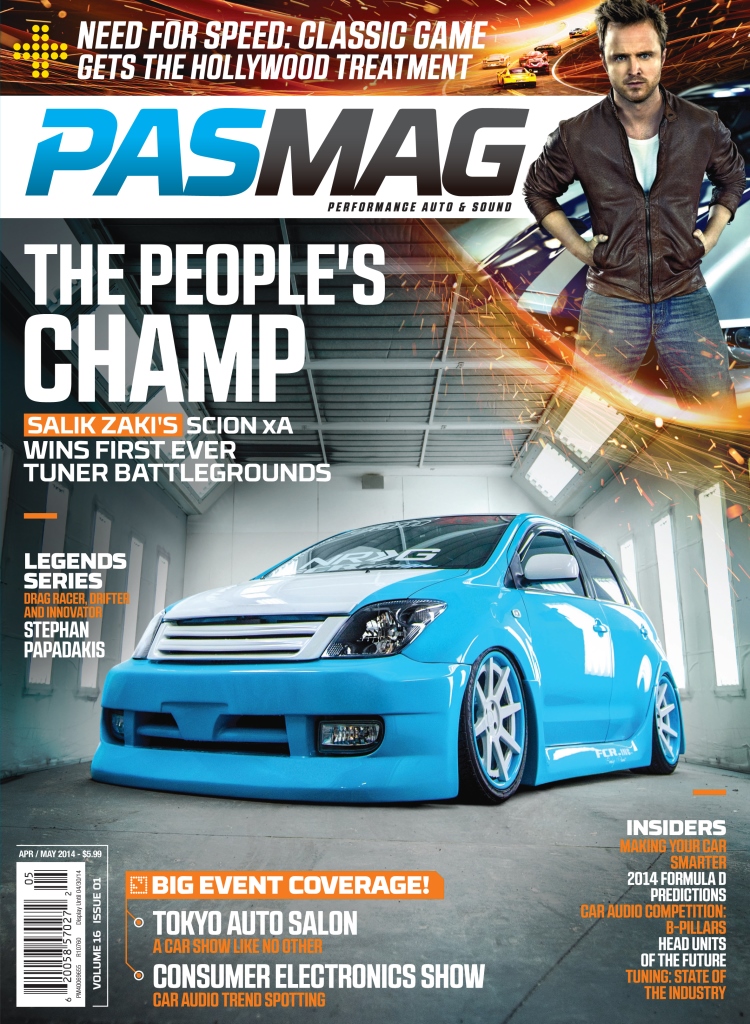 ESSENTIALS // Owner: Salik Zaki, Location: Boston, Massachusetts, USA, Vehicle: 2005 Scion xA, Club Affiliation: Team ECR, Engine: 1.5L I4, Horsepower: 130 hp, Torque: 105 lb-ft @ 4,200 rpm
ENGINE MODIFICATIONS // Injen (air filter, cold air intake)
EXHAUST SYSTEM // Strup Performance (custom one-off header- back exhaust, polished stainless 4-1 header, up pipe, down pipe)
EXTERIOR // Custom paint by FCR Inc., Weymouth, MA (PPG Turquoise, FCR "Secret Recipe" white pearl, House of Kolor blue ice flake), Fabulous JDM 10-piece body kit (front/rear bumpers, front grill w/ moustache, side skirts), OEM rear spoiler, Custom rear fender flares by FCR Inc., Toyota IST JDM headlight housing w/ 8k HID headlights, JDM Fabulous Toyota IST foglights w/ 8k HID lamps, Taillights painted Candy Black, Shaved rear wiper
WHEELS/ TIRES/ BRAKES // Niche Wheels custom paint-matched one-off forged Vector N370 wheels – 18x8 +26 (f), 18x9 +23 (r), Toyo Proxes TS tires – 215/40 ZR18 (f), 225/40 ZR18 (r), Brakes – factory calipers, R1 Concepts E-Line cross-drilled and slotted rotors (f), factory drums (r)
SUSPENSION // Air Lift (Digital Combo air ride kit (f/r), AutoPilot V2 digital control system), VIAIR 380 cc air compressors, Custom (progressive rate sleeve style front springs, double bellows rear air springs), TRD (front strut bar, sway bar)
INTERIOR // Custom interior by FCR Inc. (suede headliner, suede A/B/C pillars), NRG (quick-release white wood grain steering wheel, reclining racing seats, 4-point 2-in. harnesses, harness bar), Custom white LED factory gauges, ORACLE interior lighting, All interior pieces colour matched to FCR "Secret Recipe" white paint and House of Kolor Blue Ice Flake
AUDIO/ MOBILE ELECTRONICS // Built and installed by Hi End Customs, Malden, MA, Pioneer AVIC-9000BT head unit/DVD play- er, Memphis Car Audio (full range MCX1.1100 subwoofer amplifier (2), full range MCX4.75 interior amplifier, full range SA-4.50 rear fill amplifier, MOJO512D4 12-in. subwoofers (4), 6.5-in. MCCS6A front component speakers, 5.25-in. MCS5A rear door component speak- ers, 6.5-in. MCC6A trunk speakers, front fuse holder, main power wire, distribution blocks, capacitors (2), MOJO mat sound dampening), Custom (sealed fiberglass enclosure, amp rack, trunk floor w/ Hi End Customs logo), ODYSSEY battery, Rebuilt high-output amplifier
SPONSORS // FCR Inc., Hi End Customs, 742 Marketing, Memphis Car Audio, Air Lift Company, NRG, Niche Wheels, Toyo Tires, AMSOIL, ODYSSEY Battery, ORACLE LED Lighting, AppTronics
SPECIAL THANKS // My family, David Medina (TeamECR President), FCR Inc. (Tony, Rob, Danny, Jeff, Kevin), Hi End Customs (Alex Balurdi), Memphis Car Audio (Andy), Mike Hankes (Toyota of Braintree), Jeff Maldonado (742 Marketing), JDMASS New England, Josh Sweeney (Photographer), Lia "SupahScion" (Detailer)
For more information on Tuner Battlegrounds, visit: www.tunerbattlegrounds.com.