Photography by Adam Zillin
---
Is it too much of a stretch to suggest that of all the cars from the Fast and Furious movies, Han's Veilside Fortune FD RX-7 from the third installment, Tokyo Drift, ranks as one of the most memorable from the entire franchise? Sure, Toretto's Charger and O'Connor's Skyline are right up there, but Yokomaku-san's Veilside FD kit was so far ahead of its time, so out there from every angle that it nearly shocked everyone who laid eyes on it. And to think it's been almost 10 years since it first appeared... In my eyes, the Fortune FD kit is still as wild as ever, but somewhat more palatable now that it has aged. But it still divides opinion just as it always has. This is a curious feature for the readers of PASMAG because it's not so much a throwback as it is a current look into how this car and its lines are still completely relevant in today's tuning circles. Perhaps it's the Hollywood factor that keeps it in people's minds. It probably has something to do with the laid back charm of Han's character that makes him and his car endearing to audiences across the world; even more so now after that scene. I like to think it goes a little deeper than that. For instance, it might surprise you to learn that these kits are still being made for both domestic and international clients. And from what Veilside tells me, demand is still strong.
| | |
| --- | --- |
| | |
I find these facts to be truly amazing. The point is further driven home when a rather strange occurrence takes place on a Saturday night Wangan session at Tatsumi Parking Area. In rolls a car that instantly commands my attention, and like a tractor beam from the Death Star, I am inexorably pulled toward the sinister looking machine, camera at the ready.
The owner and I talk for a while but then another gentleman approaches me and wants to know why I am so interested in the car. Naturally, the movie comes up during the discussion and then with a smile, the gent reaches into his wallet and hands me his card. Veilside. We both just grin knowingly at each other. Tsuboi-san and I kept in touch after that and the feature you see here is the result of those discussions. I am very fortunate on this particular day because not only am I able to feature this FD, but among the other 12 Veilside cars present, there are four other Fortune FD RX-7s! The sting in the tail came when I discovered this very car is actually prototype number two for all Veilside Fortune FD kits ever created, making this a truly special and unique car.
| | |
| --- | --- |
| | |
Created in 2005 for the Tokyo Auto Salon, the dominating aspect of this RX-7 is its bodywork. Made entirely from reinforced fiberglass, it is a complex and all-encompassing work of automotive art. Comprised of almost 20 individual pieces and costing in the vicinity of $15,000, it's a complicated and elaborate set of parts that needs a skilled set of hands to get just right. If you look closely at this particular build, you'll notice that every panel has been aligned beautifully.
The kit itself is aggressive from every angle and is comprised of one-piece front bumper and rear diffuser assemblies along with an outrageous rear wing, vented hood and rear hatch, front and rear fenders with accompanying front and rear fender panels, door mirrors, and door panels. The package is further accentuated by unique triple lamp headlights that really set it all off.
Painted using a two-tone effect of glossy black and Galaxy Blue, the Zenki 1993 vintage RX-7 still carries an air of freshness about it. That might have something to do with the fact it has travelled less than 5,000 kilometers since being completely overhauled in 2005. Some might complain about an icon like this having travelled only a few hundred kilometers each year over the past eight, but owner Hitomi-san is intent on preserving the pristine condition of what he considers to be a desirable collector's item. That's not to say it doesn't come out on special occasions, like this day for example.
Before diving inside, let's take a look at the mechanical side of things. It's not a powerhouse by any means, but has received some important upgrades to balance out its powerful looks. The 13B was overhauled in 2005 and given a fresh side porting, with the twin-turbo setup being retained and built on with HKS racing suction intake pods. Packing a total of 360 hp and 400Nm of torque at 7,800 rpm and 8,000 rpm respectively, with an extra 60 hp and 100Nm coming courtesy of a shot of nitrous from the NX canister nestled between the front buckets, Hitomi's FD presents a well-rounded level of performance tuning. Ancillary support for the engine includes increased boost that pumps through an HKS V-mount set up utilizing an HKS triple core intercooler and original Veilside single core radiator. Exhaust gasses are pushed out through a straight pipe titanium 3-inch system, exiting in a Veilside titanium muffler. Regulating fuel, air and exhaust gasses is an old-school APEXi V-Pro management unit.
| | |
| --- | --- |
| | |
Handling the delivery is a robust drivetrain consisting of an OS Giken triple-plate clutch, pressure plate and lightened flywheel assembly which sends the power through to an HKS two-way mechanical differential. All this mechanical goodness is suspended by HKS HyperMax adjustable dampers wound to 18 lb spring rates on the front, followed by 22 lbs in the rear. For me, the standout highlight for this car is not actually the bodykit, but the wheels attached to the hubs. The Veilside PL-VII five-spoke forged aluminum rims are real gems and perfectly suited for this particular application. Created by Veilside in 2011, the three-piece, PL-VIIs are a recent addition for Hitomi and he decided to go for 245/30 tires in 20 x 9J with a +4 offset at the front and a huge 295/25 in 22 x 11.5J with a massive -34 offset at the rear and wrapped in Bridgestone Potenza rubber.
It might sound like a mismatch but one look at the car and you can see it works. They fill the bulging Fortune FD arches beautifully and don't appear to overpower the visual presence or mechanical ability of the rest of the build. The PL-VIIs almost dwarf the Endless six-pot calipers and ventilated 355 mm rotor arrangement up front. You might be wondering how it rides with a set-up like this but the truth is, it's actually very competent and thanks to the Roberta cups attached to the tops of the HyperMax dampers, it's flexible, depending on surface conditions and steepness of incline.
It takes quite a while to really soak up the external aesthetic presence of a Fortune FD kit so you better take a breath before opening the door. Inside, it's just as heavily customized, featuring some classic Alpine ICE nestled into custom fittings, custom leather, inlaid stitching, dashes of carbon fiber mixed with kevlar and, of course, that massive NX nitrous bottle.
Keeping with the theme, Veilside goes with a black and blue interior color scheme that is accentuated by a number of custom Veilside upgrades including the steering wheel, type 2 shift knob, aluminum pedals and special Veilside dash meters. Hitomi and willing passengers strap into Veilside's premium carbon/kevlar leather-bound buckets mounted on custom rails. Inside, both have access to a number of Alpine in-car entertainment accessories including a unique Veilside passenger pod containing an Alpine TV and DVD player. Tunes coming from Hitomi's Alpine HDD-equipped head unit are magnified through two, 5/4/3 channel MRV-F450 Alpine amplifiers and thump through three 12 inch Alpine Type R subwoofers. All this is built into custom rear parcel and rear passenger inserts, wrapped in premium leather of a similar color to the paint. The effect is amazing and the fit and finish is first class.
| | |
| --- | --- |
| | |
Reflecting on its individual components, Hitomi's Fortune FD is a bit overwhelming. Fortune FDs just are. All things considered these are very complicated builds, but when you actually see one in the flesh, chances are your mouth is going to fall open, with your eyes forcing your neck to follow as it goes past, regardless of the opinion that is sure to follow the shock and awe. It happens to me time and time again, so you would have to be a pretty jaded enthusiast not to follow suit. The fact remains, Yokomaku-san's design is quickly turning into a timeless and iconic classic where Japanese aftermarket tuners are concerned, and The Fast and Furious franchise hasn't done the international reach of Veilside any harm at all. It has aged exceptionally well and still looks as cutting edge as it did back in 2005. If anything, the Fortune FD kit is like a bottle of wine that has gotten better with age. It's just a shame Han is not around to sample a glass of Veilside's finest in 2013.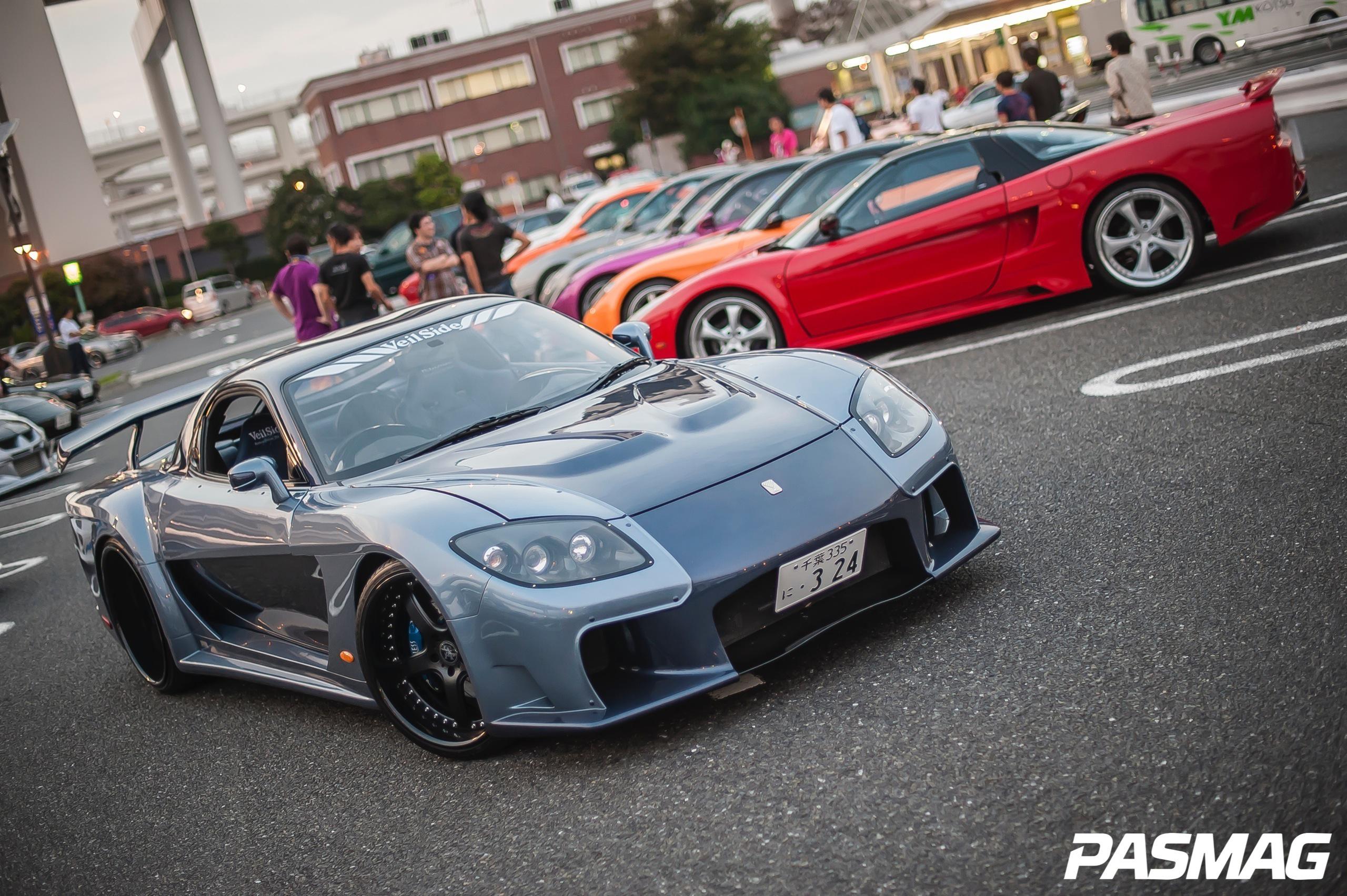 ESSENTIALS

Driver: Hitomi-san
Built by: Veilside Japan
Engine: Twin-Turbocharged 13B rotary
Horsepower: 360 hp
Torque: 300 lb-ft
ENGINE MODIFICATIONS
Overhauled with side porting
HKS Racing Suction pods
APEXi V-Pro engine management
HKS V-mount triple core intercooler
Veilside original single core radiator
NX nitrous injection system
EXHAUST
Veilside (titanium 3-in. straight pipe system, titanium muffler)
DRIVETRAIN
6-speed manual
OS Giken (triple-plate clutch, flywheel, pressure plate)
HKS mechanical 2-way differential
CHASSIS/ SUSPENSION
HKS HiperMax adjustable dampers
Roberta cup strut tops
WHEELS/ TIRES/ BRAKES
Veilside PL-VIII wheels - 20x9 +4 (f), 22x11.5 -34 (r)
Brigestone Potenza tires - 245/30R20 (f), 295/25R22 (r)
Endless Brakes (four-piston calipers, 14-in, slotted rotors (f), two-piston calipers, rotors (r), NS pads)
EXTERIOR
Complete Veilside Fortune FD kit (19 pieces)
INTERIOR
Complete custom interior re-trimmed in leather and alcantara (dash, headliner, door trims, center console, rear searts, lower center console, door handles, trunk lining)
Veilside (Type 2 shift knob, steering wheel, carbon/ kevlar seats and side brackets, instrument cluster, aluminum pedals)
AUDIO/ MOBILE ELECTRONICS
Alpine (TV unit and DVD player mounted in custom Veilside dash pod, HDD center unit, MRV-F450 amplifiers (x2), 12-in Type R subwoofers (x3) mounted in custom trunk insert and rear seat arrangement)