This is the sort of place that you'd blow straight past in a matter of seconds, without so much as a second thought. You wouldn't even stop here for a snack at a convenience store, because, well, there isn't one. Hidden in this small farming community near Gobo in Japan's Wakayama Prefecture, surrounded by muddy rice paddies and lush green forest, you can find a small, nondescript grey building, not unlike the hundreds of thousands of other nondescript grey buildings dotted across rural Japan. There is no sign above the roller door, no tell-tale stacks of used semislicks sitting outside and no patchwork of oil stains on the pavement out front, but make no mistake; automotive magic takes place here. This is the home of Inazuma Worx.
Thirty-three-year-old Ikeda Masataka is the brain and the hands behind Inazuma Worx. He's the sort of guy that, despite not speaking a word of English, manages to make you feel welcome in his shop with a wry smile and a nod, even if his sharp features and traditional top knot hairstyle make it hard not to picture him as a hardened samurai warrior, had he not been born a few hundred years too late. Ikeda-san has always loved Toyota's iconic AE86, and he's owned and built dozens of them since turning 18, enough to warrant eventually opening his small business. Inazuma Worx is split into two workshops; a pristine body and paint shed and the more traditional mechanical workshop around the back. Inazuma translates as 'thunder' in Japanese, and is Ikeda-san's nod to the Trueno and Levin nomenclature, which is 'thunder' in spanish and 'lightning' in middle english, respectively.
Amidst all those Hachi-Rokus bought, built and sold over the years, Ikeda-san picked up one particular example about a decade ago; a genuine panda-scheme 1983 Zenki Sprinter Trueno, complete with reddy-orange interior; the most desirable 86 combination, thanks to a certain anime and it's choice of tofu delivery vehicle.
"The car looked really bad," Ikeda-san explains. "I bought it for ¥100,000 [around $1,000] and the exterior was not good, but it doesn't matter what it looked like on the outside, because the chassis itself was perfect - that's what's important."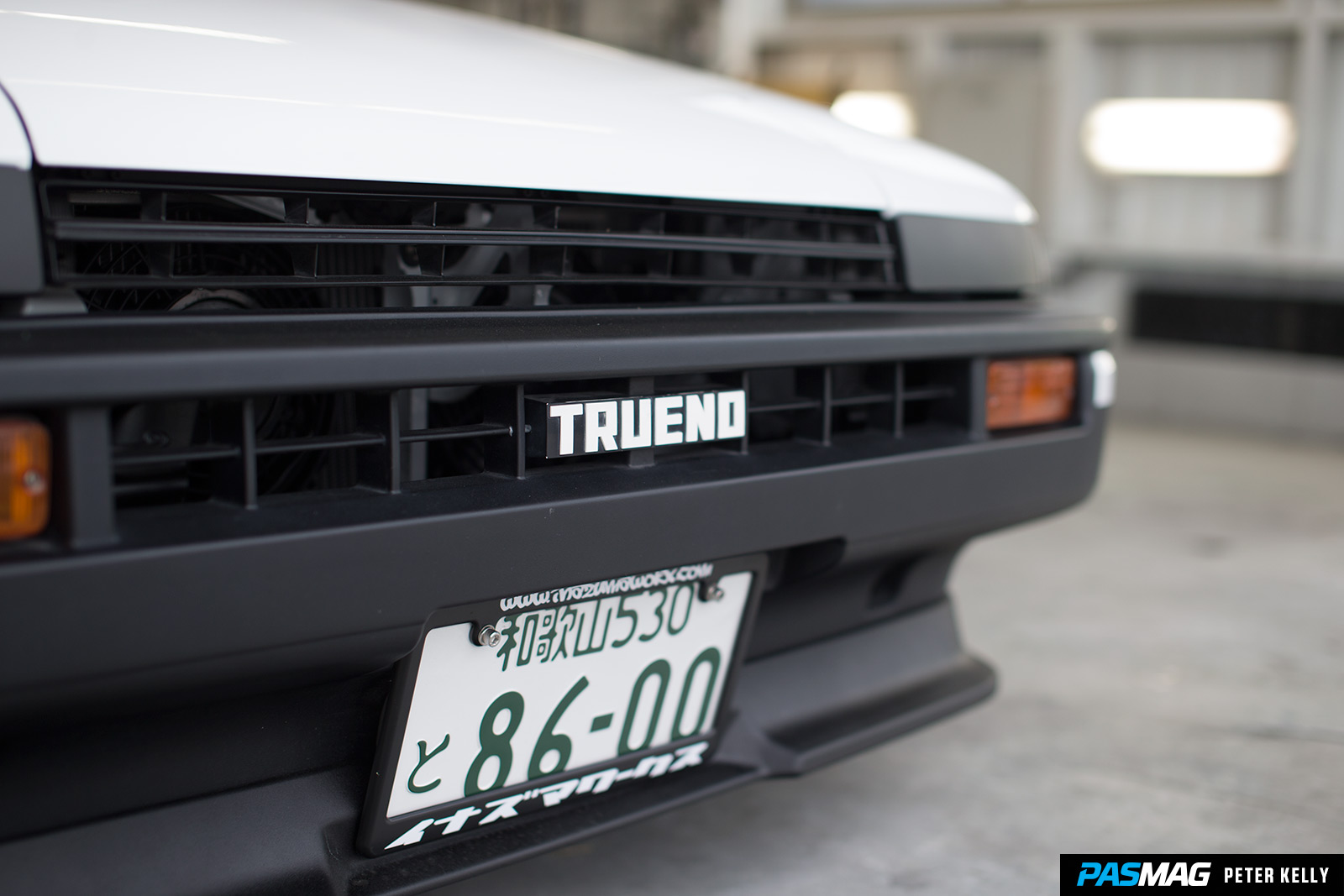 Ikeda-san slowly began working on his Panda 86 in between other projects, and while those other cars would be aggressive, super-loud, super-wide weapons like his "other" current 86, a widebody jetblack monster used for touge driving and track days, this machine would be built to show that you don't need all that aero bravado to build an amazing Hachi-Roku. You simply need precise, attention-todetail perfection.
At first glance, the Panda 86 is somewhat unassuming, and it's not until you take a closer look that you begin to understand the quality of craftsmanship involved. Ikeda-san stripped the car right back and worked from a bare-metal shell, slowly but surely restoring the body to a state far beyond what Toyota would have required back in 1983 come final inspection time - it's millimeter-perfect from front to back. The panels are dead-straight, and the paintwork can best be described as incredibly crisp to look at in person. Peek through the glass and that famous so-ugly-it's-beautiful interior remains, though a few small improvements have been made with the addition of necessary instrumentation, a supportive driver's seat and electric windows pulled from a later Zenki 86.
This is probably about the right time to address the elephant in the room for those who know their 86s and are screaming "how?!" For the non-Hachi-Roku nerds; these cars run a solid beam rear axle, which means you will never see any form of camber out back, unless you're looking at Ikedasan's car of course, which now houses an entire S15 Silvia rear end under its ass.
"It was a very difficult job." Ikeda-san says. "The Silvia is a lot wider and I wanted to run wide, low-offset wheels, so I spent a long time measuring, getting everything right and fabricating parts to make it work. I built it all off the car and then installed it and the suspension now works as it should... But tire wear is probably not going to be so great."
Ikeda-san is also well aware that the excessive camber he's dialed into the Panda isn't great for handling either, but that is what his other is 86 for. This machine was built as a pure show-worthy streeter that sits super low over super-wide (and straight-up gorgeous) SSR Longchamp wheels, all without the help of a bodykit to make it look lower than it is.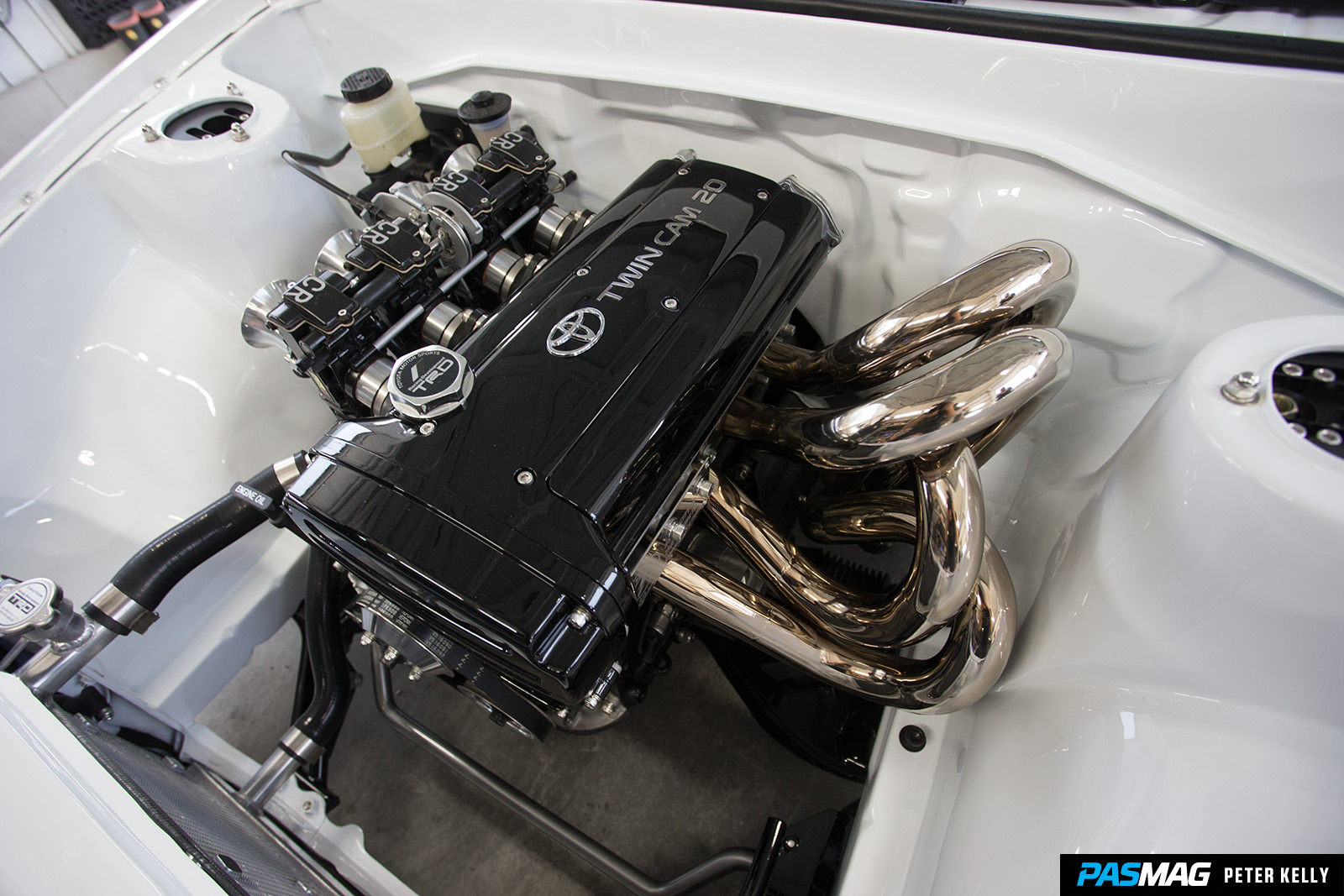 As impressive as the conversion to IRS is, it's the engine bay, where the concept of minimalism and simplicity reigns supreme, that is undoubtedly the star of this car. Though the 86 is still 4A-GE-powered, the forged, high-compression engine build is based around a newer generation 20-valve version (from the AE111 Levin) sucking down air through a set of beautiful FCR motorbike carbs. An Australian Haltech ECU now controls the individual coilpacks, and the loom has been routed through the crossmember to hide it from sight. With everything else either being deleted or relocated - the wiper motor, brake booster, master cylinders - the entire bay was then shaved and reshaped to absolute perfection. Sure, the obvious things like the perfectly flat firewall stand out, but look closely at the little touches - the strut towers and inner arches aren't supposed to be symmetrical, and the radiator certainly isn't supposed to be hidden from view. Go on, pick up your phone right now and find an image of a stock AE86 engine bay and compare.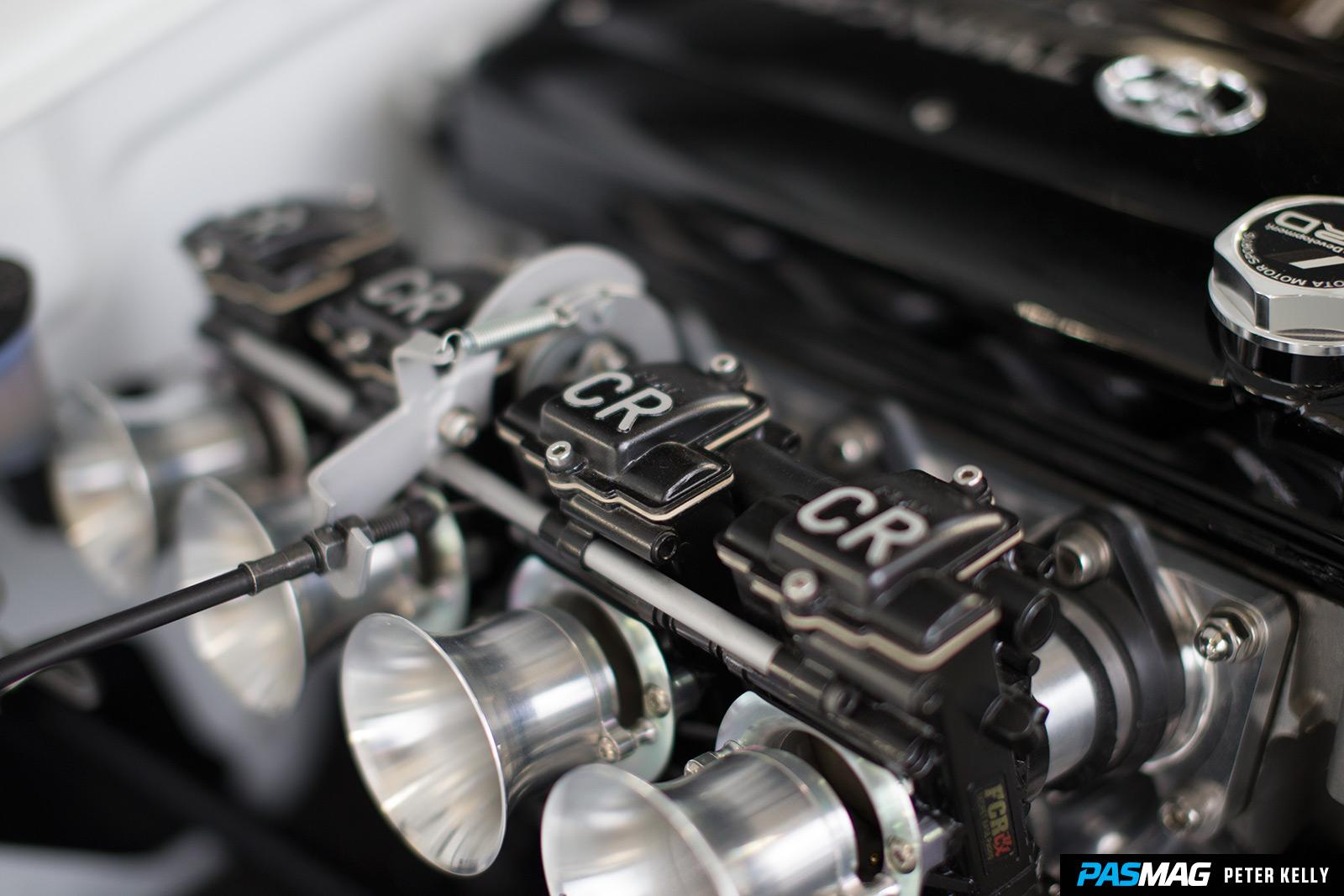 At face-value, this all equates to someone standing in front of this engine bay and asking: "does this thing actually run?" But stand there long enough, and you'll start to really appreciate the artistry and the craftsmanship involved in creating something like this.
This Hachi-Roku is not a monstrous, flame-belching, big-winged monster of a car. It's subtle, refined and surprisingly quiet (though the lumpy idle does tend to give a few things away) and yet, it might just be the best, if not certainly the cleanest, AE86 in the world. Not that you could ever tell someone like Ikeda-san that, he'd simply smile politely and shake his head, then go back to his workshop in the middle of nowhere to settle into another few years spent creating pure automotive perfection. #PASMAG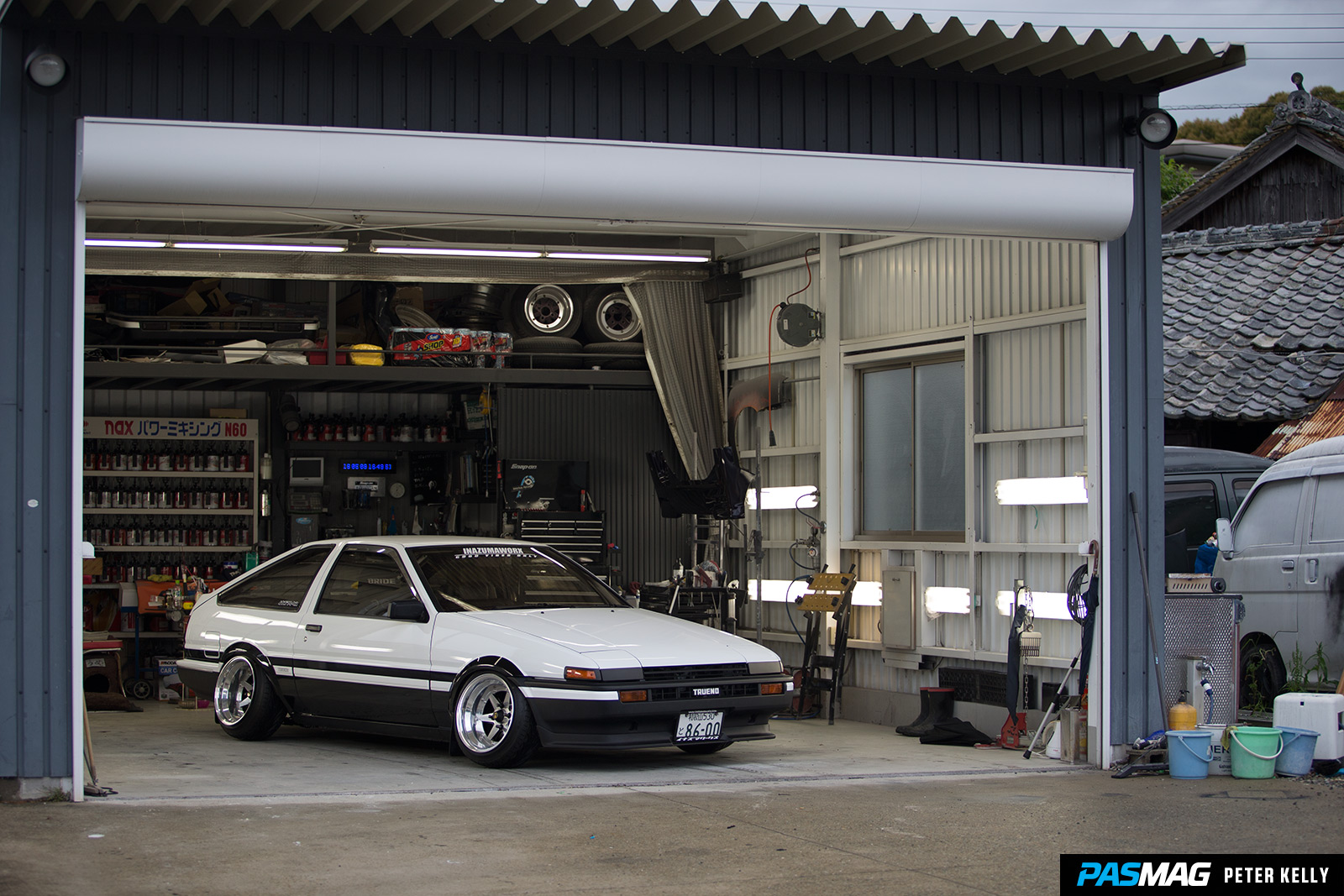 Photos by Peter Kelly
---
ESSENTIALS
OWNER: Ikeda Masataka
VEHICLE: 1983 Toyota Sprinter Trueno (AE86)
BUILT BY: Inazuma Worx
LOCATION: Gobo, Wakayama Prefecture, Japan
ENGINE: Toyota 4A-GE 20-valve 1.6L I-4
HORSEPOWER: 200hp
SOCIAL
Instagram: 1ke_d
ENGINE MODIFICATIONS

12.5:1 compression ratio
Blueprinted block
Toda (forged high-comp 82-mm pistons, 288/288 cams, HD valve springs, adjustable cam pulleys, 0.8-mm metal gasket)
Rising H-beam lightweight connecting rods
Ported & polished head
Keihin FCR 41-mm carburetors
Haltech ignition ECU
Nismo fuel pump
Individual coilpack conversion
Alloy race radiator
Custom (billet intake manifold, full bay shave & wire tuck, wiper motor tuck, radiator tuck, symmetrical inner fenders, reshaped strut towers, radiator support)
EXHAUST SYSTEM

Inazuma Works muffler
Custom (stainless exhaust manifold, 2.5-inch stainless exhaust system)
DRIVELINE

Toyota T50 5-speed gearbox
Exedy Super Single clutch
Tomei Nissan Silvia S15 2-way 4.3 final LSD
Nissan Silvia S15 axles
Custom shortened driveshaft
CHASSIS / SUSPENSION

Inazuma Works (custom coilovers, adjustable suspension arms)
Nissan Silvia S15 (rear subframe, rear IRS suspension system)
Custom pillow ball camber plates
WHEELS / TIRES / BRAKES

SSR Longchamp wheels – 15x9 -27 (f), 15x10 -42 (r)
Toyo T1R tires - 195/45 R15 (f/r)
Endless (brake calipers, rotors)
EXTERIOR

Toyota (Zenki splitter, Zenki mud flaps)
Panda scheme paint respray
"Pumped" factory fenders
INTERIOR

Nardi Classic 330-mm steering wheel
Works Bell quick release
Bride Zeta III driver's seat
Sabelt harness
Defi gauges (water temp, oil temp, oil pressure, exhaust temp, voltage)
Innovate gauges (AFR, fuel pressure)
Toyota Kouki electric windows
Custom rear floor
---
PHOTO GALLERY