In Oceanside, New York, a hero has emerged from the darkness. You can find it cruising around town, modelling on the old train tracks, and always looking flashy. This hero isn't a new addition to the cityscape of Oceanside at all - it's been a mainstay for eight years now, and in its strongest form yet, it has some new additions to show off. Oh, this hero isn't a person by the way, it's Donald Santora's widebody Volkswagen Golf Mk5 GTI.
Modifications didn't begin in Santora's life with an old Golf or Rabbit as you might have assumed. In actuality, a 1984 Pontiac Firebird is where Santora's mod roots were honed.
"My first car was a 1984 Pontiac Firebird that my dad had passed down to me to maintain," Santora recalls. "I still figured out a way to make it unique in my own way. I got the Firebird when I was in high school. And what does every kid in high school that gets a car want to do? Make it go faster and look better!"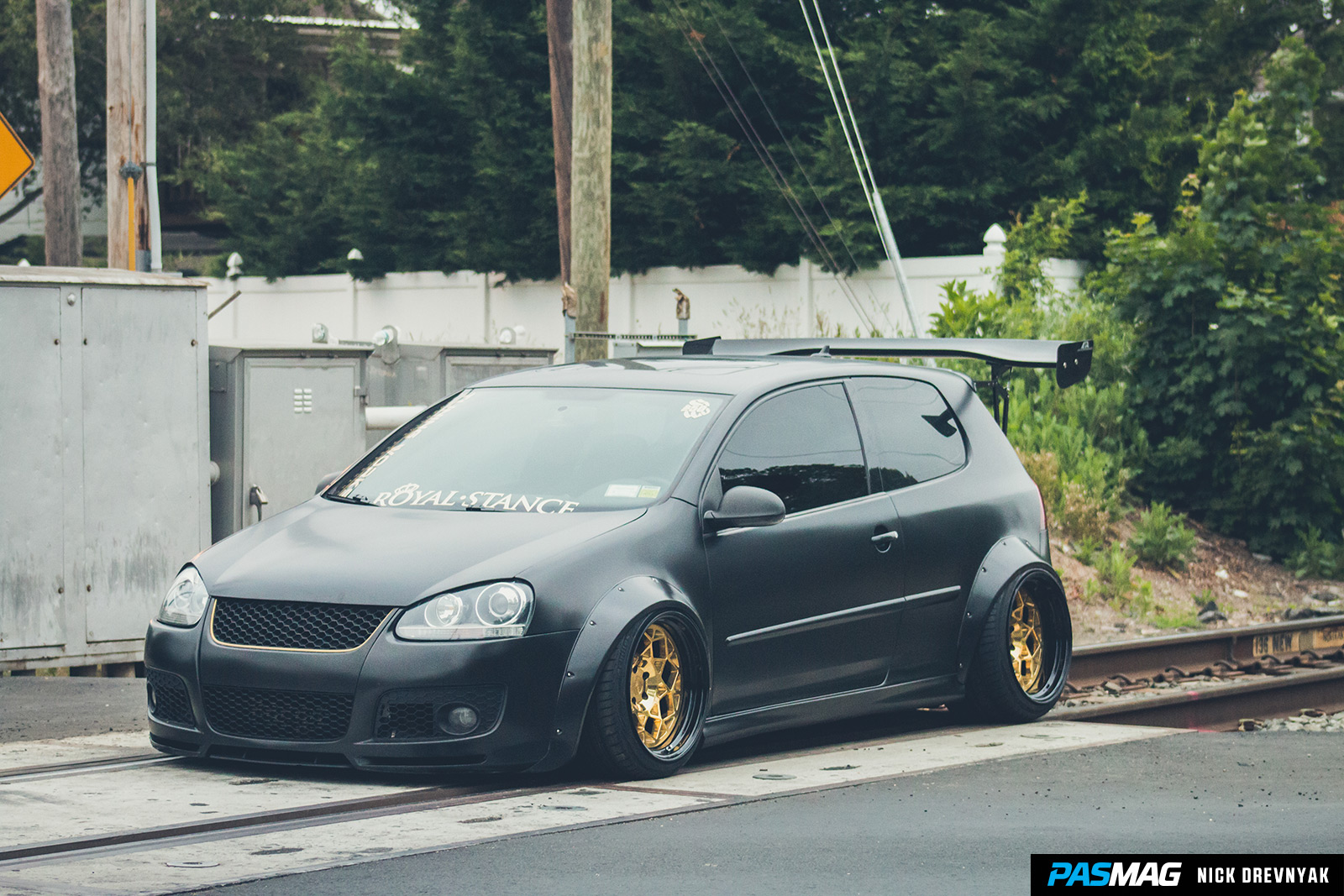 Not too long after, the catalyst for almost every enthusiast alive at the time, Fast and the Furious shifted into theaters, which accelerated Santora's modification infection. He found himself taking a huge interest in the VW community and let himself become totally immersed. A Golf GTI followed not long after.
The GTI mentioned here isn't the same as the one Santora currently rolls in. Unfortunately, his first GTI did a different kind of roll, and rolled completely over in a crash, totaling it. Santora and his passenger were thankfully unharmed, which is something that Santora credits to the GTI's superior engineering. When it came time to looking for a replacement, another GTI was a no-brainer.
Enter Santora's 2008 Golf Mk5 GTI, which he bought brand-new that year.
The Mk5 has gone through a few stages in the eight years since its acquisition. The most notable would have to be the stage before receiving the touch of gold it now has. Before this, the Golf was completely murdered-out and wore a "Dark Knight" vanity plate. The all-black appearance and appropriate plate garnered the Golf a nickname: The Batmobile.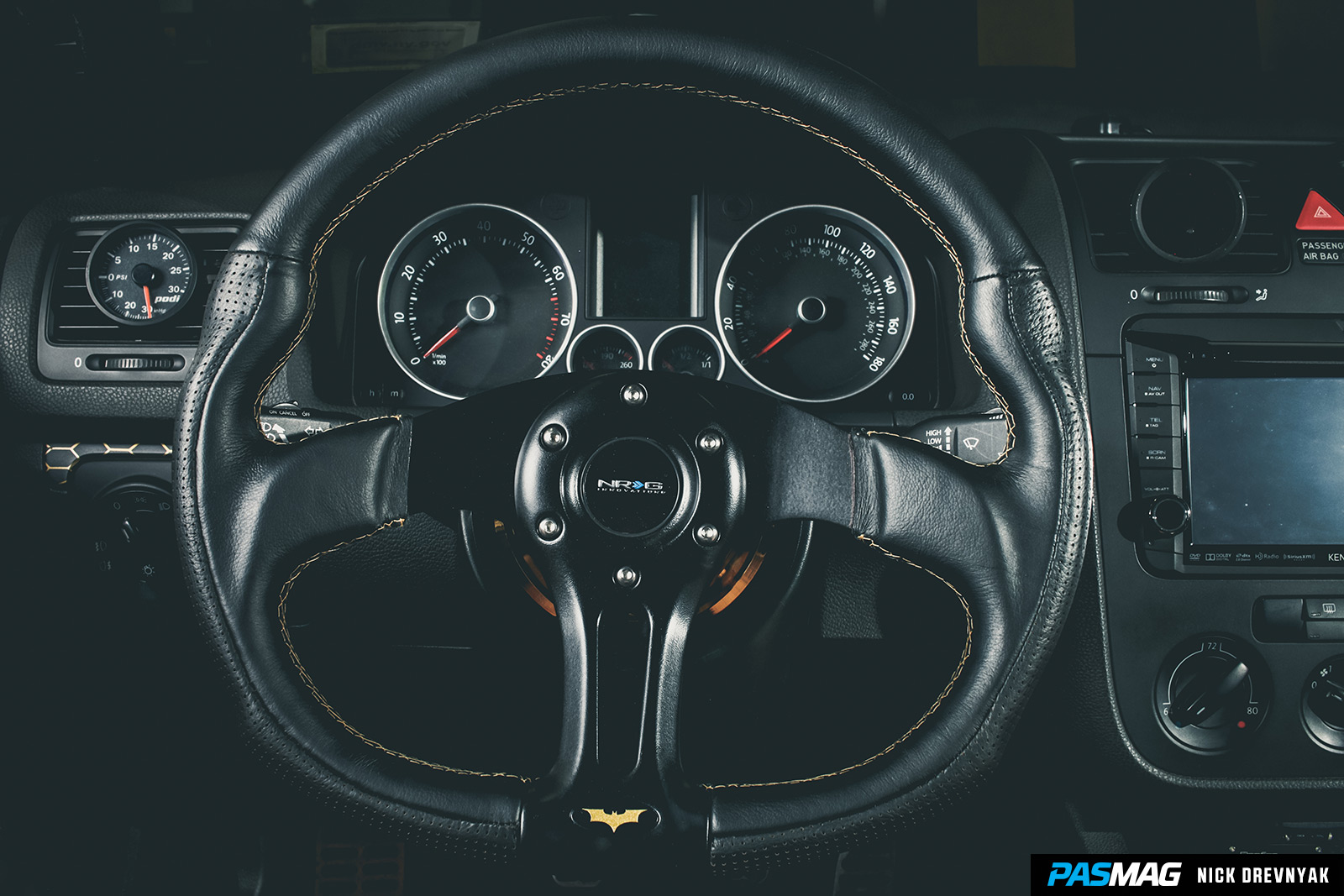 "The Batman theme and touches actually came about before the Dark Knight movie came out," Santora explains. "The car was initially all blacked out, so I wanted a vanity plate that went well. The plate reads 'Dark Knight,' and soon after, the movie came out and everyone kept calling the car 'The Batmobile.' I embraced it! This is what also brought about the touches of gold on the car."
The golden accents take place all over the Golf. On the outside, the often red piping in the grille of the GTI is gold, as well as the rear emblem. The outstanding threepiece Rotiform DSC wheels feature a gold face and gloss black barrel and lip, measuring in at 18x11.5 inches with a -7 offset in the front, and 18x13 inches with a -9 offset in the rear.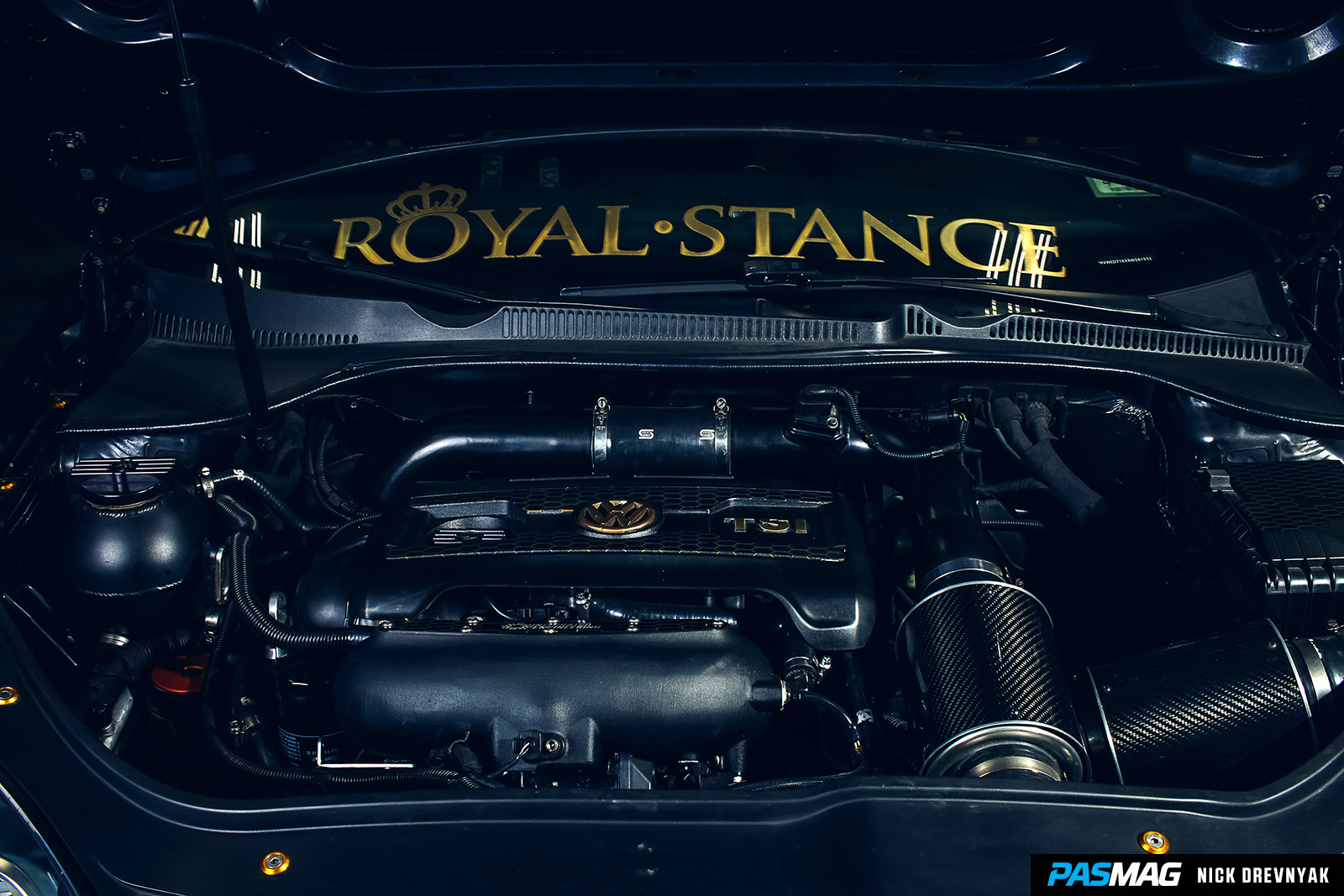 Under the hood, the valve cover and takes on some gold accents, while inside, the Forge Motorsport Big Knob shift knob, harness bar, air system hardlines and honeycomb inserts receive a touch of gold. The NRG steering wheel, shift and e-brake boots, as well as the Cobra racing seats were all stitched with the same gold to tie everything together. In the rear of the car, just above the air management system, is an illuminated Batman symbol to really drive the point home.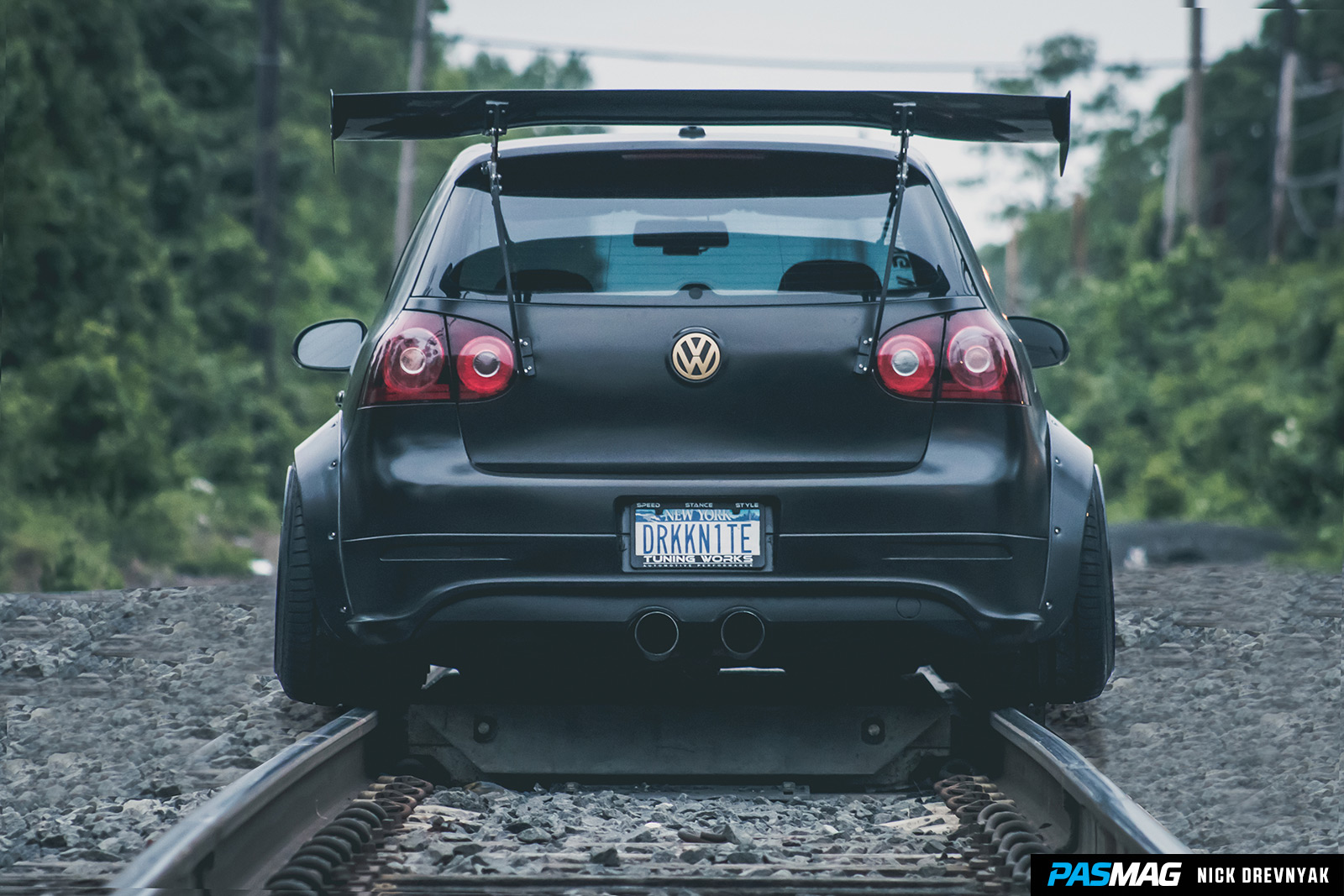 The most recent addition to the Mk5 is the massive APR GT wing. "Wait, I didn't know APR Performance made a GT wing for Golfs," you may be saying. Don't feel bad for not knowing though – they totally don't. Santora's new wing is actually from a Subaru Impreza STI. After being inspired by the VW UK racing team's GT wings, Santora was on the hunt for a wing that would work and by chance came across something that could.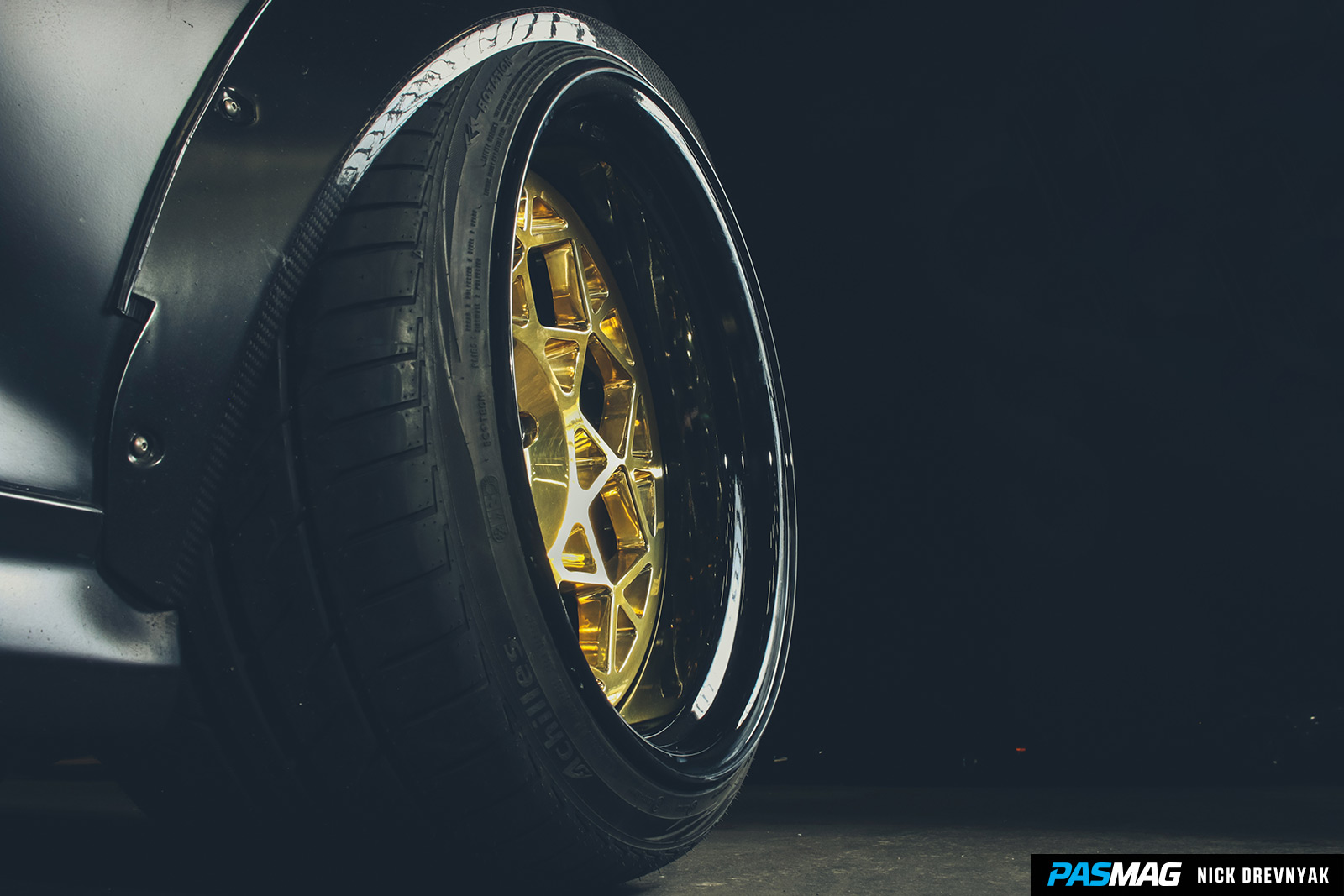 "It just happened that my cousin and business partner were parting out his Subaru STi build and had the wing for sale," Santora says excitedly. "I held the wing up to [the Golf] one day and that was it. It had to happen! Then I was faced with the challenge to find a way to mount it."
Santora made up some cardboard templates that he thought might do the trick, but just couldn't find anyone to cut him something workable, so he started looking for other options. In his search, he stumbled upon the company BMSPEC, who listed wing mounts for the Mk5 GTI. After calling and snagging the last set, Santora fabbed up some aluminum wedges and added an extra bolt hole on the mounts, and voila, the dark knight had become a caped (spoiled?) crusader.
"I know people will say I'm crazy and poke fun at why I'd need all that downforce on a front-wheel-drive car," laughs Santora. "Honestly, it looks great and I'm very happy with it! People compliment it and people criticize it, but it's here to stay."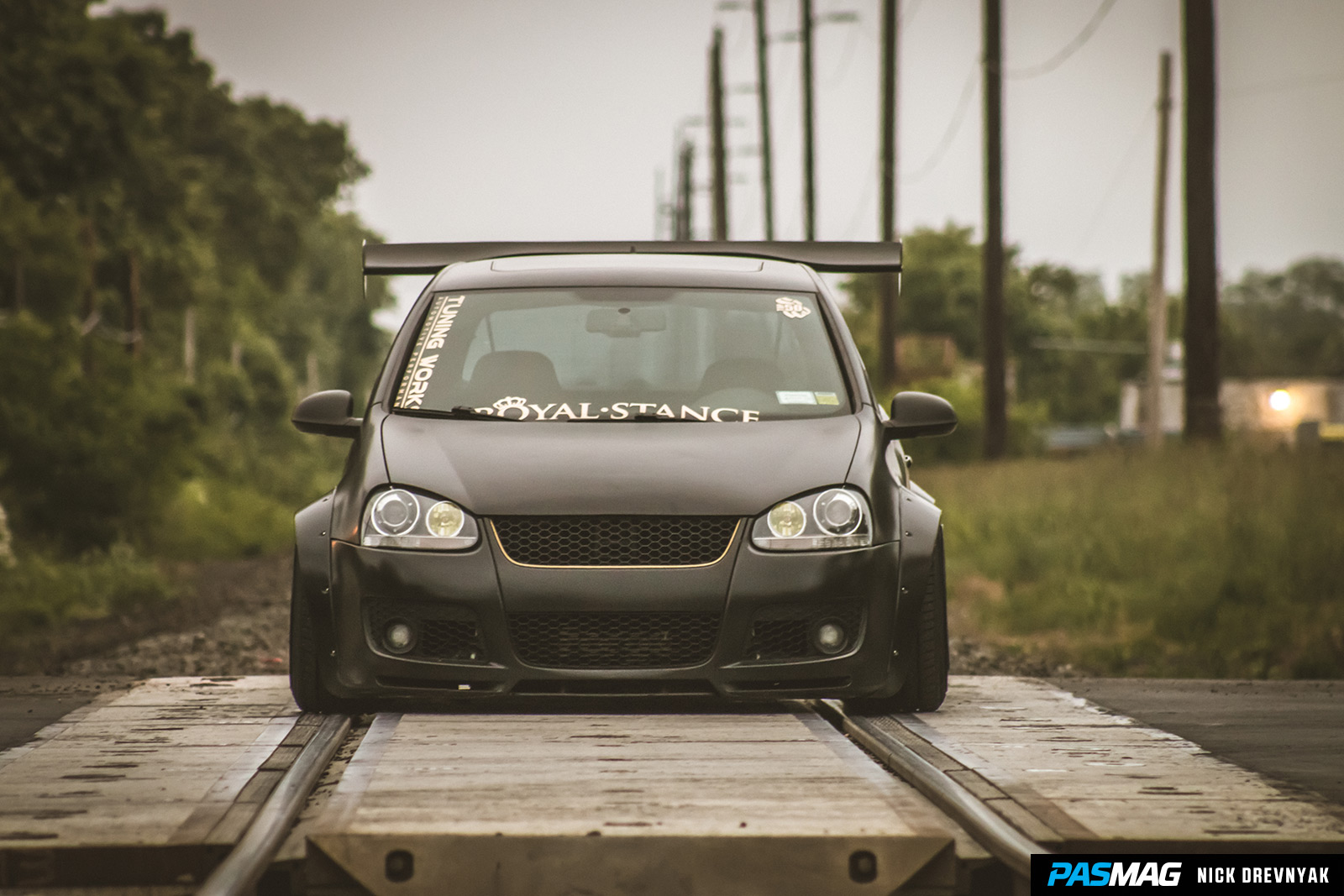 Come to think of it, Santora has quite a few modification choices that don't exactly make sense to everyone. He estimates that the CBFA two-liter inlinefour powerplant makes over 400 horsepower with the addition of a Garrett GTX3071R turbo and supporting parts from Forge Motorsport and upgraded Audi bits from the Golf's cousin's parts bin. But is all that power really needed for a car that's squatting some ECS Tuning carbon fiber fender flares over stretched 305 width tires in the rear? Of course it is. This build is Santora's and he does what he wants to make himself happy. It's something he lives by.
"I do things how I want them, whether it's according to how people are doing things or completely out of the box," He says with conviction. "It's great knowing that people appreciate the things you do and want to build a car because you inspire them in some way to do so." "If you ever see me out there at a show and want to know how I did something, I'll be happy to chat with you about it and show you how I got it that way," Santora continues. "I've always thought that it's childish of people that, for example, won't tell people their wheel specs. Like, come on! The people asking obviously like what you're doing and you've inspired them somehow to do something. That's big."
Santora's Dark Knight GTI is a hero in its own right, as it carries the flag for what the car scene should be all about: mutual appreciation and helping each other out. If you can inspire someone to create something out of something you've created, we believe that's got a certain hero quality to it. Let's just hope that this GTI doesn't get a vigilante status once the cops are called when it's showing off its stance on some train tracks. #PASMAG
Photos by Nick Drevnyak
---
ESSENTIALS
OWNER: Donald Santora
VEHICLE: 2008 Volkswagen Golf GTI
ENGINE: VW CBFA 2.0L I-4
HORSEPOWER: 400+ hp (est.)
TORQUE: 400+ lb-ft (est.)
SOCIAL
Facebook: Donald Santora
Instagram: drkkn1te
ENGINE

Garrett GTX3071r turbocharger
Integrated Engineering (intake manifold, valvetrain, connecting rods)
GReddy Profec OLED boost controller
Forge Motorsport (Twintercooler, VTA blow-off valve, 44-mm external wastegate, Twintake)
Pipercross air filter
Audi (3.2L throttle body, TT-RS fuel pump w/ control module, R8 coils)
JE (pistons, piston rings)
Opal fuel injectors
NGK spark plugs
ARP hardware
Custom hoses
EXHAUST
SPM custom (exhaust, down-pipe, exhaust tip, mounts)
CTS Turbo (header, turbo manifold)
DRIVETRAIN

South Bend (Stage 3 Endurance clutch, flywheel)
Forge Motorsport short shift kit
CHASSIS/SUSPENSION
Air Lift Performance air suspension
Bilstein sport rear shocks
H&R 28-mm solid sway bar
Powerflex Race Series bushings
Tuning Works custom rear strut bar
WHEELS / TIRES / BRAKES
Rotiform 3-piece DSC wheels – 18x11.5 -7 (f), 18x13 -9 (r)
Achilles ATR Sport 2 tires – 265/35 R18 (f), 305/30 R18 (r)
Forge Motorsport 6-piston big brake kit
Hose Technik braided lines
INTERIOR

Suede upholstery (pillars, headliner)
Forge Motorsport Big Knob shift knob
NRG reupholstered steering wheel
Podi (gauge pods, boost gauge, V1 gauge, AFR gauge)
Cobra racing seats
Monster Mats Golf GTI all season mats
Rear seat delete
EXTERIOR
Body work by Supreme Auto Collision
OSIR molded front lip
Volkswagen Golf R32 (rear conversion, Euro taillights)
ECS Tuning carbon fiber fender flares
APR Performance Subaru STI GT wing
BMSpec wing mounts
Avery Satin Black vinyl wrap
MOBILE ELECTRONICS

Kenwood (DNX719vhd head unit, 1000-watt subwoofer amplifier)
Rockford Fosgate 10-inch slim subwoofer
Custom subwoofer enclosure
Braille 21-lb battery
Metra distribution blocks
---
PHOTO GALLERY