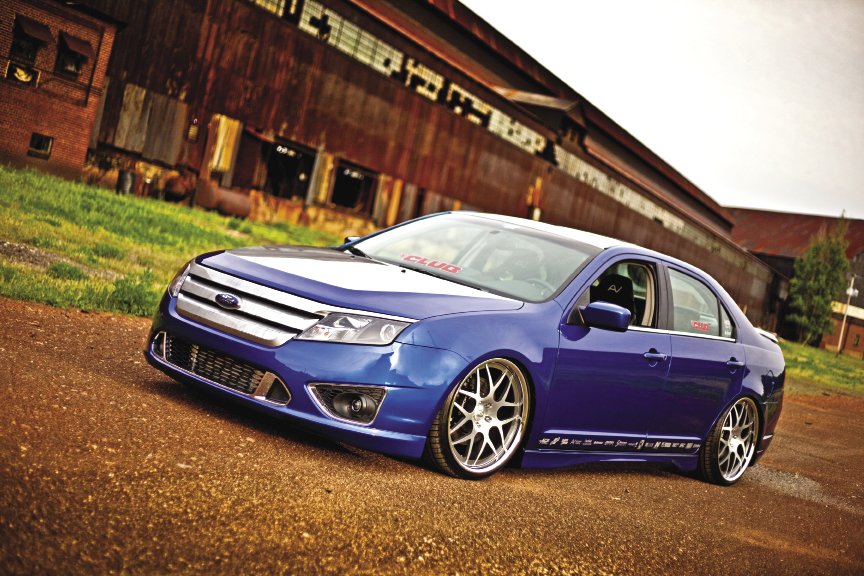 Written by Dave Pankew | Photos by Joe Coville
People always act differently when presented with the same situations. Are challenges always really a 'challenge', or are you just looking at it the wrong way? Did an obstacle come into your path, or an opportunity? As typical as these motivational questions and statements might sound, they played out as words to live by during car designer Aaron Vaccar's most recent build. Last year, Ford Motor Company handed over the keys to a brand new 2010 Ford Fusion Sport looking for him to develop a spokesmodel for the car's debut with depictions of the customization available and inline with the current trends… Oh yeah, and have it ready in a couple months for the SEMA Show.
So, what would come into your head first? "Sweet I got a new car?!", "Hmm, a Ford Fusion, huh?", "Wait, I don't have a budget?", "This car has just been released, they don't make parts for it yet!", or "When does this have to be in Vegas?" While these kinds of thoughts might have crossed Aaron's mind, it wasn't really causing any worry, because in his eyes he saw a world of opportunities. Aaron saw bringing a new car to the market, showing an import scene what a Ford Fusion Sport was all about, working with the best manufacturers and shops to prototype and build custom parts, and plus, he's going to Vegas at the end of it all!
In Aaron's eyes, one of the most important parts would be the overall look, feel, and appearance of the Fusion. Although his gut feelings about the size and style of the vehicle were to go with a VIP theme, it was his duty to assure Ford that he would project the sporty side of this 263 horsepower AWD Sport model. Canfield Collision and Customs re-sprayed the car with BASF Chip Foose Huntington Blue Pearl, paired with Chip silver applied in a wild "brushed aluminum" look on the hood, roof, and trunk.
Consistent with other cars under Aaron's belt, rolling stock needed swapped out for a set of custom fitted wheels. He turned to Nutek Wheels for a set of one-off 20-inch 509 Series wheels, wrapped in Continental Extreme Contact DWS Series Tires. Sitting on all four corners are upgraded brakes including Ksport calipers and 2-piece rotors, 8 Piston in the front and 4 out back. From a push of the controller inside, an Air Lift fully Digital Air Management Kit provides the suspension to easily slam, track, or cruise in comfort.

When it came time for more horsepower, the job was left to the industry experts at Turbo XS, who quickly jumped into the project and applied their know-how of turbocharging to prototype a one-off custom turbo kit, front mount intercooler kit, and dual exhaust system for the V6 Fusion with an AGP Delta 48 Turbocharger and Deatschwerks Injectors. Once fully tuned using an SCT X3 Power Flash Programmer the stock 3.5L pushes around 400 horsepower, all wheel drive, screaming Ford Fusion Sport!


Inside, a prototype set of reclining buckets from AV Performance Seating were installed and wrapped using OEM style stitching and leather. The Portage Trim interior shop carried this theme throughout the rest of the car as well, including the custom gauge pod with Autometer Elite Series Gauges, as well as for the audio installation and trunk layout. S&L Custom was called upon for the fabrication of its sound quality-focused audio install. Utilizing a variety of high end MB Quart products, S&L seamlessly integrated new audio everywhere from the door panels to the trunk, including shallow mount subwoofers in the rear window deck lid. Using a Maxxsonics MX-1 Premium OEM Integration unit, an aftermarket head unit was not required for fine tuning of the system, and Aaron could preserve comfort features of the vehicle such as Ford Sync.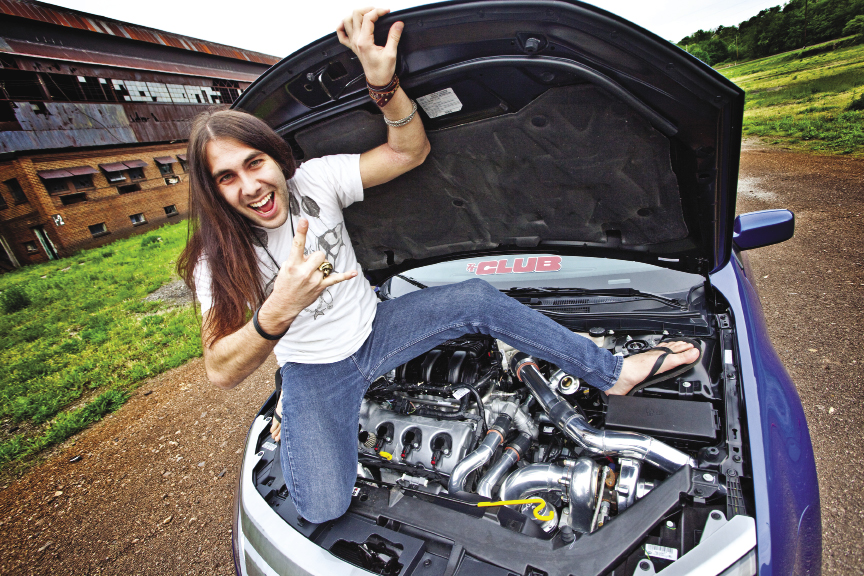 Armed with a turbocharged motor, all wheel drive, nice stance and aggressive style, Vaccar's along with his dream team of supportive partners and sponsors were able to shed new light the potential of the Ford Fusion platform and customization possibilities.
ESSENTIALS
Owner: Aaron Vaccar
Location: Youngstown, OH
Online: www.AARONVACAR.com
Vehicle: 2010 Ford Fusion Sport
Engine and Performance:
Turbo XS Prototype Turbo Kit
Turbo XS Front Mount Intercooler
Turbo XS Exhaust System
Turbo XS RFL Blow-Off Valve
AGP Delta 48 Turbocharger
AGP 38mm External Wastegate
Deatschwerks Fuel Injectors
Walbro Inline Fuel Pump
SCT X3 Power Flash Programmer
Wheels, Tires, Brakes:
Nutek Wheels Series 509 20x8.5" Rims
Nutek Wheels Full Size Space Rim
Continental Extreme Contact DWS Series Tires
Ksport 8 Piston Front Big Brake Kit
Ksport 4 Piston Rear Big Brake Kit
Ksport 2 Piece Slotted Rotors
Suspension:
Air Lift Auto Pilot Digital Air Management System
Air Lift Struts and Air Springs
Air Lift 5 Gal. Tank and Dual Compressors
Exterior:
BASF Chip Foose Huntington Blue Pearl
BASF Chip Silver / "Brushed Metal"
Canfield Custom Shaved Roof Antenna
Canfield Custom Bodywork & Paint
Interior:
AV Archetype Performance Seats
AV Custom Seat Brackets
Portage Trim Custom Upholstery
Autometer Elite Series Gauges
S&L Customs Triple Gauge Pod
The Club LX Anti-Theft Device
Audio / Multimedia:
Maxxsonics MX-1 Premium OEM Integration
MB Quart Premium 6.5" Component Set (Front)
MB Quart Premium 6.5" Woofer Set (Front)
MB Quart Premium 5.25" Component Set (Rear)
MB Quart Reference 12" Shall Subwoofers
MB Quart Discus 1000-Watts 4-Channel Amp
MB Quart Discus 500-Watts Mono Amp
S&L Customs Trunk Enclosure
S&L Customs Complete Audio Installation
Shout Outs:
The Club
ACV Mailorder
Turbo XS
AGP Turbo
Air Lift
Autometer
AV Performance Seating
BASF
Canfield Collision & Custom
Continental Tires
Governor Insurance
Heart Support
Ksport
MB Quart
Nutek Wheels
Promo Tour Marketing
Portage Trim
S&L Customs
SCT