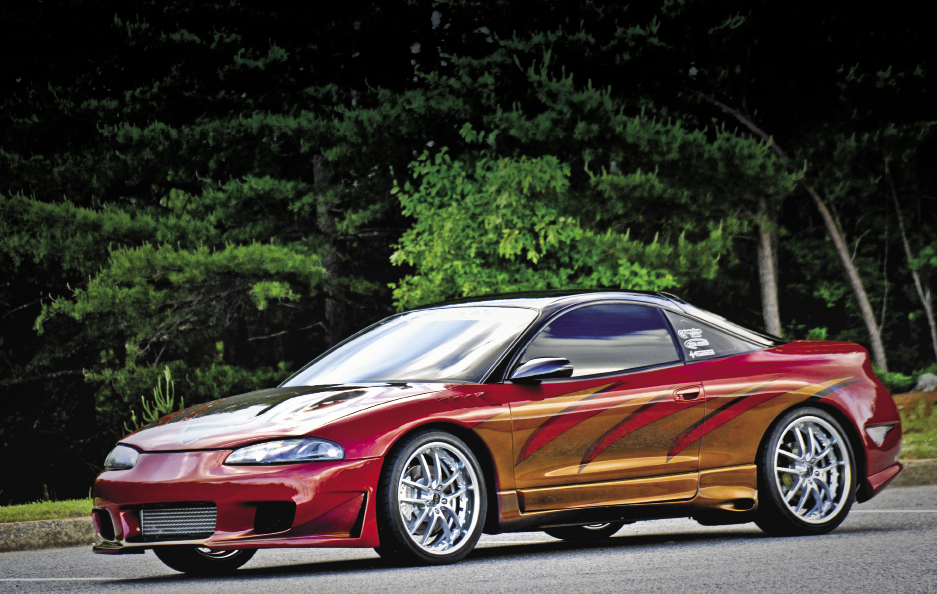 Written by Mark Pereira | Photos by Fred Lynch
Audio enthusiast John Marsh is bent on making a statement at various events throughout the country. Marsh partnered with the audio experts at Arc Audio, T3 and Hybrid Audio to transform this Mitsubishi Eclipse into a real head spinning audio monster built to showcase a lengthy list of impressive audio products and dominate car audio competitions.
The award-winning audio build started with the interior being gutted and all of the panels in the car hand-built to perfection. The team coated seven gallons, yes gallons, of Cascade liquid sound damping onto any visible surface area, along with several Dynamat Extreme Bulk Packs. The quarter panels were then covered with Dynamat Dynaliner ½-inch foam and the floors with Dynamat Dynapad and Extremeliner.
The stock dashboard was replaced with a custom fiberglass unit designed to house Hybrid Audio L3 mid-range drivers and L1v2 tweeters. The center portion of the dashboard is home to a hidden enclosure for an Arc Audio 10D2 10-inch subwoofer. The OEM radio area is now home to a Dakota Digital gauge cluster and an Alpine DVA-9860 head unit just below, which features a fiber-optic output for outstanding clarity.
The door panels and rear quarter panels were highly modified and covered in rich black suede, leather and Dynamat. The passenger side houses five Stinger ANL fuses with five LEDS connected to them. The custom black vinyl wrapped console features two suede covered inserts; one before the B&M short shifter, and one behind it.
The rear seating area is home to twin Stinger batteries, an Alpine PXA-H701 processor, and a Nitrous Express 5-pound nitrous bottle. The battery enclosures are highlighted with Streetglow red neon tubes hidden within each side with a ½-inch Plexiglas cover.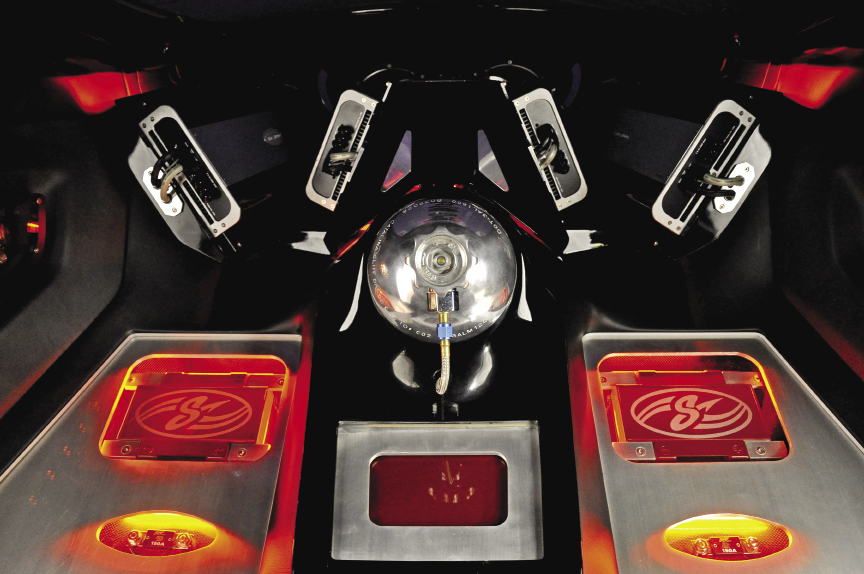 The trunk area is home to a custom subwoofer enclosure and amp rack designed for SPL performance. The enclosure holds four inverted T3 TS10S4 10-inch subwoofers in a common chamber sealed enclosure lined with Dynamat Dynaxorb deflection panels and a removable trim piece for access to all the amplifier wiring. Every wire within the amp rack has a quick disconnect plug and the speaker wires use a waterproof 4-pin plug, while the power and ground wires use an "Anderson" style connector. The cover panels of each Arc Audio SE amplifier were painted to match the burgundy exterior and the underside of the amp rack conceals several red neon tube lights.
For crisp signals from the Alpine headunit to the processor, IXOS Ixotica fiber optic cable was used. From the Alpine processor to the amplifiers, custom balanced lines cables were used with Stinger RCA ends at the processor, and RJ45 connectors at the amplifiers. Stinger was also sourced for noise-free speaker wiring. Heavy duty Stinger 1/0 power and ground wires are used throughout this build.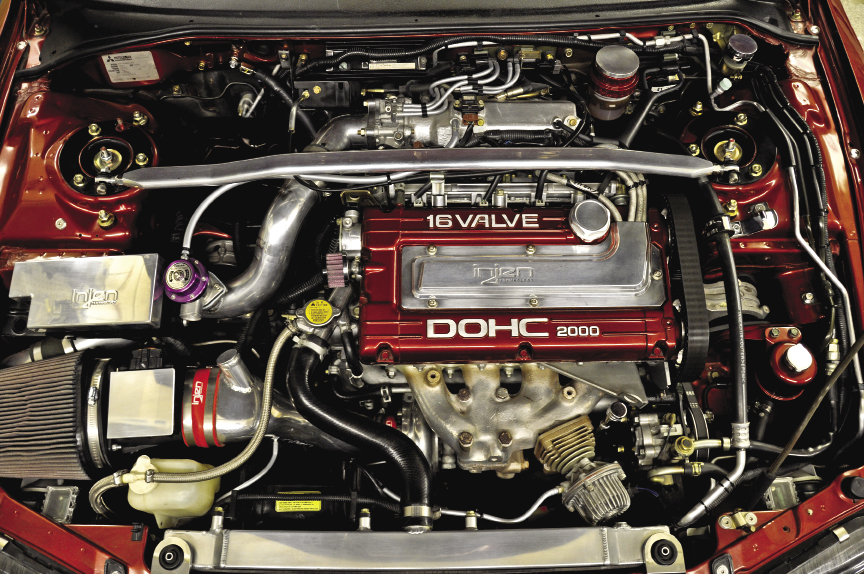 The turbocharged motor found inside this Eclipse is a great start for any tuner. Marsh selected a Buschur 20G turbo upgrade paired with a few key GReddy and A'PEXi performance parts to ensure his car was up to speed. On the outside, the car is accentuated with a full VIS body kit, impressive paintjob and custom integrated OEM Supra taillights by Elite Customs Spartanburg, SC. A set of 19-inch PIAA Super Rossa wheels with Dunlop Direzza tires finish off the flashy exterior.
This project proves that having all the right gear doesn't always equate to great sound, it's the design quality and attention to detail that creates an out of this world listening experience. This custom Mitsubishi is a true work of art that continues to dominate car audio competitions thanks to its supportive sponsors and the determination of John Marsh himself.
ESSENTIALS
Owner: John Marsh
Location: Cumming, GA
Vehicle: 1997 Mitsubishi Eclipse
ENGINE MODIFICATIONS
Buschur 20G turbo upgrade
Walbro 255lph
GReddy Intercooler
GReddy BOV
RC 550cc injectors
A'PEXi Exhaust
WHEELS, TIRES, BRAKES
PIAA Super Rossa 19x8.5-inch wheels
Dunlop Direzza tires 245/45R19
AEM 14-inch rotors
EXTERIOR
VIS body kit
OEM Supra tail lights
Elite Customs Spartanburg, SC
INTERIOR
Work by John Marsh
Custom Suede and leather panels
Custom Fiberglass dash
Tenzo R seats
G-Force Harnesses
AUDIO / MULTIMEDIA
Alpine DVA-9860 headunit
Alpine PXA-H700 equalizer
Arc Audio SE2300 mono amp
Arc Audio SE4200 mid-bass amp
Arc Audio SE4200 mid-range amp
Arc Audio SE4200 high frequency amp
Arc Audio ARC 10D2 10-inch in dash for SQ
Arc Audio ARC TS10S4 10-inch x 4 in trunk
Hybrid Audio L8 speakers x 2
Hybrid Audio L3 speakers x 2
Hybrid Audio L1v2 speakers x 2
Stinger fuse block
AmpTech 150A alternator
Stinger distribution blocks
Stinger 1/0 power and ground