If the road is less traveled, doesn't that just mean there's more to discover along the way? Greg Bauchat has been traveling the KDM road for over six years now, and along the way, he's been helping to catch the aftermarket up with the awesome platforms on offer. As such, his Veloster N serves as the inspirational testbed to influence the community he cares so much about.
Since building a 2013 Veloster Turbo for SEMA, and having a blast doing so, Bauchat knew that another would be in the cards for him at some point. With Hyundai launching the potent N version to compete with the likes of GTIs and Type Rs, this was the perfect time to hop back into the model. Being the owner and operator of SoCal Garageworks didn't hurt either. Many of their carbon fiber offerings can be found on the car, like the engine cover and radiator shroud under the hood, as well as the steering wheel and trim in the interior.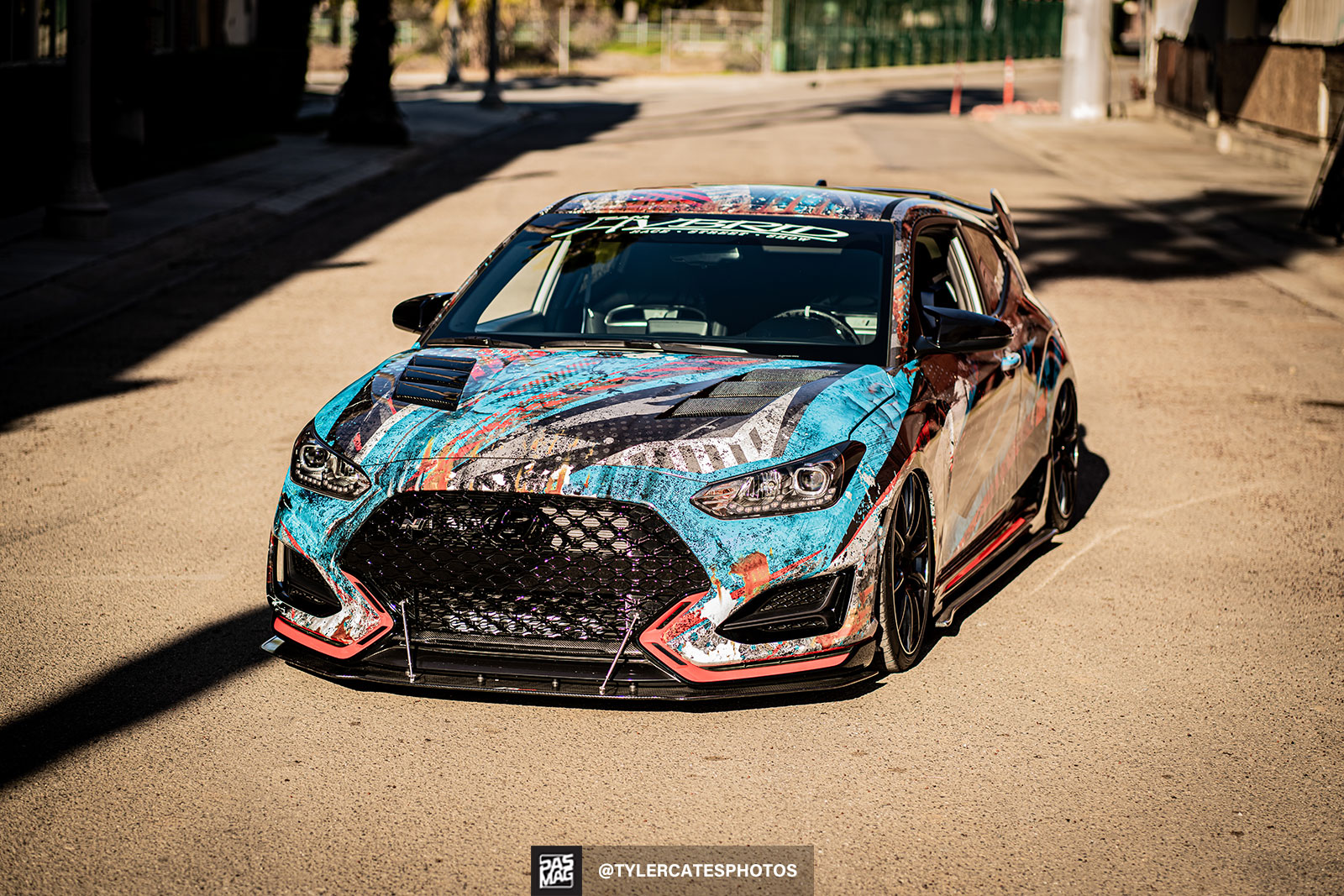 Not everything on the Veloster is local, however. Upgraded seats from the 2021 model and mirror covers have been brought over from South Korea, and the Japanese SA-25R WedsSport wheels are an "overseas exclusive" finish. One of the most defining features on the car is absolutely the vinyl wrap, which makes the Veloster look like it's been through a few rounds of Death Race with scars and tales to tell. The "dirty style" design comes courtesy of TTStudio, all the way in Russia.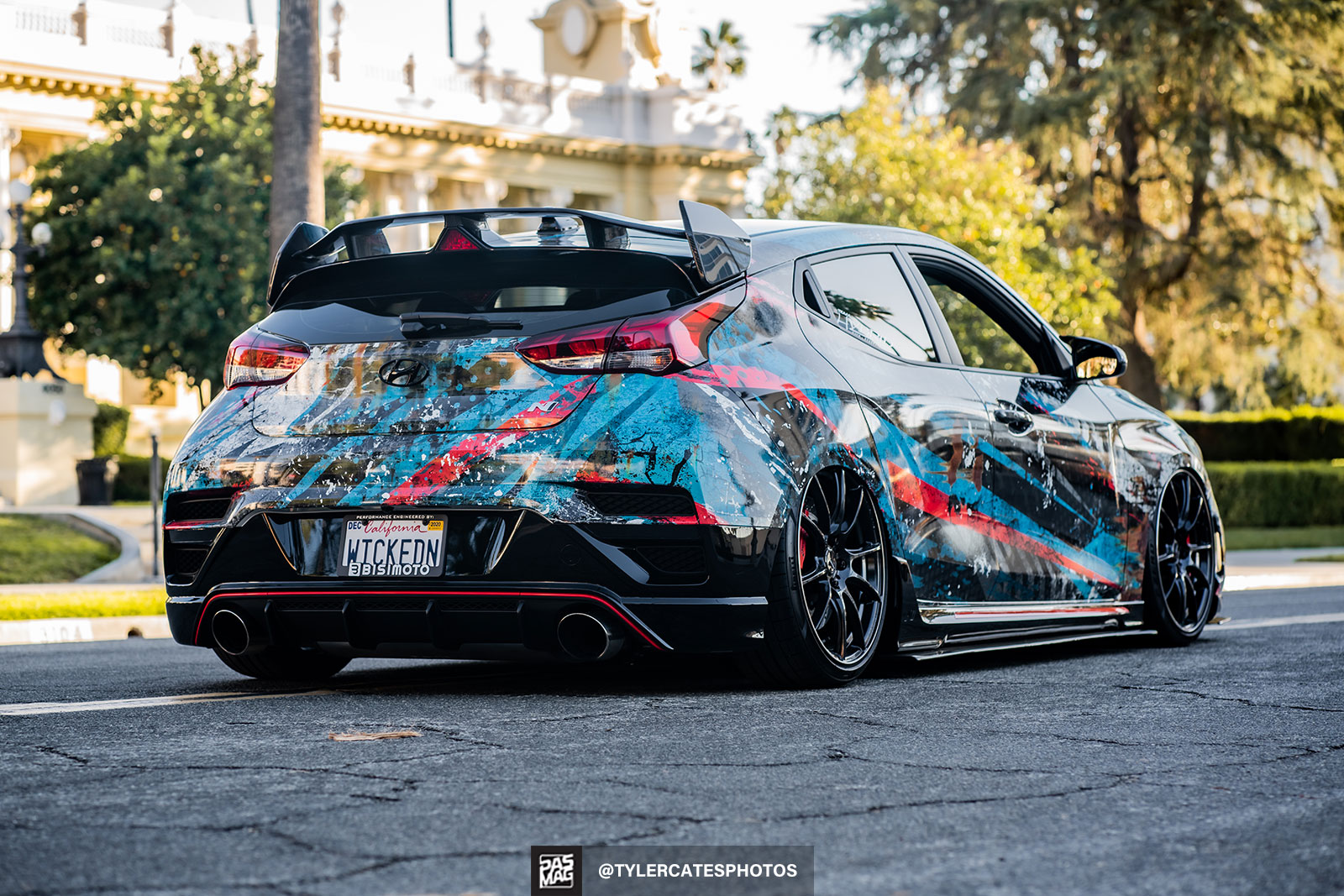 Alongside the wrap, Bauchat's favorite thing about the N is the way it lays out. Since the model was so new, there wasn't a lot on the market for air ride, so Bauchat looked to Universal Air Suspension to put together a custom kit. Once installed and dialed-in, this Veloster N became the first in the world to be riding on bags.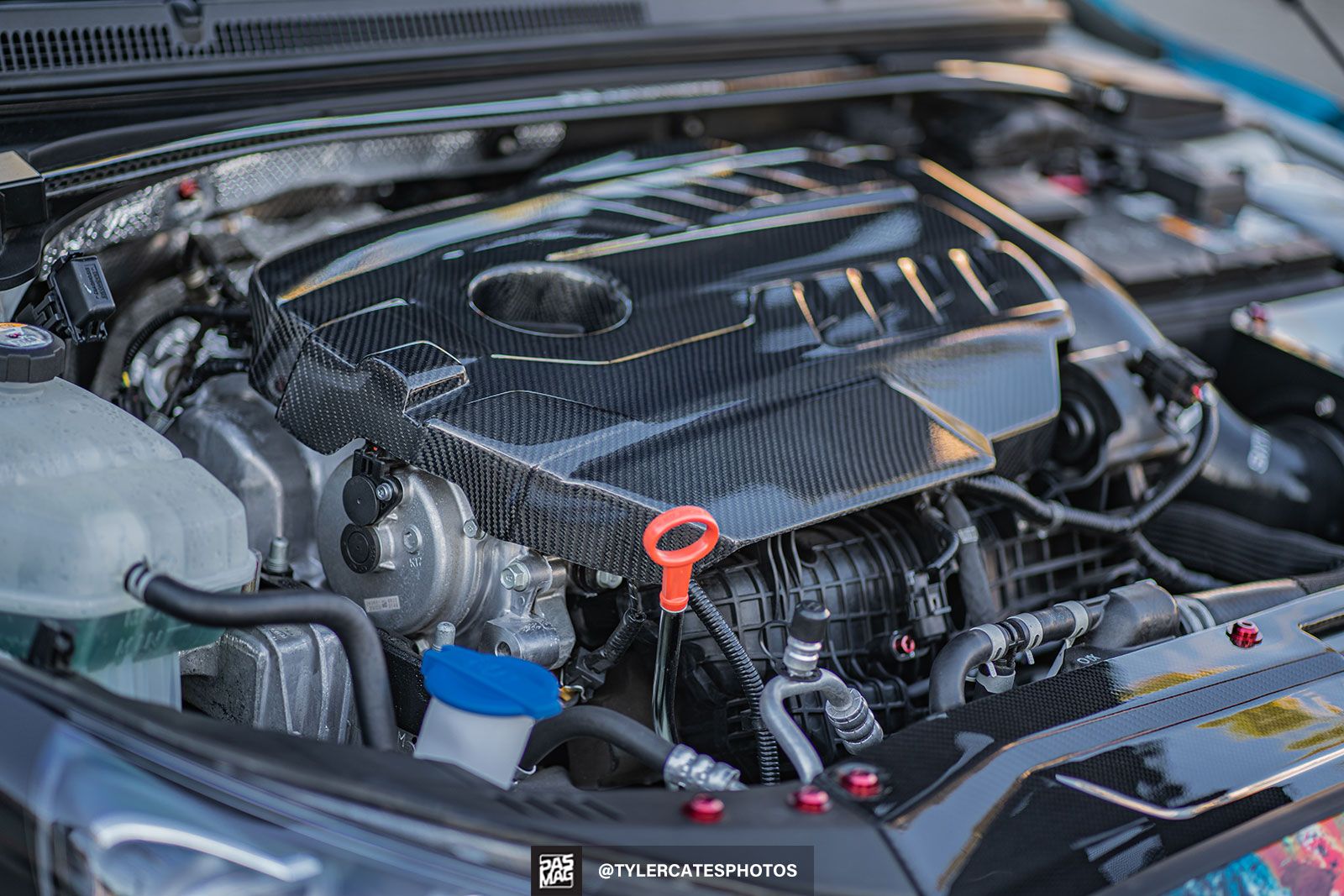 "My biggest influence is the community," Bauchat says. "The community is what helps keep me inspired and influenced my decision to continue building Hyundai cars."
In a world of influencers, we think that Bauchat and his Veloster N are the best kind. We and the KDM community can't wait to see what's next.
Greg Bauchat's 2020 Hyundai Veloster N is featured in PASMAG #163. CLICK HERE to order.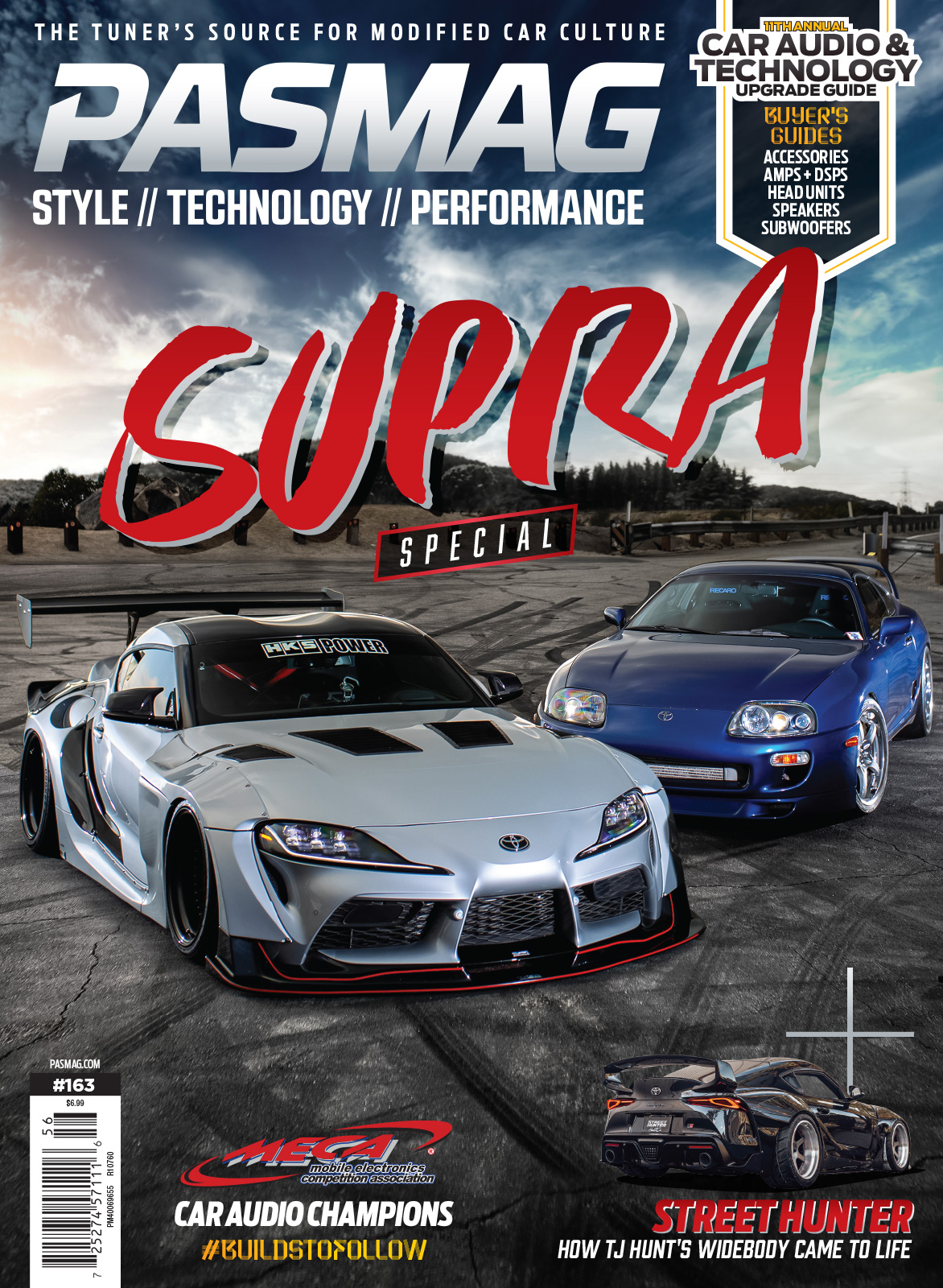 Photography by Tyler Cates Photography (@tylercatesphotos)
---
ESSENTIALS
Owner: Greg Bauchat
Location: Moreno Valley, California, USA
Vehicle: 2020 Hyundai Veloster N
Horsepower: 270 HP
Club: Team Hybrid
SOCIAL
Facebook: /socalgarageworks
Instagram: @socalgarageworks
ENGINE
SXTH Element (4-inch carbon fiber intake system, turbo upgrade inlet)
AirTec (oil cooler, front-mount intercooler)
Bisimoto dyno ECU tune
SCGW carbon fiber (engine cover, fuse box cover, radiator shroud)
EXHAUST
AFE down-pipe
ARK Performance mid-pipe
WHEELS / TIRES / BRAKES
WedsSport SA-25R wheels - 19x8.5 (f/r)
Pirelli P Zero tires - 235/35 R19 (f/r)
R1 Concepts BBK - 6-pot caliper & 356-mm disk (f), 4-pot caliper & 345-mm disk (r)
SUSPENSION
UAS custom air suspension kit
Air Lift Performance 3P management
VIAIR dual 444c air compressors
4-gallon spun aluminum air tank
AirRideEquipment air suspension installation
EXTERIOR
TTStudio custom vinyl wrap
DH Graphics wrap installation
APR carbon fiber splitter
ADRO carbon fiber side skirt extensions
VIS AMS carbon fiber hood
Hyundai KDM mirror covers
INTERIOR
SCGW carbon fiber (steering wheel, shift knob, interior trim)
Hyundai KDM 2021 Veloster N seats
AUDIO
JL Audio (10-inch 10W6v3-D4 subwoofers (2), HD900/5 amplifier)
Focal door speakers (f/r)
Audio Concepts custom trunk install
SPONSORS
ARK Performance
APR Performance
R1 Concepts
ADRO USA
Pierce Motorsports
KDM Tuners
DH Graphics
AirRideEquipped
SoCal Garage Works
---
PHOTO GALLERY