The General of the RB Army, Ryan Litteral, on his trials and tribulations on the road to the perfect drift S15
The Formula Drift Pro grid is a competitive field to say the least. With more than 30 drivers competing at the highest levels of drifting in motorsports, standing out from the field of competitors can be a difficult task - especially as a privateer. Through a combination of impeccable style, a badass build, and a cult following, Ryan Litteral has managed to do just that. As the self-appointed general of the "RB Army," Litteral is blazing the trail for competitive RB engine builds at the highest level.
It's important to preface all of this with the disclaimer that Litteral didn't have the best season in Formula Drift this past year due to a variety of factors, but the steps he and his team have taken, and the improvements they've made along the way do paint a picture of a very exciting future for the Formula Drift and Gridlife driver and his car, the RB26-swapped 1999 Nissan Silvia you see here.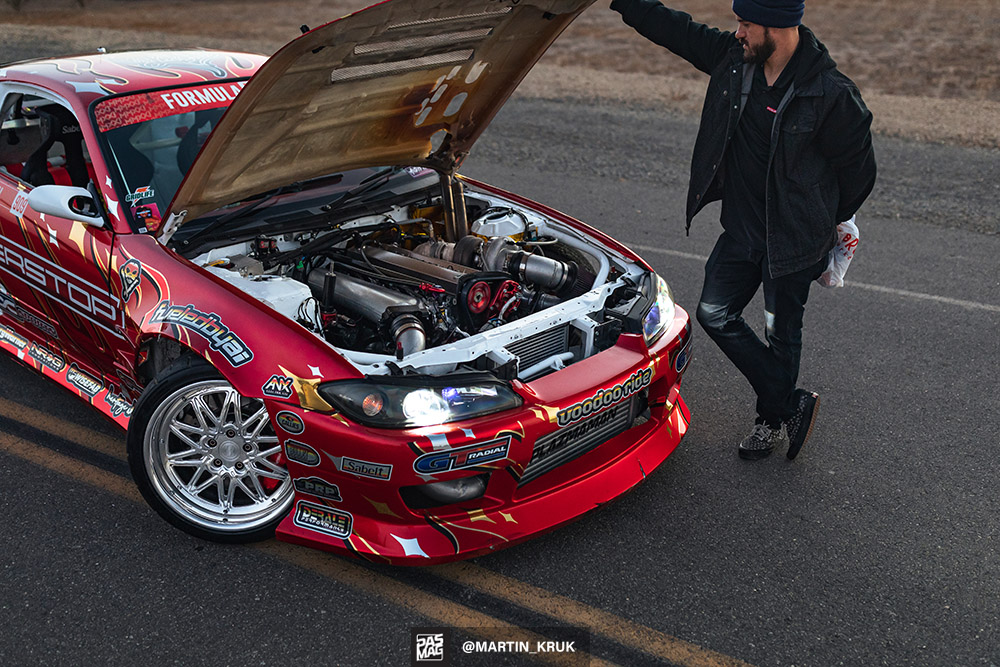 If style is a big focus of your professional drifting campaign, it's hard to find a better chassis choice than the S15. If you've been following Litteral for a while, you'll already know he was in a similarly styled S14 before this, but the S15 is the next logical step in the style and engineering department, so he made the jump for a new competition car. A 2F Performance body kit with LFC quarter panels, Origin Lab +75mm front fenders, a Car Modify Wonder hood, and GKTech mirrors go the distance in making the Silvia look the part. The awesome livery - perhaps one of the best looking in all of Formula Drift, admired by fans and other drivers alike - is just the icing on the cake.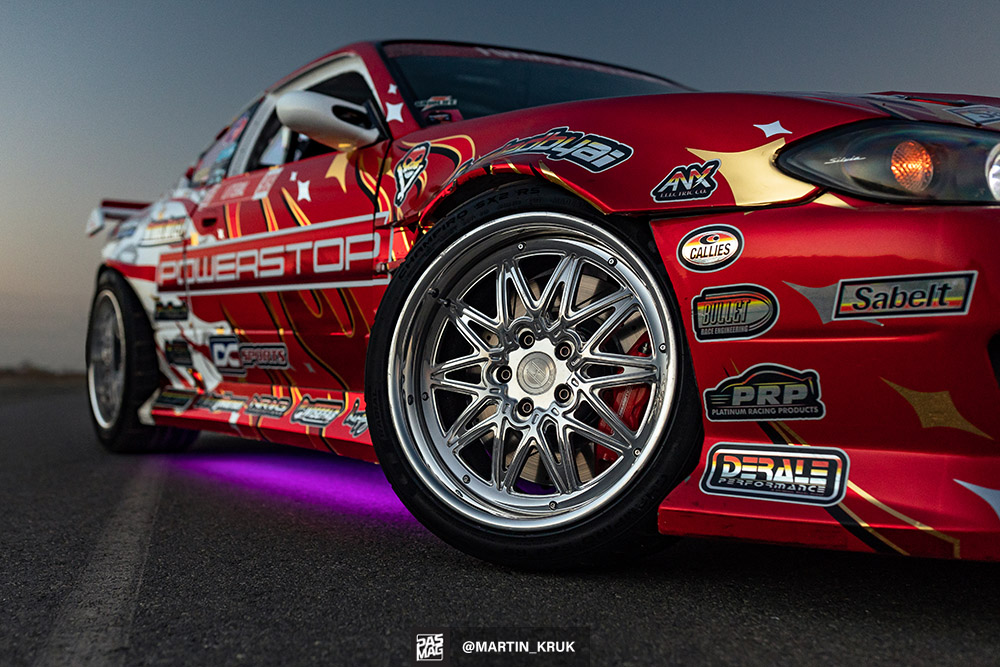 Proper stance is achieved thanks to Feal Suspension coilovers, which are equal parts performance and style. Of course, style is only half the battle when it comes to competing at these levels. Having built RB engines for previous cars of his in the past, the RB is a platform Litteral is comfortable working on, but he knows there are no shortcuts and no half-assing anything on older engines in these upper echelons of drifting and power. By aligning himself with reputable brands that he trusts, he was able to tackle the monumental task of preparing a Formula Drift ready RB26.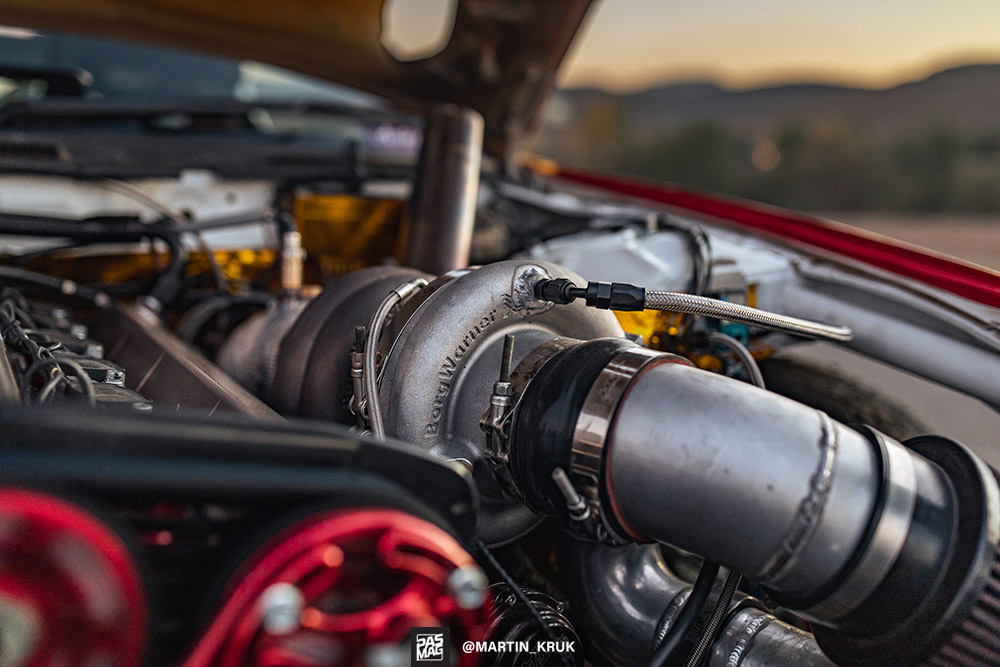 The single-turbo RB26 in Litteral's S15 makes a potent 903 horsepower and 700 lb-ft of torque at the wheels, largely thanks to a Borg Warner 9280 EFR turbo which is mounted to a Fuse manifold, as well as a supporting fuel system. The engine itself is built to the nines. A Bullet Racing Engineering billet RB26 block is the foundation for the whole build, and quality internals like a Callies Compstar crankshaft, Manley Turbo Tuff rods, and custom Mahle pistons do a lot of the heavy lifting. An advanced Supertech valvetrain with Inconel exhaust valves and black nitride intake valves is a nice touch. The whole setup, which is impressive from top to bottom, sings its signature RB song through a 3.5-inch exhaust from DC Sports.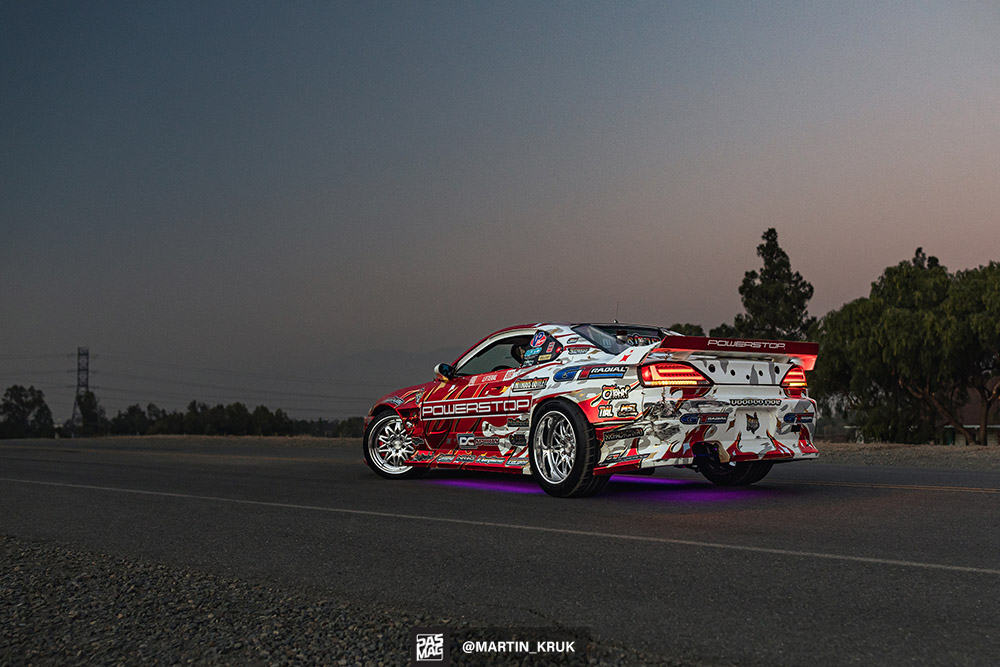 Power delivery is handled by Clutch Masters' FX1000 clutch kit, but that's hardly the most exciting piece of the drivetrain. Lightning-quick shifts come courtesy of a 6XD billet 6-speed sequential transmission, and we wish we could include sound clips in print so you could experience the noises this car makes. You'll have to consult the internet for that one. Power makes its way to a Winters quick-change rear end to spin those Heritage wheels wrapped in GT Radial Champiro SX2RS tires. Slowing the car down during left-foot braking events is a set of Powerstop 370Z Nismo brakes, mounted up via custom bracketry.
Reading through the spec list of this S15 paints a picture of an absolute animal of a machine, and Litteral confirmed that when we spoke to him. "This car is just so animal in every way. The chassis is extremely responsive and accurate, and the engine pulls forever - with a redline of 9200 rpm and armed with a Borg Warner 9280 EFR at 32 psi, it pulls the entire way," he says. "Dialing in the grip of the new GT Radial Champiro SX2RS thanks to Feal Suspension and Wisefab, it's truly on rails and throws you back in the seat hard. With that being said it all equates to a very confidence inspiring driving experience."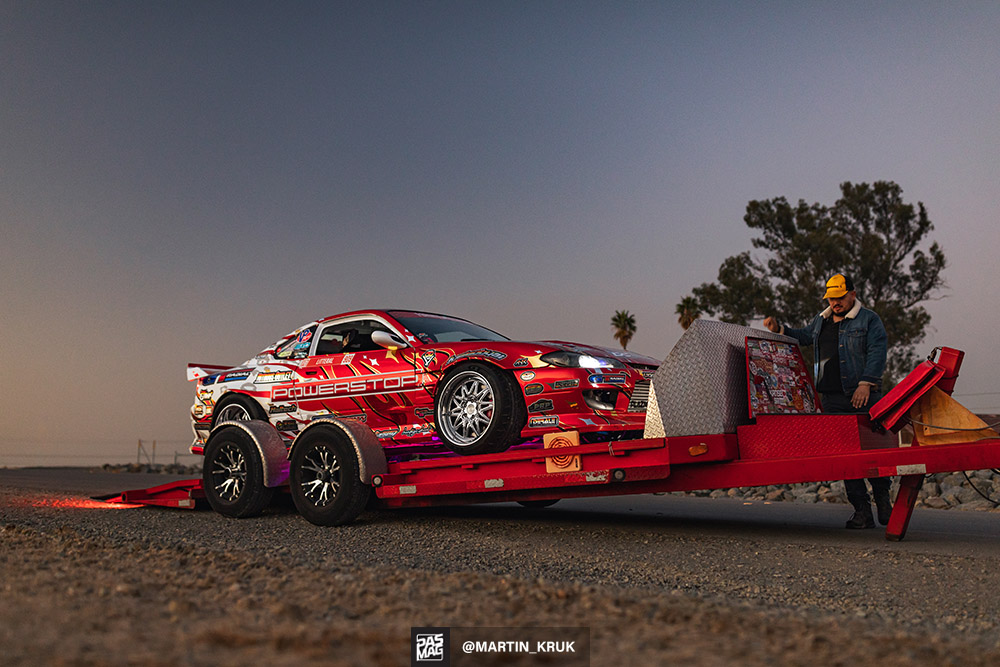 With the 2021 season behind him, and lessons in hand going into the next season, Litteral is looking forward to his chance to prove to the world that his vision can hang with the highest caliber of cars on the Formula Drift grid. "This year was a trying year for myself and my team," he tells us. "It definitely wasn't easy, but we're proud of the progress made and we are looking forward to kicking some ass on grid at Formula D in 2022. Thanks to all of my partners, supporters, family, friends, and fans for always having our back!"
Whatever happens next, you can bet we'll be watching and rooting for you, Ryan. All the best in 2022. We can't wait to see the results.
Photography by Martin Kruk (@martin_kruk)
Ryan Litteral's 1999 Nissan Silvia is featured in PASMAG's Tuning Essentials: 9th Annual Performance Upgrade Guide (click here to order)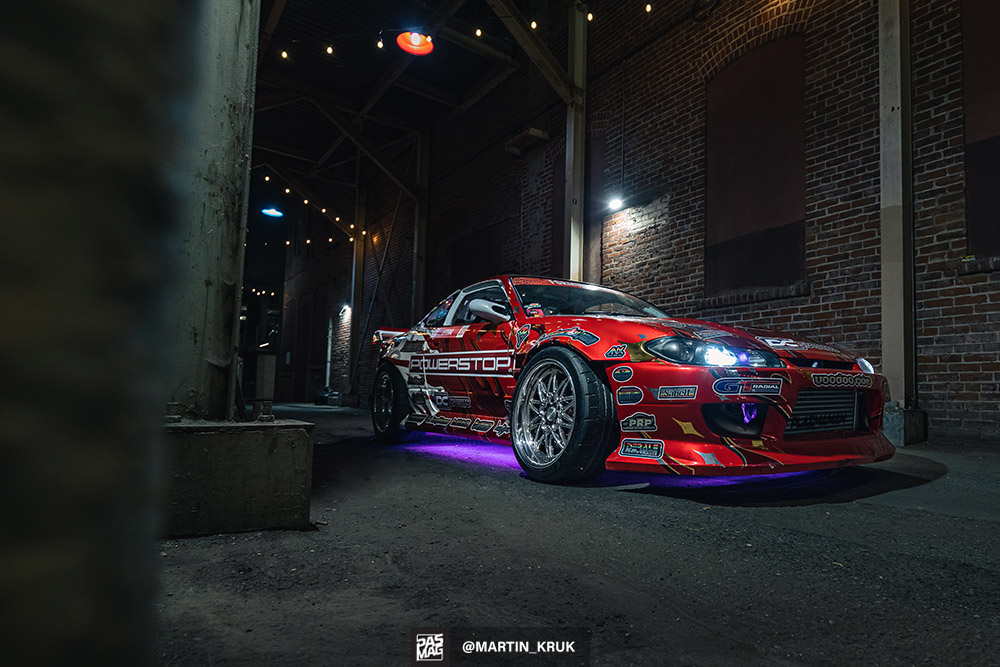 ---
ESSENTIALS
Owner › Ryan Litteral
Vehicle › 1999 Nissan Silvia
Location › Huntington Beach, California USA
Engine › Nissan RB26DETT 2.6L Turbocharged I6
Horsepower › 903 whp
Torque › 700 lb-ft
Social Media
Instagram: @ryanlitteral
Facebook: /ryanlitteral909
ENGINE
Bullet Racing Engineering billet RB26 block + Callies Compstar counterweight 79mm crankshaft + Manley turbo tuff rods + Mahle custom 9:5:1 pistons + ACL race calico coated main and rod bearings + Supertech (+1mm oversized long stem Inconel exhaust valves, +1mm oversized black nitride intake valves) + Berry valve seats + CNC valve job + Apexi 88mm 1.1mm head gasket + ARP head studs + Borg Warner 9280 EFR turbo + Tial 44mm MVR wastegates + Fuse exhaust manifold + Plazmaman (intake manifold, intercooler) + Barnes 4 stage dry sump + Platinum Racing (pro trigger kit, dry sump pan) + Aeromotive fuel pressure regulator + Injector Dynamics 2200cc fuel injectors
EXHAUST
DC Sports 3.5-inch exhaust
DRIVETRAIN
6XD billet 6-speed sequential transmission + ClutchMasters FX1000 clutch kit + Winters quick-change
WHEELS / TIRES / BRAKES
Heritage Belfort/Monaco wheels - 18x9.5 +22 (f), 18x10.5 +5 (r) + GT Radial Champiro SX2RS tires - 255/35/18 (f), 295/40/18 (r) + Powerstop (370Z Nismo brakes, custom brackets, Track Day brake pads)
CHASSIS / SUSPENSION
Feal 442 coilovers + Wisefab V2 (front and rear suspension arms, links, knuckles)
EXTERIOR
2F Performance body kit + LFC rear quarter panels + Origin Labs 75mm front fenders + Car Modify Wonder hood + GKTech mirrors + Custom livery
INTERIOR
Brickhouse custom LHD fiberglass dashboard + Sabelt (XPAD seats, harnesses) + Haltech IC-7 digital display + Cagekits 8-point roll cage
SPONSORS
Powerstop Brakes + GT Radial + DCsports + Voodoride + NRG + ANX Electric + Callies Performance + Sabelt + Feal Suspension + Wisefab + Supertech + Forged Performance + Jtown Fab + Heritage Wheel + Clutchmasters + Borg Warner + Tial + CageKits + Haltech + VP Racing + 2F Performance + Factory83 + Superwow Factory
---
PHOTO GALLERY