Photography by Andy Bui.
---
A lot can happen in nine years. Couples can get married and divorced in that amount of time. Your kids transform into adults in that short time span. Hell, we know people that took that long to graduate from college – though we won't mention any names. Afrim Zeka of Fairless Hills, Penn. utilized his time just a bit more efficiently than the rest of us. He took that near-decade and built his 1991 Toyota MR-2 into a dream machine that could be admired not by just Toyota lovers, but all enthusiasts.
Like every story, this path wasn't an easy one for Zeka. Early in 2004, he started his build with a yellow paint job and other body work. Midway through the year, a woman making an illegal U-turn clipped the front end of the car, forcing him to start over on his little project.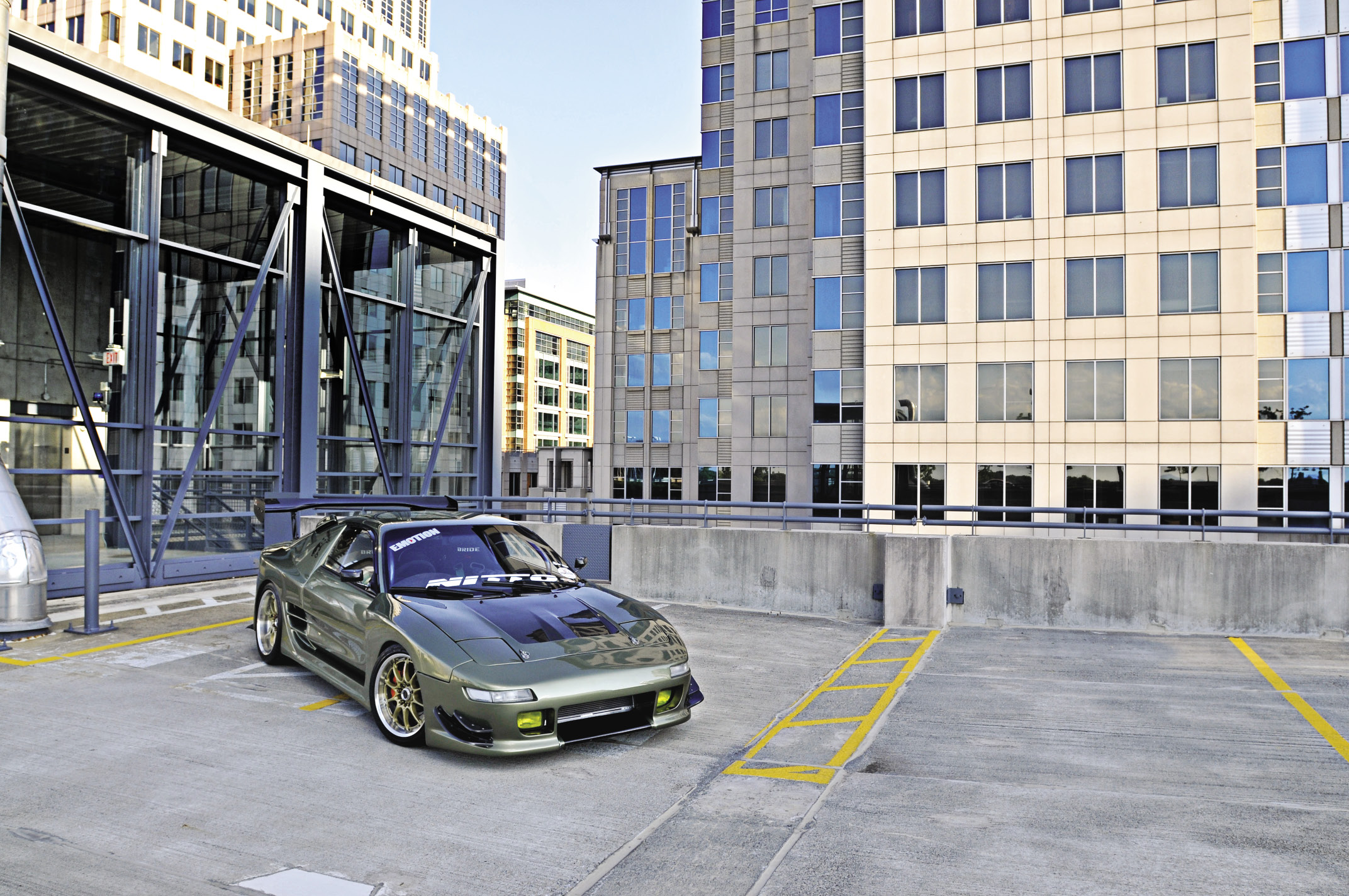 In the next year, when he got the ball rolling again, Zeka ran into another snag... a huge one. While having his audio system worked on in San Diego, the shop decided to hold onto the car for over two years and, somehow, it ended up in Mexico all torn up. He had to make a trip south of the U.S. border to trailer what was left back home to Pennsylvania.
Most people would have given up at this point and the thought did cross Zeka's mind multiple times on his long trek home, however, he opted to give it another go. Now, flash-forward the next year he was back on track full force with his MR-2.
A JDM Toyota 3SGTE motor has been dropped in and outfitted with HKS 256 camshafts and an ATS TD07-25G turbo cooled by a custom trunk-mounted intercooler. The potent combination called for extra fuel delivery via Wolfkatz 850 cc injectors and a Hyrda Nemesis standalone ECU to keep all the air and fuel curves in check. He tacked on a GReddy turbo manifold and custom exhaust allowing the engine to breathe better and spin the dyno wheels to the tune of 400 hp and 380 lb-ft of torque – not the easy to contain with a mid-engine, rear wheel drive configuration
Next up is tightening up the chassis starting with a set of Tein HR coil-overs with adjustable pillow ball mounts for camber control, JIC carbon fiber strut bars, Tanabe sway bars and a Cusco six-point roll cage to ensure his MR-2 chassis had essentially zero flex left in it whatsoever. And, of course, even with his wheel choice of Volk GT-N lightweight wheels and Nitto Neo Gen tires, he was far from done with this project.
The original body work that was ruined by that first bad driver had gone into full rework mode with a TRD 2000GT wide body kit that include fenders, bumpers, carbon fiber lip and trunk extension. Extra accents included a Phoenix Power carbon fiber engine cover, Bomex roof scoops and an APR GTC-300 carbon fiber rear wing. The exterior is sprayed by Josh Croll at Croll Customs with a Desert Sage Metallic color straight off the Lexus IS. Zeka went the extra mile by replacing all the windows with Japanese glass to complement the JDM taillights, clear corners and turning fog lights.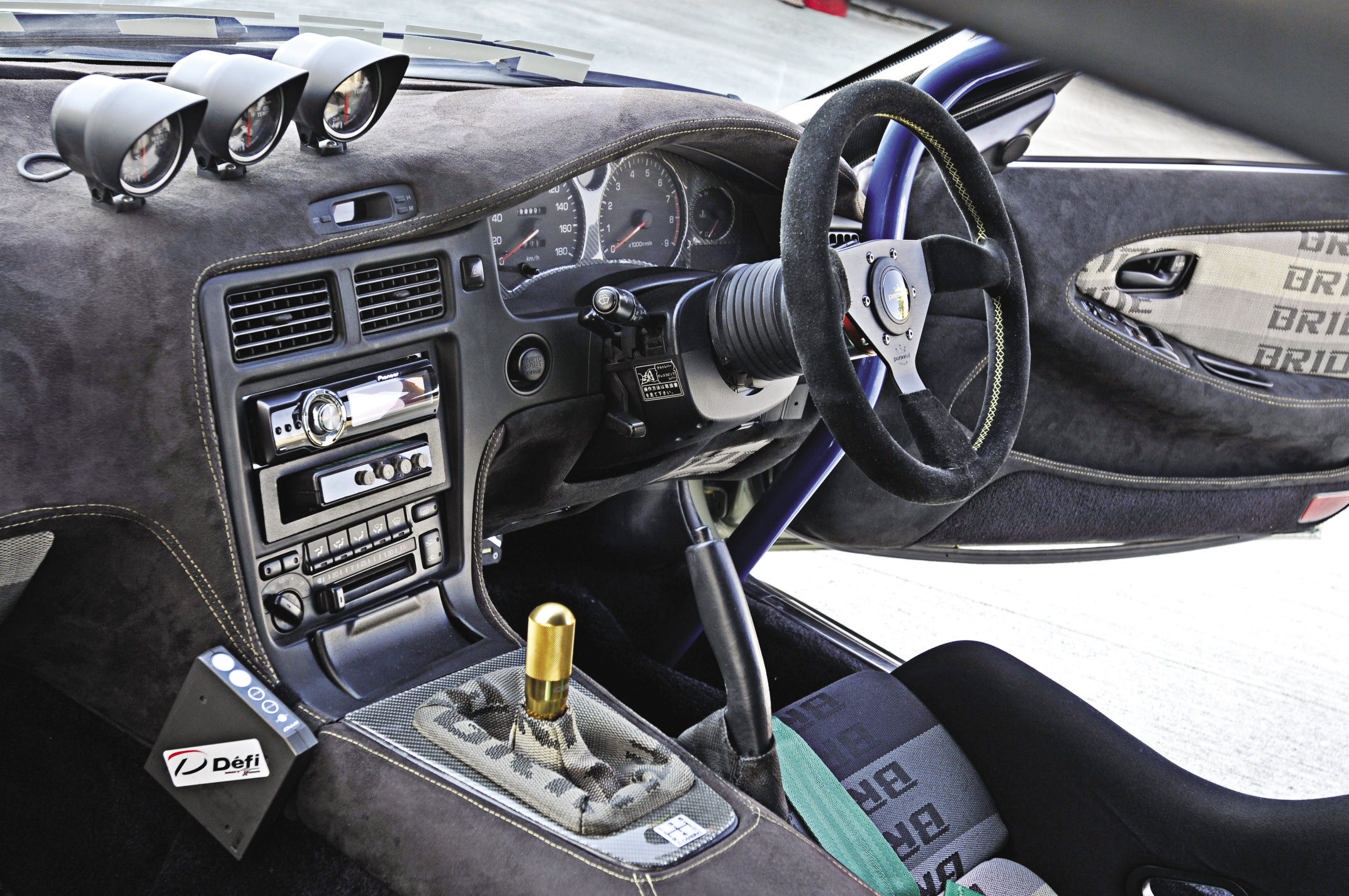 The biggest transformation to Zeka's MR-2 usually requires a double or triple take for people to catch on. Beyond the custom suede interior matched with Bride racing seats and Defi gauges, you'll notice the steering wheel is on the wrong side of the car – for this part of the world at least. Zeka did a right hand drive conversion to keep his car unique from the rest of the bunch.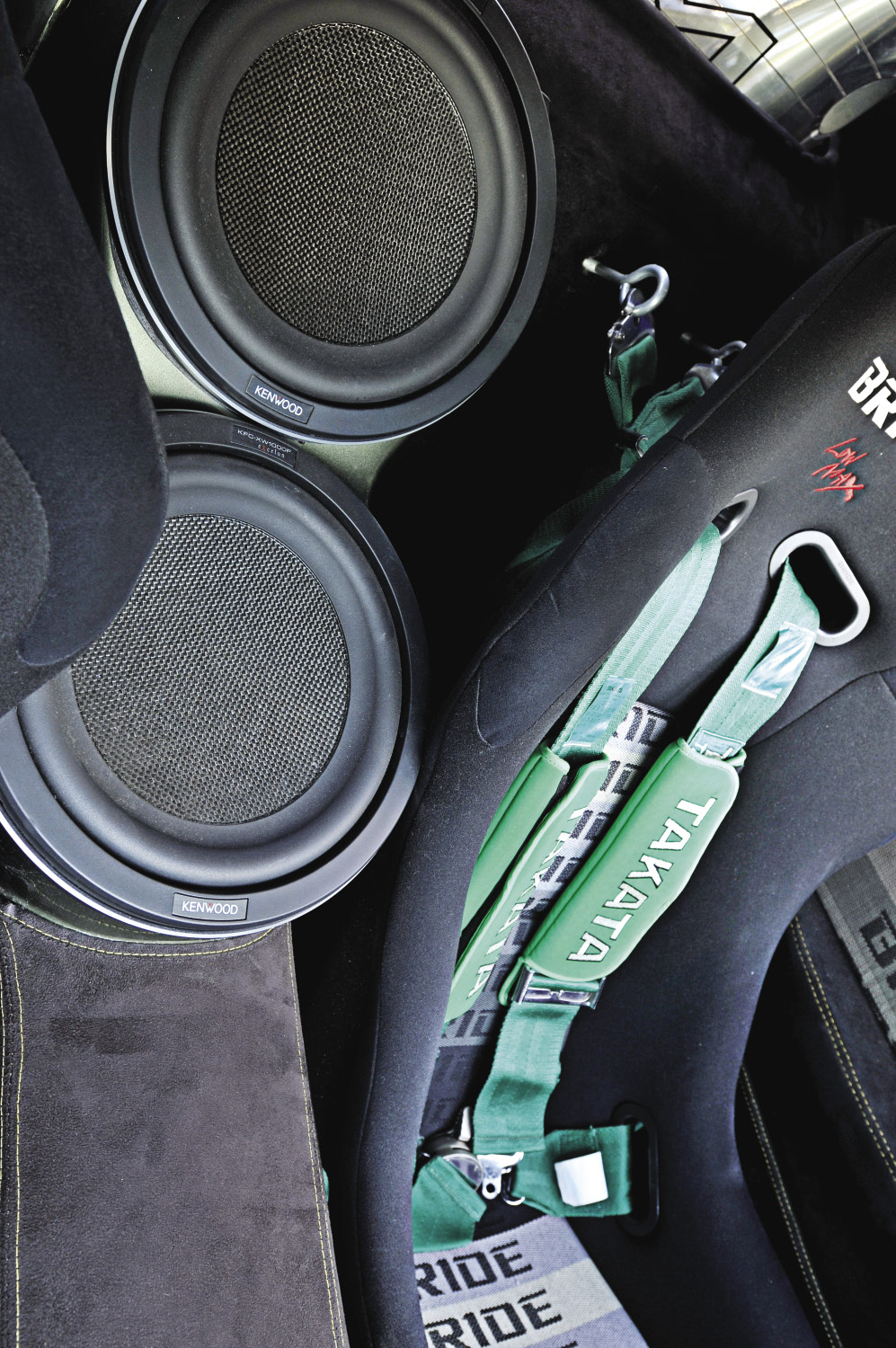 To say his MR-2 is a Phoenix that rose from the ashes would be something of a clichés, but it is oh so true. After the fiasco in Mexico, his car was a dissected mess. What could have once been donated for scrap metal is now the beauty that graces the pages of this magazine that you are holding in your hands while trophies and the feeling of accomplishment have made Zeka and his MR-2's long journey so worthwhile.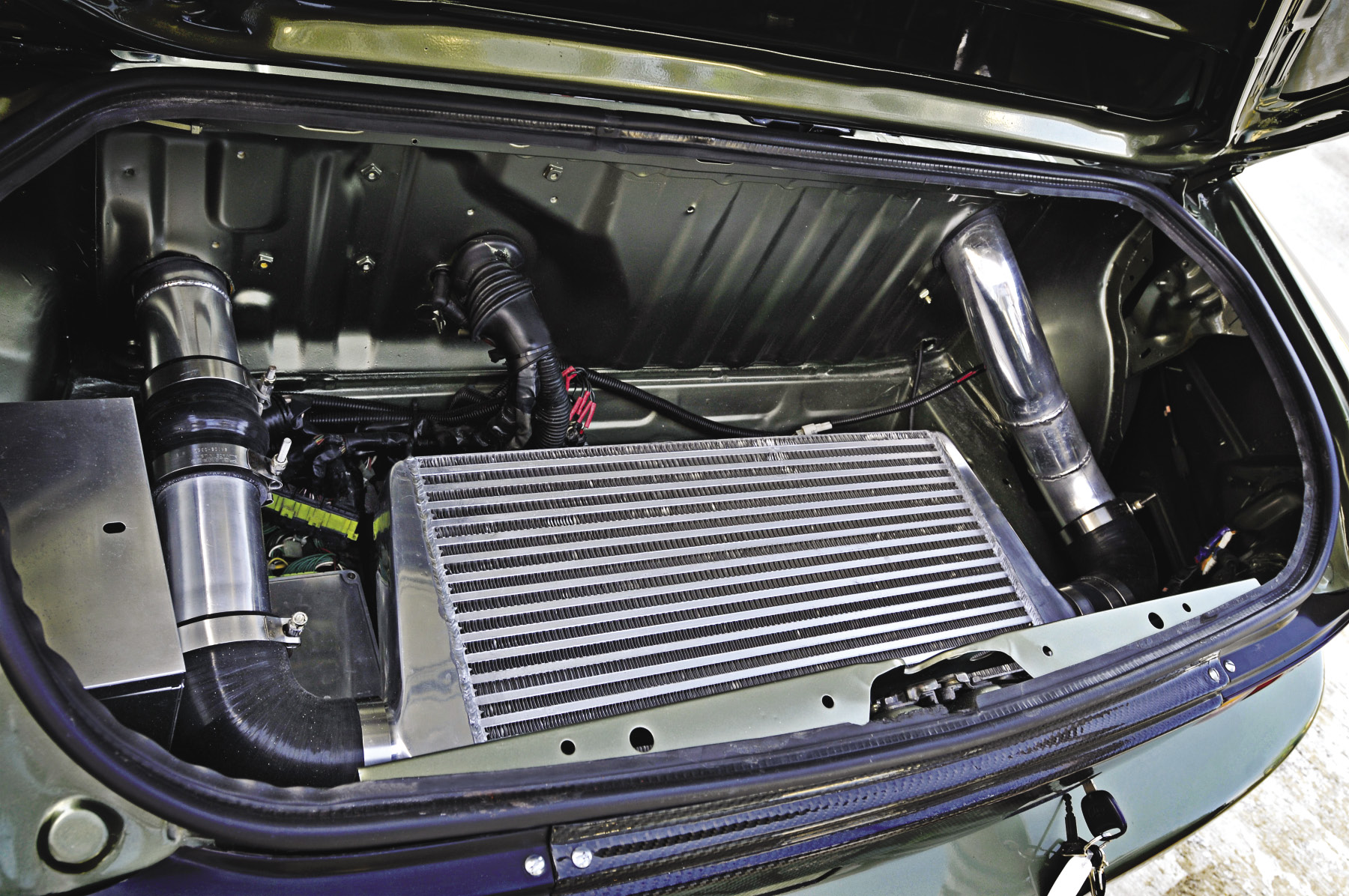 ---
ESSENTIALS
Vehicle: 1991 Toyota MR-2
Owner: Afrim Zeka
Location: Fairless Hills, PA. USA
Engine: 3SGTE turbo
Estimated Max Horsepower: 400 hp
Estimated Max Torque: 380 lb-ft
Top Speed: 220 mph
Curb Weight: 2,600 lb
Web site: www.emotioncrew.com/afrim
ENGINE MODIFICATIONS
ATS TD07-25G turbocharger
Custom trunk-mounted intercooler
SPAL 12-inch dual electric fans
Samco (radiator hoses, intercooler piping)
HKS (SSQV blow-off valve, 256 camshafts)
K&N air filter with custom intake
Wolfkatz (top feed fuel rail, 850 cc injectors)
Aeromotive fuel pressure regulator
NGK spark plugs
Hydra Nemesis stand-alone ECU
External wastegate
EXHAUST
Custom three-inch stainless steel straight exhaust
GReddy SUS exhaust manifold
Two-inch dump pipe
Catalytic converter delete
DRIVETRAIN
Spec Stage 2 clutch
Fidanza flywheel
Upgraded brass bushings
CHASSIS / SUSPENSION
Tein (HR coil-overs with pillow ball mounts, tension arms)
Tanabe front and rear sway bars
JIC carbon fiber front and rear strut bars
V Max torque bar
KSport adjustable end links
Cusco roll cage
WHEELS / TIRES / BRAKES
Volk Racing GT-N wheels – 17 x 8 (f), 18 x 10 (r)
Nitto Neo Gen tires – 215/35R17 (f), 245/40R18 (r)
KSport brakes (eight-piston front calipers, 13-inch two-piece slotted rotors (f/r))
Stainless steel brake lines
Toyota 4Runner brake master cylinder
EXTERIOR
TRD (2000 GT wide body kit, trunk extension)
Border (carbon fiber hood, canards)
Phoenix Power carbon fiber engine lid
Bomex roof scoops
APR GTC-300 carbon fiber wing
Signal Auto carbon fiber mirrors
JDM OEM (window visors, windows, taillights, fog lights, clear corners)
Custom shaved (door handles, moldings, antenna, CBR9000 gas cap)
Desert Sage Metallic paint job
Carbon fiber windshield cowl
Full aluminum skid plates
INTERIOR
JDM RHD conversion
Custom suede and Bride interior
Carbing shift knob
Personal Grinta steering wheel
Works Bell "Team Orange" quick release
Bride Low Max Vios III racing seats
Defi (gauges, pods, visors)
Takata racing harnesses and pads
JDM floor mats
AUDIO / MOBILE ELECTRONICS
Pioneer Premier head unit
Audiobahn sub amp
Audiobahn 6.5-inch component sets
Odyssey dry cell battery
Kenwood eXcelon subwoofers
SPONSORS