Preconceived notions demolished by a big green machine.
Farhad "Muzzy" Yousefi never imagined he would rebuild his cherished 350Z from the ground up. When he started drifting it in 2007, it looked nothing like what you see here. Much in the same way Dr. Banner bulks up when he gets angry, Yousefi took out his frustration on a bare shell and brought it back meaner and greener than ever. Gamma radiation may have been left out in this tale, but looking through the specifications, nothing else was. Yousefi's ride is known to the local show community as "Hulk Z." That's due to the green paint scheme and dramatically restyled front section, swapped from a Honda S2000 and remolded to fit the 350Zs dimensions – it's the first shocking change. The "plastic H-frame" was eliminated and custom mounts for the polished radiator, intercooler, and reservoir created. It's hard to imagine that much hardware to co-existing in the nose of a Z, but Yousefi and Josh Croll of Croll's Customs in Temple, Penn. made it work flawlessly. Beyond OEM quality, this is far superior and complex than assembly-line fitment.
The rest of the body comes from a number of manufacturers. VeilSide took care of the rear bumper and fenders, Mastergrade carbon fiber roof and doors were added and ASUKA carbon fiber spoilers, hatch and Seibon carbon fiber doors were used. K2 Motoring made the distinctive headlamp assemblies and tail lamps, which look remarkably like the eyes of a Transformers movie character. DuPont Snakeskin Green paint provides the perfect hue for jealousy and intimidation.
The cutaway hood reveals the outrageous work on the VQ35DE engine, which we'll examine later in-depth. JLine 20-inch 10RL3 three-piece wheel assemblies with reversed lips ensure a tight fit under the widebody arches where the D2 racing airbag-over-shock system position the Z just a whisker above the pavement. Rotora 14-inch brakes fill the wheels with bright red six-piston front and four-piston rear calipers, generating stopping force with the Pirelli P-Zero tires.
So, what about "rebuilding from a shell?" Well, Yousefi took his self-installed weekend DIY supercharger project and managed to wreck the Z pretty good. Quoting George W. Bush, Yousefi laughs and says, "When I was young and stupid... I was young and stupid," remembering the wreck. After watching the Tokyo Drift movie religiously during his "ricer" days, he took the Z out for a spin into a major intersection and decided to do donuts in the middle of it. After a few seconds he hit a storm drain and it whipped his car across a barricade and ripped off the bottom 10 inches. He still had the desire to enter into the show car scene, but not before the painful experience of rebuilding the "bare shell" of the Z.
With his car in the shop for "some major overhauls that I could not handle" and a "large sum of money," the Z was returned to him a year-and-a-half later as a shell and some nuts and bolts. He doesn't name names, but we sympathize with his plight. "I lost my car, my outlet, my passion. I was a shell of a man, just like the car. I live by the motto: make your weaknesses your strengths!" Gamma radiation infusion begin immediately.
Scouring junkyards with the help of friends, Yousefi's monster Z began to take shape. Using Croll Customz and sponsors like Sound of Tristate, JL Audio, JM Paint and TAKATA Racing, more than 2,000 hours of custom work gave this car a second life. The fully-shaved Z33 engine bay is evidence of that.
"I was able to be the first to successfully shave the camber arm bolts on the wheel wells." Where they went is a highly-classified secret. The Vortech supercharger blows through a Spearco intercooler and past a custom six-line NOS direct-ported nitrous oxide system. Wanting more than just boost, Yousefi installed Jim Wolf Technology cams for boost-friendly valve actuation and the JWT 14-pound flywheel and clutch. Six 440 cc squirters from RC are controlled by the OEM PCM and a Split Second piggyback engine management system. Combined with Top Speed headers and zero-restriction three-inch piping, the VQ35DE puts out 423 rwhp and 340 lb-ft of torque. That's good enough for a 12.3 @ 127 mph quarter-mile. The cartoon version of the Hulk might be faster, but not by much.
What good would all that power and exterior be without the best comforts installed inside? Yousefi turned to Newcastle Auto Upholstery in Wilmington, DE for suede – and lots of it. The headliner, door panels and a good portion of the dash are covered, complete with criss-cross stitching woven attractively over top. Yousefi also added VeilSide VSD-1 carbon fiber reclining seats and Takata Racing harnesses, We'd like to say the NRG Innovations steering wheel and Blox shift knob round out this tour de force, but we can't. There's still much more.
A gold-anodized Cusco six-point cage was fitted and the behind-seat storage shelf deleted along with the rear strut tower brace. The rear body section was reinforced before a fiberglass design was fitted and wrapped with more stitched suede.
Defi gauges mounted in a custom carbon fiber instrument cluster and an iPad mounted directly in front of the passenger are the beginning of the entertainment treatments.
A vast selection of JL audio equipment is spread throughout the car. This includes a processor, crossovers, line driver, two 750/1 HD subwoofer amps, two 600/4 HD midrange and high-frequency amps, three pairs of C5-650 midrange speakers and C5 tweeters, plus two famous 10W7 subwoofers.
To access the amplifiers, a motorized drawer slides out of the rear bumper behind a carbon-surrounded personalized "Muzzy" license plate.
Two front monitors are Fahrenheit 100 units and the source unit is a Kenwood DDX714 double-display, double-DIN mobile electronics integration unit. It can interface with iPads, iPods, Bluetooth, a Kenwood Navigation system and satellite radio. Oh, and it plays every CD and DVD format known to man too. Kinetix power wire, fuse block, distribution blocks and capacitor all work behind panels to move the juice from an Optima D35 yellow top battery mounted up front to the serious JL Audio hardware in the back. Lastly, Yousefi placed two "custom sneaky" NOS bottles between the seats.
This current build represents "Version 3.0" of Yousefi's unique Fairlady. His loss "was the passion to drive this build." He says, "It gave me a blank slate and the possibility to build my vision. I believe the tuner scene provided a great outlet for my pieces of art, molded and fabricated by labor of blood, sweat and tears."
He's already garnered a Best of Show award at the OC car show and is already planning new innovations for "Version 4.0" in 2013. While he laments a "lack of craziness" in the cars he sees today, watching inspirational builds is what kept him going during his darkest moments. Hulk-Z is a bright green flash of innovative encouragement to others that even the worst setback can reveal a pot of gold one day. Mission accomplished, preconceived notions demolished, minds blown.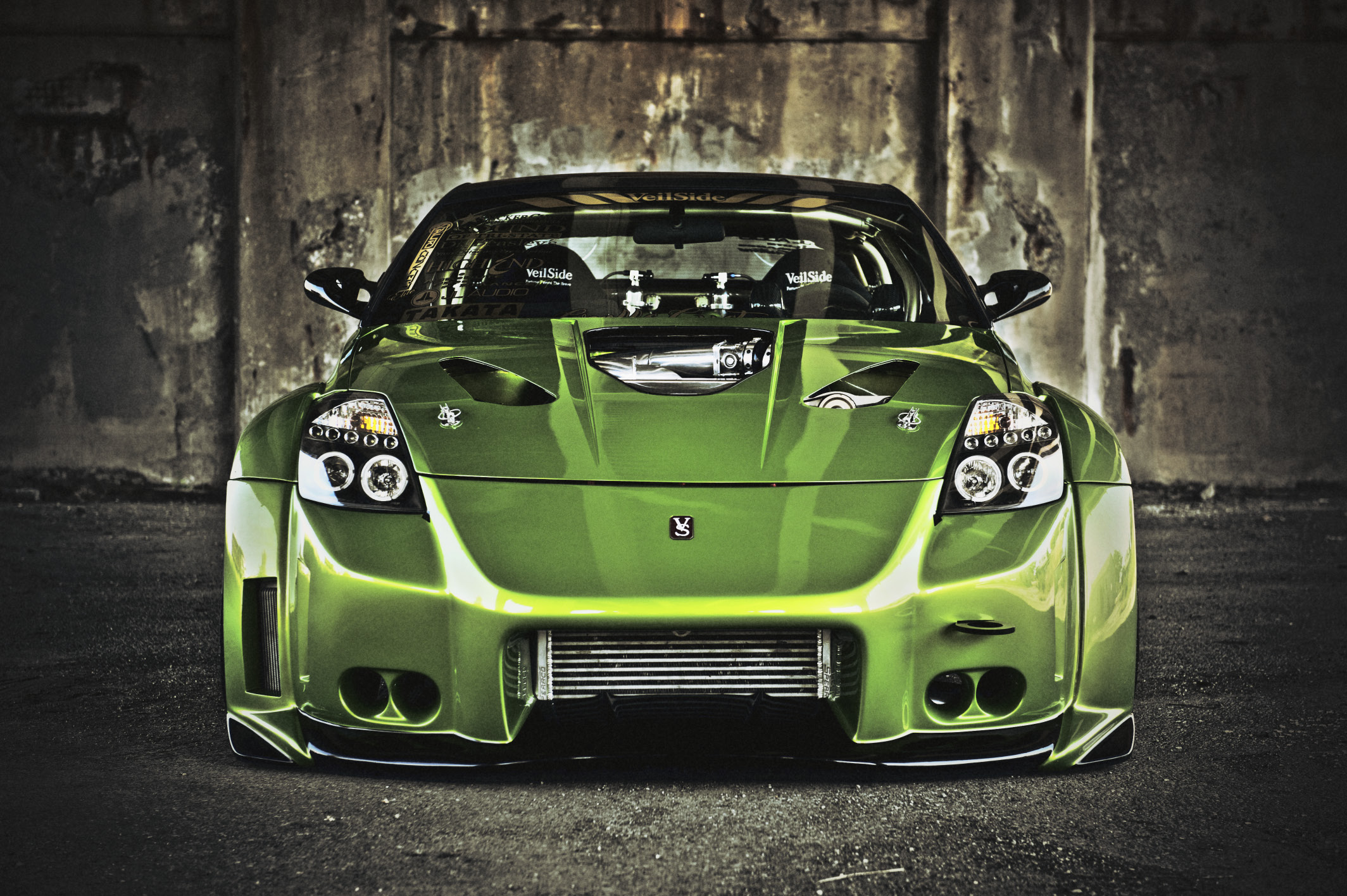 Photography by KC Image
---
ESSENTIALS
Vehicle: 2004 Nissan 350Z
Owner: Farhad "Muzzy" Yousefi
Location: Delaware, USA
Engine Displacement: 3.5L
Estimated Horsepower: 423 rwhp
Estimated Torque: 340 lb-ft
Club Affiliation: Auto Concept Elite
ENGINE MODIFICATIONS
Vortech (supercharger, blow-off valve and velocity stack air intake)
Spearco intercooler
Mishimoto hoses
NOS custom hard-line direct port nitrous system
Custom intake manifold and fuel rail
Aeromotive fuel pressure regulator
Walboro 255 fuel pump
RC 440 cc injectors
Split Second Box timing control
Iridium 1 step colder spark plugs
304SS hardware bolts
EXHAUST
Top Speed (exhaust system, up-pipe, header and heat wrapped, titanium tips, straight pipes)
Custom mounts
DRIVETRAIN
Jim Wolf Technology (camshaft, clutch, 14-lb flywheel)
Nismo 1.5 LSD
CHASSIS / SUSPENSION
D2 Racing coil-overs
Cusco sway bars
Kinetix (urethane bushings, front/rear camber arms)
Custom rear strut bar
Cusco six-point cage, custom harness bar
WHEELS / TIRES / BRAKES
JLine 10RL3 three-piece reverse lip wheels – 20 x 12 (f), 20 x 14 (r)
Pirelli P-Zero Tires – 345/25 R20 (f), 285/30 R20 (r)
Rotora (14-in., two-piece drilled/slotted rotors (f/r) , six-piston calipers (f), four-piston calipers (r), brake pads)
Stainless steel braided lines
Motul brake fluid
EXTERIOR
VeilSide wide body kit (front bumper, rear bumper, fenders)
Mastergrade (roof, doors, pillars)
ASUKA (spoilers and hatch)
Seibon carbon fiber doors
K2 Motoring headlights and taillights
EVO-R door handles
DuPont Snake Skin green paint
Full DRL front markers and lights.
Full LED taillight and markers
INTERIOR
Blox shift knob
NRG steering wheel
Defi gauges
Custom carbon gauge pod
EVO-R carbon gauge trim
VeilSide VSD-1 carbon fiber reclining seats
Takata racing harnesses
Nismo floor mats
Fiberglass interior
Custom NOS bottles and lighting trim panels
Customized dash
AUDIO / MOBILE ELECTRONICS
Kenwood (DDX714 head unit, DDX714 DVD player)
JL Audio (processors, crossovers, line driver, 750/1 HD sub amps, 600/4 HD midrange amps (x2), 10W7 subwoofers (x2), C5-650 mid range speakers (x6), C5 tweeters (x6))
Apple iPad game system
Fahrenheit 100 front monitors
Optima D35 yellow top battery
Kinetix (front fuse holder, main power wire, distribution blocks, capacitor)
Custom motorized amp rack drawer in rear bumper with carbon surround
SPONSORS
Crolls Customs, Sound of Tristate, JL Audio, JM Paint, TAKATA Racing
---
PHOTO GALLERY