Tyler Garlatz started his journey into the automotive world thanks to a go-kart he purchased off a friend when he was just 13 years old. With his dad's help, the father-son duo cleaned it up and rebuilt the go-kart, and he spent several hours in the following year cruising around in it. Later on in life, Garlatz would attend a Formula Drift event in Long Beach. He was hooked. From the moment he felt the rumble and saw the style of the drift cars, he knew he wanted to be in that driver's seat.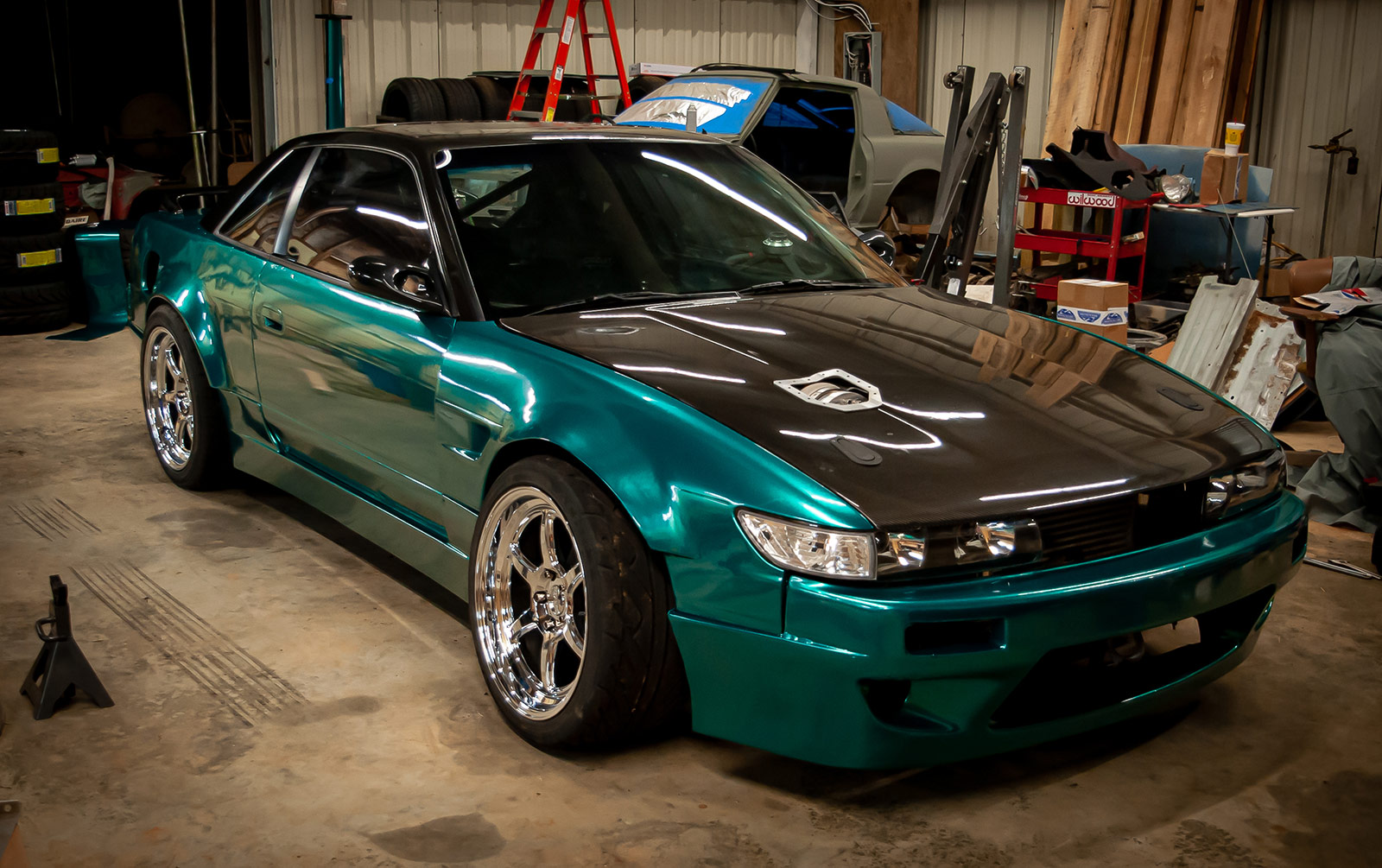 In 2012, he purchased his first drift car, another 240sx - separate from the one you see here. A few years later, he sold that car to purchase his current chassis as a beat up roller. By this time, Garlatz and some friends work running a performance shop by the name of Misfits Motorsports. They all jumped into the project to get it ready for some competition drifting. A 5.3L Chevy V8, some angle mods, and Fortune Auto coilovers were among the first mods, and he went on to pilot that car to 1st place in East10drift's 2018 Pro-Am season.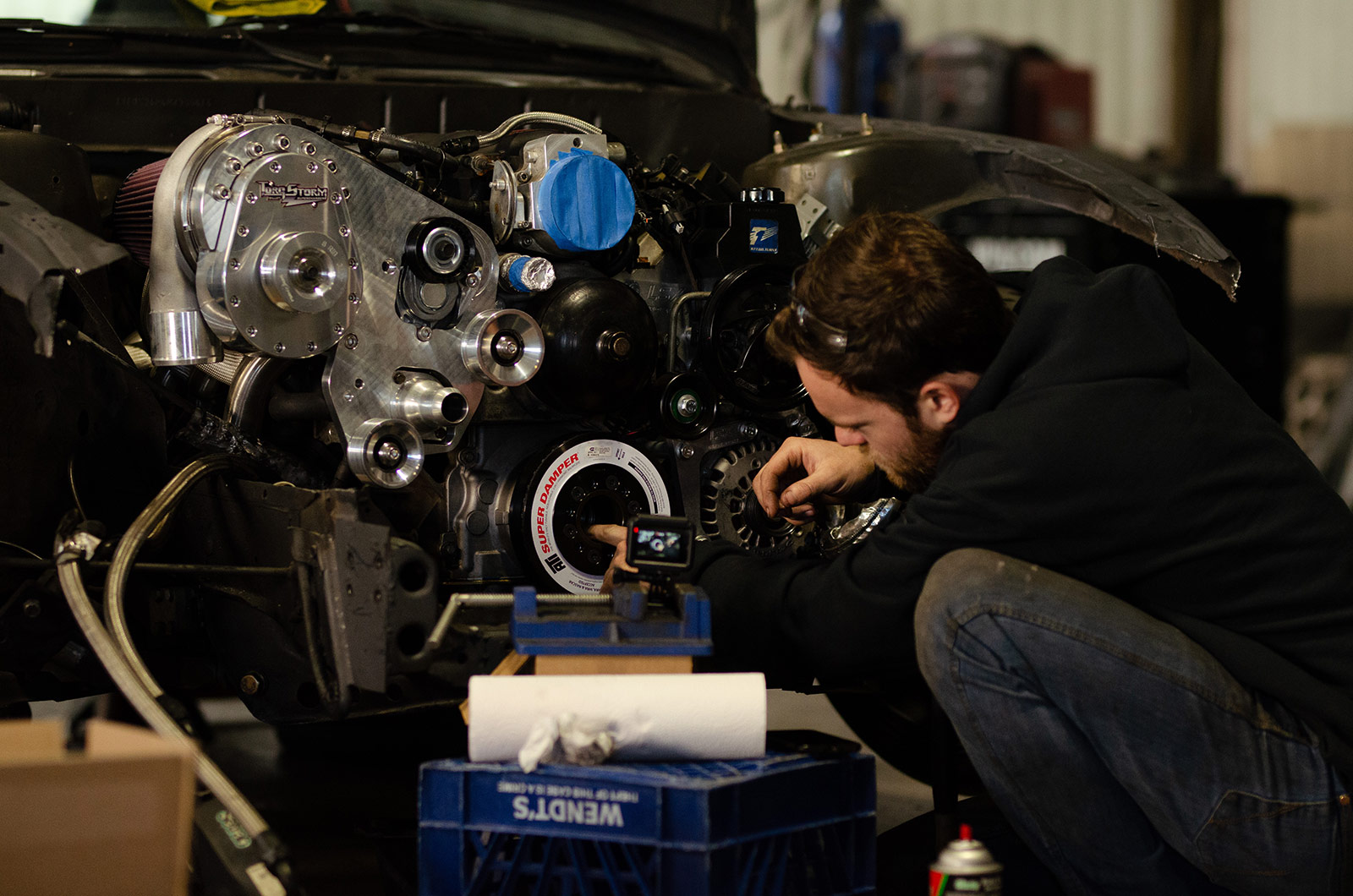 Over the last three years, even though Misfits Motorsports is long gone, Garlatz has done everything in his power to take his car to the next level of competition. The V8 has been supercharged to make a respectable 522 horsepower and 457 lb-ft of torque at the rear wheels, and the style has been consistently levelled up over time to match the performance it puts out. "Every time I look at the car my mind is flooded with incredible memories of my first experiences with drifting and all of the sleepless nights I've had while building it," he says. And that's what this whole thing is all about, isn't it?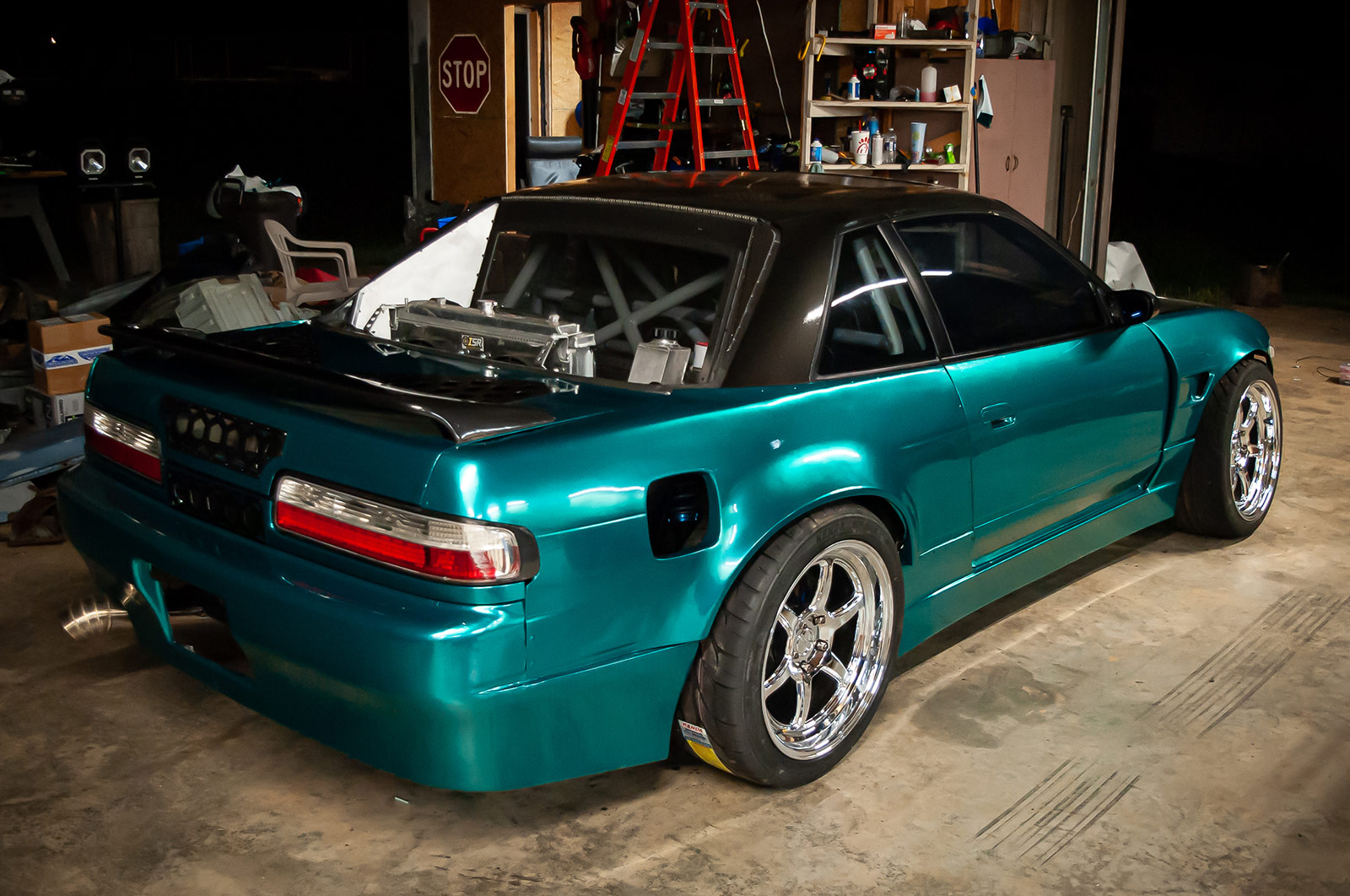 As seen in PASMAG #164. Click Here for an issue preview.
Photography by Alan Stelzenmuller (@ras_3_photography)
---
ESSENTIALS
Driver: Tyler Garlatz
Location: Greensboro, North Carolina, USA
Vehicle: 1992 Nissan 240SX
Engine: Chevrolet L33 5.3L V8
Horsepower: 522 whp
Torque: 457 lb-ft
SOCIAL
Facebook: /tyler.garlatz
Instagram: @tgarlatz
ENGINE
Chevrolet L33 engine swap
Texas Speed (228/600 camshaft, ported cylinder heads)
FAST 92mm intake
92mm throttle body
Deatschwerks (1200cc injectors, 5.5L SST surge tank, 350IL lift pump, dual DW400 fuel pumps, fuel pressure regulator)
Torqstorm centrifugal supercharger
Mishimoto intercooler
Odyssey battery
Throttle Junkie Tuning dyno tun
ISR Performance LS swap engine mounts
Holley HP EFI standalone ECU and harness
EXHAUST
ISR Performance (HGC stainless steel exhaust system, Series II EP single-exit axle-back)
DRIVETRAIN
SPEC (stage 3 clutch, lightweight flywheel)
Samsonas 4-speed H-pattern transmission
OSGiken 4.08 LSD
Driveshaft Shop stage 5 axles
WHEELS / TIRES / BRAKES
Kansei Roku wheels - 18x9.5 +22 (f/r)
Valino Pergea 08r tires - 255/35/18 (f/r)
ISR Performance (5 lug conversion hubs, extended wheel studs)
EBC (USR brake rotors, Bluestuff brake pads)
Z32 rear calipers
R33 Skyline front calipers
Maverick Motorsports dual caliper brackets
Parts Shop Max hydraulic handbrake
CHASSIS / SUSPENSION
ISR Performance (suspension arms, tie rods, rear mounted radiator, radiator fans, solid subframe bushings)
Fortune Auto Dreadnought Pro 2-way coilovers
EXTERIOR
Rocket Bunny V1 body kit
Origin Labo +55mm rear overfenders
Seibon carbon fiber hood
GKtech mirrors
Avery Dennsion SW900 Gloss Dark Green Pearl vinyl wrap
Circuit Sports tail lights
Custom Silvia headlights
Hikari LED headlight bulbs
INTERIOR
SPARCO (Circuit II QRT driver seat, Evo III passenger seat, Champion steering wheel)
Circuit Sports quick-release steering hub
CUSCO racing harnesses
Top Garage FD legal roll cage
SPA fire suppression system
Holley 7.5-inch digital dash display
ARC 8000 switch panel
SPONSORS
ISR Performance
EBC Brakes
Deatschwerks
Torqstorm Superchargers
Odyssey Battery
Fortune Auto Suspension
Throttle Junkie Tuning
SPEC Clutch
SPARCO
Kansei Wheels
Samsonas
---
PHOTO GALLERY