Isn't it kind of funny how the term "widebody" has become a bit of an eye-roller among the car world? It automatically conjures visions of someone grabbing the platform for whatever the newest kit is, chucking $15k at it for the fenders, paint, air suspension, wheels and tires, and then sitting back and bathing in the Instagram likes - until the next Liberty Bunny kit drops the next month. To many, that's the stereotype now, and we're so glad that Arthur Young's Bimmer has come along to break these misconceptions.
Young's want to pick up a lightly-used E90 stemmed from a school project, if you will. Enrolled in the BMW Certified Technician program, he felt that he needed a car to work on in his off-time to test his developing skills. With great part accessibility, as well as the potential to put out equal or better results to the effort put into it, his 2007 335i is the ideal choice. Paired with a vision to separate himself from the seas of E90s in stop-and-go California traffic and the know-how to fulfill his childhood dreams of making his custom cars from Need For Speed and Midnight Club jump from the screen to his driveway, Young had all the building blocks to put something awesome together.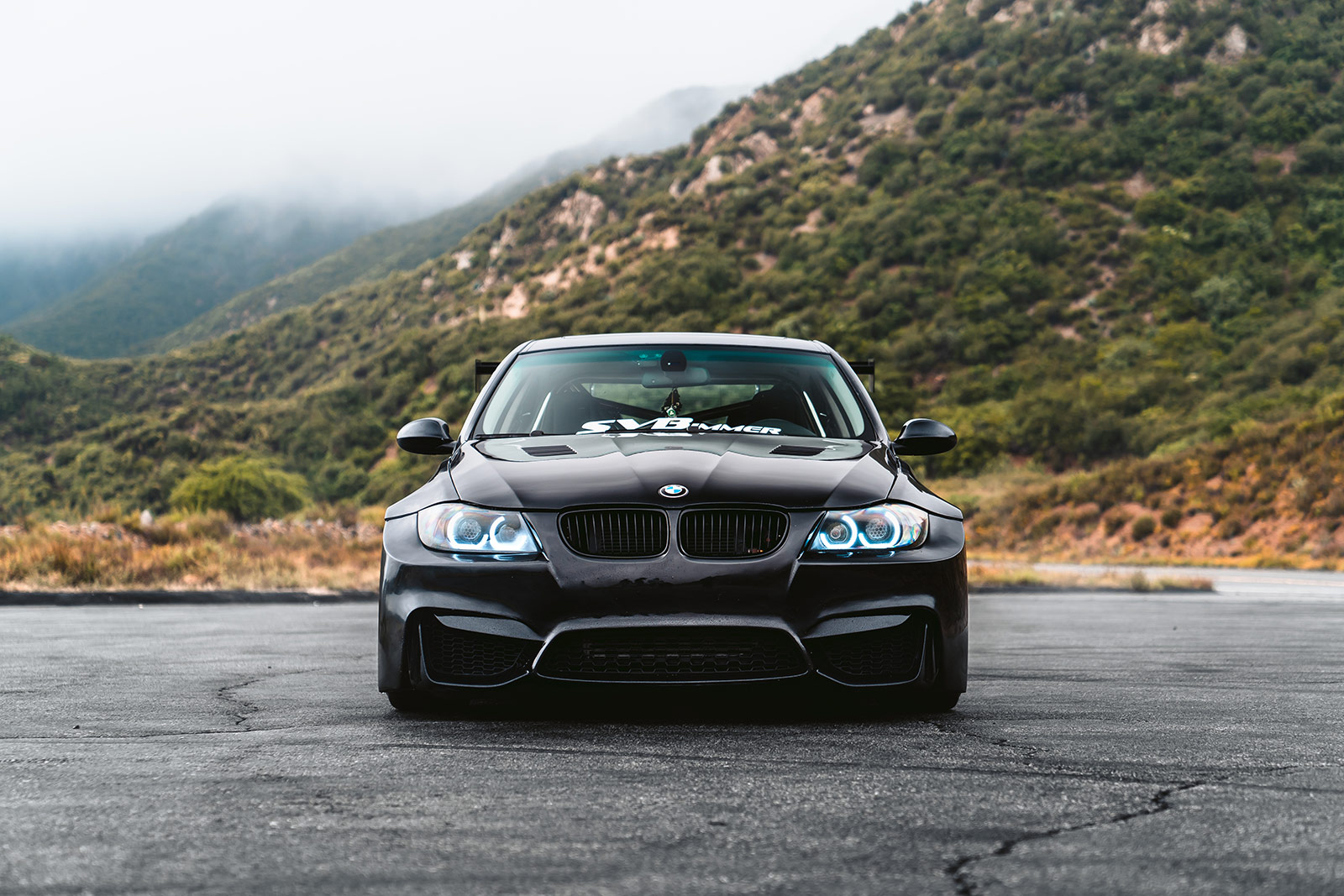 "All of my car is hand-built by me, aside from body work and paint," Young explains, proudly. "I had to learn on my own car and break my own parts and my own wallet."
There's always an inciting incident that lights the fire for someone to truly go all-in on a build, and for Young, it was getting taken to Gapplebees by his boss from the BMW shop he was working at, and we're talking before 9 p.m., so there were no half-price apps. Young had just installed a new turbo kit, which just wasn't running right, and getting smacked by his boss' new F80 on the freeway only made him want to run faster and stronger.
The solution was another, better, turbo kit - DocRace's attractive-looking 6266 top-mount system - something that Young lists as his biggest challenge on the car. He installed it secretly, under the nose of his boss with the F80, because revenge is a dish best served by a new turbo kit.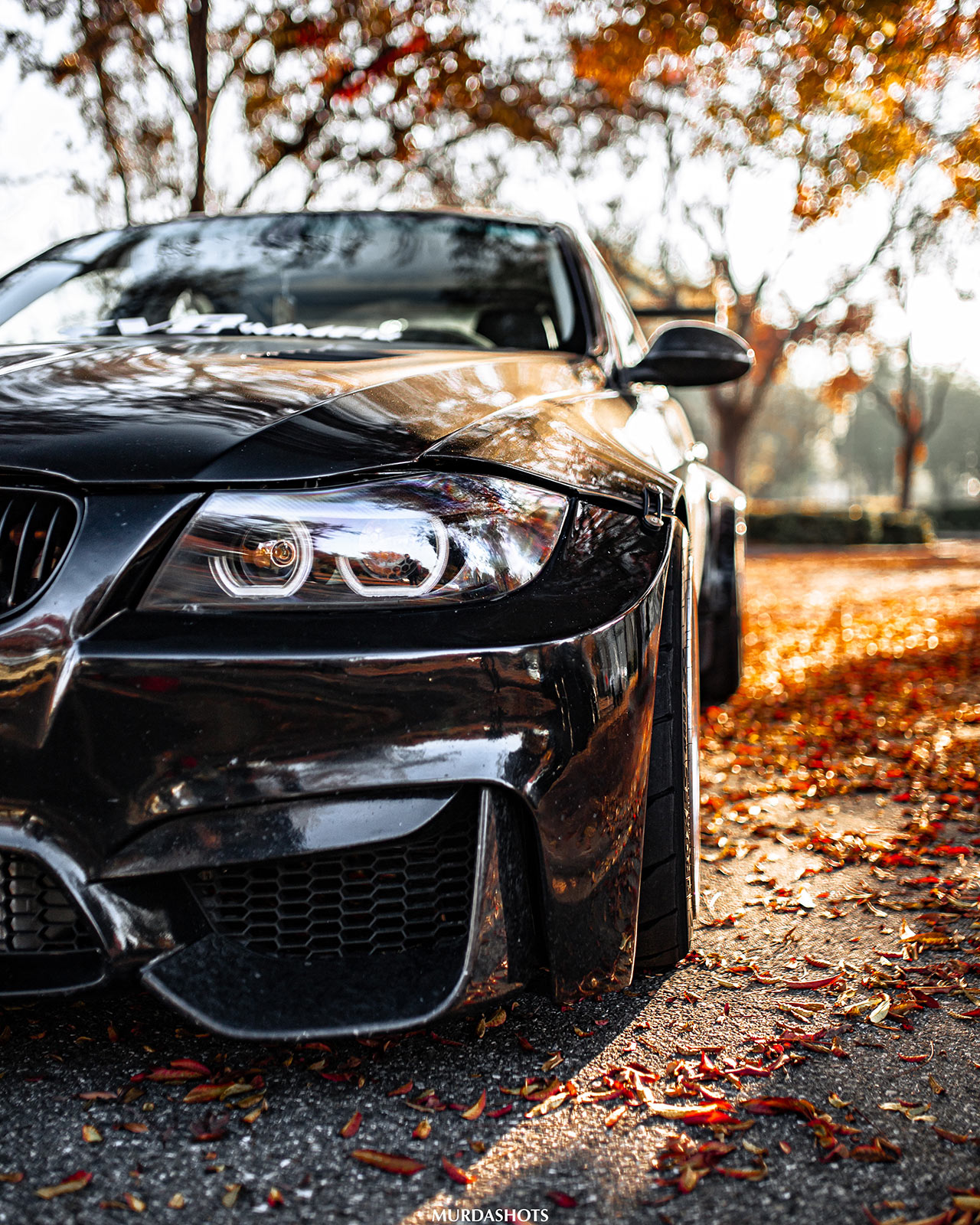 "I had no help and 12 hours to install it," recalls Young. "I believed that if someone on YouTube could make a video about it, it shouldn't be that hard. It definitely was that hard, but, after all, it's all nuts and bolts in a sequential order. If I don't finish, I can't go home. If I don't finish, my boss will find out my car is fast. It drove me to make sure I could finish what I started."
The result is 600 horsepower to the wheels on an E85 tune, which is definitely enough to get payback, as well as push it to the limit at the track. True to the WTCC inspiration behind the Streetfighter LA widebody kit, Young regularly rips this E90 around local circuits, falling in love with dialing in what he built. Those 335s on the rear Work Equip 05s, under the custom fender extensions, aren't just a funny coincidence - they put in work.
Another refreshing choice is running static over air. The set of Broadway Static prototype coilovers probably aren't ideal if you're looking for near-stock road comfort on your daily commute, but the insane stiffness on track definitely gives all the feedback you could want. At the rear of the BMW, though, is home to what Young calls his favorite addition.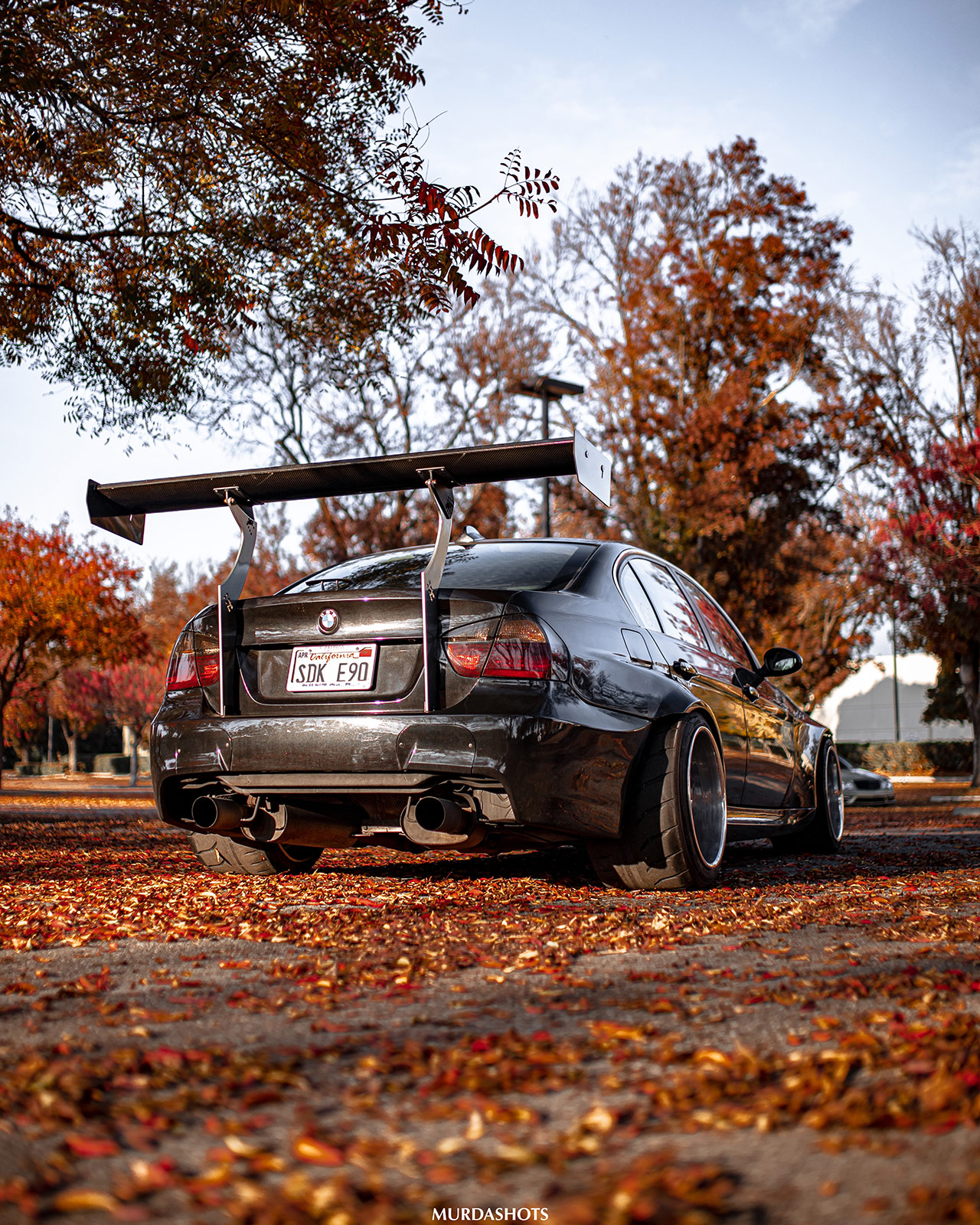 "My favorite modification is my chassis-mount wing because everyone either hates it or loves it," he laughs. "It definitely shows that I'm not afraid of criticism because my car is built the way I want it, and I've always loved aggressive oversized aero. Most of all, it's extremely helpful on track."
Just like Young's favorite street racing games, the modifications and quest for ultimate performance don't stop until you've beaten the final boss. Leaving his first boss in the dust, upgrades for the brakes, suspension, driveline, and even a set of air jacks are all in the works - you know, just in case the next guy pulls into the shop with a McLaren or something.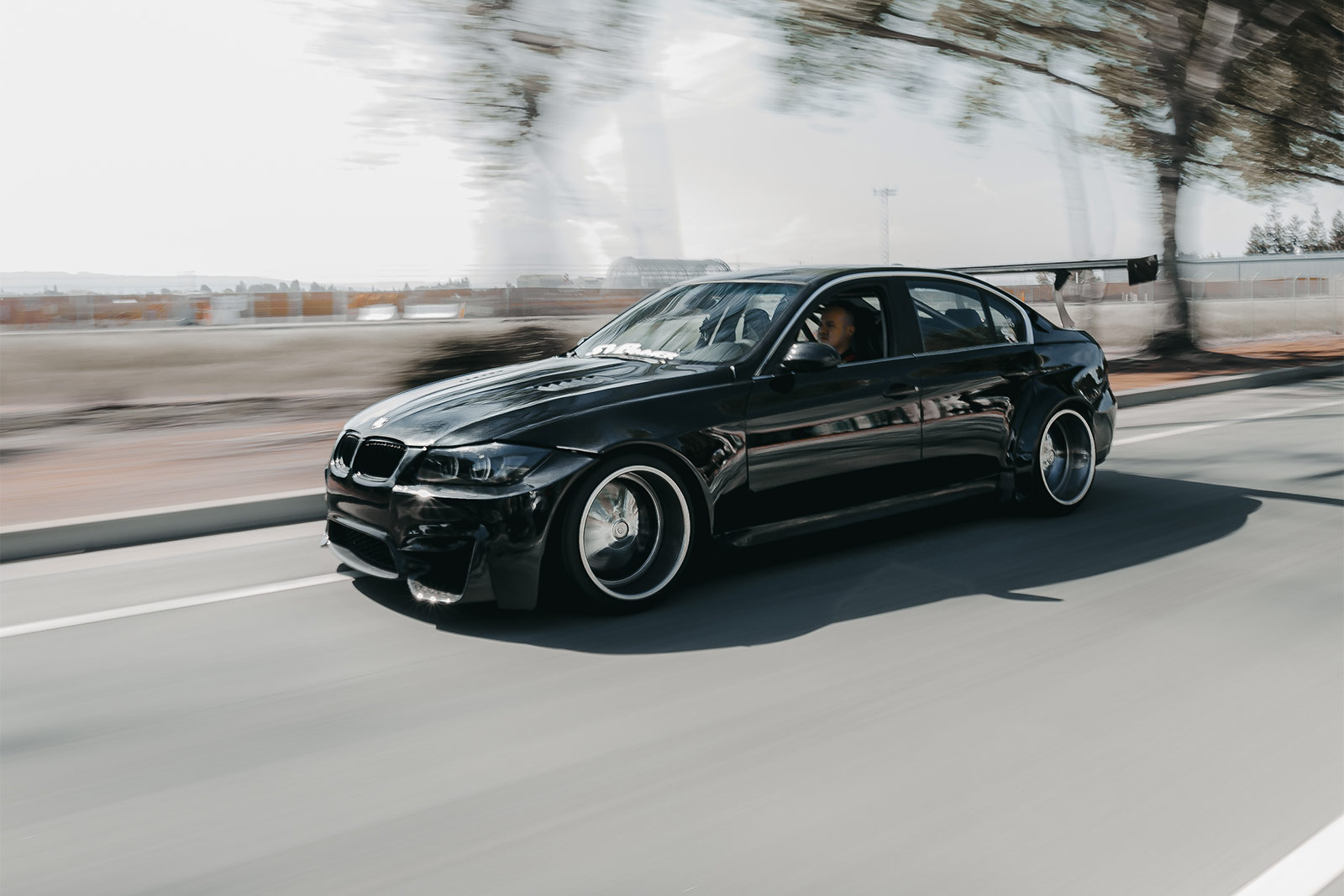 As seen in PASMAG #164. Click Here for the issue preview.
Photography by @ashleybuilds, @caliphotovideo, @renz.jpg, @victorgiang, @pdk_imaging, @jreyshootz, @marc_tec, @chriss_stii, @murdashots
---
ESSENTIALS
Owner: Arthur Young
Location: San Leandro, California, USA
Vehicle: 2007 BMW 335i
Horsepower: 600 whp
Club: Obsessed
SOCIAL
Facebook: /artheezy
Instagram: @sdk_e90
ENGINE
DocRace 6266 ball bearing top-mount turbo kit
Pinnacle Specialty Performance front-mount oil cooler
STETT oil thermostat plate delete
VRSF 7.5-inch stepped race intercooler
Vargas Turbo Tech (valve cover w/ plugged headports, dual catch cans, front-facing intake manifold w/ 750cc injectors)
Fuel-It Walbro 525 fuel pump
Turner solid aluminum engine mounts
Motiv Motorsports (MHD Flex Fuel Box w/ dyno tune, Boost Box boost controller)
Evolution of Speed BPM4 fuel pump controller
Split Second AIC
EXHAUST
3-inch generic exhaust system
DRIVETRAIN
Spec (Stage 3+ full face clutch, single mass flywheel)
Turner solid aluminum transmission mounts
WHEELS / TIRES / BRAKES
Work Equip 05 wheels - 18x12 (f), 18x14 (r)
Toyo R888R tires - 295/30 R18 (f), 335/30 R18 (r)
Pagid RSL1 brake pads
Stoptech slotted cryo-treated rotors
CHASSIS / SUSPENSION
Broadway Static prototype coilovers
EXTERIOR
Streetfighter LA widebody kit - F80/F82 front bumper
Custom rear quarter fender flares
APR GTC250 wing
Hard Motorsport upright wing chassis mount
Forged carbon L-splitters
Custom-built headlights - color-changing rings, honeycomb lenses
Depo smoked taillights
INTERIOR
Recaro Sportster CS heated leather seats
Schroth 4-point harness
M Performance V2 light-up steering wheel
Studio RSR roll cage
BMW M3 cluster swap - adjusted redline
RTD race shifter
Prosport gauges (AFR, boost)
Custom carbon fiber & alcantara door panels
SPONSORS
Silicon Valley Bimmer
Ashley (girlfriend)
---
PHOTO GALLERY