Written by Dave Pankew | Photos by RCH Designs
One of the subjects we wrestle with here at PASMAG is how many new enthusiasts are coming into the scene today. As the older generation of tuners grow up, priorities like mortgages and family commitments can often interfere with plans for their next project car or mod-budget. But true enthusiasts always find a way to keep their passion alive and still inject enough money into their custom cars and start new projects. We have also seen many talented enthusiasts fire up their own business in order to give back and stay in the game that further feeds their addiction. One such player out there is tuning veteran Vincent Wong, who has pushed iForged Wheels to new territory with his latest project.
Wong has been getting his grind on in the auto scene for over 10 years as the co-owner of his successful wheel business, but prior to that he was just another enthusiast like you and me."I set out to come up with an original wheel company that had memorable designs, engineered with lightweight, yet strong construction with totally customizable widths and offsets," says Wong.
Within a few short years, it was mission accomplished for Wong who was running a successful wheel company and building project car after stunning project car. Recently, iForged even expanded to release their own affordable Forgestar wheel line. In order to showcase the new designs properly, Wong got his wheels on the right projects and really shook up the tuning world with some of his own builds. The media coverage he has received is renowned the world over, but with this his 10th project he wanted to push the envelope unlike anything he had done before.
"We only had 7 weeks in total to build this Mercedes," laughs Wong. "Everyone said it couldn't be done, but the team just spent ridiculous hours on it and we picked the right people for the job because the level of craftsmanship is as good as Mercedes Benz themselves."
Starting out life as a regular 2004 SL55, this concept takes some cues from the stunning SL65 AMG Black Series. Misha Designs of Beverly Hills worked with Wong to take its styling to the next level. The multi-piece fiberglass and carbon fiber kit basically modifies every exterior panel. The car was widened, the hood now features cooling vents and the rear valance has pressure relief louvers. After the extensive bodywork was completed, the shell was coated in several layers of BASF liquid metal paint, which had never been available outside of AMG until Wong got a hold of some! The Designo Alubeam Titanium Paint has a stunning finish that looks like a solid piece of titanium. The exterior was accented with 2009 Mercedes Litronic Bi-Xenons with custom black housings. With wide fenders on all four corners, the ability to get outrageous with the wheels and tires was substantial.
The wheels (on one side) are iForged Legacys while a pair of iForged Equip wheels featuring a custom carbon fiber lip are found on the other side. The absolutely perfect overlay provides a contrast to the matt black textured face. Up front are 20x10-inch wheels rocking 275/30R20 Pirelli P-Zeros but what was in the rear we swore was a misprint. Fitted with a tire we didn't even know existed, the 21x13.5-inch iForged wheel wears a 375/20R21 Pirelli P-Zero! With enough contact patch underneath the Benz for two lesser vehicles, the abnormally large rollers create a ruckus while patrolling the streets.
Underneath the lid, the supercharged German V8 has been upgraded. The SL was taken to Hyevon Motorsports for their 650HP Stage 1 package. With a new pulley, air filters, exhaust system and dyno tune there isn't much left be desired. The engine was capped off with some Carbonio engine dress-up parts and upgraded intercooler to handle the new jam.
With an advanced suspension, Wong opted for nothing more than a lowering module to dial in the proper ride height. The brakes received an upgrade with some custom color Brembos from the McLaren SLR running R1 Concepts 14-inch and 13-inch rotors. The interior turned out to be far more elaborate than expected. The seats, door panels and pillars were pulled an reupholstered in back suede with a diamond stitch pattern. The drivers A-pillar features a 2-gauge insert to monitors some of the vitals with a Stack boost gauge and AFR meter. DCT Motorsports provided a number of interior accents including a carbon fiber steering wheel, center console, door inserts and shifter.
The attention shifted to the audio and multimedia install where the car was to be transformed into a CES event showstopper. Sounds hard enough by itself, coupled with the fact we pressured Wong to get it done in just 11 days to meet our print deadline! Despite Wong's protests he somehow found the right partners and worked tirelessly with Frank Sbrocca and his team at Traffic Jams in North Hollywood, CA to work some installation magic.
The install started by tearing out the contents of the trunk, where there isn't much room due to the SL's retractable roof mechanism. A pair of gorgeous-looking Diamond Audio amps are flush mounted inside the trunk as the Diamond Audio D600.4 600 watt four channel amplifier powers the front and rear speakers, while a Diamond Audio D600.1 600 watt mono amplifier feeds the two Diamond Audio S104 10-inch HEX shallow subwoofers.
The rest of the install took place right behind the seats, where Traffic Jams pieced together an elaborate MDF enclosure that conceals the shallow subwoofers from view while they fire away behind lucky occupants. On top of the enclosure a Diamond Audio H600 HEX Series 6-inch component system sits within a custom carbon fiber bezel. In the doors, Traffic Jams custom molded some MDF speaker enclosures to help push more volume through another set of Diamond Audio H600 HEX Series components. Up front a Kenwood Excelon DNX9960 mobile video and navigation unit connects with a Kenwood KCA-iP301V iPod adapter and a Kenwood CMOS-300 camera. All wires, cables and audio accessories used were from Fierce Car Audio.
Although we're not sure how he'll eventually top this car, we've seen Wong do it before as he's debuted new SEMA projects at seven out of the last eight years. We also know that next time we are in the LA area, we'll have to stop by and visit iForged headquarters to bribe him for the keys to this raging roadster!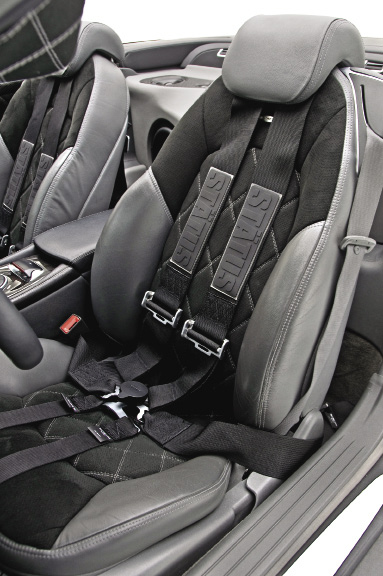 ESSENTIALS
Owner: Vincent Wong
Location: Huntington Beach, CA
Vehicle: 2004 Mercedes Benz SL55
Power: 650hp
ENGINE MODIFICATIONS
Hyevon 650HP Stage 1 Plus Package
180mm Supercharger Pulley
K&N Air Filters
Dyno Software Tuned
Upgraded Water Pump
Upgraded Heat Exchanger
New Mid Section with X-Pipe
Carbonio Carbon Fiber Engine Cover
Carbonio Carbon Fiber Intake
WHEELS / TIRES / BRAKES
iForged 3 piece Legacy V2 20x10.5 F and 21x13.5-inch (one side) textured black center concave with carbon fiber lips
iForged 3 piece Equip V3 20x10.5 F and 21x13.5-inch (one side) textured black center concave with carbon fiber lips
Pirelli P Zero 275/30R20 and 375/25R21
Brembo 8-Piston McLaren Orange Caliper Front
R1 Concepts 14-inch Cross-Drilled Brake Rotors Front
Brembo 4-Piston McLaren Orange Caliper Rear
R1 Concepts 13-inch Cross-Drilled Brake Rotors Rear
EXTERIOR
BASF Glasurit Liquid Metal Mercedes Designo Alu-beam Titanium Paint
Misha Designs Widebody Kit: Front Bumper, Front Carbon Fiber Lip, Front Fenders, Side Skirts. Rear Quarter Panels, Rear Bumper, Rear Carbon Fiber Diffuser
2009 Mercedes Litronic Bi-Xenon Upgrade
2009 Mercedes Mirror Conversion
2009 Mercedes Front Grille
INTERIOR
Custom Suede Diamond Stitched A-Pillar with two gauge insert
Top Stitched Custom Suede Diamond Stitched Interior
DCT Motorsports Carbon Fiber Steering Wheel
DCT Motorsports Carbon Fiber Shifter
DCT Motorsports Carbon Fiber Steering Wheel
DCT Motorsports Carbon Fiber Center Console
DCT Motorsports Carbon Fiber Door Panels
Stack Electronics Boost Gauge
Stack Electronics Air / Fuel Wideband Gauge
AUDIO / MULTIMEDIA
Installed by Traffic Jams North Hollywood, CA
Kenwood Excelon DNX9960 LCD Head Unit
Kenwood KCA-iP301V iPod Adapter
Kenwood CMOS-300 CMOS-300 Multi-View Cam
Diamond Audio D600.4 600 Watt 4 channel amplifier
Diamond Audio D600.1 600 watt mono amplifier
Diamond Audio S104 10-inch HEX shallow subwoofers
Diamond Audio H600 HEX Series 6-inch component system
Fierce Audio Capacitors & WIRES
SHOUT-OUTS
BASF, Pirelli, Diamond Audio, Kenwood, Misha Designs, Hyevon Motors, Traffic Jams, Fierce Car Audio, Dave @ PASMAG