Building something from the ground up yourself can bring you the highest highs in terms of satisfaction, but losing it all in one fell swoop can put you in the deepest despair possible. Unfortunately, this is how Brandon Rendon's story starts.
In the early 2000s, Rendon was the proud owner of a '98 Saturn SC2, which he had worked over extensively - custom interior, trunk install, and even a turbo setup - all by himself. Growing up with not much in the bank, Rendon would volunteer at a local custom car shop and absorb whatever he could in order to be able to build his car the way he wanted to in the most cost efficient way possible. In 2011, a wildfire tore through parts of Texas, and during the blaze, Rendon lost his home and his car. All of that knowledge and effort was gone and he couldn't bring himself to do it all over.
While Rendon would continue to wrench on cars, he wouldn't put much focus into anything in particular until he received a call from a friend. His buddy had a cool Acura for sale and wanted to know if Rendon would want it. The Integra was already coated in a candy metallic purple and had the headache of converting the B20 engine swap to VTEC complete. While going over the car, something flicked back on in Rendon. He had found his next passion project.
First thing's first: new shoes. With 15-inch RPF1s in Super Black Chrome finish on all four corners, it was time for Rendon to flex his DIY muscles. Splitters for the front and sides were fabricated and mounted to the Integra, followed by a rear diffuser. Then came something truly challenging: throwing a turbo into the mix, while keeping the creature comforts.
When all was said and done, Rendon had wrangled charge piping and manifolds around the AC and power steering gear, all while also keeping a full-sized radiator. The resulting combination of a B20V and forced induction isn't only a Honda B-series lover's dream, it also cranks out almost 300 horsepower.
"I never planned on building or even owning an Integra," Rendon laughs. "It just kind of happened and I instantly fell in love with it. I made this build to be different. I didn't try and make a Type R clone, I didn't put a jdm front end on it, I didn't do the crazy stance - I just went with what I liked and made it all work together." This is only the beginning. Rendon has so much more planned for his Integra, but most exciting of all would be the widebody he's putting together himself. He used the word "carbon fiber" a lot, which is super exciting. With that spark back inside him, we're all waiting to see what Rendon gets up to next.
Brandon Rendon is the winner of the PASMAG Tuner Battlegrounds #TBGLIVE competition at Hot Import Nights: Houston. Click here for more info
Brandon Rendon's 1998 Acura Integra RS is featured in PASMAG #167. Click here to order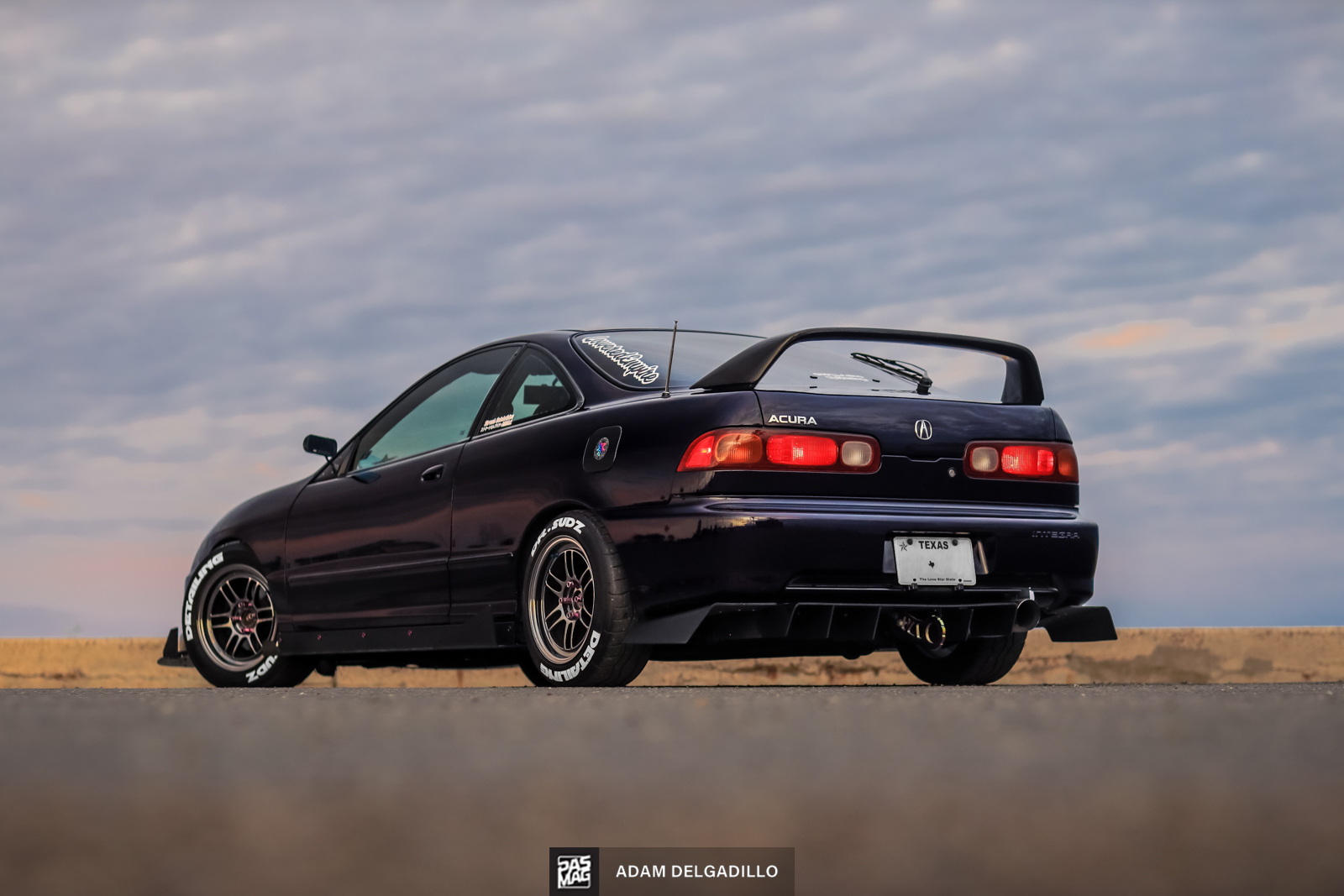 ---
PHOTOGRAPHY BY Adam Delgadillo (@oadam7)
ESSENTIALS
Owner: Brandon Rendon
Location: Aransas Pass, Texas, USA
Vehicle: 1998 Acura Integra
Horsepower: 297 WHP
Club: Street Celebrities
SOCIAL
Facebook: /brandon.rendon1
Instagram: @lbc.customs
ENGINE
Honda B20 engine swap with VTEC conversion
Garrett turbocharger
Tial wastegate
HKS blow-off valve
Mishimoto (intercooler, radiator)
Custom charge piping
RC fuel injectors
AEM (fuel rail)
ARP head studs
CXRacing "AC friendly" turbo manifold
Innovative motor mounts
Blox Racing intake manifold
Walbro 255 fuel pump
Hondata S300 V3
AEM Electronics wideband O2 sensor
EXHAUST
Tanabe Medallion 2.5-inch exhaust system
WHEELS / TIRES / BRAKES
Enkei RPF1 wheels (Super Black Chrome) - 15x8 (f/r)
Toyo R888R tires - 225/50 R15 (f)
Falken tires - 205/50 R15 (r)
Custom tire stickers
Drilled & slotted brake rotors
CHASSIS / SUSPENSION
Skunk2 (Pro ST coilovers, Pro ST upper control arms, lower control arms, Pro rear camber arms)
EXTERIOR
Candy metallic purple paint job
Mugen front lip
Custom aero (front splitter, side splitters, rear diffuser)
APR GT3 carbon fiber side mirrors
Tanaka front tow strap
Tinted headlights
Carbon fiber (Type R wing, gas cap)
INTERIOR
NRG (Matsuri steering wheel, boss hub, quick release)
Skunk2 weighted shift knob
K-Tuned extended shifter
GlowShift gauges - boost, oil temp
MOBILE ELECTRONICS
Clarion double-DIN head unit
Kenwood 6.5-inch speakers
---
PHOTO GALLERY