Ever since the first time she first laid eyes on a Mk4 Toyota Supra, Shay Bisconer was hooked. Growing up helping her dad in the garage with his cars and trucks had her looking at cars differently from a young age, and the Supra just happened to be the one that really caught her eye. When she finally got one, she knew right away that she would be modifying the platform because of how much potential it had.
After spinning a bearing one unfortunate day, she decided to take the responsibility upon herself to learn the ins and outs of engine building. During this time, she also learned how to wire everything herself, and she tells us that to her surprise, it's held up all these years later. She must be doing something right! Careful modification and maintenance has led to a reliable 600 whp car day in and day out.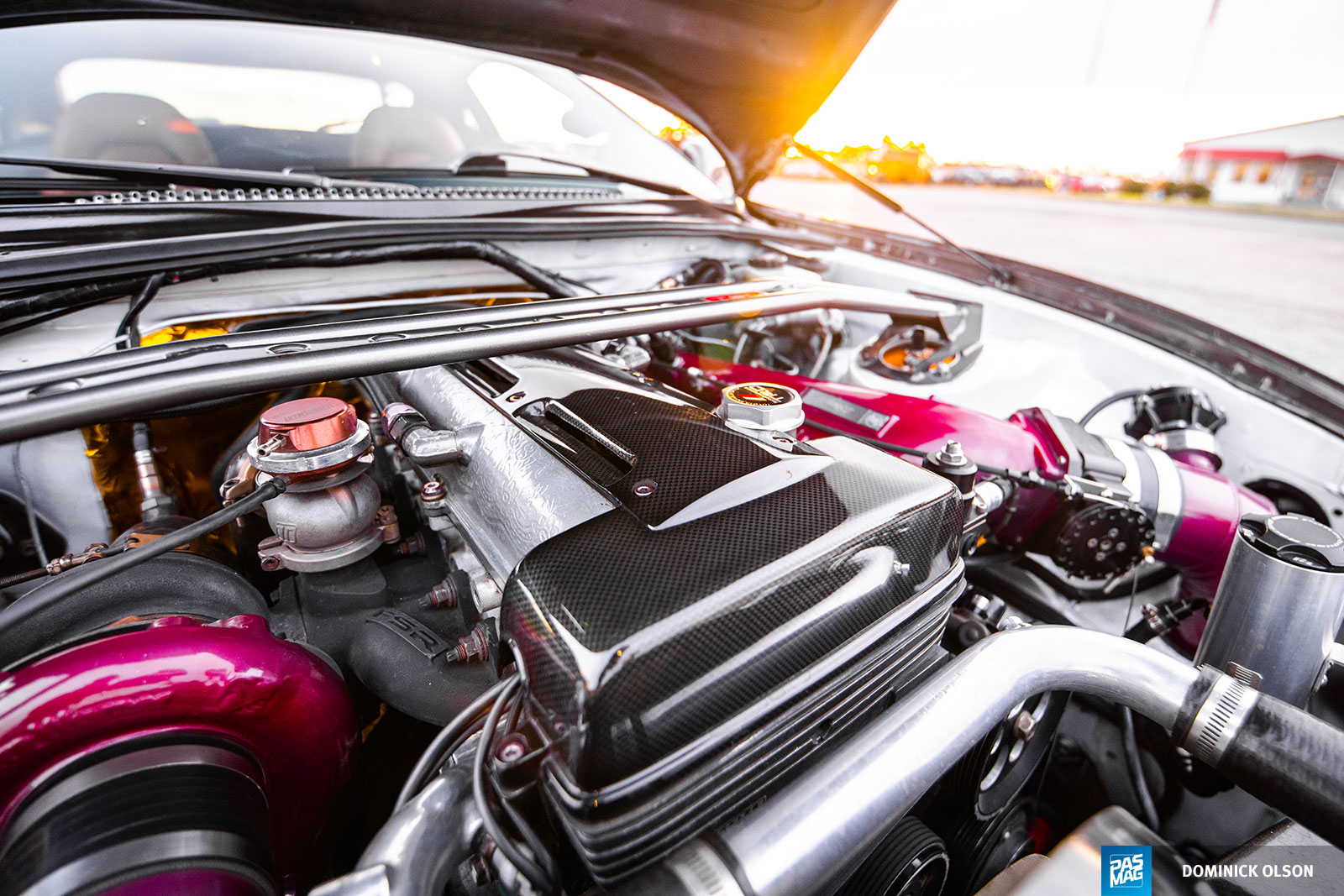 What originally started out as a dream for a show car slowly evolved over time as Bisconer grew bored of not using the car to its full potential. From there she transitioned over to road racing and Auto-X. With her previous goals of showing the car, the styling and cleanliness of mods lends itself well to making the car a true all-rounder, looking the part as well as it drives. Modifications walk the line between performance and style very well.
Just about every section of the car has been modified in some way, with function and form in mind at all times. Taking it upon herself to do work herself was not only a good way to save some dollars, but also a good way to gain an intimate understanding of the Supra's components and systems, a collection of knowledge that pays off to this day. Well done!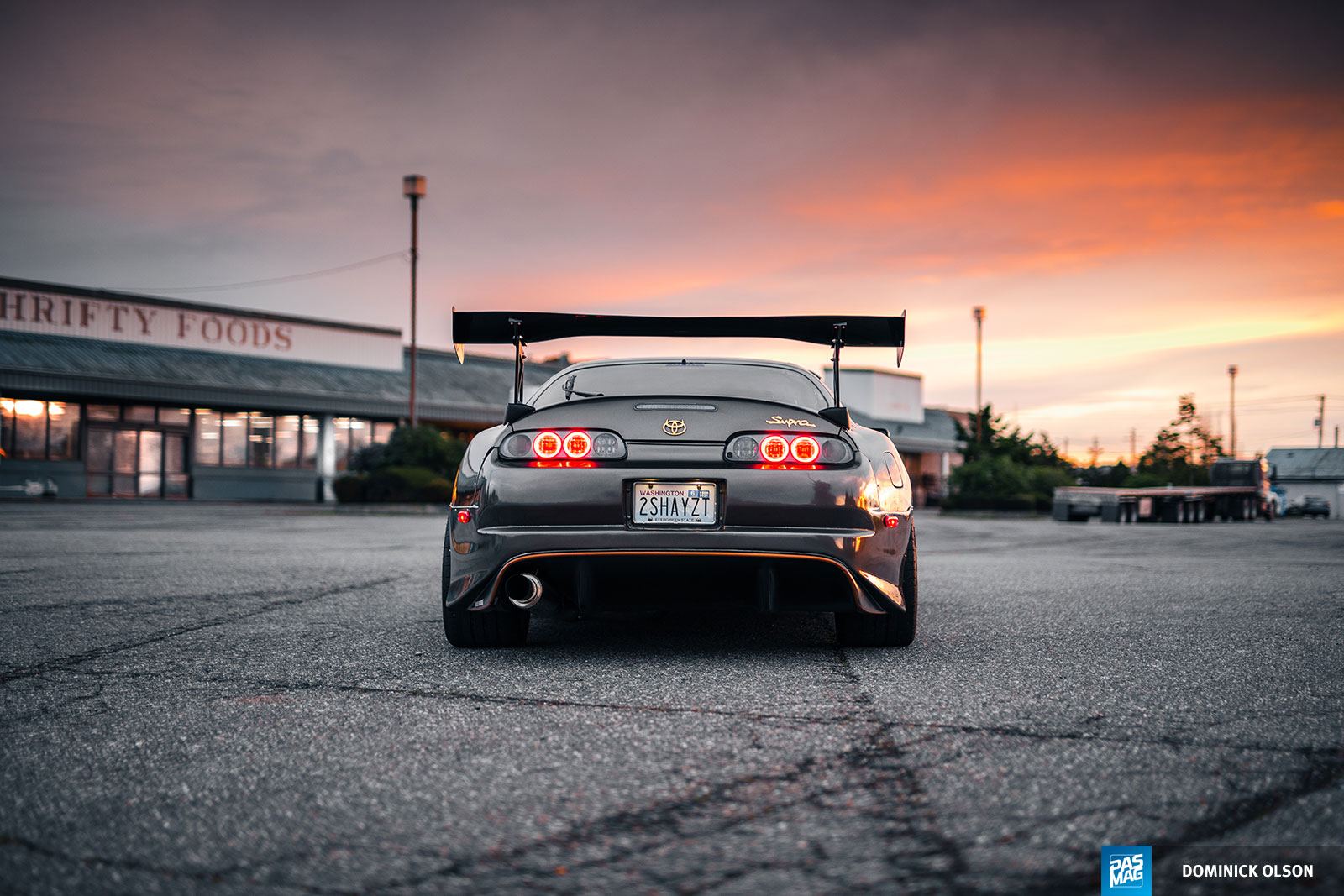 Shay Bisconer's 1995 Toyota Supra is featured in PASMAG #163.
Photography by Dominick Olson (@pnw_speed)
---
ESSENTIALS
Owner: Shay Bisconer
Location: Stanwood, Washington, USA
Vehicle: 1995 Toyota Supra
Horsepower: 600 whp
Club: PacNW Supras
SOCIAL
Facebook: /supra.shay
Instagram: @2_shay_z
ENGINE
2JZ-GTE non-VVTI engine swap
BC connecting rods
Borg Warner S366 Turbo
Fuel Injector Clinic 1000cc injectors
Mishimoto radiator
GReddy intake manifold
FSR Exhaust manifold
RMM 90mm Throttle body
PHR (pulleys, oil pump, power steering reservoir)
Turbosmart wastegate
Tial BOV
OCDWorks T51r mod
Ebay intercooler
Link G4+ ECU
GM Flex Fuel sensor
EXHAUST
Custom exhaust piping
HKS Ti muffler
DRIVETRAIN
CD009 6-speed transmission
Xcessive Manufacturing (adapter kits, driveshaft)
SC430 differential carrier
WHEELS / TIRES / BRAKES
Cosmis XT206R wheels - 18x9.5 (f), 18x11 (r)
Michelin Pilot Super Sport tires
Lexus LS400 front brakes
StopTech slotted rotors
CHASSIS / BRAKES
HKS Hipermax IV coilovers
TRD (sway bars, strut bar)
Tanabe rear strut bar
EXTERIOR
APR GT wing
Ridox (front bumper, widebody)
Top Secret hood
Stillen side skirts
Trial rear bumper
TRD widebody
Morimoto HID bulbs
Custom LED ring tail lights
INTERIOR
Stu Hagen (gauge cluster, HVAC)
TRD steering wheel
Interior Innovations front seat upholstery
Carbon fiber dash overlay
Bam Shifts shift knob
Rear seat delete
AUDIO / MOBILE ELECTRONICS
Double-DIN head unit
Kicker subwoofer
Almani speaker
Kenwood amplifier
---
PHOTO GALLERY