There were a lot of FD RX-7 builds to admire at SEMA 2021, and all of them were special in their own way. It certainly wasn't easy to pick a favorite from the bunch, but something about Chris Johnston's Time Attack FD3S. Inspired by the Japanese time attack scene covered by Narita Dogfight, as well as his love for 90s JDM, this 1993 FD from the Fortune Auto booth checks all the boxes for me.
When he lost an apex seal in 2015, the car was going to be down for a while, and he used that opportunity to plan out the build exactly the way he wanted it. He got his first rough ideas of how it would look by playing around with design options in Forza and Gran Turismo video games, and fine tuned his idea over time as he gathered parts and made changes to the overall vision. As it came together, his lifelong dream of unveiling the car at the SEMA show started to become a possibility.
A properly put together 13b REW with a half bridge port built by Eccentric Motorsports serves as the heart of the FD, with a Borg Warner EFR 8374 EWG turbo doing some of the heavy lifting to make good power. Part of what makes the FD stand out among the rest of the RX-7 builds is the beautiful RE Amemiya kit and accessories like the carbon fiber tail light cover. A healthy dosage of R Magic add-ons go the distance as well. The combination of the properly built 13b, the aggressive time attack styling, and all of the incredible work throughout makes this an easy favorite. There's a lot to love here.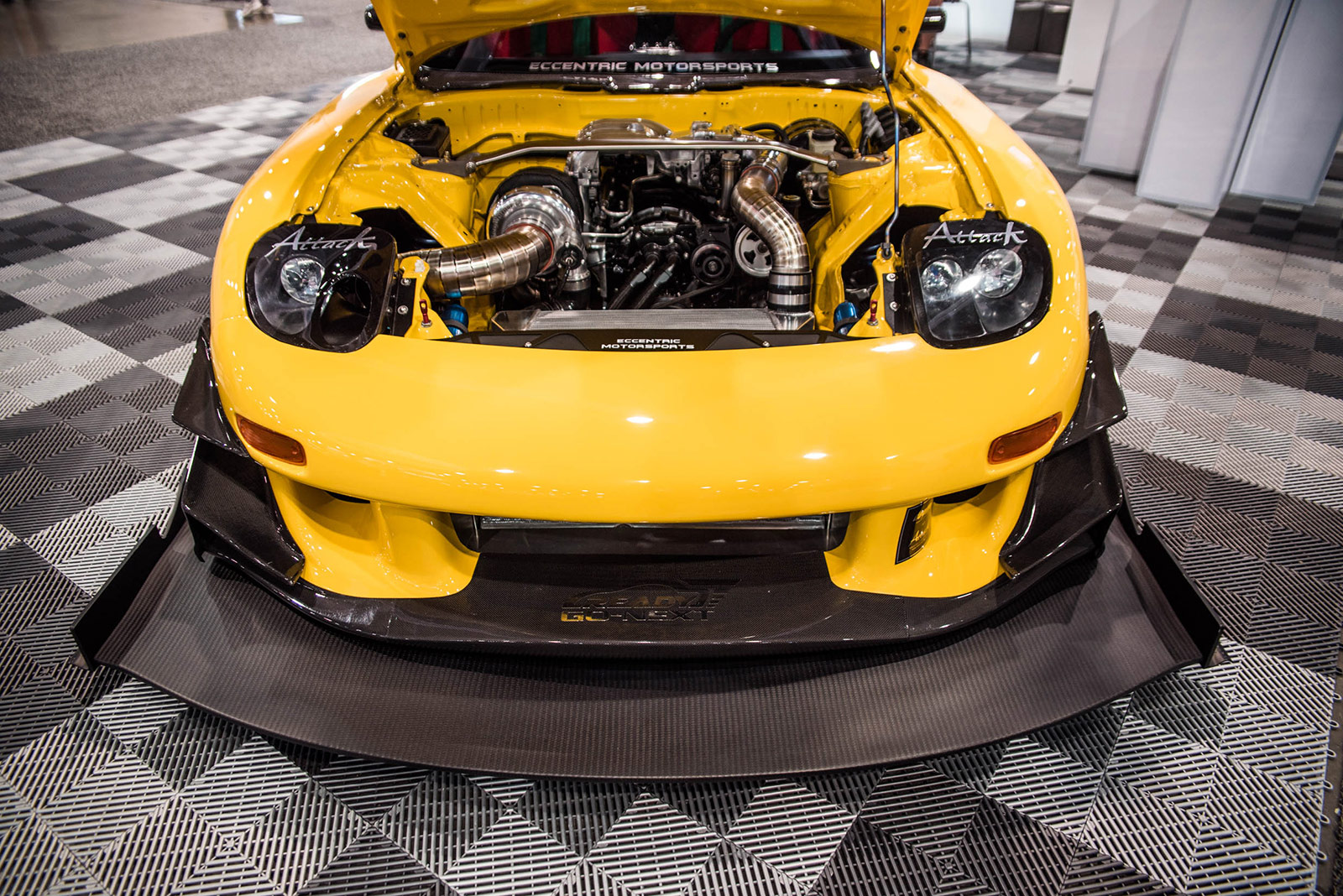 As seen in PASMAG #169. ORDER HERE
Photography by Chris Gosda (@photosbycg13), Chris O'Neal (@conphotographyllc)
---
ESSENTIALS
Owner: Chris Johnston
Vehicle: Time Attack FD3S RX-7
SOCIAL
Instagram: @attack_fd3s
ENGINE
Half bridge port
Stud and dowel kit
Goopy solid apex seals
Borg Warner EFR 8374 EWG turbo
Eccentric Motorsports (billet manifold, V mount, throttle body elbow, radiator, ducting, alternator bracket, catch can, custom hard fuel lines, oil pan, downpipe)
Turbosmart wastegates (2)
Davis Craig electric water pump
Spal electric fans
Custom (air separator tank, oil filler neck)
Jp3 throttle cable
CJM billet fuel rails
Injector Dynamics 1000/2000cc injectors
Aftermarket Industries SP800 billet surge tank
Walbro (525 fuel pumps (2), 450 fuel pump)
Aeromotive FPR
Stainless steel fuel lines
Sakebomb ignition coils
Setrab twin 19-row oil coolers
Titanium intercooler piping
Turboguard filter
Haltech (1500 Elite ECU, engine harness)
AEM Performance Electronics water-meth injection system
LRP alternator
EXHAUST
Eccentric Motorsports full titanium exhaust
Custom fender exit exhaust dumps
DRIVETRAIN
Exedy (twin disk clutch, lightweight flywheel)
Angel Motorsports (transmission brace, diff brace)
Mazdaspeed short shifter
Racebred shifter
Kaaz 1.5-way differential
Rx8 4.44 final drive
Eccentric Motorsports custom diff cooler
WHEELS / TIRES / BRAKES
Volk Racing CE28N wheels - 18x10.5 -18 (f/r)
Toyo R888R tires - 275/35/18 (f/r)
Project Kics lug nuts
Project Mu 4-pot front BBK
Mazda Spirit R rear brake caliper brackets
929 brake master cylinder upgrade
CHASSIS / SUSPENSION
Fortune Auto Dreadnought Pro 2-way coilovers w/ Swift springs
Super Now (poly bushings, billet sway bar mount brackets)
Racing Beat sway bars
J Auto (sway bar end links, pillow balls)
Mazdaspeed titanium strut bar
EXTERIOR
RE Amemiya (first gen n1 bumper, dual carbon canards, carbon undersweep, sleek headlight kit, headlight intake duct, AD9 good, carbon hood gurneys, carbon diffuser vortex generators, center dividers, carbon tail light cover, front tow hook)
Klaus composites dry carbon chassis mount splitter
Eccentric Motorsports (custom splitter mounts, side step guard)
Ready Go Next carbon hood vents
R Magic (modified N1 widebody kit, carbon side steps, air deflector, rear canards)
Seibon Carbon (doors, hatch)
Fal lexan rear window
Marshpowerhouse carbon roof
Esprit (GT wing, gurney flap)
Car Shop Glow (carbon fiber end plates, carbon diffuser)
Custom chassis-mount wing stands
Craft Square carbon mirrors
Bubble Tech (lexan door windows, rear tow hook)
Sponsor stickers by fancy logic design
Narita dogfight custom banner
Evo R carbon door handle covers
Garage Alpha carbon cowl panel
LED Tail Light Modz tail lights
INTERIOR
Bubble Tech (aluminum race dash, aluminum V2.0 race door panels, heel plates)
Bride Zeta 3 seat
Recaro SPG seat
Takata 6-point harnesses
Haltech dash display
Eccentric Motorsports water pump LCD
Custom switch panel
945 garage 10-point roll cage
Fire suppression system
Garage Alpha (aluminum widened gas pedal, titanium E-brake handle, titanium shift knob)
Ronin Speedworks seat rails
Sparco (steering wheel, quick-release, hub, hub spacer)
Narita dogfight steering wheel
---
PHOTO GALLERY