We got a closer look at this Lexus GS300 build in one of our video features for Tuning365, and I'm glad we did. Lately I've found myself appreciating the Lexus GS platform more and more, but I never expected to see something like this. This is a full blown time attack GS300, stripped and gutted, and built with awesome fabrication skills. One look at this car and you can tell that it's all business.
Making the extra power is a 2JZ-GTE VVT-i engine from a Toyota Aristo, bolstered by a CompTurbo CT379S-6467 turbocharger and supporting fuel system mods. Being a full time attack build, it also features a dry sump kit from Ross Performance, JiffyTite quick-release fittings, and a fuel cell with dual fuel pumps. Mated to the engine by way of a DomiWorks Engineering DCT adapter system is the DCT transmission out of a BMW E92 M3. Engine tuning is handled on Haltech's Nexus R5 ECU, and DCT management is handled by way of HTG Tuning's DCT gearbox control unit.
From the outside, it's obvious this car is made for the circuit. If the centerlock RVL IVY Corsa wheels didn't give it away, the aggressive front aero and a carbon fiber roof courtesy of Attacking The Clock Racing, as well as modified versions of SerialNine's BREED overfender kit, hood and trunk are all among the most noticeable. Not to mention the enormous APR GT-1000 Dual Element chassis-mounted wing.
All in, this is a pretty unorthodox choice for a time attack platform, and we're all for it. The fabrication throughout is impressive, and it looks badass. We can't wait to see Graves smashing laps in this thing.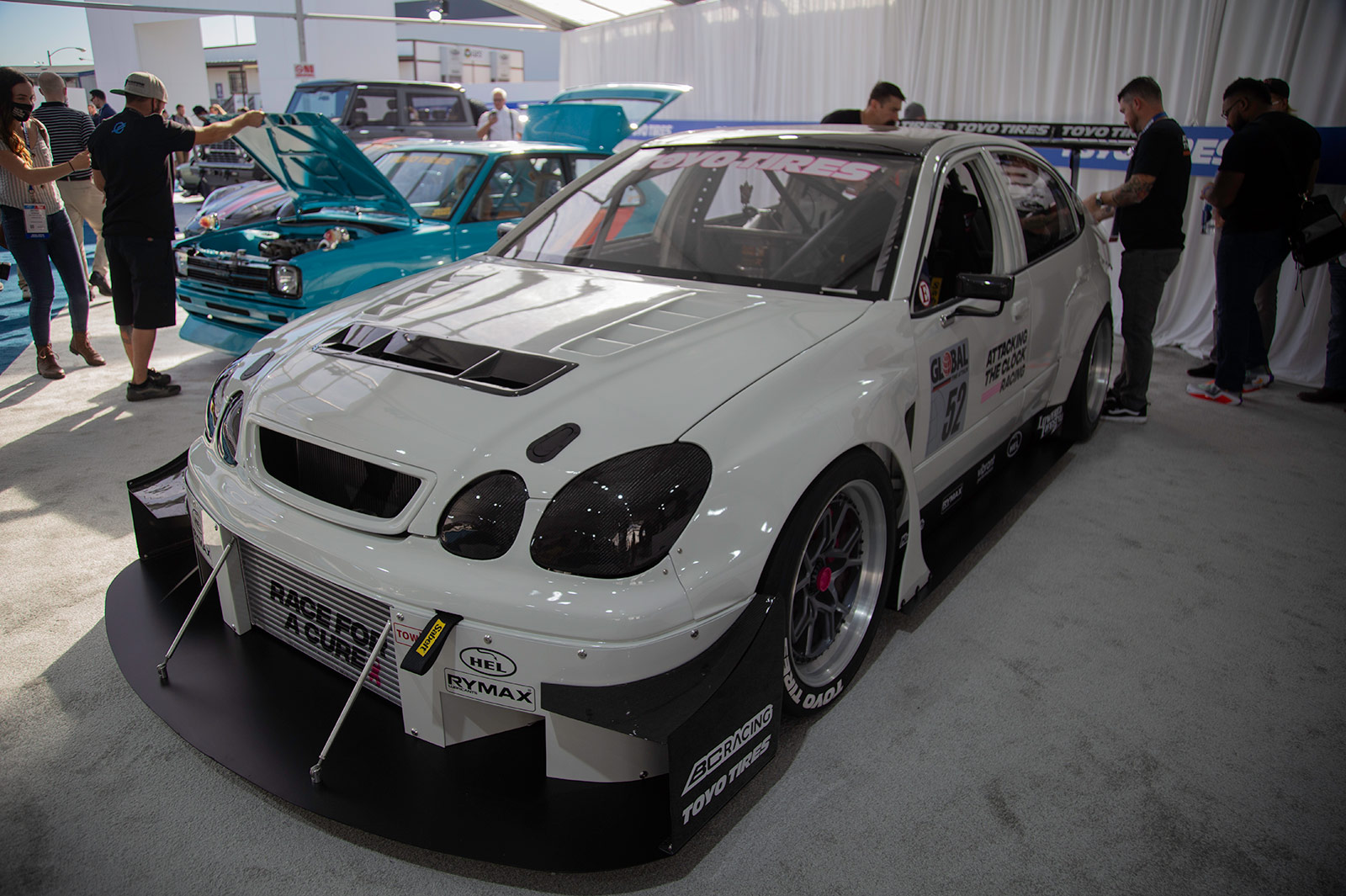 As seen in PASMAG #169. ORDER HERE
Photography by Adrian Munoz (@ajm_studios), Gerbie Reyes (@gersmms2k)
---
ENGINE
Toyota Aristo 2JZ-GTE VVT-i engine swap
Supertech (valves, retainer kit)
Tomei poncams
Ignition Projects HEXA coils
Hypertune (intake manifold, turbo manifold, intercooler)
Ross Performance (dry sump kit, billet valve cover)
Mishimoto (radiator fan, fan shroud, oil coolers (3))
CompTurbo CT3793S-6467 turbocharger 2.0
Turbosmart (wastegates, blow-off valve, fuel pressure regulator)
JiffyTite quick-release fittings
Fuel Injector Dynamics 1000cc injectors (12)
Haltech Nexus R5 ECU
Aftermarket Industries FC1200 fuel hanger
FuelSafe 18-gallon fuel cell and dry brake
Walbro dual fuel pump
DRIVETRAIN
BMW E92 M3 DCT transmission
DomiWorks Engineering DCT adapter system
HTG Tuning DCT Gearbox Control Unit
Lexus GS430 differential carrier swap (3.266 gear ratio)
OS Giken SuperLock 1.5-way LSD
WHEELS / TIRES / BRAKES
RVL IVY Corsa Centerlock wheels - 18x10.5 +22 (f), 18x12.5 +10 (r)
Toyo Tires Proxes RS1 tires - 285/680R18 (f), 335/710R18 (r)
ALMotorsport (8-piston front calipers, 4-piston rear calipers, floating brake rotors)
CHASSIS / SUSPENSION
BC Racing ER coilovers
Figs Engineering suspension arms w/ SuperPro polyurethane bushings
Battle Version solid rear subframe bushings
Cusco front brace
NASA-certified roll cage
Nuke Performance air jack system
EXTERIOR
SerialNine (BREED overfender kit, hood, CSL trunk)
Attacking The Clock Racing (carbon fiber roof panel, aero package)
APR Performance GT-1000 Dual Element chassis-mounted wing
V86 Customz Alpine White paint
INTERIOR
Mirco Custom RS2 seats
FEV fire suppression system
PERacing pedal box
Sweet Mfg steering column
Sabelt (steering wheel, nets, harnesses)
Grid Engineering paddle shifter solution
---
PHOTO GALLERY