Written by Dave Pankew | Photos by Patrick Ernzen
Getting across the US – Mexico border may not be as easy as it used to be. Back in the day there were some lines in the sand or at best some crusty
mesh fences separating Mexico from the "Land of Opportunity" and the rush was on. Today, it is far tougher with infrared cameras, attack dogs and choppers with 50-cals hanging off the side just in case they have to throw down. Still, there are an estimated 13 million plus illegal immigrants in the United States despite these challenging odds. The desperation to hop the fences and build a better life has never been so tempting.
Owner of Vivid Racing, Dan Mermelstein knows all about coming from nothing and building an empire. This former proprietor of a cell phone accessories business didn't hop any fences to get there but he and his partner, Rob Rohn have created a substantial performance parts player on the scene in less than seven years. In terms branding the company, Mermelstein has run a clinic on how it is done. Every tuner knows the Vivid Racing name, many of whom who have done business with them before. One of the keys to their success in that area is actually living the life. These guys travel to all kinds of shows and have participated in the Bullrun and the Gumball 3000 several times. They are constantly out there, not to flaunt their lifestyle but rather build the mystique of the Vivid brand and sell the dream.
Their roadmap to success is due in (large) part to their striking shop cars. Vivid has bagged many covers and lots of features over the years, mostly because they just "get it" when it comes to building them. Much of that has to do with the exterior treatment of the Vivid stable. This particular Evo X has all the right moves, nothing over the top, but nothing ordinary either. The sultry Evo X got a shot in the arm with the addition of a Valdi Sport Test & Service aero kit. Not your average kit, this FRP constructed 4-piece kit really alters the look of the hyper sedan.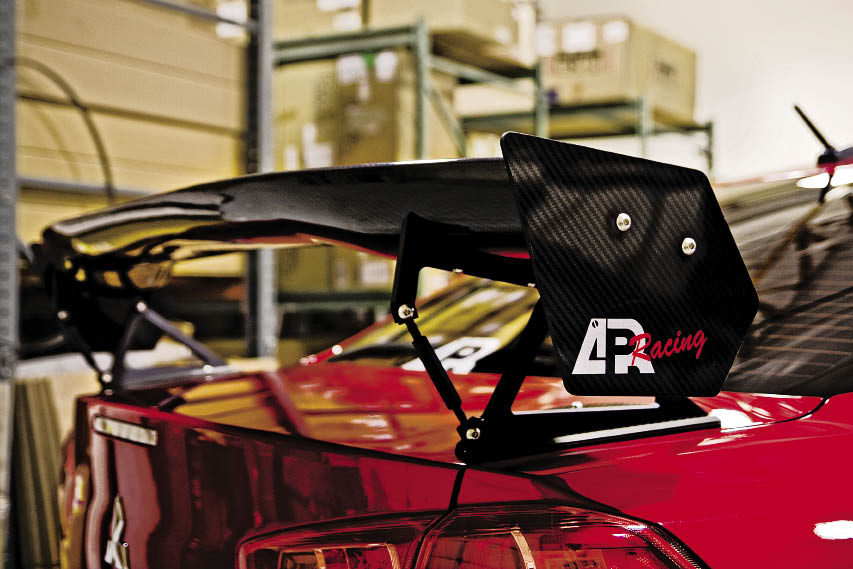 It also aids in managing the air around the Evo to reduce lift and air cooling with the upgraded: sideskirts, front and rear bumper. More downforce is on tap with the menacing APR GT500 carbon fiber wing sitting atop the trunk.
Team Vivid called up one of their long-time suppliers and avid enthusiast Vincent Wong at iForged for some product support. The conversation probably went something like this: "Vince, Dan Vivid Racing, y'know leader of the Mermel-militia. Finding wheels for this EVO is really buggin' the crap outta me. And well, send me some sweet iForged wheels and I'll love you long time babydoll." Wong probably was like "Alright Dan, got your back, now send me some Porsche gear fro my new project and stop with the babydoll stuff" Wong set the Vivid car up with some 3-piece Neo wheels and placed bets whether they could cram 19x10-inch rollers all around. The safe bets lost as the wheels and their 265/30R19 Toyo T1R tires were fastened into the wheel wells nicely with WORK lugs . Not your average setup and the trained eye will notice that the lips are in fact staggered.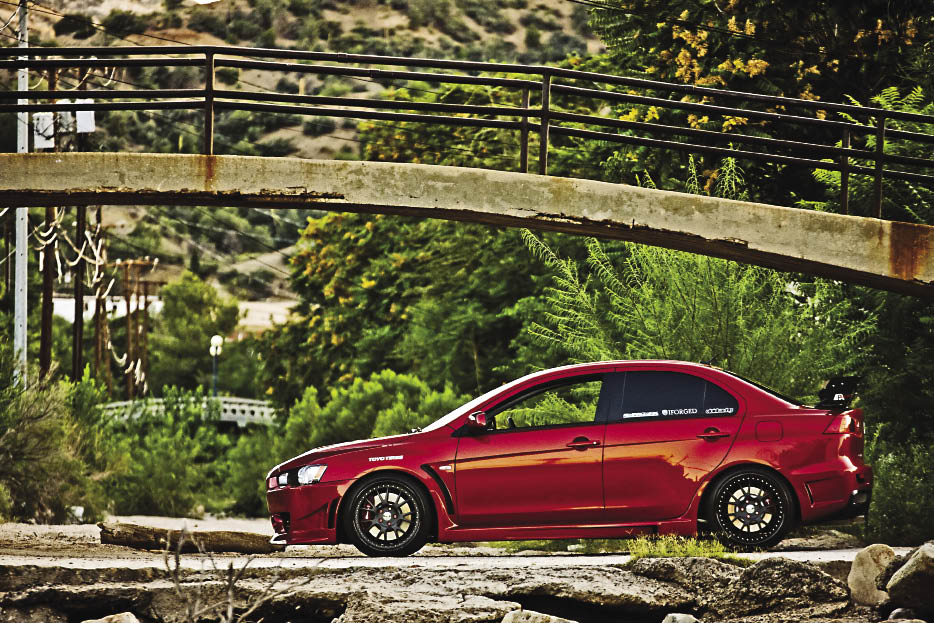 An Evo, any Evo is blessed with athletic moves but the Vivid car has a few more up its sleeve. Under the chassis are JIC FL-TAR coilovers for damper adjustment and ride height tweaks. Agency Power supplied the rear upper control arms to dial-in proper camber. The stock Brembo brake system is bumped up with Agency Power stainless braided lines filled with Motul RBF600 DOT4 brake fluid.
What shop car would be complete without some massaging under the lid. Mitsubishi's new 4B11 engine is proving to be quite a contender and Vivid brought out the best in the motor. Starting with an Agency Power (AP) GT35R turbo, the motor would have to remain stock to test the limits for their customers.
Air sucked in through and Agency Power intake heads to their front mount intercooler post compression. Connected by a maze of their AP intercooler pipes, the Agency Power blow-off valves expels excess cool air. On the hot side, TiAL wastegates regulate the turbo, while excess gases head into an Agency Power downpipe and end up firing out a dual 3-inch cat-back. Agency Power also makes the injectors, crank pulley and the 268/274 camshafts used on this build.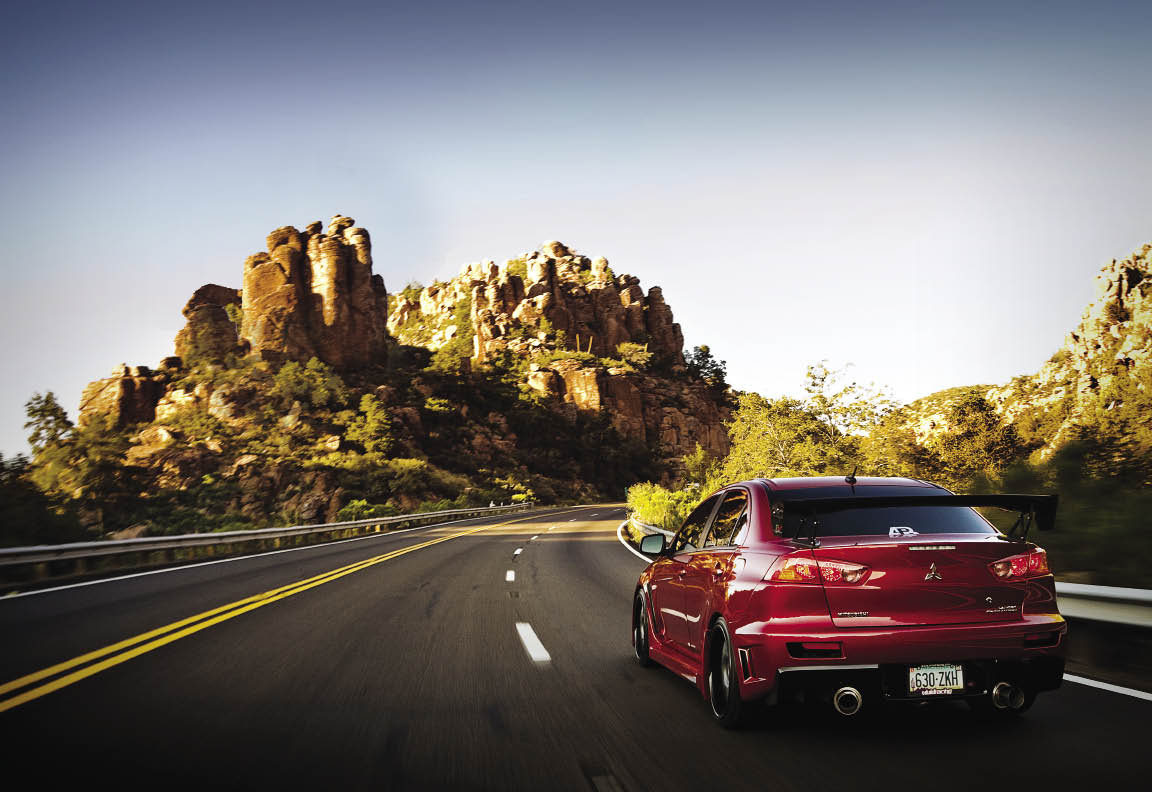 When the car hit the rollers, Mermelstein and Rohn were sweating like Patrick Ewing in the 4th quarter. Would it hold up, would it melt? Only the dyno would tell. The numbers finally popped up after tuning and in the end the car made almost 650whp! With that kind of pull, the stock driveline would have its problems, starting with the fuse, er clutch. They turned to Clutch Masters to supply a Stage 3 clutch and lightweight aluminum flywheel. Then they added an Agency Power short shifter for a quick and accurate throw.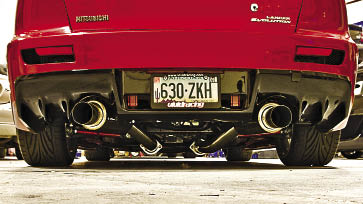 Everybody knows the Arizona clan like to stick together like a herd. So "Mermel" called up his other AZ homie Zack Luke at AZ-based Rockford Fosgate (RF) for some top notch audio gear. We're sure our boy Zach went on a tirade about droppin' doom on all the fools at SEMA (where the car debuted) and make little 'crumbsnatchas' run scared from the big and bad Rockford-install. But then Zachy-boy realized he simply couldn't supply product for this build... it already has a deadly Rockford Fosgate system. You see, the Mitsubishi Evo is equipped with a rockin' OEM Rockford Fosgate audio system including a 6-CD/MP3 or touch-screen NAVI Audio System with 9 Speakers, plus a 10-inch trunk mounted long-throw subwoofer! Looks like another successful project build notch on the belt for the Vivid team, as this EVO cemented a Best Import award at SEMA from CarDomain.com and even caught the eye of a buyer – in Dubai. So the Evo you see here is no longer running the roads of AZ, but tearing up some dusty streets in the Middle East.
ESSENTIALS
Owner: Vivid Racing
Location: Gilbert, AZ
Vehicle: 2008 Mitsubishi Lanver Evolution X
Engine: Mitsubishi 2.0L 4B11 inline-4
ENGINE MODIFICATIONS
Agency Power Twin Scroll GT35R Turbo kit
Agency Power Cold Air Intake Kit
Agency Power Top Intercooler Pipe Kit
Agency Power Front Mount Intercooler
Agency Power Lower Motor Mount
Agency Power Injectors
Agency Power Crank Pulley
Agency Power Radiator Hoses
Agency Power Blow Off Valve
Agency Power Dual 3inch Catback
Agency Power 3 inch Downpipe
Agency Power Camshafts Intake/Exhaust 268/274
TiAL twin wastegates
GReddy PRofec-B SpecII Boost Controller
DRIVELINE
Agency Power Short Throw Shifter
Clutch Masters Stage 3 Clutch Kit
Clutch Masters Light Weight Flywheel
WHEELS, TIRES, BRAKES
IForged 3pc Neo Wheels 19x10 with staggered lips
Toyo Tires T1R 265/30R19
Work Red Lug Nuts
Agency Power SS brake lines
Motul Synthetic Brake Fluid RBF600
SUSPENSION
Agency Power Rear Adjustable Control Arms
JIC Magic FL-TAR Race Coilovers
EXTERIOR
Valdi Sport Test & Service Complete Front Bumper, Side Skirts, Rear Bumper
APR GTC500 Carbon Rear Spoiler
AUDIO / MULTIMEDIA
Rockford Fostgate OEM sound system
6-CD/MP3 or touch-screen NAVI Audio System with 9 Speakers, including a 10-inch trunk mounted long-throw subwoofer