Photos by Ranger Ramirez
---
Building your first car is a lot like raising your first child: time and effort seem immeasurable, mistakes made seem irreversible, and its success on the street relies on support received at home.
The relationship between Choi Durante and his 2014 Honda Civic Si is no exception. The Si is not only his first build but also his favorite model, and growing up as a child in the Philippines, Durante knew from a young age what would be his first purchase in America.
"When I bought the Si, I told my parents that I will just put tints on it," Durante recalls. "Then I bought lowering springs, after that [came the] wheels and then the air suspension. Everything was a challenge to me. It was my first time in the car game – I've never built a car before."
This is where Durante begins to differentiate from the mod scene, because unlike most, his passion derives from a must different source.
"I'm not actually a car enthusiast; I classify myself as an artist and building this car is the form of art for me. I'm not really after the performance parts."
Well, if Durante isn't chasing performance parts, where did all the time (six months) and money go?
Take a peak inside the interior and you'll find it's entirely wrapped in Porsche leather and Ferrari alcantara trimmings, from the headliners and pillars to the door inserts and dash. His audio game is on point as well. A two-piece Kicker CompR subwoofer, 8 and 10 inches, is protected by a customized enclosure and is coupled with Alpine amplifiers. The trunk has also been installed with a Lenovo 19-inch, all-in-one tablet. Then there are his blue and red Avant Garde F241 and F110 wheels, mirror-brushed chrome.
Being new to the scene, there are a few people to whom Durante would like to give a shout out on the East Coast.
"The owner of Modified Concepts, Danny, is an amazing guy! He helped me pick out the best wheels, because as I said, it's my first season, [so] Danny did the sizing for me and gave me a great hook up," Durante goes on to say. "Ryan from Exact Art worked by himself in building the whole interior – he is a beast!"
"Thank you to all my crew members from 9GensoSiety for pushing me…and shout out to my mom [for being] there for me."
As is also so often the case, one build is not enough, so keep your eyes open for his 2016 Subaru WRX STi.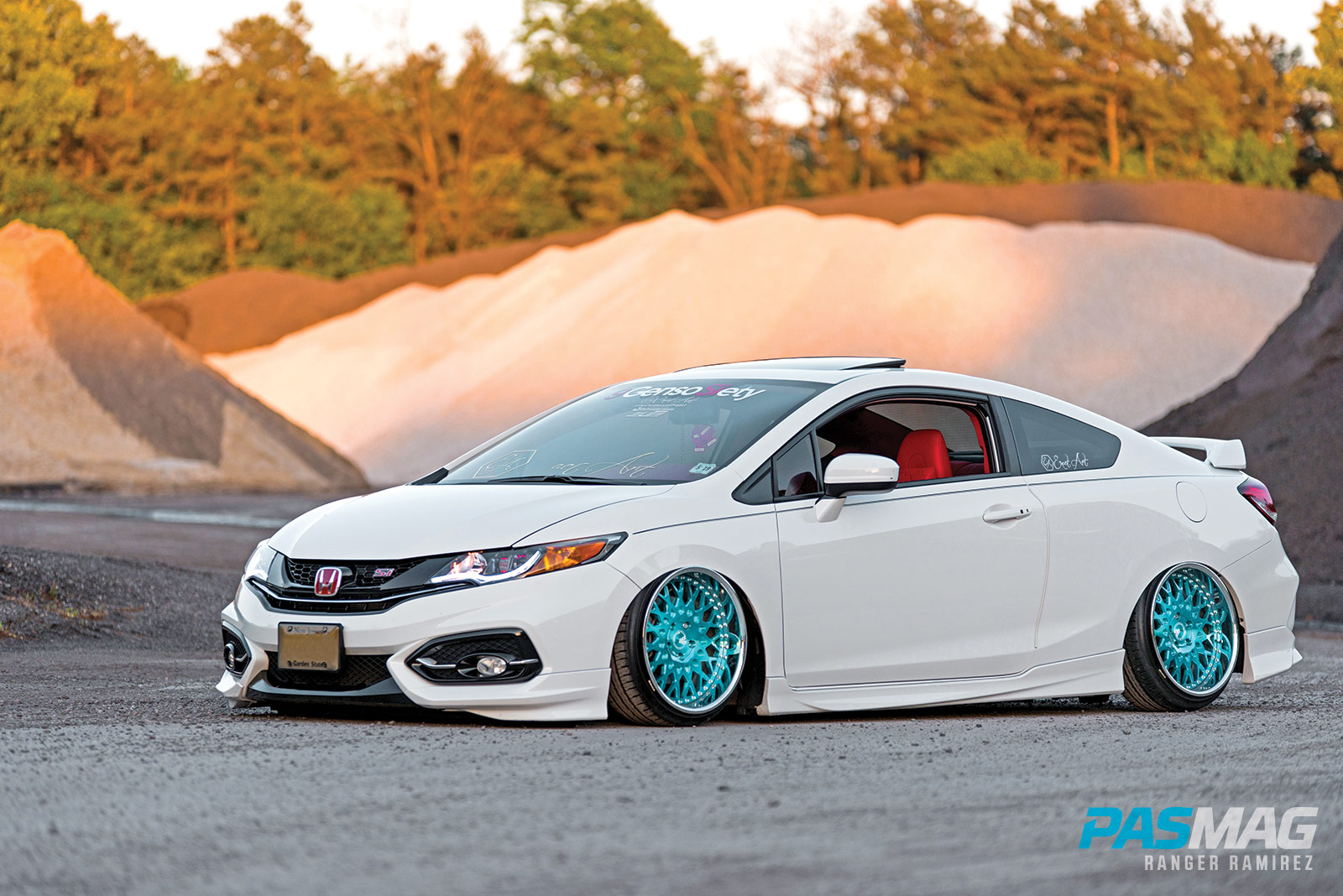 #TBGLIVE WINNER | A HISTORIC CAR SHOW
77% OF THE POPULAR VOTE
@tunerbattlegrounds
@elite_tuner
ESSENTIALS

LOCATION: Philadelphia, PA
CLUB AFFILIATION: 9GensoSiety
HORSEPOWER: 287 hp
SOCIAL MEDIA
Owner: @choidurante
Photographer: @elite_tuner
CT Engineering supercharger
K&N Typhoon 69 short ram intake
Password JDM (carbon fiber coil pack cover, battery cover, cooling plate, fuse cover, ECU cover, pulley cover, blue washers, screws)
EXHAUST

Skunk2 70mm MegaPower RR 3-inch exhaust system
WHEELS/TIRES/BRAKES

Avant Garde F110 - 18x9.5, red velvet face paired with mirror-brushed chrome (f)
Avant Garde F241 - 18x9.5 turquoise face paired with mirrorbrushed chrome (r)
Achilles Tires - 205 35 r18 (f/r)
CHASSIS / SUSPENSION

Air Force suspension (struts (f/r), bags, springs (f/r))
PERFORMANCE ELECTRONICS
Hondata Flashpro
AutoPilot V2 Air Management
EXTERIOR

Honda Factory Performance body kit (front, sides, rear, under-spoiler)
Custom Type R headlights
Audi LED strip
Toyota Avalon projectors
INTERIOR

Custom VIP interior with Porsche red leather (dashboard, seats (f/r), door panels)
Ferrari alcantara (trimmings, headliner, pillar, inserts)
Custom stamps of SRS Airbags
Custom "Si" embroidery
Custom fading hexagon patterns
Custom neck pillows w/ custom fading hexagon stitching
Custom Porsche leather door panels
AUDIO/ MULTIMEDIA
Kicker (speakers, tweeters, amplifiers (3) CompR 10-inch and 8-inch subwoofers, equalizer)
Custom enclosure
19-inch Lenovo tablet
SPONSORS

SHOPS

Exact Art Fabrication, Procom Racing, Modified Concepts, Inshalla Motorsports
Contributors: Adam Steinberg, Ranger Ramirez