It seems that not that long ago, Subaru evolved into a rally state of mind, catering to Speed, Control and Performance ported ver to the street. Subaru's trademark participation in the World Rally Championship later birthed the WRX Impreza, which finally ended up on North American streets ten years ago with the STi soon thereafter. Since then the STi has continued to be refined into a more luxurious sport sedan and the 2011 model raises the bar yet again.
With the previous model only being available in 5-door, the 2011 STi can be purchased in hatchback or sedan as well. Subaru promised that the new STi would have improved gripping power, steering accuracy, along with aerodynamics. The result was a performance car that handled exquisitely better than previous generations. In addition, they unmasked a sleek new aesthetic look that appealed to even the young at heart.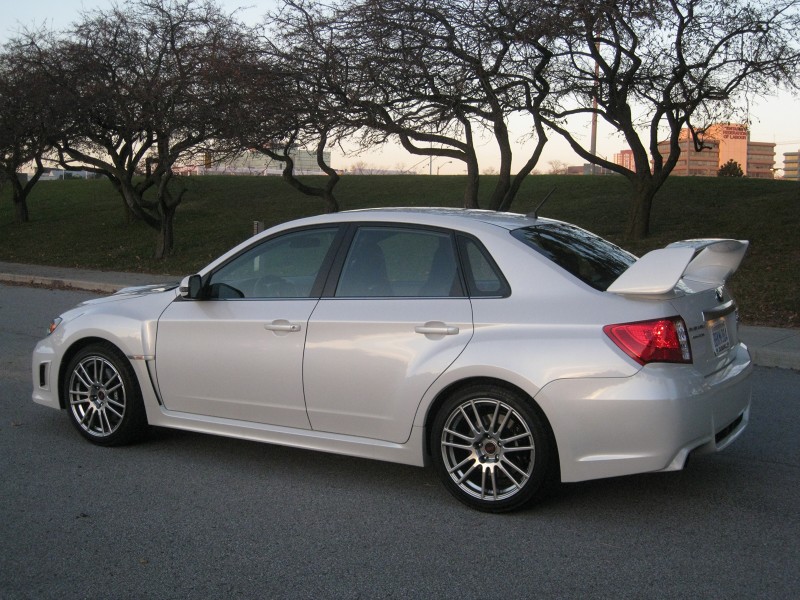 At first glance, it displays a practical yet iconic rear mounted wing. Although smaller than previous years it offers greater down force that benefits over its hatchback counterpart. This displayed noticeable improvement in aerodynamic functionality. A newly designed front facia displays HID headlights and a prominent hood scoop along with a distinguishable new front grill to unleash a "get out of my way" attitude. Chrome quad tailpipes lace the rear bumper filling the airwaves with a signature deep, throaty sounding exhaust, notifying the competition to run and hide.
Inspired by the widebody competition cars, the 2011 STi inherited a muscular stance. It now displays 1.5inches of aggressively wider fenders. Wheels and tires are 1.5lbs lighter and 10mm wider than previous years.  Vast gripping power allows these 17x8-inch Aluminum alloy Enkei wheels, wrapped in meaty Dunlop SP600 Sport tires to rebound out of any corner with strength and agility.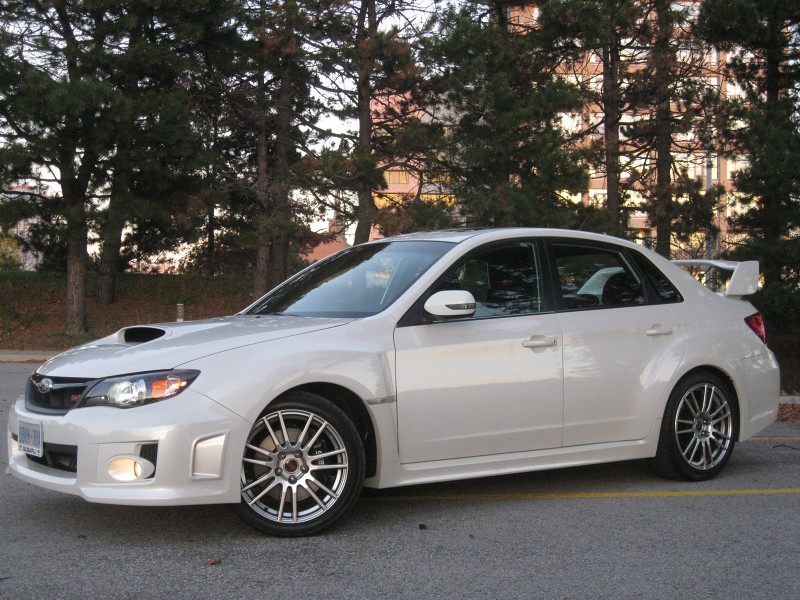 With a totally reinvented undercarriage, the suspension and braking improvements were just what Subaru needed to complete, it's already flawless design. This year, the STi projects a noticeably lower posture due to a reduction in ride height by 5mm. The latest suspension upgrades include stiffer springs and thicker stabilizer bars to allow crisper handling along with Helical LSD in the front & Torsen LSD in the rear. Top of the line differentials optimize side-to-side power distribution and prevent the inside wheels from slipping during cornering. Subaru took this opportunity to introduce us to their new addition of the "pillow ball bushings" located in the front suspension. The reason for the change was to allow the vehicle to match power in the front and rear tires while reducing understeer and body-roll.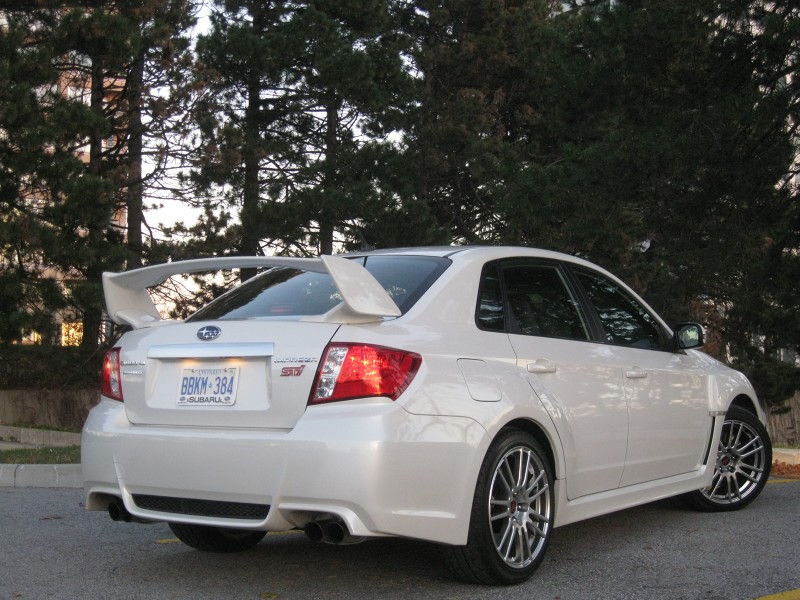 One major component that separates Subaru from the competition is the fact that they have a very unique feature called the "Driver Controlled Center Differential" (DCCD). This allows the driver to control the torque based on road conditions. The DCCD features three modes. "Auto" mode provides excellent all-around performance for most drivers and circumstances, varying the front/rear torque distribution automatically via the limited-slip type differential in response to vehicle acceleration, deceleration, steering angle, cornering force and wheel slippage.
The "Auto (-)" mode makes less use of the center limited-slip differential (less locking factor) and holds the torque bias to the rear more frequently, which yields more handling-oriented steering characteristics for driving on slippery surfaces, such as gravel and snow. The Auto (+) setting tightens the Limited Slip Differential (LSD). In manual mode, DCCD offers six levels of center differential locking, allowing the driver to vary the front-to-rear torque distribution (up to 50:50 maximum) to optimize AWD performance for varying driving conditions. In contrast, some All-Wheel Drive systems on the market lack the performance advantage of a locking center differential and rely solely on traction control to redistribute torque away from slipping wheels. Subaru has a one of a kind creation that has been amazing to experience on and off track.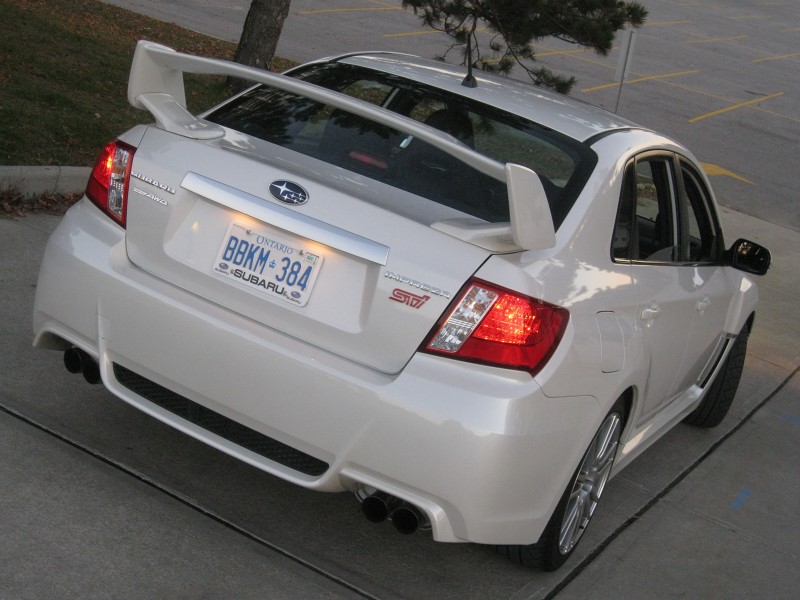 Drivers have always appreciated the SI-DRIVE feature that Subaru has adopted. The simple ability to fine-tune the throttle response plays a vital role in accurate handling. This feature quickly allows the driver to tailor the car's driving characteristics by turning a dial on the center console, selecting one of three modes. "Intelligent" mode is predominantly useful for day to day commuting with a comfortable throttle response for normal driving conditions. "Sport" mode provides quick throttle responses and powerful acceleration, and "Sport Sharp" mode modifies the engine's electronic throttle mapping to deliver instantaneous throttle response and distribute the power rapidly.
Braking developments display unquestionable stopping abilities. The STI comes equipped with premium Brembo brakes. These 13-inch / 4-piston front calipers and 12.6-inch / 2-piston rear calipers look at good as they clamp. Ventilated 4-wheel Super Sport anti-lock (ABS) allows disc brakes to control each rear wheel independently, while Electronic Brake-force Distribution (EBD) provides meticulous control of braking pressure between the front and rear wheels based on the vehicle load to improve stability and stopping distances which we recorded to be 112-feet.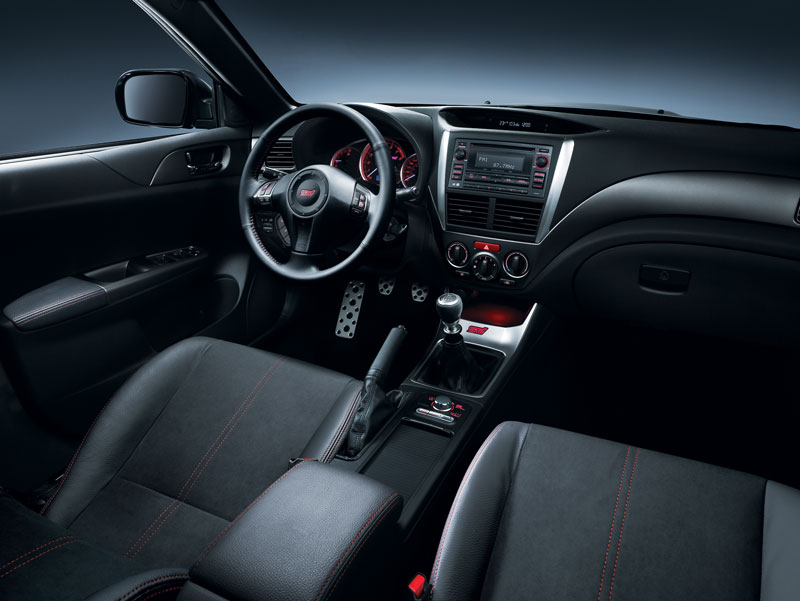 Although the powertrain remains unchanged, this world classed AWD comes equipped with an impressive 2.5L turbocharged flat-4, pumping an astounding 305HP  with 290 ft-lb of torque transmitted through a 6-speed manual transmission. With a remarkable 0-60mph in 5.5-seconds, this turbocharged engine spools up quickly allowing you to take off without lag time. The advertisements weren't wrong...This machine truly is "The Fastest WRX STI Ever Created" with a quarter mile time of 13.7-seconds, very few sports cars can even contend.
If you are apt to Judging a book by its cover, you will be happy to know it's equally impressive when you open the doors. It seems Subaru has spent an equal amount of time upgrading and adding all the bells and whistles, leaving us in awe, once again. The STi interior is finished in black and silver to highlight its inferior design. The dark metallic and sharp silver panel adds contrast and a modern feel to the already astounding interior. The telescopic steering wheel proudly displays an STi logo, in perfect conjunction with the STi embroidery, prominently showing on the headrests.  At first there were some concerns were mentioned about lack of cargo space in the sedans, but have no fear. The double wishbone rear suspension minimizes intrusion into the cargo area. A 60/40 split folding rear seat, adds to the convenience of carrying any extra large items and the 5-door of course has gobs of space but at a cost of $900 for that body style.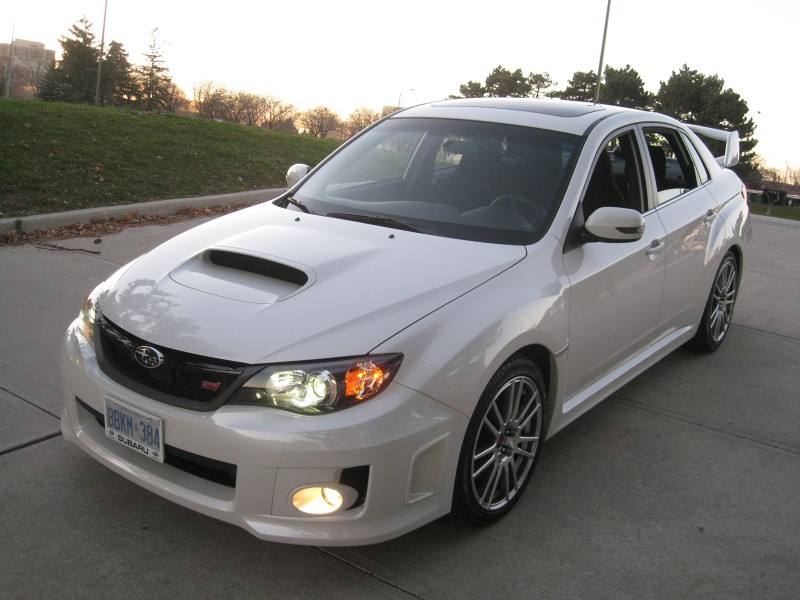 An upgraded entertainment system displays essentials that include a 10-speaker Pioneer audio unit (with optional in-dash Navigation) the head unit includes a single disc changer (WMA/MP3) & AM/FM radio. Every vehicle is XM/Sirius capable, and also includes IPod connectivity, USB port and AUX cable inputs. The steering wheel displays control switches for Bluetooth hands-free phone. Some more standard features of the STi include: heated seats, mirrors and an automatic climate control system matched with cabin air filtration for a more upscale sedan feel.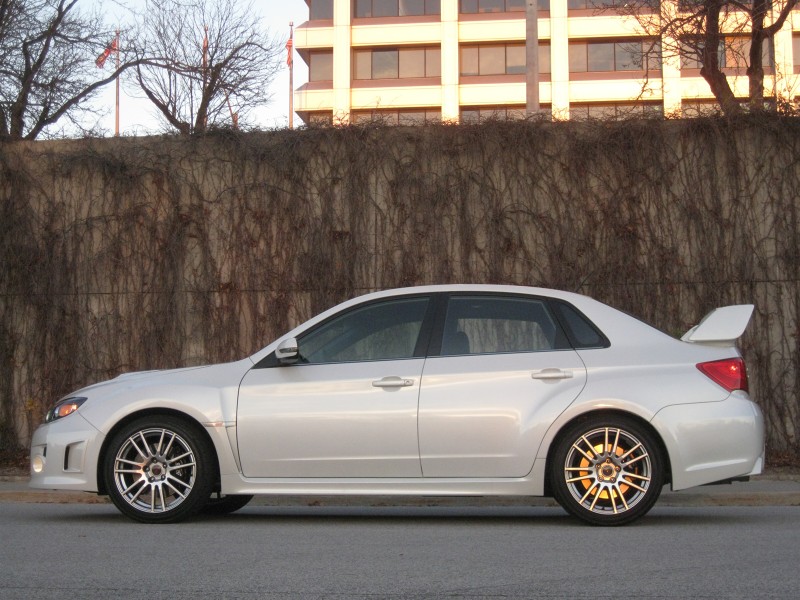 Another highlight of any Subaru vehicle comes from attention to detail, regarding the safety of the driver and passengers. Year after year Subaru is recognized for having innovative plans to keep all occupants of their vehicles protected during the event of a crash. Subaru's renown "Ring Shaped Reinforcements" are made up of 8-layered steel rings around a steel beam protects the A, B & C pillars. These reinforcements allow the forces of a crash to be dispersed away from the occupants, a selling feature for any safety conscious buyer including those flogging this car around the track.
The truth of the matter is that in today's day and age there's a plethora of ways to measure true all around performance. Ultimately, this is a performance car that you can enjoy 365 days a year, regardless of the weather, terrain or obstacles that may come in the way.  Despite any questions, the STicontinues to sell itself with an improved amounr of luxury, fit and finish. The new 2011 Subaru STi offers adequate power, aggressive styling and point & go handling that slays far more expensive sports cars without breaking the bank.
Base Price: $37,995 ($38,895 5-door)
Price as Tested: Sport-Tech $41,595 for sedan ($42,495 for 5-door)
Output: 305hp with 290lb-ft
Drivetrain: 6-Speed with Symmetrical AWD
0-60mph = 5.2-seconds
60-0mph = 112-feet
Tested with V-Box Performance Meter
www.vboxusa.com