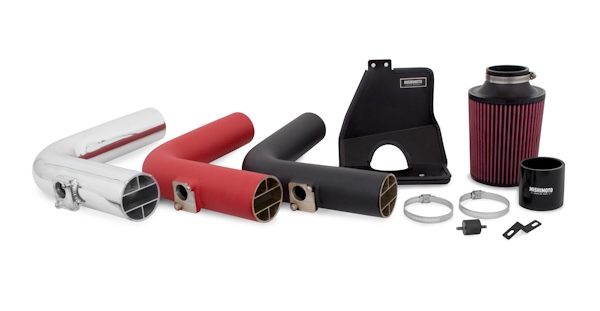 Mishimoto introduces you to the Mishimoto performance cold-air intake for the 2008-2014 Subaru Impreza WRX and STI!
Add some quick horsepower to your WRX or STI with the new Mishimoto Subaru WRX/STI Performance Air Intake. This kit is engineered specifically for your 2008+ Subaru WRX or STI and includes everything needed to replace the restrictive stock airbox. Our engineers spent months fine-tuning this design in an attempt to squeak out every last bit of performance. This dyno-proven air intake provides 25 hp/25 tq gains over the stock intake while maintaining safe air/fuel ratios, perfect for some extra punch on the street or autocross course.
Max Gain
25 hp & 25 tq at 5300 rpm

Heat Shield Material
Steel, Black Powdercoat

Oiled Filter
38 g of oil on filter

Note
Filter re-oil is not included in Lifetime Warranty.

Engine Codes
EJ255
EJ257

Purchase Includes
Aluminum Intake Pipe
High-Flow, Oiled Filter
Heat Shield w/ Protective Edging
Silicone Coupler
Rubber Mounting Isolator
Hardware
Mishimoto Lifetime Warranty Pipe Diameter
2.75"

Pipe Material
Mandrel Bent Aluminum

Fits
2008-2014 Subaru WRX
2008-2014 Subaru STI

Chassis Codes
GE
GH
GR
GV

Caution
Under normal driving conditions, hydrolock is unlikely. If the filter becomes submerged during flooding, the engine may ingest water. Mishimoto recommends avoiding these conditions, or re-installing your stock intake system, if your area is prone to flooding.
More info at http://awe.sm/fKA80.