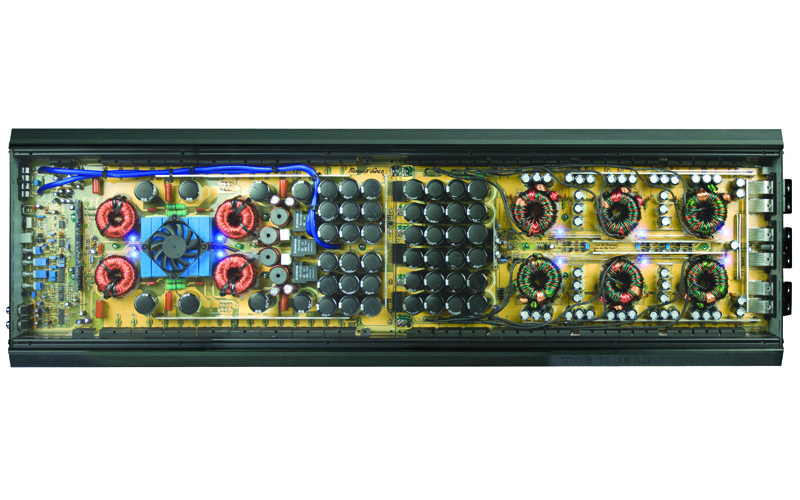 Clearwater, FL (November 9, 2010) – You've seen the teaser ads in Performance Auto & Sound magazine. You've read the performance reports and seen the videos. You may have even seen it at CES or Spring Break Nationals. And now, "The One" - the largest and most powerful Phoenix Gold amplifier ever made - is now available for order.
Created in the spirit and tradition of the famous Phoenix Gold Frank-Amp-N-Stein and Route 66 amplifiers, The One is part technological monstrosity and part engineering masterpiece. It is frighteningly powerful, pushing out 12,000 watts (1 channel/1 ohm) or a staggering 24,000 watts when strapped. Its clear Plexiglas top panel reveals what can only be described as a virtual cityscape of capacitors, transistors, power supplies, relays and LEDs displayed on a gorgeous 3oz gold plated circuit board. Finally, in true Phoenix Gold fashion, each amp is custom built with the production run serial number laser etched into the heatsink.
Due to the amount of exposure this titanic monolith of an amplifier has received, The One is already in incredibly high demand. Add to that a production run limited to less than 100 units, and you have what is guaranteed to be a true legend in the making, as well as a "must have" amplifier for collectors, car audio aficionados, and anybody that demands only the best for their vehicle's sound system.
Performance statistics for The One are as follows:
Power Rating: 12,000 watts x 1 channel / 1?
8,000 watts x 1 channel / 2?
24,000 watts x 1 channel / 2? (Strapped)
Low Pass Range: 30Hz to 300Hz
Low Pass Slope: 24dB/Octave
Subsonic Filter Range: 10Hz to 55Hz
Bass Boost: 0 to +6dB
Power Terminal: 1/0 Gauge
In addition to The One, the 2010 line of Phoenix Gold amplifiers includes the hi-performance Ti-Series, the entry level R-Series, and the specialists' small block S-Series. For more information about the new Phoenix Gold amplifiers, please visit www.phoenixgold.com