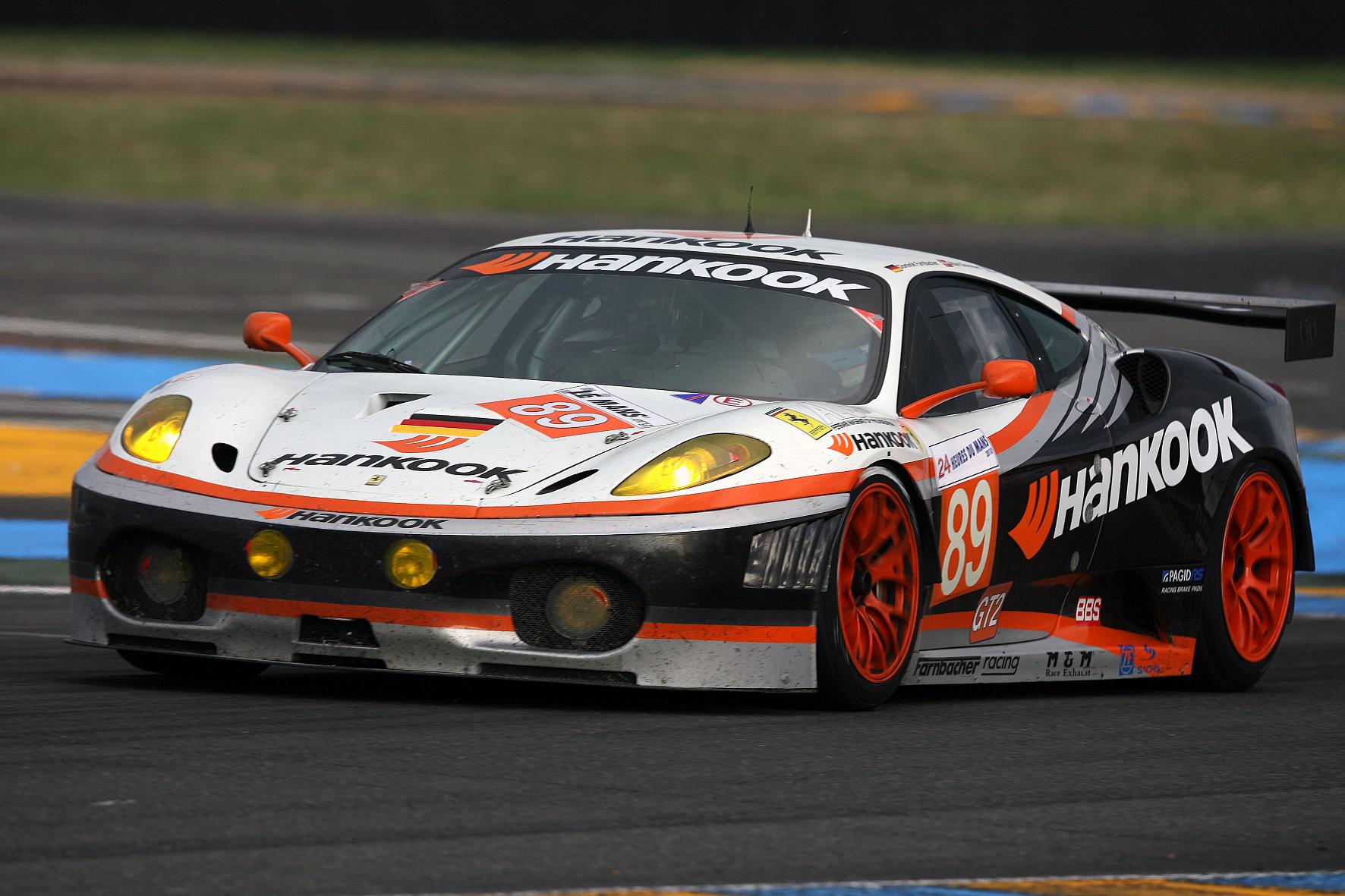 BRAMPTON, ON, June 15, 2010
– The Hankook-Farnbacher Racing Team locked up a podium finish in the GT2 class in its sophomore run at this weekend's 78th running of the famed 24 Hours of Le Mans, the world's most prestigious 24-hour endurance race held at the Circuit de la Sarthe in Le Mans, France.
Drivers Dominik Farnbacher of Germany, Allan Simonsen of Denmark and Lehman Keen of the United States drove their Ferrari F430 GTC to a second place class finish in the highly competitive GT2 category. The success comes on the heels of an overall second place finish and class victory last month at the 24 Hours of Nürburgring in Germany.
"We are pleased to promote Hankook Tire's R&D prowess and advanced technologies by receiving such great performance results from top-class motorsports games in just two years after our first entry into the game," said Se Heon Kim, Vice President of Hankook Tire's Brand Dept. "We will continue to invest in motorsports and pull in efforts for technology innovation to develop tires that meet the demand of motorsports fans and as well as our 60 billon customers worldwide," Kim added.
The Hankook-Farnbacher Ferrari F430 GTC was equipped with Hankook Ventus F200 slicks. The team chose from various tread compounds designed for each axle position and for the varying track conditions encountered while racing during the day and throughout the night. To maximize the car's balance with the tire performance, the front tires had a softer compound than the rear tires. Tire partner Hankook Tire provided the team with about 400 tires at the track.
In recent years, Hankook Tire has expanded its investment in motorsports and has takenpart in a number of renowned motorsports events. Recently, Hankook-KTR Team accomplished a pole-to-win with the Porsche GT3 RSR model at Japan's Super GT and sponsored Germany's VLN series in 2009. In March, the Hankook Tire-sponsored racing team, Sierra Sierra Enterprises, had an overall win and set a new track record at Buttonwillow Raceway during the season-opener Redline Time Attack event.
About Hankook Tire Canada Corp.
Headquartered in Brampton, Ontario, Hankook Tire Canada Corporation is a technology-focused, customer-oriented company that markets and distributes a complete line of high performance and ultra-high performance passenger tires, light truck and SUV tires, winter tires and medium truck and bus tires in Canada.  With quality-proven products, Hankook Tire Canada is rapidly growing to become an industry leader in Canada. As the National Partner and the Official Tire of Hockey Canada, Hankook Tire Canada actively supports grassroots sports and contributes back to local communities.  Visit www.hankooktire.ca for more details.