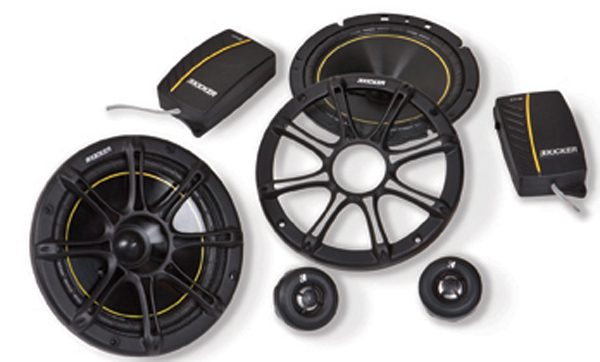 Providing a superior complement to a subwoofer without breaking into the savings account is reality with KICKER® DS-Series Component Systems.  The mids and highs crafted by these KICKER-infused, four-speaker systems complete the ultimate musical experience in any ride.
Using KICKER trademark, heavy-duty motor structures and Extended Voice Coil (EVC™) woofer technology, the DS Systems produce great performance and music realism.  The midrange speakers utilize a sturdy polypropylene cone and ribbed, UV-treated surrounds for precise linear excursion and the finest sound.  The reduced mounting depth on DS speakers means one thing — it's an easy upgrade in a vehicle's doors or kick panels.
Perfectly balancing the midrange speakers, the titanium-dome tweeters with oversized voice coils deliver outstanding definition and can be mounted in three different ways.  The external, two-way crossover/protection network features three-position tweeter levels for dialing in high frequencies.
The DS-Series is available in three models featuring a trio of woofer sizes, including the DS6.2 with 6-inch midrange speakers, the DS65.2 with 6 ½-inch mids and the DS68.2 that fits specific 6x8 or 5x7 factory applications found in specific vehicles.
Certified Authorized KICKER Dealers nationwide expertly install KICKER gear into any vehicle for outstanding musical or video entertainment during a drive.
KICKER Performance Audio products, a division of Stillwater Designs and Audio, Inc.®, are available for the mobile and home audio aftermarket at authorized dealers worldwide, and also through selected Original Equipment Manufacturers. Consumers needing more information on KICKER or Livin' Loud® may call the Consumer Information Line at 1-800-256-5425 or visit the brand Web site at www.kicker.com.
Follow KICKER at facebook.com/kickeraudio and twitter.com/kickeraudio.
KICKER DS-Series Component Systems
Model                                                         DS68.2                DS65.2                DS6.2
Woofers (in, cm)                                       6 x 8, 16 x 20      6-1/2, 16.5           6, 16
Tweeters (in, cm)                                       3/4, 2                   3/4, 2                   3/4, 2
Tweeter dome material                              titanium               titanium               titanium
Impedance Ohms, rated (DC resistance)                           4 (3.4)                 4 (3.3)         4 (3.3)
Power handling watts, peak/RMS            90/45                   120/60                 120/60
Sensitivity (dB 1w/1m)                              90                        90                        90
Frequency response (Hz)                        40-21k                 35-21k                 35-21k
Woofer mounting depth (in, cm)             2-3/8, 6                1-13/16, 4.6         1-7/8, 4.8
Tweeter mounting depth (in, cm)            1-9/16, 4              1-9/16, 4              1-9/16, 4
Crossover point (Hz)                                4k                        4k                        4k
Crossover slope (dB/Octave)                  12 hi/12 lo          12 hi/12 lo          12 hi/12 lo
High-frequency attenuation level (dB)    0, +3, +6              0, +3, +6              0, +3, +6
Grilles                                                         no                       yes                      yes
MSRP                                                          $169.95               $169.95               $169.95