If you're one of those people who doesn't think a car can have good bass with resorting to at least a couple of 12 inch woofers, the folks at Polk Audio may have a couple of products that will quickly disabuse you of that theory.
Some time ago, I had a chance to evaluate and review the Polk Audio DXi112 subwoofer system and now I have its smaller but no less impressive system, the DXi108. Like it's bigger 12-inch brother, Polk Audio's DXi108 eight-inch subwoofer system is built specifically for someone on a budget and needs a compact-but-powerful system.
When it comes to putting together a good performing subwoofer system, it's the little things that matter, like quality construction of the woofer and the cabinet, as well as proper tuning and adequate vent size, while retaining a small cabinet. Polk Audio has taken their years of experience and delivered a product that is designed to blow you away with its performance and value.
FEATURES
The DXi108 system measures 15.75 x 13 x 12.5 inches and comes with an equally-compact price of only $179.95. Putting bass in your car is as simple as taking the DXi108 out of the carton, mounting it in your car and connecting the wires to your subwoofer amplifier. Like the larger DXi112, this system uses a very well-made vented cabinet to provide excellent output. Constructed of three-quarter inch MDF and braced internally, the cabinet uses the same sort of low resonance construction techniques found on high end home speakers.
I remove the woofer to get a better look at the construction. Inside the enclosure I find solid construction with good glue coverage at all the seams and joints. A layer of polyester fiber fill is also glued in place inside the main enclosure. A slot-type port is used to vent the enclosure with the Fb tuned to about 45 Hz. The slot port in this enclosure has an area of about 16.5 square inches, which is about 25% larger than a four-inch round port. Having this much port area greatly reduces the chance of port noise and "chuffing." Automotive-grade black carpeting is used to trim out the enclosure and the front panel is treated to a gently-curved injection-molded automotive-grade ABS plastic trim panel that provides impact resistance. Because the material is ABS, it can easily be painted to match your trim. Amplifier connections are handled by a set of spring-loaded nickel-plated terminals with standard three-quarter inch double banana plug spacing mounted in a recessed cup.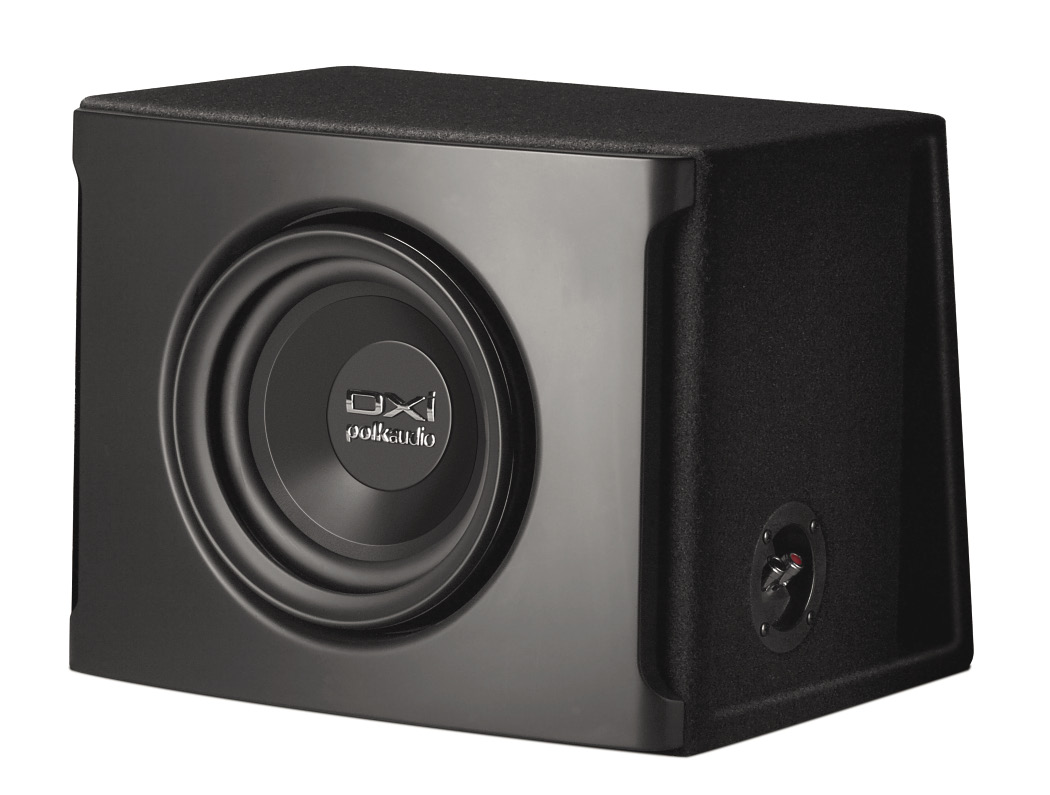 Providing the sound output is a dual voice coil eight-inch woofer employing a stamped steel basket and a pair of four-layer four-ohm copper voice coils wound on an aluminum former that's centered around a vented pole piece for improved airflow and cooling. The voice coils are wired in parallel at the factory for a load impedance of two ohms, which allows maximum power transfer from the majority of amplifiers up to the 200 watt power rating.
A "Dynamic Balance" polypropylene cone is suspended on the top side by a santoprene surround. An injection-molded ABS dustcap with chrome-plated lettering provides additional cone reinforcement as well as a nice cosmetic touch. When mounted in the enclosure, an ABS trim ring that holds a thick rubber bumper prevents anything from getting close to the cone or surround. Cosmetically, the result is a clean and uniquely different look.
LISTENING
With the DXi108 connected to my reference system and the amplifier's crossover adjusted to 80 Hz at -24 dB per octave, I'm ready to hear what this compact woofer system can do. Beginning with one of my favorite JJ Cale tunes "Momma Don't Allow," I soon realize that, like it's bigger brother, the DXi108 is all about efficiency. When you combine the two-ohm impedance and a well-designed vented cabinet, the amount of output from this small system i be astonishing.
I play a ton of tunes ranging from Nelly and the Ying Yang Twins to Yes and Little Feat, to Amanda McBroom and Brooks and Dunn. No matter what I play, the woofer pounds out the bass with aplomb and authority. The tradeoff for all this amazing output is a slight tubbiness and a bit of overhang in the 60 Hz region. But, to be fair, unless you are doing an A/B comparison or are a pretty well trained listener, it's not something you're going to notice. Even then, I'd bet the majority of people looking for a system like this will prefer the high output level over absolute accuracy anyway.
You won't need a big current sucking amp to drive this baby – loud bass levels are achieved with a couple dozen watts. During my listening, I monitor the input level to the subwoofer and even at well over 100 dB, the amp is only feeding it about 50 watts. To give you an idea of the output I'm getting, my side-by-side comparison with another non-Polk four-ohm 12-inch system reveals the Polk Audio DXi108 is actually louder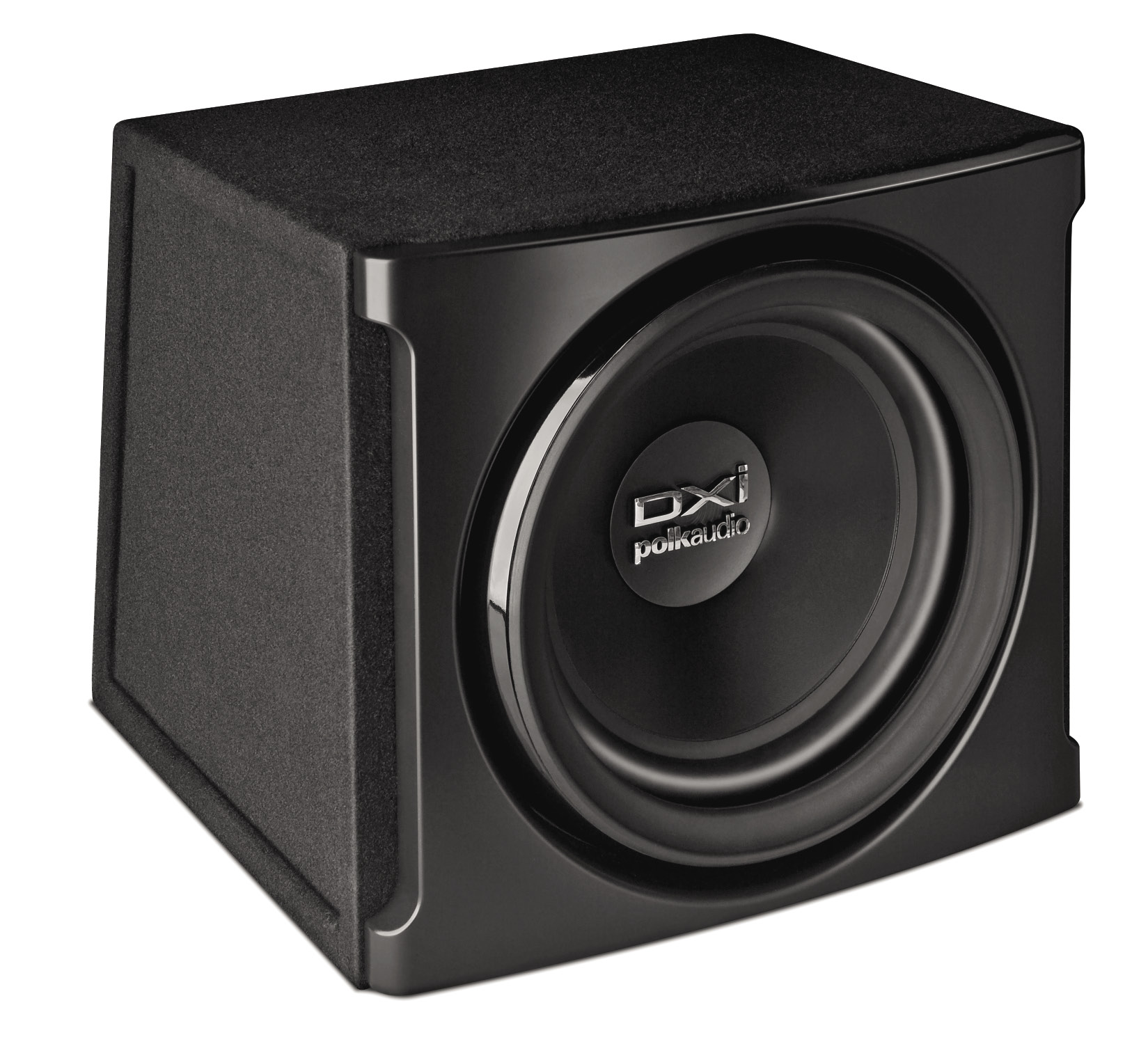 PERFORMANCE / BENCH MEASUREMENTS
With the system fully broken-in and allowed to rest overnight, it's off to the lab for some basic measurements. My trusty LMS program soon tells me the system has a tuned frequency of around 45 Hz and the lowest impedance an amp would see driving this system is about 2.2 ohms. The nearfield response curve confirms my suspicions about the high output around 60 Hz, but the graph shows the bass rolling off faster on the bottom end than what I had perceived.
QUICK TECH SPECS
Power Handling 20 – 180 watts continuous
Frequency Range 30 – 200 Hz
Driver Sensitivity 89 dB / SPL @ 1.0 W
Nominal Impedance 2 ? final impedance
Conclusion
There's no doubt Polk Audio understands what a great many of us are looking for when it comes to economical, high performance subwoofer systems. The amount of output this little box delivers is nothing short of amazing and perhaps best of all, at a price most people can afford.
If you're still in doubt that a single eight-inch woofer can rock your ride, you don't have to take my word for it. Go to your local Polk Audio dealer and have a listen to one of these DXi systems for yourself. And, even if you still just can't bring yourself to buying an eight-inch woofer, maybe you'll decide on one of the 10- or 12-inch DXi systems, which are every bit as efficient as this one. You can also check out all the other Polk Audio gear for your car at www.polkaudio.com.