If you're truly serious about how well your ride pounds out the bass, then you already know when it comes to choosing your subwoofers you want a no-compromise truly high performance woofer than can handle the abuse it's likely to see on a typical Saturday night. The folks at Memphis Car Audio know this as well and, to satisfy every serious basshead's need, have developed the all new MOJO 5 series of subwoofers. These are top quality, high performance, high power handling woofers specifically-designed to sound great, play loud and reliably handle the power of a serious ground-pounding system. MOJO 5 series woofers are available in 12- or 15-inch diameters featuring either dual or quad coil configurations for the truly twisted. In this review, we're putting the $589.95 MOJO 512D4 through its paces here in the lab to see how things stack up.
FEATURES
I can tell this is no ordinary woofer as soon as I pick up the carton the MOJO 512D4 arrives in. This is exceptionally-built, rugged woofer tips the scales at 33 pounds and is rated at 1,100 watts of continuous and 2,200 watts peak power. After unpacking it and examining how it's made, I have no doubt these power numbers are very real.
Looking at the front side of the woofer, the first thing that catches your eye is the full-diameter woven fiberglass dustcap that completely covers the entire surface of the pressed paper/fiber cone underneath. The dustcap's inverted parabolic shape increases the strength and rigidity of the cone assembly. It also looks really cool with a tasteful orange oval badge to let people know this is a MOJO woofer. A rubber gasket trims out the mounting area and doubles as a sealing gasket to the surface of the enclosure. Built on a heavy duty custom-tooled cast aluminum basket with machined "diamond cut" Memphis logos on all four spokes, the look is of a high-quality, all-business basket.
The cone/dustcap assembly is connected to with both adhesive and orange stitching to a tall butyl rubber surround that provides suspension compliance assistance and also is designed for very high excursion values.
Moving to the underside of the cone and closer to the business end of the woofer, I find a Nomex linear-type spider assembly locating the voice coil former in the motor's magnetic gap. The spider also provides a secure location for the dual voice coils woven-in-place tinsel leads. The initial length of the leads from the terminals to the spider are covered in color-coded heat shrink, making positive and negative terminal identification easy – nice attention to detail. The speaker terminals themselves are the ubiquitous spring-loaded, nickel-plated type, but are solidly-mounted and will accept 10 gauge wire.
The electrical signal passes through the terminals and tinsel leads to a pair of four-layer high-temperature capable copper voice coils wound onto a three-inch aluminum former. The copper coils and aluminum former are help improve heat dissipation and ensure reliability at high power levels for extended periods.
Providing the magnetic energy to move the coils in the gap is the job of a massive double stacked ferrite motor assembly measuring over 7.5 inch in diameter and weighing 196 ounces.
Designing a woofer to handle over a thousand watts of power and stay cool is no easy feat. To this end, the MOJO 512D4 is designed to move a lot of air through the pole pieces 32 mm vented diameter. The area between the motor top plate and the underside of the spider is liberally vented as well with large ports cast into the basket assembly. Orange-colored mesh panels provide further protection from foreign objects.
LISTENING
I'm using a 1,500-watt amplifier to drive this woofer since I want to see if I can explore the woofers limits a bit. Since I'm in control of the volume knob, I'm confident the woofer isn't going to be subjected to clipped signals and other abuse. So, going a bit over the rated power level should be fine.
Memphis suggests a 1.25 cubic-foot sealed enclosure for this woofer, so I load it in and give it a try with some very good results. The 1.25 foot box is an excellent compromise if you are a bit short on space in my opinion, but if you have the room, I prefer the performance in a slightly larger 1.75 cubic-foot sealed enclosure. For the SPL-oriented bassheads, Memphis suggests a 2.8 cubic-foot vented enclosure tuned to about 39 Hz, which I believe will be just about perfect for those who simply love it loud.
My listening session is focused on the performance of the woofer in the sealed box and already I'm thoroughly impressed. The woofer exhibits real "authority" in the output. The bass in Billy Idol's "Prodigal Son" is tight, musical and exceptionally well-defined. I play a wide variety of music from Donald Fagen to Nine Inch Nails and the MOJO 512D4 woofer performs admirably regardless of the genre, revealing excellent low extension and superb control.
Another plus is the woofer's lack of unwanted higher frequency output, which requires very steep crossover filters or lower crossover frequencies to remove most of the time. With the MOJO512D4, I can set the amp's second order filter to 80 Hz or even 100 Hz without excessive high frequency output. This characteristic is instrumental in getting the woofer to sound more like it's coming out of your windshield than the trunk and is something I really appreciate.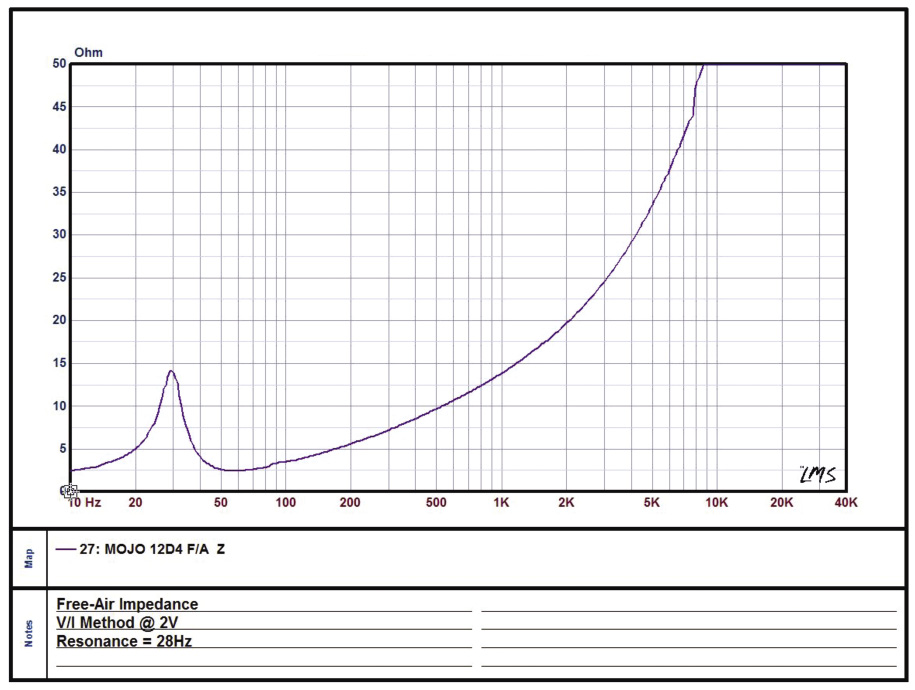 PERFORMANCE / BENCH MEASUREMENTS
I let the woofer cool down overnight and measure the parameters and impedance curves the next morning. My one-watt measurements are as follows:
Model = MOJO 512D4
Coils in parallel
Revc = 1.730 ?
Fo = 28.496 Hz
Sd = 0.051 M²
Vas = 27.4 L (0.969 cu-ft)
Cms = 74.356 uM/N
Mmd = 412.890 g
Mms = 419.512 g
BL = 14.143 T·M
Qms = 3.819
Qes = 0.650
Qts = 0.555
Levc = 0.796 mH
No = 0.095 %
SPLo = 81.777 dB
EBP = 43.8
QUICK TECH SPECS
Power Handling 1100 watts RMS / 2,200 watts peak
Frequency Range 20 – 500 Hz
Sensitivity 81.8 dB / SPL @ 1.0 W
Nominal Impedance (2) 4 ? coils
CONCLUSION
Every once in a while a product crosses my bench that genuinely impresses me and is a pleasure to evaluate. The Memphis MOJO 512D4 is just such a product. This woofer manages to cover all the bases with outstanding sonics, reasonable enclosure requirements, awesome power handling and a high quality look and feel. If you are thinking about becoming the guy with the coolest woofer system on the block, do yourself a favor and check out the Memphis MOJO series of subs. And, as good as the 12 inch model is, I'm told the 15 is even more awesome.