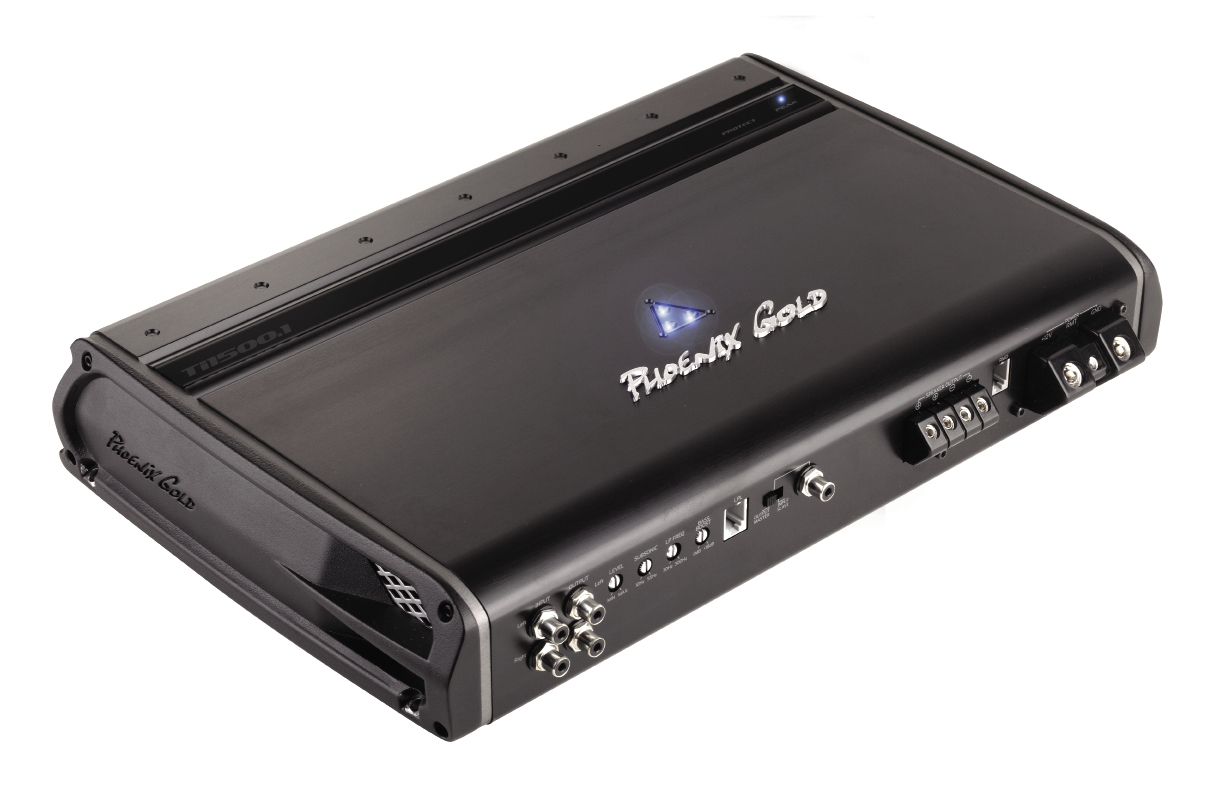 The Phoenix Gold brand of car audio was founded in 1988 as a maker of audio cables and accessories for home and car audio. In 1990, the brand expanded to include amplifiers and speakers. Over the following decade or so, Phoenix Gold established an excellent reputation based on the quality and performance of its products, as well as its exclusive limited-edition car amplifiers.
In late 2009, the brand was acquired by AAMP of America, who have tasked themselves with returning the brand to its proud heritage, by producing high quality, good sounding equipment with modern technology. One of the products lines offered by the "new" Phoenix Gold is the Ti series of amplifiers. Designed with the brand's heritage in mind, and with striking new cosmetics, I had the chance to take a close look at the Ti1500.1 subwoofer amplifier.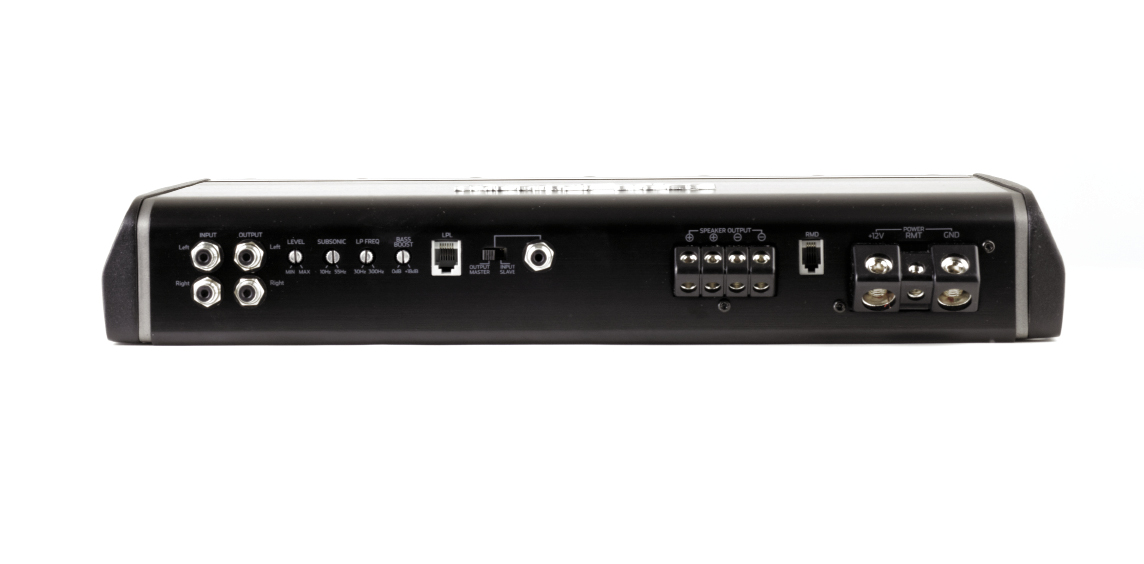 FEATURES
The Phoenix Gold Ti1500.1 is a rather large amplifier, measuring about 17" long, almost 10" wide, and 2.5" tall. The size of the chassis is quite appropriate however, because the Ti1500.1 is also a powerhouse. Rated at 1250 watts into 1 ohm, and priced around 750 bucks (US), the Class D amplifier looks classy and well made. All of the connections and controls are laid out along one long edge of the amplifier and are easy to adjust. I did find the grayish-silver silk screening a bit tough to read, and perhaps pure white would have been a better choice for readability, but at the expense of aesthetics.
The extruded aluminum heatsink is finished in a brushed black anodized treatment with a classy looking Plexiglas trim panel, with die-cast aluminum end caps with built in venting. The effect reminds me of an expensive piece of home audio gear. The heatsink design allows heat to be dissipated over its entire area, to maximize cooling. Connections and controls are first class too, the power terminals will accept 1/0 gauge cables, and the speaker terminals can handle 12 gauge wire. RCA's are nickel plated panel mounts, and the control pots are smooth and finely detented for accuracy in the adjustment. A table in the owner's manual indicates the amount of "clicks" needed for any desired adjustment, which takes the guesswork out of the tuning. Three blue LED's flushed into the top of the heatsink tell you the amp is turned on and LED's in the plexi trim panel warn of peak output levels and protection issues.
The amplifier uses a 30-300Hz, -24dB/Oct low pass filter, and there is also a -24dB Subsonic filter that can be set from 10-55Hz, perfect for vented enclosure applications. Bass boost is available as well with maximum boost reaching +18dB at 45Hz. Pass through RCA's allow the input signal to be fed to additional amplifiers, and in case 1250 watts isn't enough, the Ti1500.1 is strappable to a second one, for 2500 watts! Optional features include a remote level control for up to 20dB of level adjustment, and a remote monitoring display, to keep track of the amplifiers operational condition. The Ti Series amplifiers are manufactured in Korea, and come with a one, two, or three-year warranty.\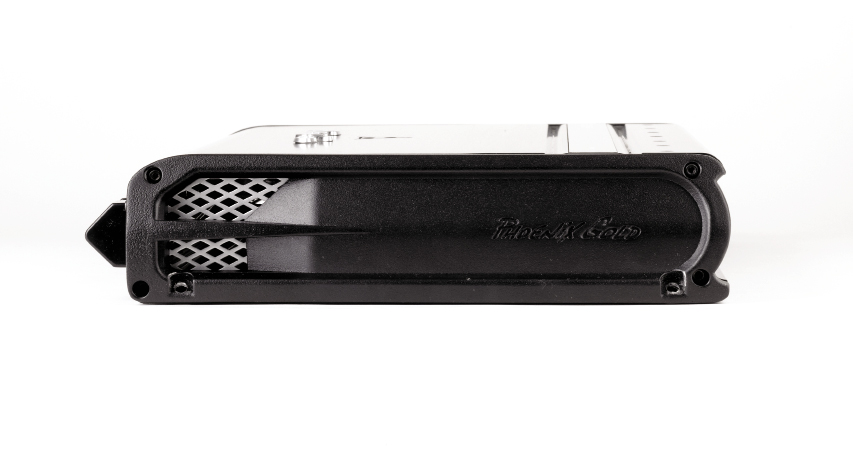 LISTENING
After I unpacked the Ti1500.1 and took it out of the very nice soft zippered bag it came in, I flipped through the owner's manual to make sure I understood what was what. Then I hooked the amp up in my reference system, and connected it to a sealed woofer system composed of a pair of high quality 4 ohm 12" woofers, wired in parallel for a 2 ohm load. (SIDENOTE: I generally prefer not to use loads below 2 ohms, in systems for general listening use… although many amplifiers including this one are quite capable of driving them, in my opinion 1 ohm and lower loads present excessive current demands, raise amplifier temps, and lose overall power efficiency. And, if you do the math, you'll realize there is less than 2dB of difference between 800 watts and 1250 watts.)
I selected a crossover setting of 100Hz, and left the subsonic filter at 10Hz, and the bass boost off. Beginning with some bass tracks to evaluate the amps dynamic power and general power output, I soon realized the Ti1500.1 was a serious performer. Power output was prodigious and seemed quite effortless. Even at high volume levels, I never had a sense of reaching the amps limits or making it really work hard. Bass output was well controlled and articulated, and always provided a sense of authority. Switching to some very well recorded tracks from Spies and other Sheffield Lab recordings, the Ti1500.1 proved it could reproduce the detail and articulation captured in live to two track recordings. I listened to it for a couple of hours and even though I was giving my woofers quite a workout, the amplifier barely got more than warm to the touch. After all my listening, the only thing I could find to gripe about was a very slight thump when I turned the amp off. Other than that, it was a gem.



Read on for Full Results