For people whose lives revolve around their smartphone, Kenwood has a new receiver that keeps you connected. The new Kenwood DDX8901HD DVD receiver is designed to interface with your smartphone (whether it's Apple or Android) and provides touchscreen control over your installed applications. The DDX8901HD lets you enjoy sources like Pandora, Netflix, YouTube, and even fully functional navigation, directly from an app installed on your phone.
The manufacturer's suggested retail price for the Kenwood Excelon receiver is $650 and it comes with a full two-year warranty.

FEATURES AND FUNCTIONS
The DDX8901HD is a double-DIN DVD/CD/MP3/AM/FM/HD radio receiver with a high quality, responsive TFT touch screen. In addition to playback of the above sources, there are USB and additional auxiliary inputs, as well as an input for the optional Sirius/XM satellite radio module. I'm a real fan of HD radio because it sounds great, offers a lot of new programming choices, and best of all – it's free!
Maybe you're more of an internet connected person who prefers Pandora or iHeart Radio? Well, you'll appreciate those apps being built right in, and by using an optional HDMI/MHL cable, you can be assured that you'll get the best possible A/V performance from your smartphone. Also, by using the connection and downloading the free Smartphone Control app, you can take advantage of my personal favorite smartphone navigation app, Garmin's Street Pilot.
The unit is equipped with Bluetooth for safe and convenient hands-free calling, but the DDX8901HD also adds support for aptX – a kind of ultra high quality Bluetooth lossless audio streaming.
Additionally, there are inputs for a rear view camera and, if you happen to drive a car that uses SYNC, On-Star or Uconnect systems, the DDX8901HD will work with an iDataLink module to retain all the factory installed features. Not only does this mean you keep your factory voice commands, steering wheel controls and more, but there is also an option to connect to the vehicle's OBDII port and set up gauge displays on the receiver screen to monitor engine parameters. How cool is that?!

AUDIO
All of the connectivity and functionality in the world isn't worth a hill of beans without high performance audio, and that area certainly doesn't get neglected with this unit. A built-in four channel MOSFET amplifier rated at 22 watts per channel is ready to drive your existing speakers, or you can take full advantage of the front, rear and sub RCA outputs with five volts of output. A powerful DSP processor provides controls for various soundstage setups, a seven-band equalizer, and internal crossovers for high-pass on the front and rear outputs, and low-pass on the subwoofer output. There are no less than eight separate high-pass frequencies with independent adjustments for front and rear channels, and five low-pass frequencies for the subwoofer output, making tuning easy. Plus you can select from four available crossover slopes for both high- and low-pass filters. Controls for subwoofer level and phase are included, and you can delay the arrival time of channels, which can be adjusted for path length differences in approximately one-inch increments to a maximum distance of up to 20 feet.

CONTROL AND FUNCTIONALITY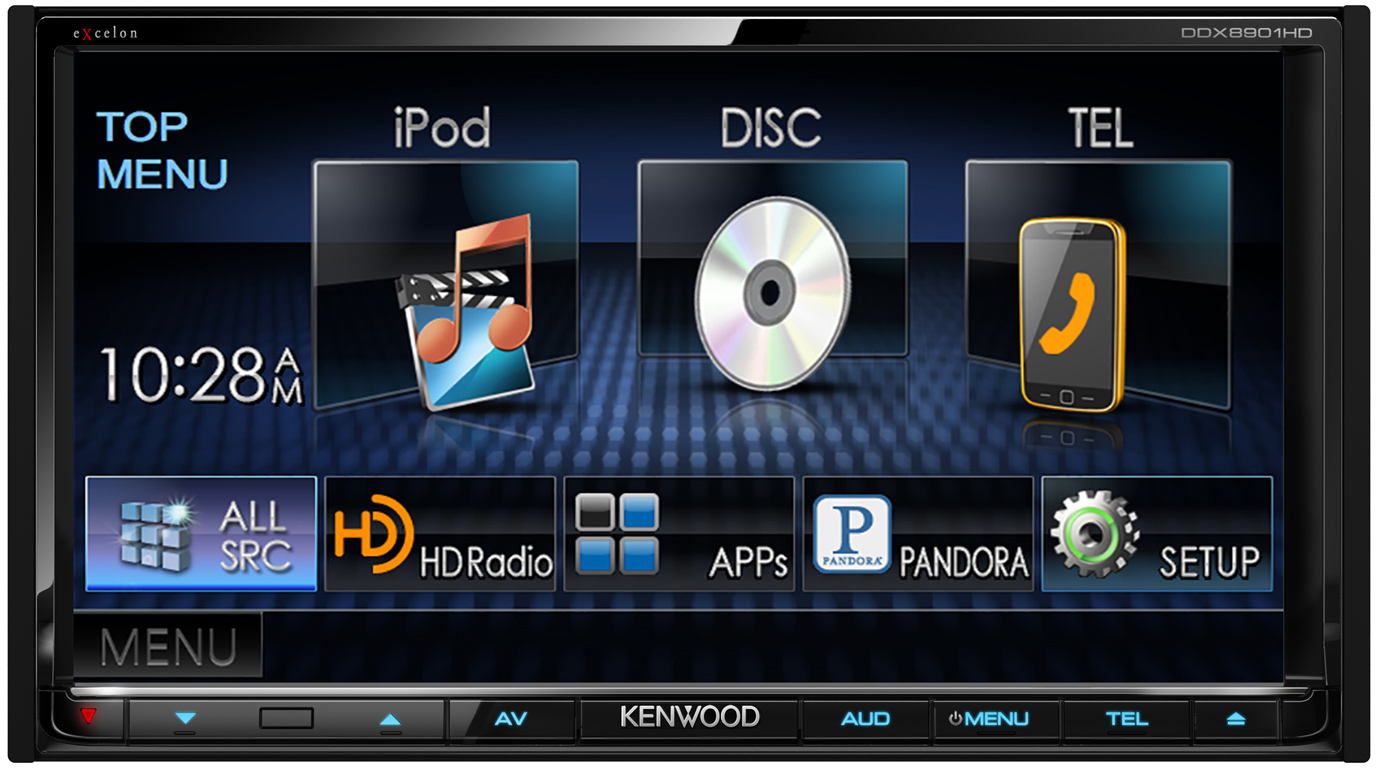 The touch screen of the DDX8901HD is responsive and very easy to use. Volume adjustments and other menus are accomplished with the hard buttons on the lower front edge of the faceplate. Icons for different sources are logically arranged and can be accessed quickly and easily. The same goes for audio adjustments, and thankfully, when adjusting things there is no time-out that takes you back to the main screen. The screen can be customized with your own artwork or photos, and button and screen background illumination colors are fully adjustable, making matching illumination easy.

LISTENING
I set up the Kenwood in my listening room, using the front pre-outs to drive my reference amplifier, and the subwoofer outputs to drive a separate amp for my subwoofers. After a bit of basic level setting and ensuring everything is set flat, I get down to listening. Beginning with CDs then moving on to my iPod and streamed audio from my phone, the DDX8901HD sounds good. The unit has very low noise, plenty of output and excellent stereo separation. On one of my favorite test tracks – the Cowboy Junkies' Sweet Jane – the space and reverb in the room is easily apparent.
The various crossover adjustments and seven-band EQ come in very handy and prove to be good tools for basic tuning fixes. Bluetooth pairing to my HTC ONE took only 10 seconds the first time, and thanks to the aptX capability of the unit, audio streaming high-bitrate songs from my phone sound as good as MP3s can.
ON THE BENCH
As expected, the Kenwood measures well on the test bench. Actual measured power falls a couple of watts short of the advertised 22 watts per channel when measured according to CEA-2006B standards, but since there is no test standard referenced in the manual, it's difficult to call Kenwood's published number inaccurate. Signal-to-noise is good, as is crosstalk. All of the DSP functions work exactly as expected, too. The only weak specification is output impedance, which came in at approximately 300 ohms. For a receiver to be optimally immune to ground loop noise, etc., lower output impedance is always better. A good target spec is 100 ohms, and some units have been under 50 ohms. With an output impedance of 300 ohms, this unit may be a bit more susceptible than others, but it's still decent.

CONCLUSION
The Kenwood DDX8901HD is an excellent choice for anyone who is as serious about their audio as they are about their smartphone. With a full feature set and enough available sources to please anyone, combined with a nice interface, virtually seamless smartphone integration and high performance audio, it would seem like perhaps you can have your cake and eat it too.