From its humble beginnings in Southern California to its current home in Oklahoma City, Digital Designs prides itself on producing top-quality audio equipment with the latest technology at reasonable prices.
Combining high power with high fidelity, the new SS series amplifiers are a great example. And, if you're interested in saving space, what better way to do it than by using a single amplifier to drive your entire system?
Digital Designs has created the SS5 to do just that! It's a five-channel amp that consists of a full-range four-channel class D amplifier and mono subwoofer amp all housed in one relatively compact heatsink. It sells for $850 in the U.S.
FEATURES
The SS5 is one of the most powerful five-channel amps to land on my test bench. Rated at 125W x 4 plus 300 W x one into four ohms; or, 200 W x 4 plus 600 x one into two ohms and with the subwoofer channel capable of 850 watts into one ohm, you won't be short on power! Its dimensions are surprisingly compact for something with well over 1,400 watts and measures 17.75 x 6.875 x 2.125 inches and boasts an intelligently-designed heatsink with well-placed fins that dissipate heat by increasing the cooling surface area.
Power and speaker terminals are located at one end while the input signal and controls are at the opposite end. The power terminals will accept four-gauge cable; speaker terminals are robust enough to accept up to eight gauge. Five panel mount-style RCA input connectors and a switch, which allows the sub channel to be driven from the front and rear inputs if a separate subwoofer signal is not available, are found on the control side.
Crossover functions are handled differently for the front and rear channels. The front channels are high pass only with the frequency adjustment covering 20 Hz to 5 kHz. With the frequency set at 20 Hz, the front crossover also provides a basic subsonic filter. The rear channels have a similar high pass setup, but there is also the ability to engage a low pass filter with an adjustment range of 50 Hz to 5 kHz. Because the high pass filter is always engaged, turning on the low pass filter can also create a bandpass filter if desired.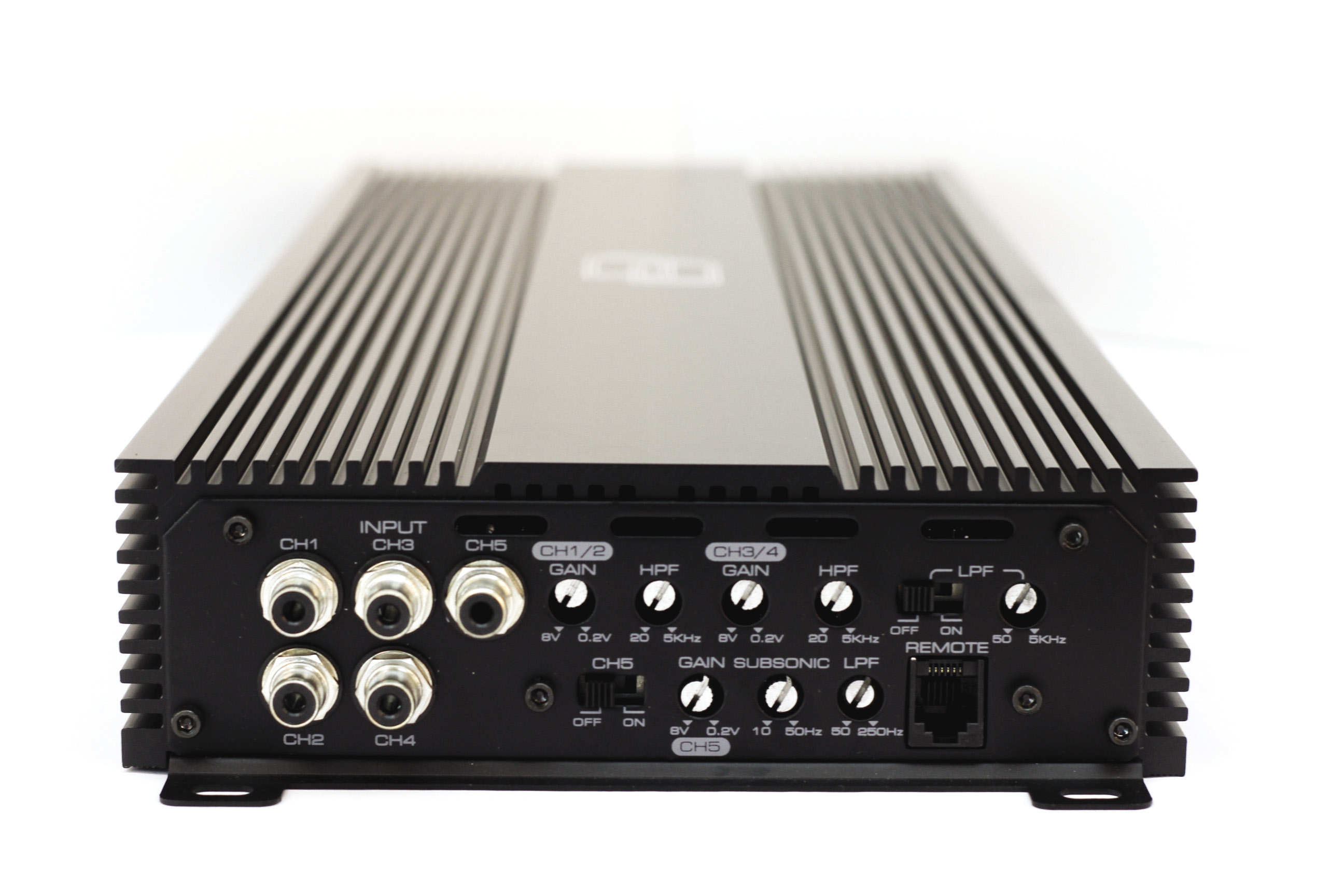 Naturally, the subwoofer channel has its own set of filters with a low pass adjustment range from 50 to 250 Hz and a subsonic filter adjustable from 10 to 50 Hz. A remote level control with a built in clipping indicator is also included.
Inside the SS5, I find what basically amounts to two separate amplifiers. There are individual power supplies and output sections for the four-channel and sub amplifiers, which ensures that a big current spike on your subwoofer won't rob the available current from your mids and highs. The amp is nicely made, utilizing surface-mount parts wherever possible and high quality components. The input section is populated with precision trimmed resistors and high-performance polystyrene and ceramic capacitors for optimum audio performance. Attention to detail and pride in workmanship shows throughout the construction of the amp.
LISTENING
I connect he SS5 to my reference system and drive two pairs of component speakers with the front and rear channels and a 12-inch four-ohm subwoofer on the sub channel. After setting the levels and adjusting the sub crossover to about 80 Hz, I'm ready to have some fun. My session begins with Don Dorsey's masterful rendition of Bach's "Toccata in D Minor" to check out the dynamics of the amp. The synthesizer has great size and depth and, with no lacking of power, the amount of headroom for the tracks amazing dynamics is more than adequate.
Shifting musical gears to something a bit more contemporary, Thomas Dolby's "Aliens Ate My Buick" sounds tight and controlled with great round, fat-bottom bass and amazing detail on the finger plucks. Changing things up again, I switch to some well recorded tracks by my some of my favorite female vocalists, including Rebecca Pidgeon, Jennifer Warnes and Sarah McLachlan. The high frequencies are really detailed without any harshness or edginess with vocals sounding warm and natural/ I can detect a faint amount of background hiss on the quietest passages (or when I pause the CD player) but the level is very low. To be fair, this would probably go totally unheard in a car.
You say you want it loud? No problem! Switching over to some classic Led Zeppelin and Rolling Stones, I soon learn the SS5 will drive my system as loud as I care to listen to it without breaking a sweat. Overall, the amplifier sounds very good and blends the joys high efficiency and high fidelity together quite well.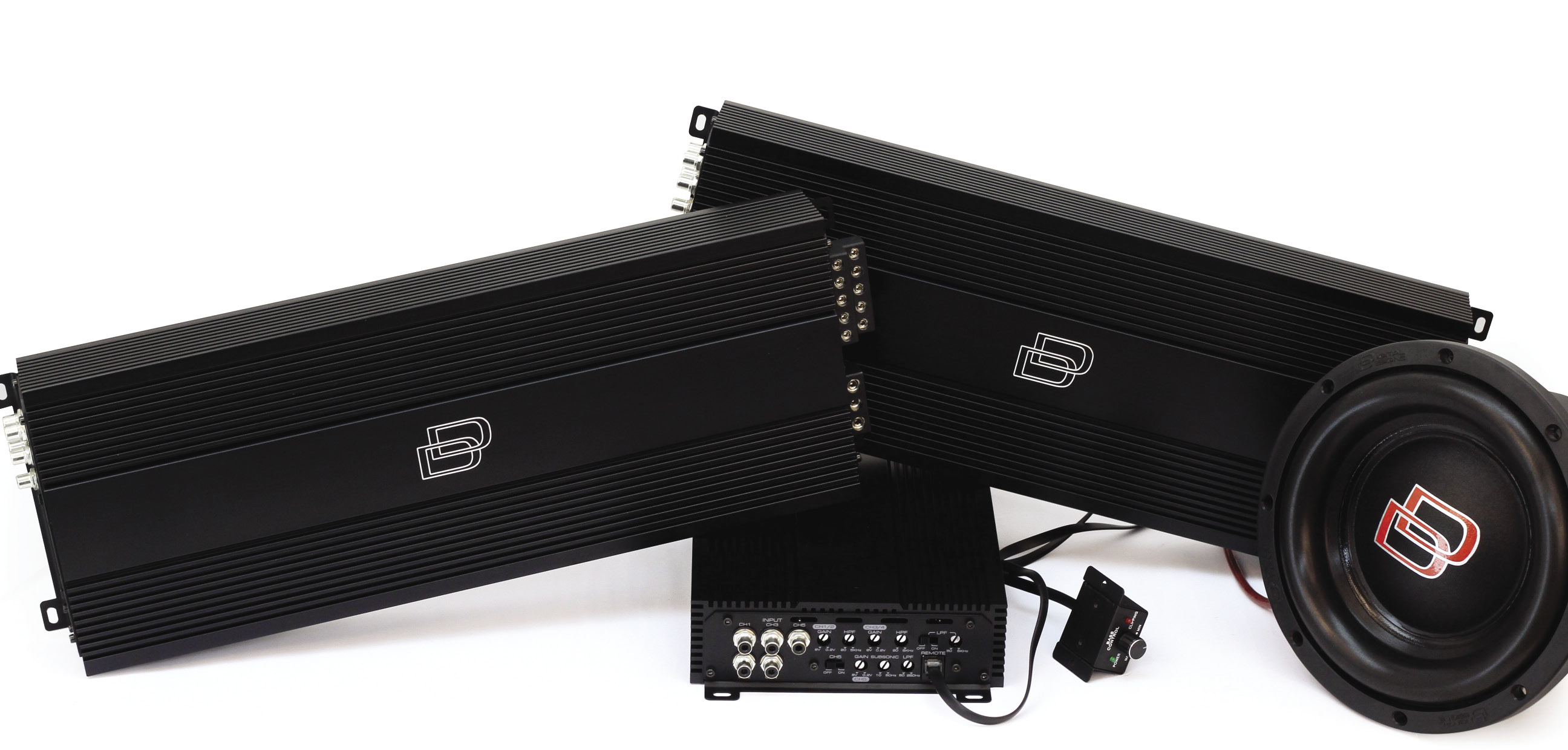 PERFORMANCE/BENCH MEASUREMENTS
On the unforgiving Cogent test bench, the Digital Designs SS5 has some truly impressive power and THD numbers. Its measured power exceeds the published power ratings in all tests and the amp also produces low THD numbers at the rated power levels. Efficiency measures high as expected too – even at fractional power levels. Stereo separation and gain balance both measure well and the SS5's built-in protection circuits operate exactly as they should when I do cruel and stupid things to it.
The signal-to-noise performance measurements confirm my listening session notes; and, come in a bit lower than I'd been hoping for for such an otherwise great amplifier. But again, the amount of hiss is so minute that it will probably never be an issue in a car unless you like to listen to your system sitting in your garage with the car turned off.
CONCLUSION
The SS5 from Digital Designs does a masterful job of being the only amplifier you'll need for great sound in your car, even if your volume level preferences tend to be closer to the right hand end of the scale. It's one of the most powerful five-channel amps I've reviewed and a well-constructed product that should serve buyers well. Considering the price, size and performance, it's a tough combination to beat.
TECHNICAL DATA
The following power measurements have been obtained using industry standard methods (1 kHz @ 1.0% THD+N - Battery voltages shown +/- 0.2 V).
MEASURED PERFORMANCE SPECIFICATIONS
Manufacturers Rated Power

Actual Measured Power

@ 1.0% THD+N

@ 12.6 V Battery

Actual Measured Power

@ 1.0% THD+N

@ 14.4 V Battery

125 W x 4 + 300 W x 1

@ 4 ?

100 W x 4 + 299 W x 1

@ 4 ?

131 W x 4 + 375 W x 1

@ 4 ?

200 W x 4 + 600 W x 1

@ 2 ?

156 W x 4 + 508 W x 1

@ 2 ?

205 W x 4 + 665 W x 1

@ 2 ?
Signal to Noise Ratio referenced to 2 V output.

(CEA-2006A) (1 W @ 4 ?)

-63.5 dBA F&R

-66.4 dBA Sub

Signal to Noise Ratio referenced to full output

-84.7 dBA F&R

-92.1 dBA Sub

THD+N at rated 4 ? power

0.03%

Maximum Efficiency at full 4 ? power per ch.

82.9%

Maximum Efficiency at full 2 ? power per ch.

73.4%

Efficiency at 10 W per ch. at 4 ?

57.3%

Idle Current

2.3 A

Input Sensitivity

198 mV – 7.9 V

Maximum Current at full power, lowest rated impedance

140.5 A

Frequency Response (-3 dB)

18 Hz – 28.7 kHz

High Pass Crossover

18 Hz – 4.95 kHz

-12 dB/Oct

Low Pass Crossover

48 Hz – 5.1 kHz

-12 dB/Oct

Sub Ch Crossover

47 Hz – 265 Hz

-12 dB/Oct

Subsonic Filter

10-50 Hz

Bass EQ boost

None