Diamond Audio products have long enjoyed a solid reputation for quality, performance and good sound. The company seldom makes radical changes to its well-received products and, when that does happen, it's usually more evolutionary than revolutionary.
At this year's Consumer Electronics Show, however, Diamond unveiled some rather revolutionary changes to its product line. Gone are the old familiar D1, D2 and D3 series products. In their place are its new Concert (CX), Tour (TX) and Studio (SX) lines. And, the changes go much deeper than simple nomenclature. In this review, I look at one of the 12-inch subwoofers from its mid-level TX series ($219.95 U.S. MSRP) to see just what has changed... and why.
FEATURES
The first thing I notice about the new Diamond woofer is its all-new cosmetic treatment. The traditional cone shape has been replaced with a new incredibly rigid concave design that Diamond refers to as a "Cartesian vector continuous curvature composite poly cone." Engineering speak aside, the new cone design eliminates the need for a separate dust cap and provides a smooth high gloss, classy look and is centered on the top side by a long-lasting butyl rubber surround.
Underneath the cone, there is a specially-designed and liberally-vented, conical-shaped support structure designed to support the cone surface as well as provide a solid connection to the top of the voice coil former. The design works well and allows maximum airflow through the gap and around the voice coil to keep things cool and provide maximum thermal power handling.
The woofer is built around a heavy gauge stamped steel basket, which is finished in a black textured powder coat. Electrical terminals for the dual coils are mounted right through holes in the steel basket and are very rugged. From the push terminals, the electrical signal travels through heavy-duty tinsel leads that are captured between a pair of non-linear, progressive-style spiders. This type of spider was chosen because it permits good efficiency at low input levels, but gets progressively stiffer as excursion increases thereby providing the best possible balance of sensitivity versus power handling.
Dual four-layer copper voice coils are wound on a 2.5-inch aluminum former, again for maximum heat dissipation and better reliability. The basket draws cool air in from just above the motor top plate as well as from a traditional vented pole piece. The woofer's power comes from a six-inch double stacked ferrite magnet assembly, which is cosmetically treated with a smooth black rubber magnet bumper. All in all, the cosmetic appearance of the TX woofers are a huge step forward from the old D3 series woofers. Now, to see if the new woofer sounds as good as it looks.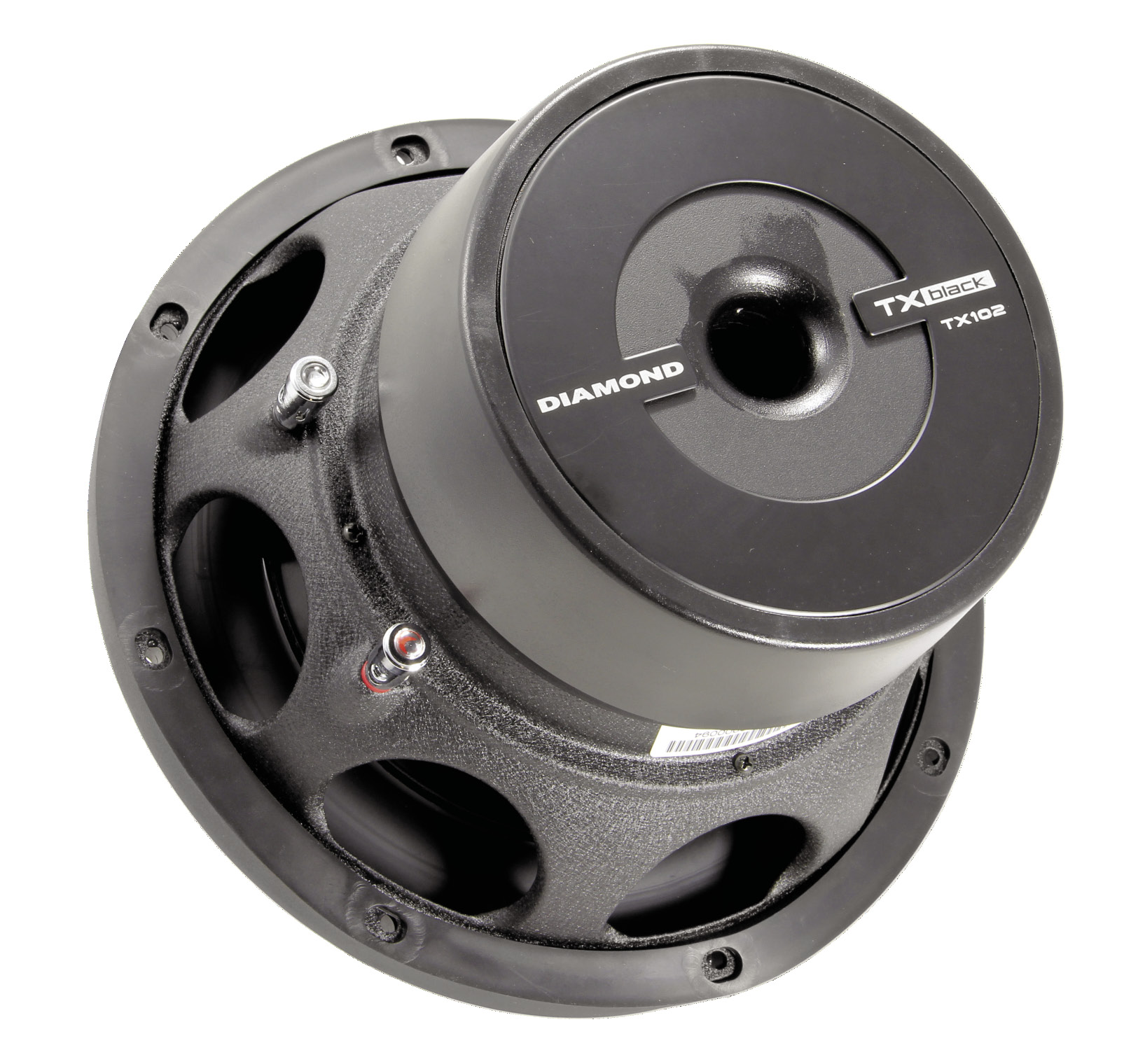 LISTENING
After the customary break-in period, I mount the TX124 woofer in a sealed enclosure with a volume of 1.25 cubic feet. This is very close to the 1.2 cubic foot enclosure Diamond Audio recommends for best sound quality performance. I'm told a great deal of listening and tweaking goes into all of Diamond Audio's products and it shows.
Beginning with the solid bottom end in Billy Idol's Prodigal Son, the new TX woofer sounds very good indeed. It plays very low and effortlessly handles that track's ceaseless low synthesizer notes. The kick drum sounds big, tight and full. Switching to some Pussycat Dolls and Nine Inch Nails, the Diamond woofer again holds its own with great musicality and really good definition in the lower registers. I got on it a few times and note the woofer has no trouble handling bass notes well in excess of its 400-watt rating. Changing musical gears to some jazz and blues, I really enjoy the tight musical sound of the new TX woofer and, regardless of what I listen to, the bass sounds just right.
Switching to a vented box and playing the same tracks again, the woofer still sounds very good; and, as usual, the additional output from the vented design is easily evident. Some of the very lowest notes are subdued (due to the sharper roll-off of a vented enclosure) plus the bass seems to become a bit more focused over a narrower frequency range, but there was quite a bit more overall SPL.
However, when you use a vented subwoofer enclosure, it's always of paramount importance to use a properly-adjusted subsonic filter when applying high power. I like to set the subsonic filter roughly a half octave below the resonant frequency of the enclosure – to prevent over-excursion issues as the air spring in the box unloads below Fb.
From a sonic standpoint, for best all-round performance and enjoyment, I'd put this woofer in a sealed enclosure somewhere between one and 1.5 cubic feet. This approach will sound great and the Diamond TX woofer will easily handle all the power it was obviously designed for. If you have a smaller amplifier and want it louder, the vented option will work, however, you'll find that as your amp gets close to the maximum power rating, you'll lose some control and sound quality with a vented design.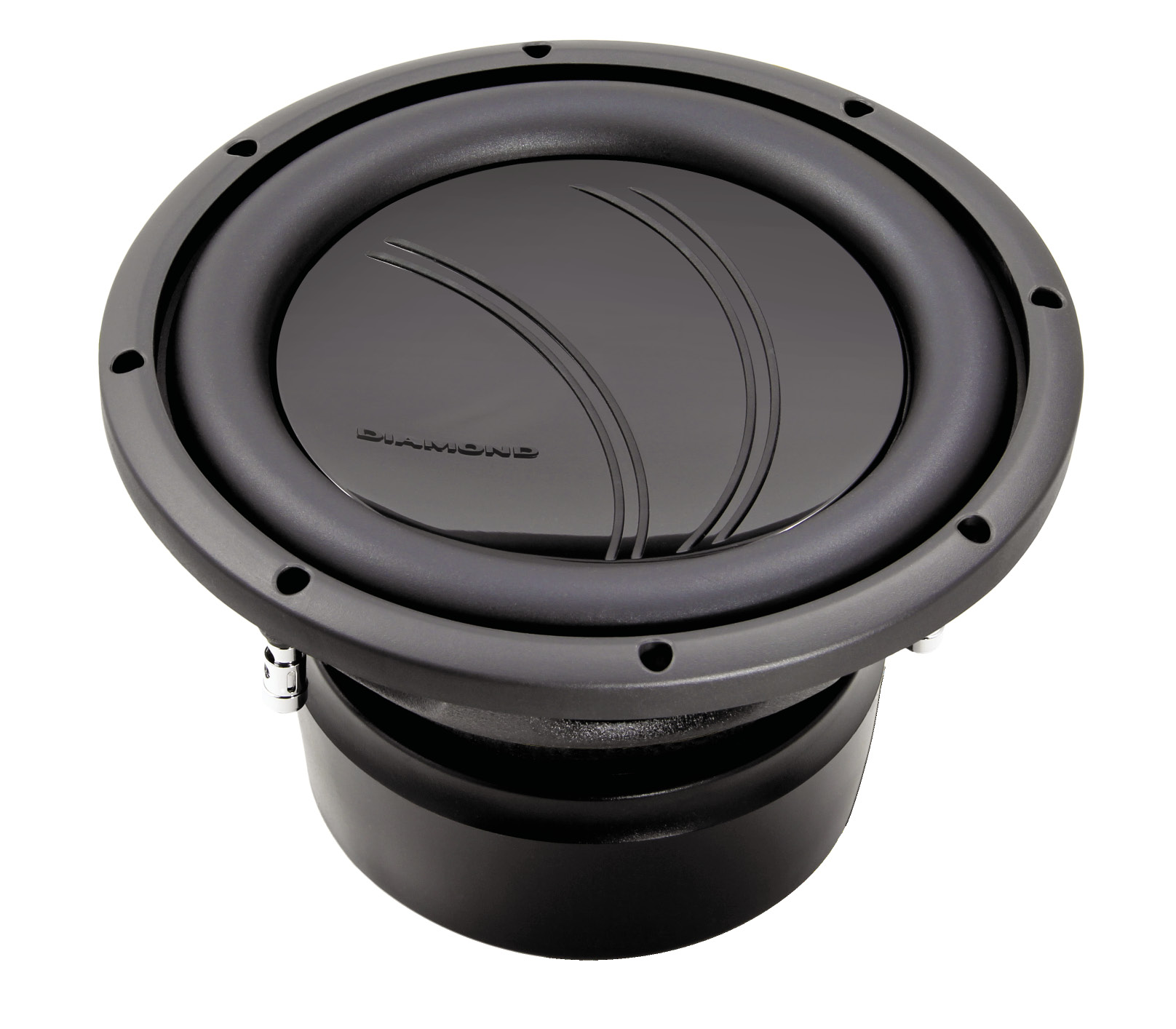 PERFORMANCE / BENCH MEASUREMENTS
Once the woofer cools down and normalizes, I measure the Thiele-Small parameters. My measurements are a bit off from the published numbers, but I should add here that normal woofer tolerances are pretty wide – it's pretty common for the specifications of woofers like this to change somewhat as the design matures. My one watt measurements are as follows:
Model= TX124
Coils in parallel
Revc = 1.740 ?
Fo = 29.663 Hz
Sd = 0.047 M²
Vas = 37.252 Ltr (1.32 cu-ft)
Cms = 118.760 uM/N
Mmd = 236.538 g
Mms = 242.397 g
BL = 9.722 T·M
Qms = 4.217
Qes = 0.832
Qts = 0.695
Levc = 0.728 mH
No = 0.113 %
SPL = 82.551 dB
EBP = 35.7
After measuring these parameters, I mount the woofer back in to the enclosures and look at the response curves. The measurements confirm what I've been listening to: the vented design plays a lot louder but over a narrower band. (Note the graphs shown here are made at one watt and without a subsonic filter that would be required on the vented design if you wanted to apply real power.) The graphs below are scaled to one watt @ one meter.
Quick Tech Specs
Power Handling 400 watts RMS
Frequency Range 29-200 Hz
Sensitivity 83 dB/SPL @ 1.0 W (1.414 V @ 2 ?)
Nominal Impedance (2) 4 ? coils
CONCLUSION
The Diamond Audio woofers are totally new from the ground up and, in this case, that's a good thing. The new design sounds better, handles more power and looks superior to the woofers they replace. If you're looking for a well made woofer with great sound quality or excellent SPL, you should check out the TX series at a Diamond Audio Dealer near you. If you're curious about the other Diamond Audio products, you can find them online at www.diamondaudio.com.