It seems like everywhere you look, amplifiers are getting smaller and more powerful. This trend of "high power density" was started eight years ago with the groundbreaking introduction of the original Alpine PDX series of amplifiers. Lauded still for their excellent sound quality, top notch performance, and in a compact footprint, these were the amps to beat back in 2006.
In the eight years since, Alpine has not been resting on its laurels. The company's latest offerings in the compact high power category continue the tradition of high performance and leading edge technology. In this review we're looking at the new Alpine PDR-M65, a compact but powerful monoblock rated at 450 watts into four ohms, and 650 watts into two ohms.

FEATURES


The new PDR amplifiers have a host of high tech features to insure great sound quality and easy installation. On the sonic side, there's Alpine's Dual Feedback Modulation, which effectively doubles the amount of error correction to the output signal for lower THD and output that's true to the source. Additionally, the PDR amps are built to have very quiet signal-to-noise performance and high efficiency, which permits the use of such a small chassis even in high power amplifiers.
From an installer's point of view, the amps feature a remote sensing function that can turn the amplifier on and off by sensing voltage at the input terminals, a handy feature when your OEM head unit has no remote trigger wire. Other nice features include a rotating badge (to mount in four different orientations), optional remote bass level control, high level inputs, and pre-outs to drive an additional amplifier. All the wiring connections are made along one side of the chassis, and the adjustments and controls are securely hidden under a removable top cover, which also hides the mounting screws.

The PDR-M65 is equipped with a variable low pass filter (50 to 400 Hz @ -24 dB/Oct), variable bass boost with up to 12 dB of boost at 50 Hz, and an adjustable subsonic filter with a range of below 10 Hz to 40 Hz. Input sensitivity can be adjusted for any input voltage between 72 mV to 10 V.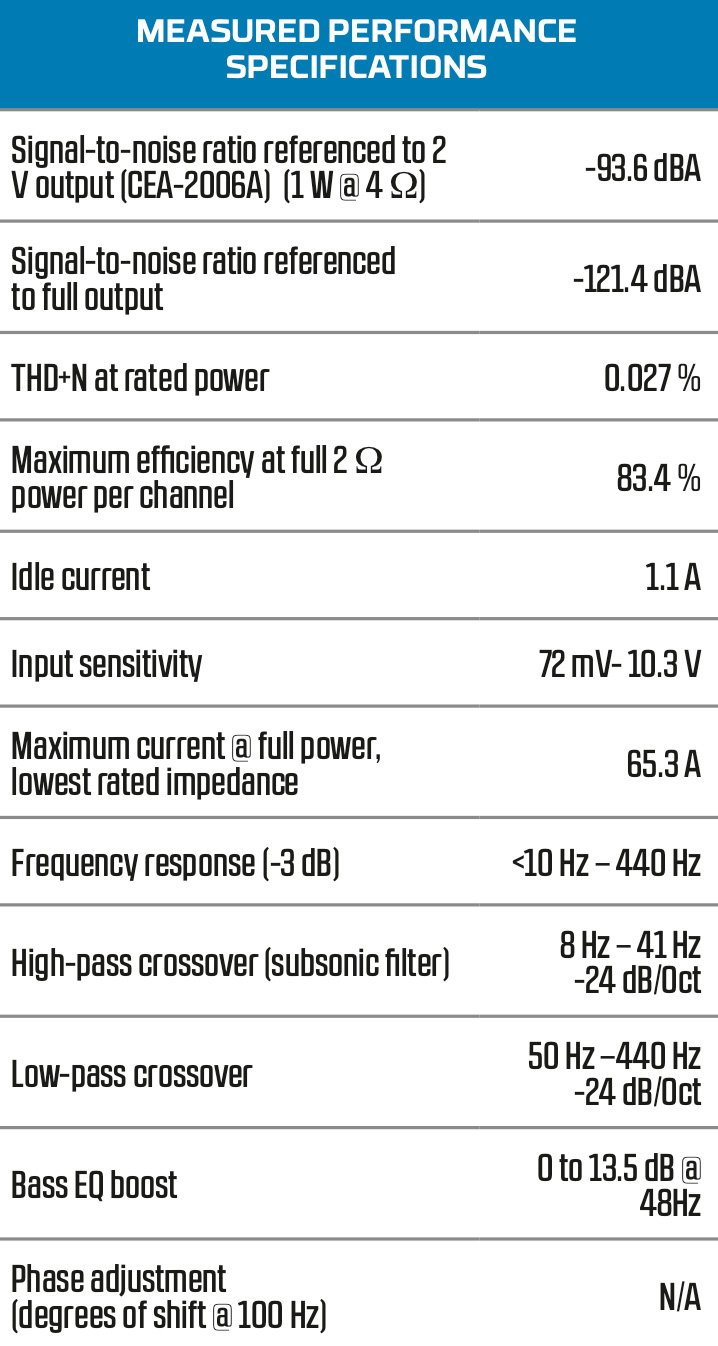 LISTENING
For my listening session, I connect the PDR-M65 to my reference system and drive a pair of 12-inch, four ohm woofers in a sealed enclosure. With the woofers wired in parallel for a two ohm load, I set the amp crossover to about 80 Hz and leave the subsonic filter at minimum.
I begin my listening session with one of my favorite discs to evaluate subwoofer amplifiers, Essential Yello. If you don't have this disc in your collection, you should. Loaded with very deep synthesizer bass, it's a good test for any bass system and is just fun to listen to. Another favorite disc with an ultra high quality recording and incredible bass definition is a Telarc recording of a band called California Project, who perform Beach Boys tunes of the 1960's. Their track Surfin' USA has possibly the best recorded kick drum in history. The Alpine PDR-M65 makes the most of it, with very deep but tight, well controlled sound. With all that power on tap, the amp handles the really high dynamics of this CD without breaking a sweat.
In fact, I notice that the average current draw is quite modest, which speaks to the high efficiency of the design, even at less than full power. This is a very good sounding amplifier, and if you appreciate a deep, powerful and controlled bottom end, the Alpine amp should be on your list of amps to audition.

ON THE BENCH
On the test bench, the Alpine amp meets or exceeds all of its published performance specs, and shows why so many people swear by these amps when it comes to sound quality. Distortion at one watt is an incredibly low 0.006%. Signal-to-noise measures better than many full range amps, at better than -93 dB. Efficiency is between 80 and 90%, a critical spec in a compact amplifier. After completing all of the measurements, it's obvious that the PDR amplifiers continue the pedigree of the PDX amps.

CONCLUSION
The new PDR amplifiers are based on the original PDX designs, but as technology has improved, Alpine has somehow found a way to retain the sound quality and high-end specs of the earlier versions, at a lower price. With a tested power level of nearly 800 watts and a suggested retail price of just $450, this is one amplifier that you get what you paid for...and then some.