Combination of compact size, advanced audio engineering and installation flexibility provides a unique audio upgrade solution for many of today's vehicles.
LOS ANGELES, CA –CES – (January 11, 2021) PioneerElectronics (USA) Inc., a leader in aftermarket mobile electronics and entertainment, today announced the TS-WX010A compact powered subwoofer as part of its CES 2021 all-digital experience
Compact in size with exceptionally low power consumption yet able to produce powerful and impactful bass, the TS-WX010A is a direct result of Pioneer's over 80 years' experience designing and manufacturing loud speakers, combined with an understanding of the evolving automotive landscape. Due to its small size and high electrical efficiency, this compact subwoofer is a perfect upgrade for many of today's vehicles, especially EV (electric vehicle) and gasoline/electric hybrid vehicles where low weight, small size and low power consumption are a priority.
"Electric and hybrid vehicles are increasing in both popularity and availability but upgrading the audio in these vehicles presents challenges for traditionally large and heavy powered subwoofers," said Ted Cardenas, vice president of marketing for Pioneer Electronics (USA)Inc. "With the introduction of the TS-WX010A, Pioneer introduces a unique solution designed to enhance the listening experience with deep, powerful bass while seamlessly integrating physically, electrically and most importantly acoustically into the vehicle."
Measuring only 9-inches wide, 4-5/8"deep, 2-3/4"high, and weighing just under 3-1/2 pounds, the TS-WX010A is the smallest and lightest powered subwoofer in the Pioneer lineup. Featuring a unique 6-5/8"by 3-1/8"rectangular woofer with a low mass / high strength aluminum cone, urethane surround and high-power magnetic circuit housed in a down firing sealed enclosure made of high-grade resin, the TS-WX010A is powered by a built-in Class-D amplifier rated at 50 wattsRMS output (160 watts maximum).
The compact dimensions of the TS-WX010A allow it to be installed inside the passenger compartment of most vehicles, providing the potential to integrate acoustically with the vehicle's full range speakers and seamlessly enhance both output and overall sound quality. With installation options that include vertical or horizontal mounting, the TS-WX010A is optimized for installation in the passenger side footwell (but specifically never in or near the driver side footwell), where its small size affords the ability to be attached near the underside of the dashboard or the center console.The TS-WX010A accepts both RCA type line level or speaker level inputs for connectivity to aftermarket audio systems or integrated into factory installed systems.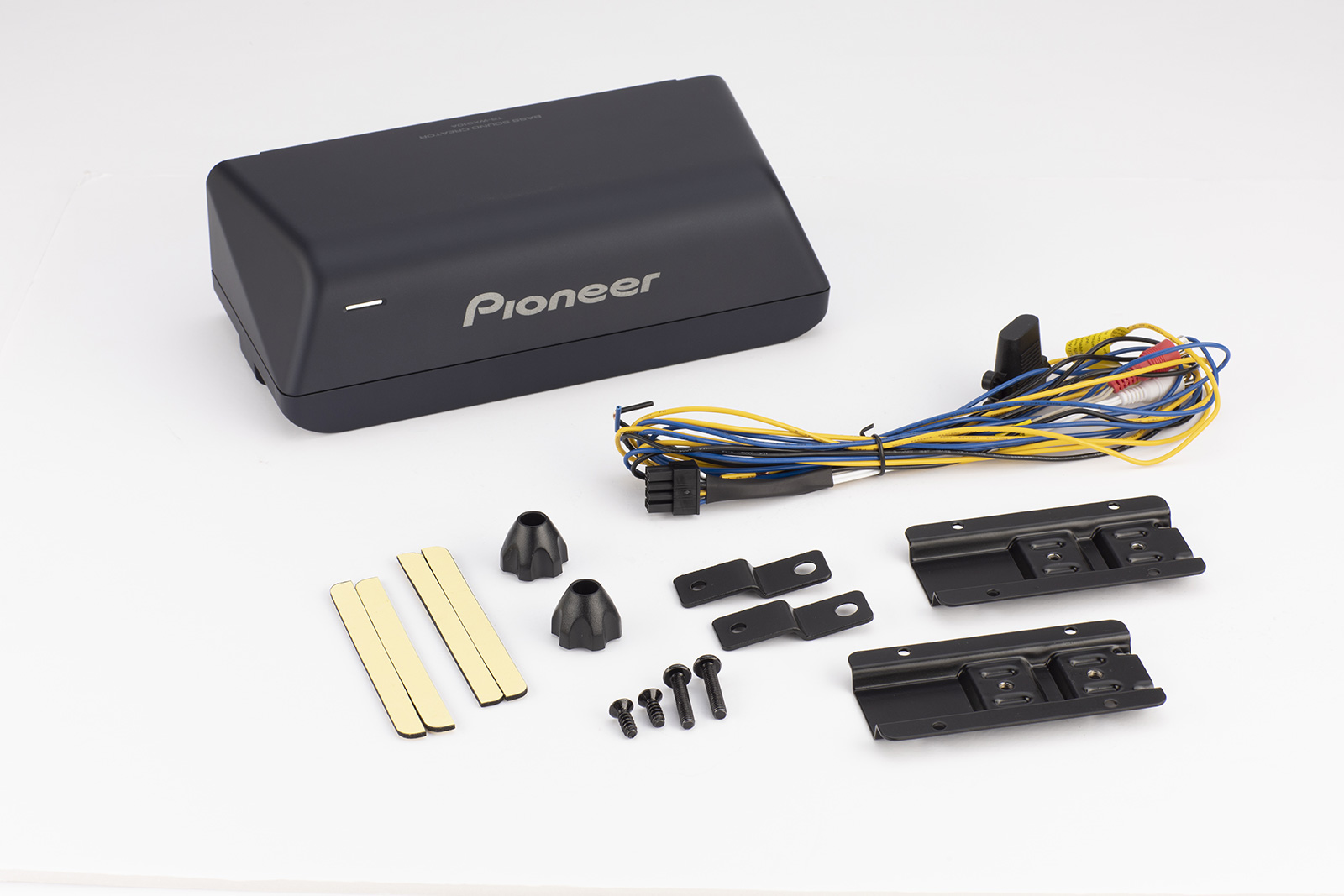 Additional Information:
Frequency Response: 20Hz –200Hz
Sensitivity: 98 dB(when installed in the passenger side footwell)
Adjustablephase (normal / reverse), low-pass crossover frequency(50Hz –125Hz), gain and input type (RCA type line level / speaker level)
Consumers can learn more about the product at pioneerelectronics.com/TS-WX010A. The TS-WX010A will be available in January 2021 with a suggested price of $280.
Warning: This product must never be installed anywhere in the driver area or elsewhere in the vehicle where it might interfere with its safe operation or impair the performance of a vehicle's operating systems or safety features, including air bags, controls and indicators (lights). This product is not vehicle specific and appropriate installation locations will depend on the vehicle model. General safety precautions should be observed when the product is installed including, specific to hybrid and electric vehicles, the location of the vehicle battery and battery charging system.Always ensure the product will remain secure during installation and operation.
For more information follow us on:
Twitter at twitter.com/PioneerUSA
Facebook at facebook.com/PioneerNorthAmerica
YouTube at youtube.com/pioneerelectronics
Instagram at instagram.com/pioneercaraudio
---
PHOTO GALLERY