Kenwood's DPX304MBT digital media receiver is designed to make your favorite features easy, especially with a big multi-function knob and three-line display. Built-in Bluetooth makes it smartphone-friendly, so you can stream music or enjoy hands-free calling. Of course, you'll have AM/FM radio and access to your digital music collection loaded on a flash drive, plus the option of adding SiriusXM satellite radio, too. Best of all, you can use built-in Amazon Alexa to ask for a host of information and features.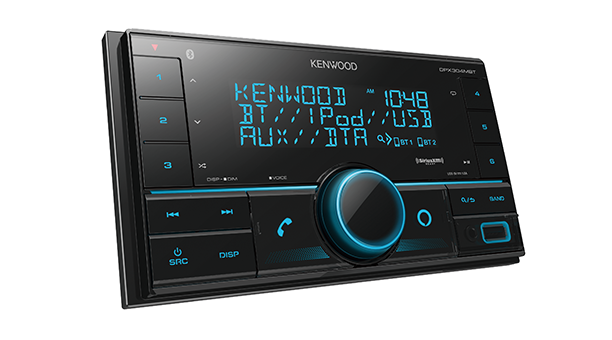 FEATURES
420 Segment 3 Line Text Display
Amazon Alexa Ready
Spotify Ready
Bluetooth Direct Access Button
Short Chassis
Variable Color Illumination
3 Preouts 2.5V
Smartphone Connectivity
Enjoy convenient control of popular apps like Spotify and Pandora, built-in Bluetooth for hands-free calls and streaming music, as well as the ability to use your smartphone like a wireless remote control.
The Best Audio Experience
Sound quality enthusiasts will love the playback support of various types of music formats, including compatibility with FLAC files. Simple touch screen sound customization is also available with its built-in 13-Band EQ and Digital Time Alignment.
For more information, visit www.kenwood.com.