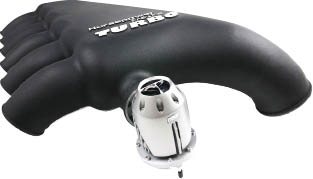 HorsepowerFreaks
Turbo Systems
Tune your own setup with the revolutionary HPF turbo systems for the BMW E46 M3. These are the same components used in their production "pre-tuned" turbo systems that include all the other components you will want to turn your M3 into a beast. Choose the Precision T67 to match up with the HPF stage 1, 2 and 2.5 turbo systems, a Precision T71 Billet to match up with our stage 2.75 and stage 3 turbo systems, and a Precision T76 Billet to match up with our stage 4 turbo systems.
For more visit www.horsepowerfreaks.com
---

Garrett
GTX Turbos
Get more turbocharged power without getting a bigger turbo with the Garrett® GTX3071R, GTX3076R, GTX3576R and GTX3582R! The Garrett® GTX line features all-new compressor wheel aerodynamics that deliver a proven 10-20% more power than the world-standard Garrett® GT wheel of the same size. The new wheels feature an eleven full-blade design, fully-machined from forged aluminum alloy. Each turbo is meticulously tested and balanced to deliver the durability, reliability and performance expected from Garrett®, the unmatched leader in turbocharger technology. The Garrett® GTX turbochargers are outline interchangeable with their GT counterparts for an easy upgrade without completely altering your existing setup.
For more visit www.TurboByGarrett.com
---
BorgWarner Turbo Systems
EFR Line
Pulling from BorgWarner's extensive OEM knowledge, all EFR compressor covers have integrated CRV (compressor recirculation valve) ports and mounting. The CRV will allow users who need a blow off valve to simply install a valve and a boost line. No longer does the installer need to buy an entire blow off valve assembly, cut and weld it into the system. That not only takes up precious room but adds a lot of expense. Creating the boost is a forged aluminum, fully milled compressor wheel. The EFR line will be comprised of six billet compressor wheels ranging from 62mm to 91mm OD. All of the wheels will feature Extended Tip Technology to increase boost pressure and flow capabilities.
For more visit www.borgwarner.com