HAWTHORNE CA — AEM EV has released its VCU200 Vehicle Control Unit (PN 30-8000). AEM EV's VCU200 is built on OEM hardware and features OEM quality strategies to provide the highest level of reliability, and more importantly, safety for both the programmer and end-user. For purchasing information, contact AEM EV Sales at (310) 484-2322 or by email at This email address is being protected from spambots. You need JavaScript enabled to view it..
AEM EV Vehicle Control Units (VCUs) are the missing link for high-performance EV street-conversion and motorsports applications. They allow the calibrator to create customized torque management strategies applicable to a wide range of EV systems and component combinations. They integrate EV systems and unify the tuning experience providing conversion and motorsports-ready features that are presented in a high performance, modern and customizable interface. Be In Control with AEM EV.
PRODUCT OVERVIEW
The VCU200 in default configuration can manage a single inverter/motor system, communicate with up to four independent CAN bus networks, and it can be used on direct-drive and indirect-drive EV setups. Multiple motor control systems may be possible depending on the application. Full documentation for the VCU200 is available on the Instructions page at aemev.com.
Primary functions of the AEM VCU200 include:
Input characterization including accelerator pedal, brake switch, PRND switches, and other driver/vehicle inputs
Redundancy and arbitration features for all safety-critical inputs
Startup and shutdown sequencing of high voltage components, including independent contactor control
CAN message translation for BMS, inverter, PDUs, and other CAN accessories
Motor torque management dependent on vehicle operating states and other driver-selectable modes
Closed-loop motor speed regulation for indirect drive transmission applications
Dynamic torque limits that maximize safety and optimize performance
Accessory control of cooling pumps, cooling fans, lights and more
Diagnostics and fault detection including CAN message timeouts, thermal limits, contactor, and inverter enable cross-checks
IP6k7-rated enclosure (dustproof and waterproof)
INTUITIVE SOFTWARE
AEMcal software for AEM EV Vehicle Control Units (VCU200 and VCU300) simplifies the process of customizing the power delivery strategies and controlling all of the ancillary subsystems of EV motorsports and conversion vehicles. Utilizing a simplified and intuitive graphical interface that combines tables and graphs for implementing strategies for torque delivery, launch control (stationary and dynamic), traction control, regenerative braking, speed limiting, map switching and more, AEMcal software puts an end to the need for stacking multiple controllers to control an EV's propulsion and ancillary systems. AEMcal software is available for download on the Software page at aemev.com.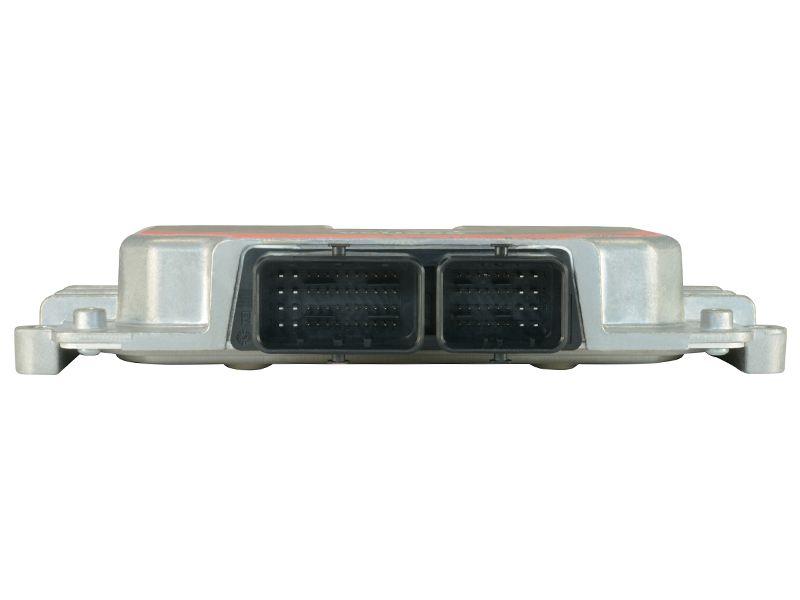 SUPPORTED COMPONENTS
The following are some of the tractive system components that have been validated to work with the VCU200. For a larger list of components please visit the VCU200 Product Page FAQ section on our website. Please contact This email address is being protected from spambots. You need JavaScript enabled to view it. for more information or to request component support.
The VCU200 currently supports all Cascadia Motion PM Series inverters and compatible motors. A full list of supported inverters and motors can be found here.
The Orion BMS2 battery management system CAN data is integrated into the VCU200.
The Isabellenhuett IVT-S Series Smart Shunt for battery management and as an integrated current, voltage and temperature sensor in conjunction with a BMS.
The VCU200 has the ability to control the EMP WP32 water pump through the CAN bus.
We have validated Gigavac contactors and Gigavac and ARCOL pre-charge resistors. Switched control for fans, pumps, lights, etc., can be controlled by the VCU200 using AEM EV's PDU-8 Power Distribution Unit(s). Eight units can be used for a total of up to 64 channels. The VCU200 currently supports up to 2 PDU-8 units.
Vehicle power, drive activation (PRND) and map switching can be controlled using AEM EV's 8-Button CAN Keypad, and display and logging capability for all channels on the CAN network can be performed by AEM CD Carbon Digital Dash Displays.
AEM EV is working hard to expand its supported components list. Check AEMEV.com often for updates to our list of validated EV components.
WIRING
A Plug & Pin Kit (PN 30-3709) is available for the VCU200. This kit includes a connector and all of the necessary pins to create a bespoke wiring harness.
AEM EV - BE IN CONTROL
AEM EV is the Performance EV Controls brand of AEM Performance Electronics. Our mission is to make electronics products that simplify the EV conversion process. Our EV Vehicle Control Units and supporting electronics are intuitive and simple to use and provide powerful control for EV street-conversion vehicles and motorsports applications.