AEM EV has released the PDU-8 (PN 30-8300); a low-cost 8-Channel Power Distribution Unit for providing CAN-directed switched power to the various systems on EV conversion and motorsports vehicles. The PDU-8 takes a distributed approach by allowing a Vehicle Control Unit (VCU) to command its operation directly, removing the need to create complicated logic programming. The PDU-8 features a simple CAN bus protocol, so it can be controlled by AEM EV's VCU200 and VCU300 directly or other programmable devices that can transmit programmable CAN bus messages.
Some examples of the functions that can be controlled by the PDU-8 and directed by a VCU include inverter power, negative, positive and pre-charge contactors, a shift solenoid on indirect drive systems, a trans brake solenoid, a line lock solenoid, headlights, brake lights, reverse lights, BMS and dash/display power, cooling pumps and fans, power windows accessory lights, and more!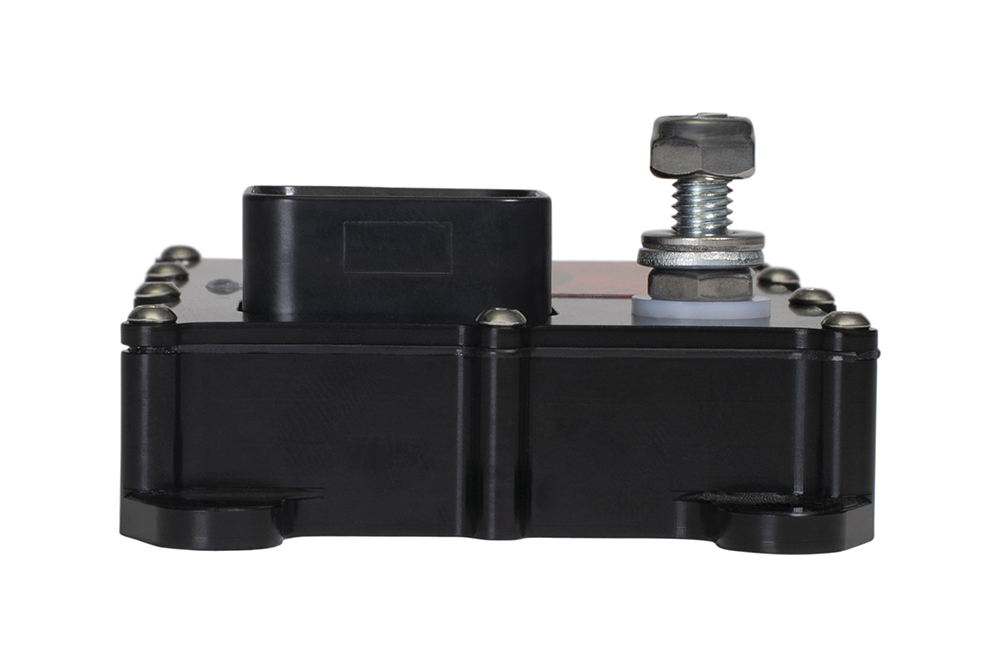 Because the PDU-8 is designed as a modular device that receives its command signals over a CAN bus, no programming of the PDU module is necessary and all PDUs are interchangeable. The unit's low cost and the ability to connect up to eight PDU-8s on the same bus lets users mount the individual PDUs closer to the subsystems they are controlling, which simplifies wiring, reduces weight and increases reliability.
A Plug & Pin Kit for the PDU-8 (PN 30-3711) is available to ease in creating a custom wiring harness and is sold separately.
AEM EV PDU-8 Features Overview:
Four 20A high-side 12V outputs and four 10A high-side 12V outputs for activating/deactivating various vehicle subsystems
Connect up to eight units for a total of 64 channels (VCU dependent)
CAN-commanded PDU, programming of PDU-8 is accomplished using a VCU which simplifies programming
PDU id is defined by wiring at the connector, allowing units to be fully interchangeable
Pulse width-modulated capability for devices that support PWM functionality (coming soon for AEM VCUs and will be available with VCU Firmware update)
Small size and lightweight (103x67x33mm/4.05x2.64x1.3", 216g/0.48 lbs.)
Low-cost modules allow for multiple units to be deployed nearer the systems they control, simplifying wiring and reducing weight
Individual channel current draw and fault states are reported back to the VCU
Integrated status LED light for immediate reference to readiness state
Fully-sealed, waterproof billet-aluminum enclosure
PDU-8 Plug & Pin Kit (PN 30-3711) is sold separately
For more information, visit aempower.com.