Photos by Marcel Lech
---
Jules Gabriel recalls being a youth in the Philippines when he caught a glimpse of a Mitsubishi Lancer Evolution IX cruising down the highway. That simple glimpse inevitably became a turning point in Gabriel's life because it was that moment he decided nothing would get in the way of him owning his own. In September of 2014, all those years of grinding finally paid off in the form of a 2008 Mitsubishi Lancer Evolution X.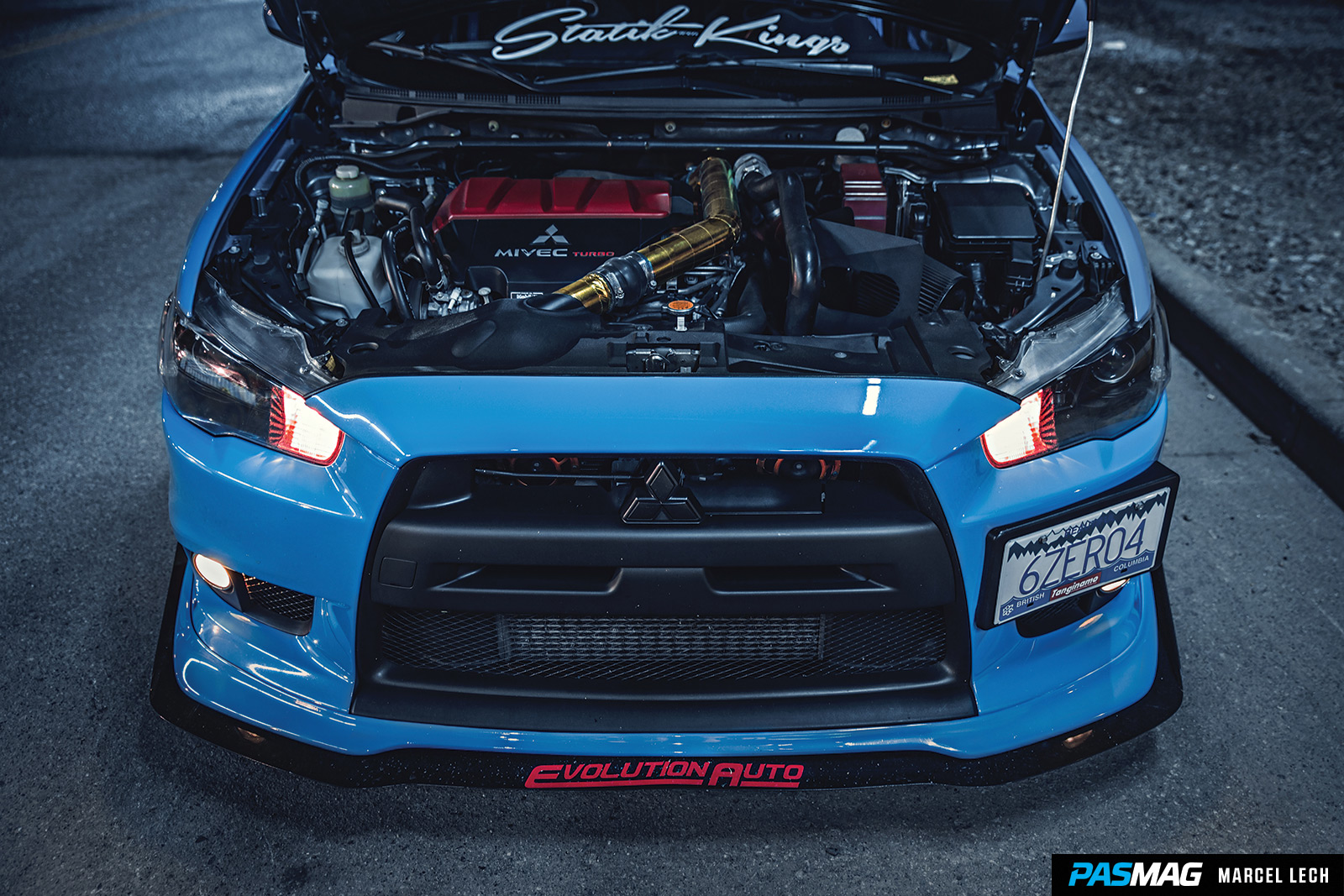 "It inspired me to study and work hard so that I could afford one," says Gabriel. "Now I still can't believe that it happened, [which] just proves that nothing is impossible in this world."
He would then dedicate the following year to transforming the Evo X to his liking. Gabriel didn't have much experience building in the past, excluding the basic bolt-ons on a 2009 Lancer GT he later sold. That didn't impede his vision because what he may have lacked in experience was ultimately redeemed by passion and creativity.
With an estimated 319 horsepower and 320 lb-ft of torque, there are subtle but unmistakable pieces helping to push that extra power and weight. Such examples are the K&N short ram intake and upper intercooler pipe, GReddy Ti-C four-inch cat-back exhaust with a burnt tip, Invidia four-inch down-pipe and test pipe, as well as an Exedy Stage 2 clutch and lightweight aluminum flywheel.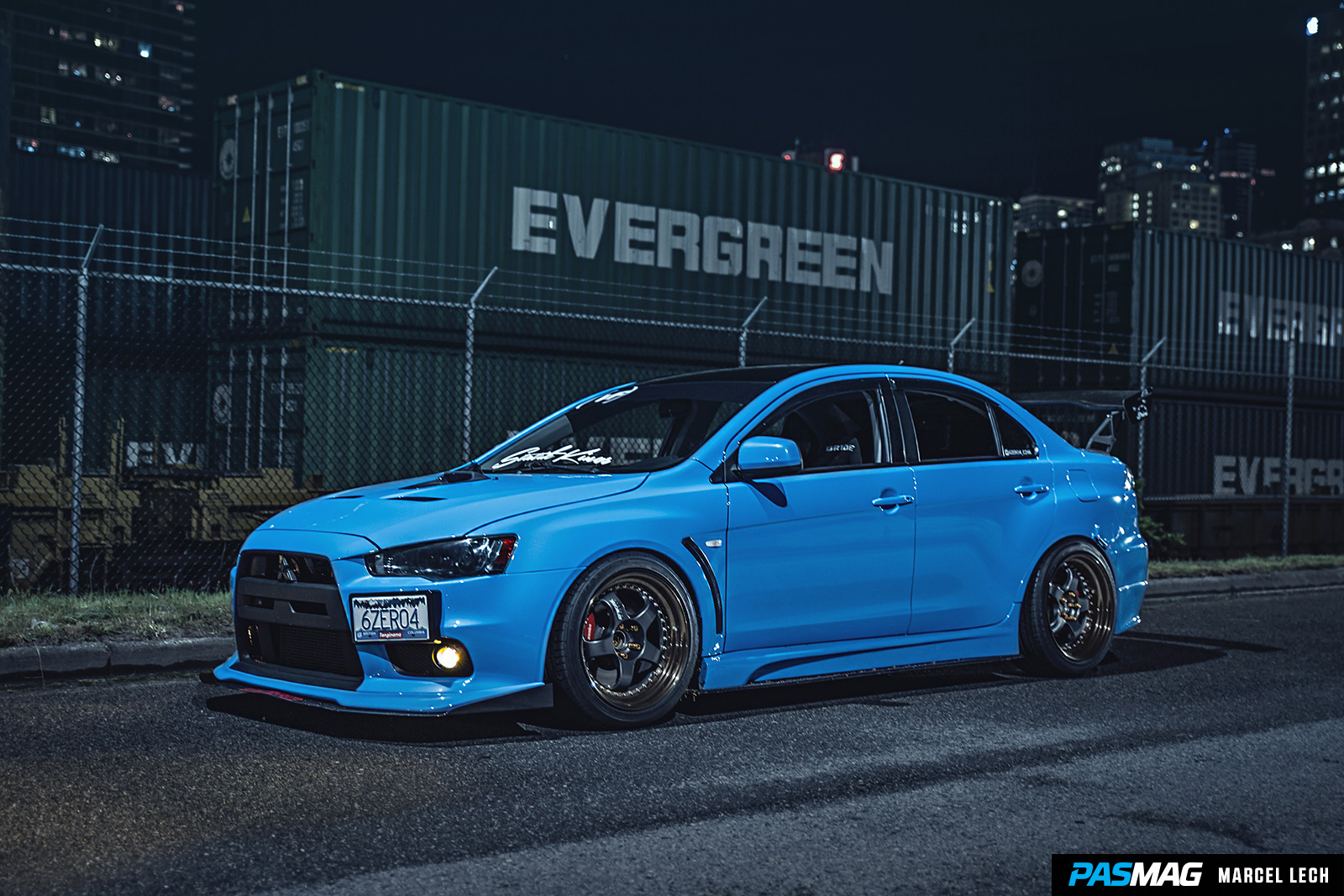 Presentation counts for something and that's where you can find more hints of Gabriel's personality. It begins with the Work Meister S1 three-piece wheels wrapped in Bridgestone Potenza tires, paired up with Brembo brakes and Stance Super Sport coilovers. Consistency is also important for Gabriel, as he's ensured all the parts by Rexpeed, AeroFlowDynamics, Forcewerkz and APR match the Yas Marina Blue paintjob.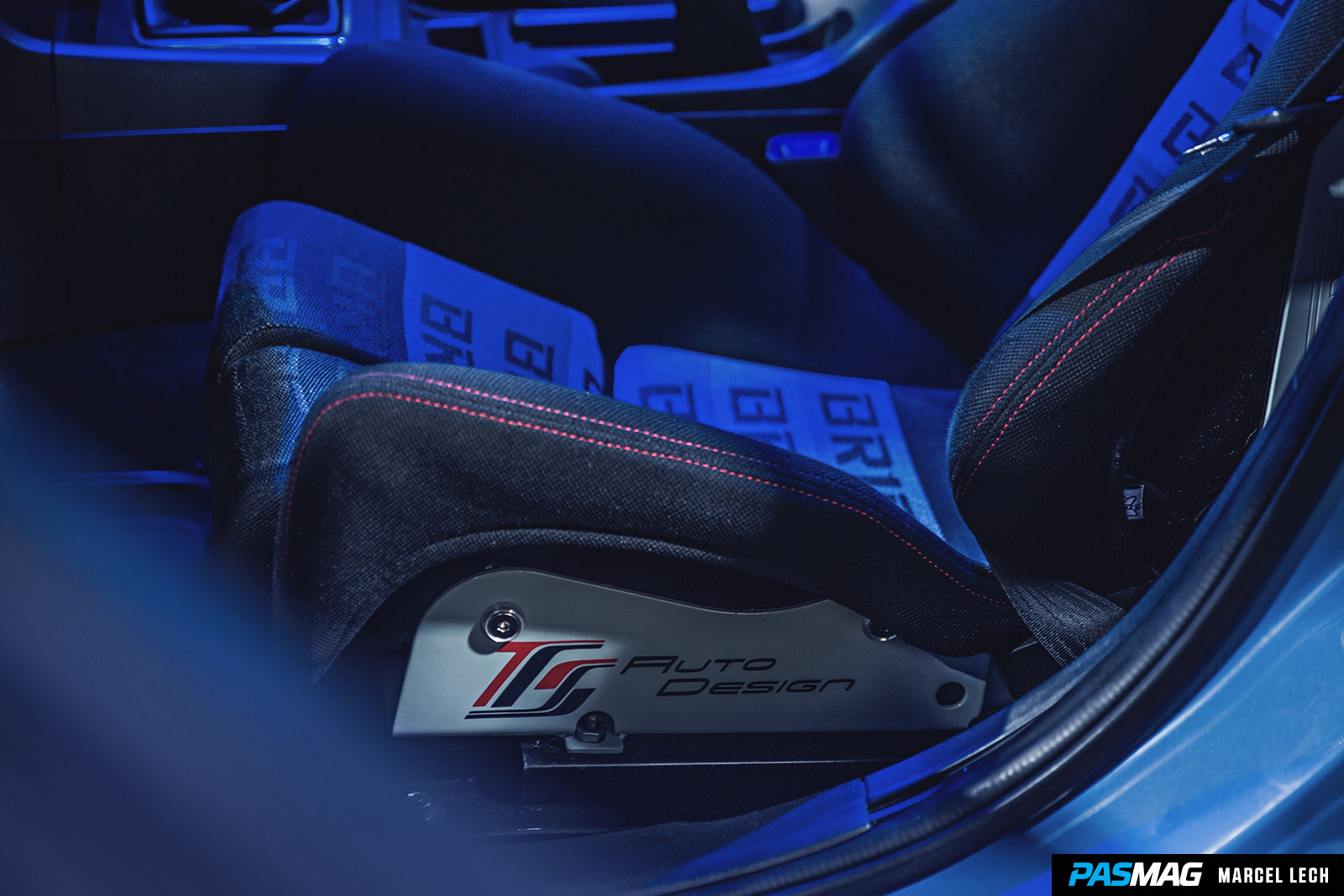 There's no shortage of custom lighting either. The headlights are blacked out with 6000K HIDs, as well as LED lighting by the license plate, parking lamps and throughout the interior. Inside, you'll also find a Bride Low Max driver seat, Recaro passenger seat and a Blox Racing shift knob. Sony, Metra and Rockford Fosgate take care of the audio.
Thanks to some assistance from Dumores Collision and Evolution Auto Repair, as well as the support from his friends at Vancouver Fitted, Statik Kings and F7LTHY, Gabriel and his Evo X have joined the rank of champions with their first win at Tuner Battlegrounds: Vancouver International Auto ShowVancouver International Auto Show.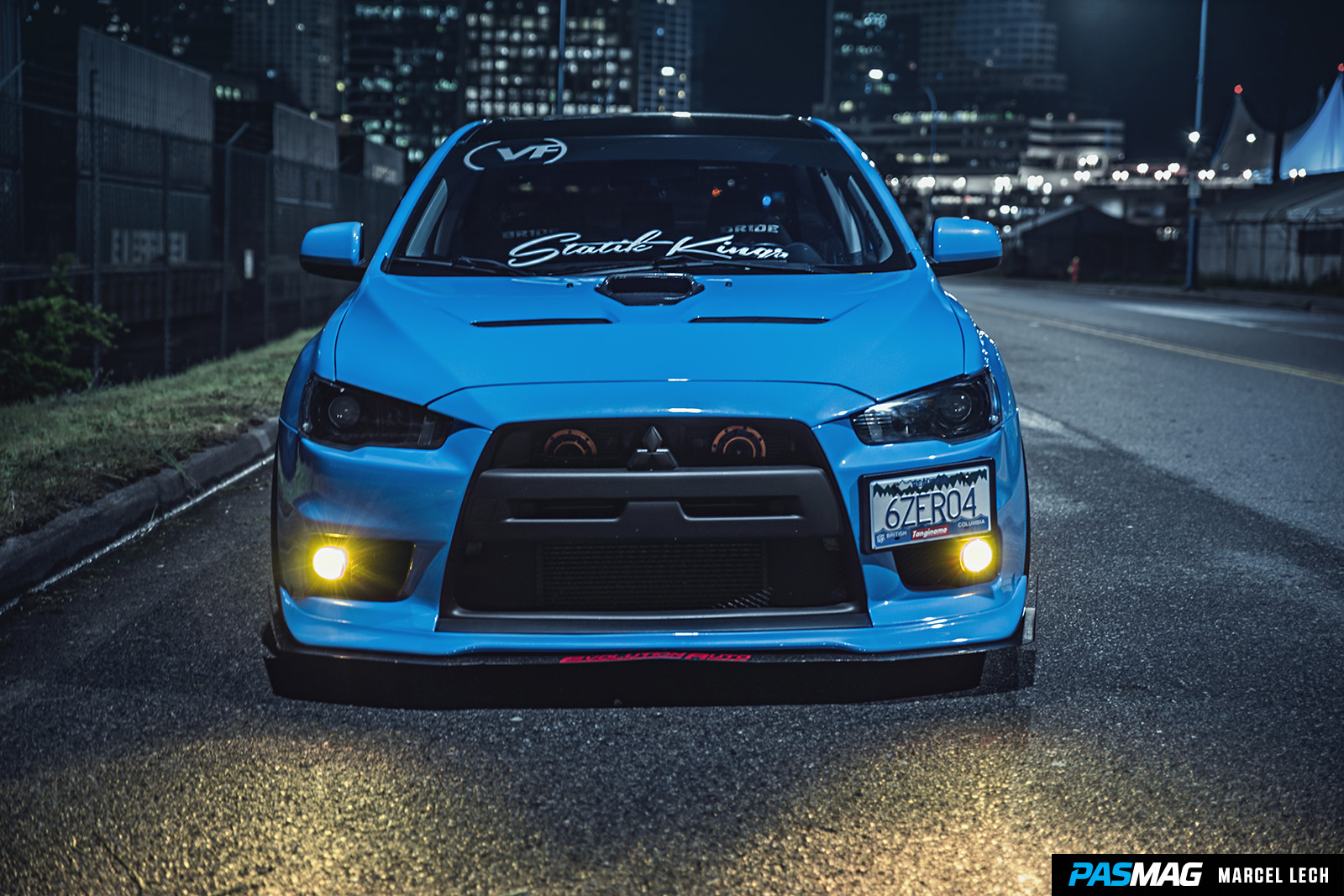 #TBGLIVE WINNER | VANCOUVER INTERNATIONAL AUTO SHOW (VANCOUVER, BC)
TOTAL VOTES: 879
POPULAR VOTE: 57%
REACH: 119,669
IMPRESSIONS: 126,743
@tunerbattlegrounds @vanautoshow @drivemarketinggroup
ESSENTIALS
OWNER: Jules Gabriel
VEHICLE: 2008 Mitsubishi Lancer Evolution X
LOCATION: Burnaby, BC, Canada
CAR CLUB: Vancouver Fitted, Statik Kings, F7LTHY
ENGINE: Mitsubishi 4B11T 2.0L I-4
HORSEPOWER: 319 hp
TORQUE: 320 lb-ft
SOCIAL
Facebook: Jules Gabriel
Instagram: @6zero4_cz4a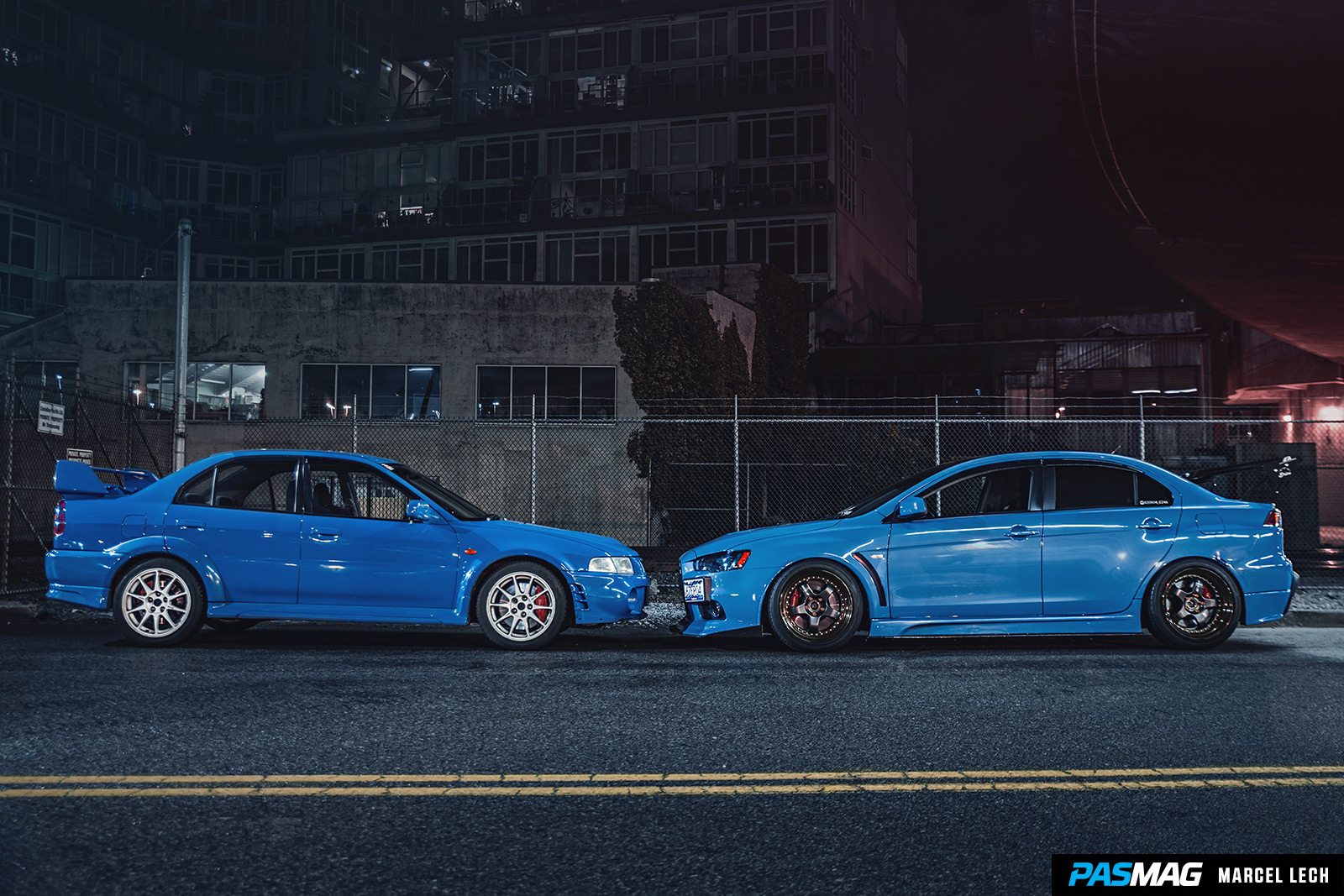 ENGINE

K&N (short ram intake upper intercooler piping)
PERFORMANCE ELECTRONICS
EXHAUST
Invidia (4-inch down-pipes, test pipe)
GReddy Ti-C 4-inch cat-back exhaust system
DRIVETRAIN

Exedy (Stage 2 clutch, lightweight aluminum flywheel)
Torque Solutions (solid differential bushing w/ urethane inserts, short shifter)
WHEELS/TIRES/BRAKES

Work Meister S1 3-piece wheels – 18x10 +31 (f), 18x10 +30 (r)
Bridgestone Potenza tires - 255/45 R18 (f/r)
Brembo brakes
CHASSIS/SUSPENSION

Stance Super Sport coilovers
EXTERIOR

Yas Marina Blue paintjob
APR carbon fiber (front lip, GTC200 wing)
Forcewerkz (side skirts, rear diffuser)
Rexpeed (rear bumper side extensions, carbon fiber hood scoop, canards)
AeroFlow Dynamics front splitter
Rolled fenders
Front grille delete
LIGHTING

LED lights (interior, license plate, parking lamps)
6000K HID headlights
Blacked-out headlight housings
2300 Nokya fog lights
Yellow fog light housings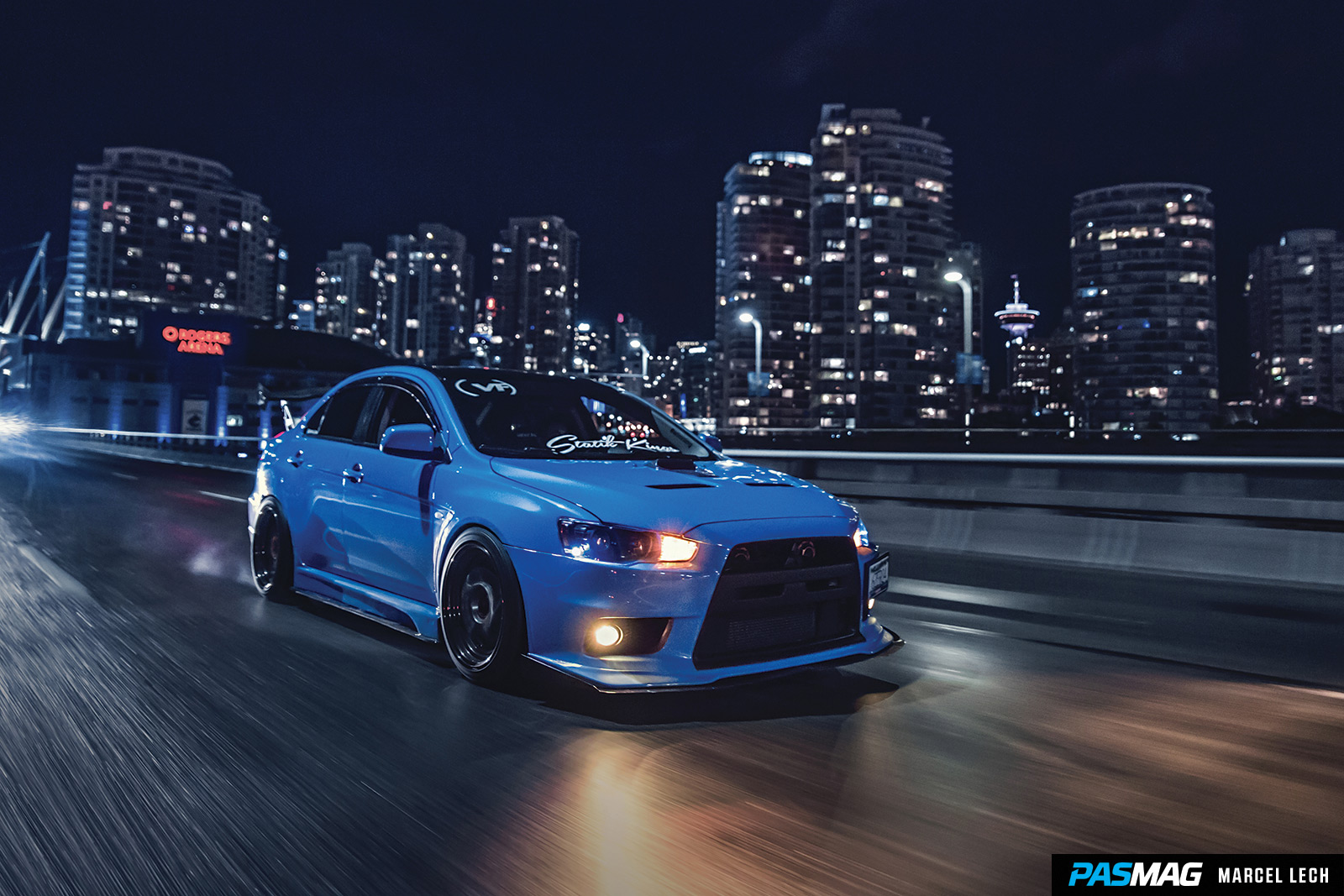 INTERIOR

Bride Low Max driver seat
Recaro passenger seat
Blox Racing shift knob
AUDIO & MULTIMEDIA

Sony head-unit
Metra bypass module
Rockford Fosgate (10-inch subwoofers, speakers)
Contributors: Adam Steinberg, Marcel Lech