Believe it or not, but Nick Cosentino had modest ambitions when he set out to modify his 2012 Audi TT RS: wheels, wrap and suspension.
Obviously, the result went far beyond that. So, what happened, Nick?
"I had the car wrapped at this local shop and when it was done, [the shop owner] asked if it'd be cool to have it at a local car show, Berlin Klassik. I had never been to a car show, nevermind having my car in it, so I thought it would be cool. Paul was the owner of the shop, and I blame him for starting my bad habits with car modifying! I think if I hadn't attended that car show I wouldn't have ended up here," he says.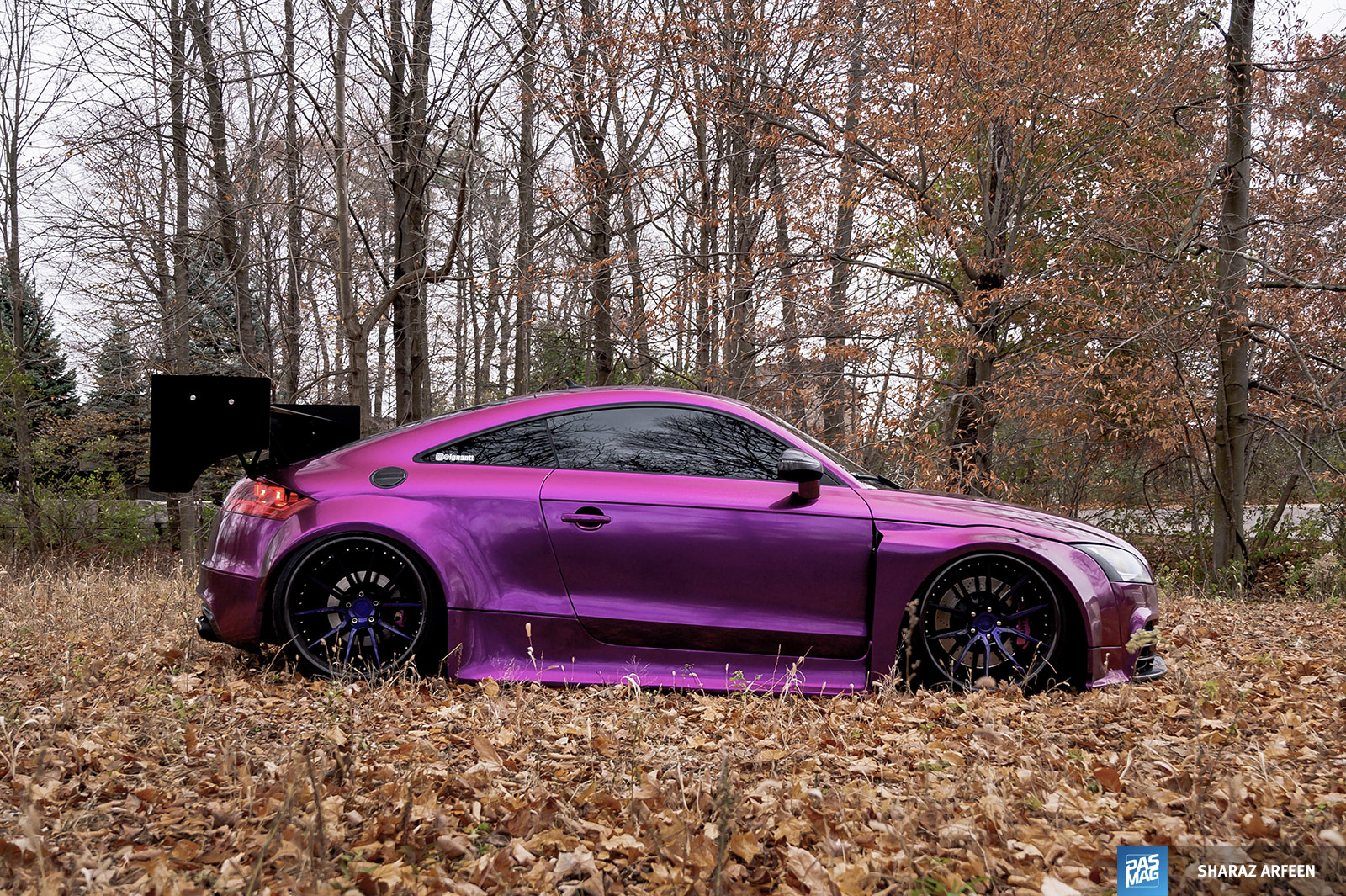 This second-gen TT RS isn't Nick's first German car. He previously owned a BMW 135i and wanted stay in small car territory, but his new ride had to check several boxes: all-wheel drive, lots of power and uncommon. It didn't have to be German, but that would be a bonus. Nick settled on the second-gen TT RS, because it checks all boxes and has sharper styling over the previous model, a factor he really appreciates.
Nick had no prior experience modifying cars but was fortunate to be surrounded by talented people who helped turn his vision into reality. And a lack of experience pays off in other ways. "I come into this with very little bias about what's cool and trendy. I don't really know, and I don't really care to be honest. I've had a lot of fun just doing my own thing and it seems to have done well for placing at car shows as well!" he says.
Nick bought his TT RS in 2015 and wasn't too concerned about its colour because the planned to wrap it in matte red. The initial version of his build, dubbed Ignantt, had a mini-R8 look. It rode on bags and had a "wicked trunk setup" Nick says.
The current version of the car began to take shape about a year later and Nick says he wanted it to be more aggressive with a widebody kit, bigger wheels, a big wing spoiler, lots of carbon fiber accents and vertical, Lambo-style doors.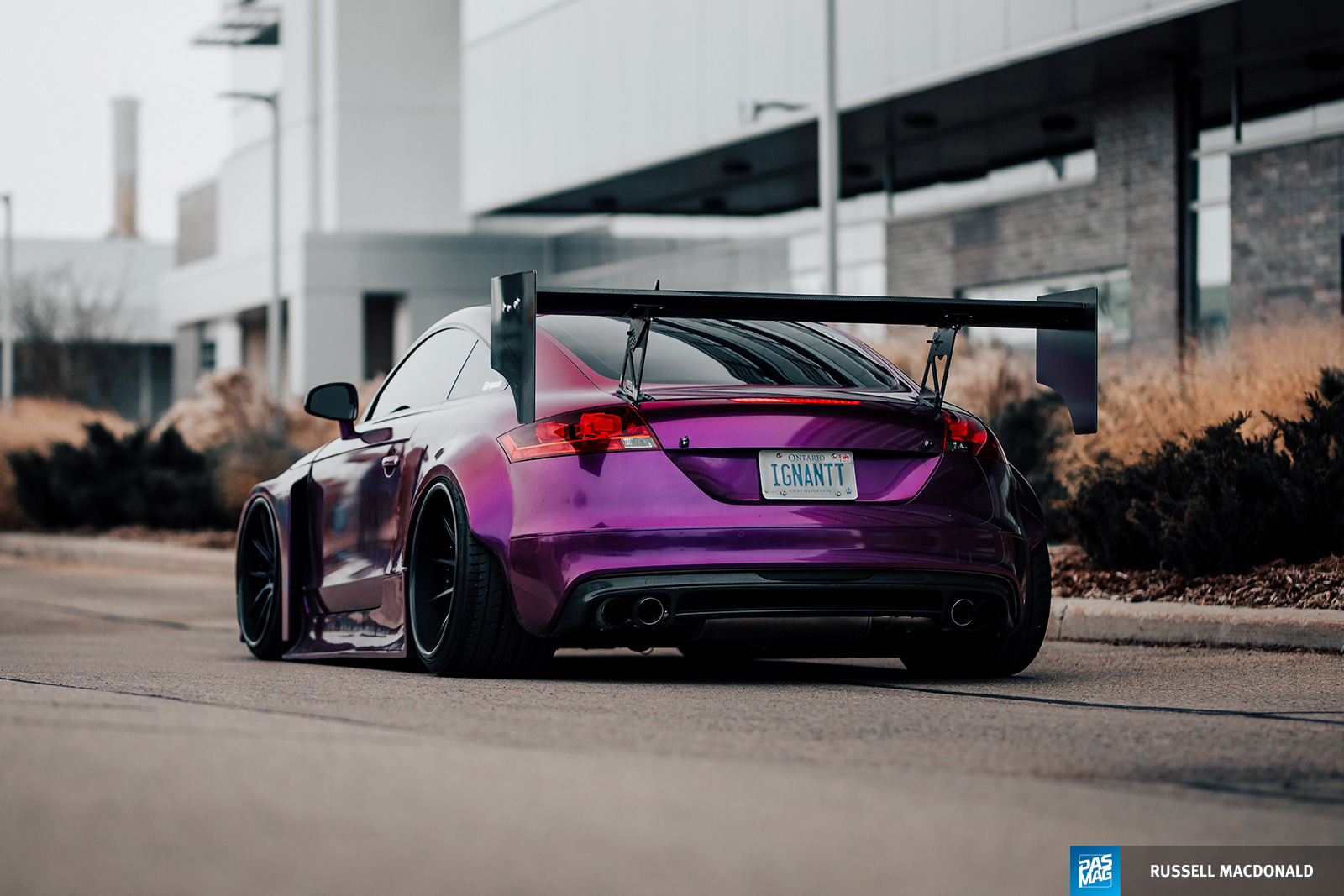 On the performance front, Audi's famed five-cylinder engine received a boost in output from a IMS1000 kit from Iroz Motorsports. The company has a proven track record of getting the most out of the 2.5-liter mill, as their 1,000 hp TT RS and RS 3s attest. The Iroz kit uses a Xona Rotor turbocharger which Nick says isn't as popular as other brands, "but the performance speaks for itself."
Getting the build to the finish line wasn't all smooth sailing, however. Nick says he lost almost three full seasons with Ignantt due to production delays and other unforeseen circumstances. He says that the car has been undriveable for roughly half of the time he's owned it.
And what held things up? A little bit of everything.
"It's literally the Murphy's Law of cars. Everything is expensive. Everything is delayed. Nothing ever goes right the first time… it's a headache. It's not any one person's fault, it's just a combination of picking a vehicle that's a bit of an oddball, poor timing, and some bad luck," Nick states.
Despite the setbacks, the car was finally ready late in the 2019 season. Nick reports that it was all made possible by the tireless efforts of the crew at Chopshop and Limitless Wraps. Others who really stepped up to make Nick's vision a reality include JP Power Coating and Incurve Wheels.
As for what's next for Ignantt, Nick says he's happy with the car's current state and doesn't have any plans for big changes apart from some touch-up work during the off-season, but future color changes could happen.
"This car has been a journey for me, but it might be time to start thinking about the next project as I take time to enjoy how far this TT has come," he says.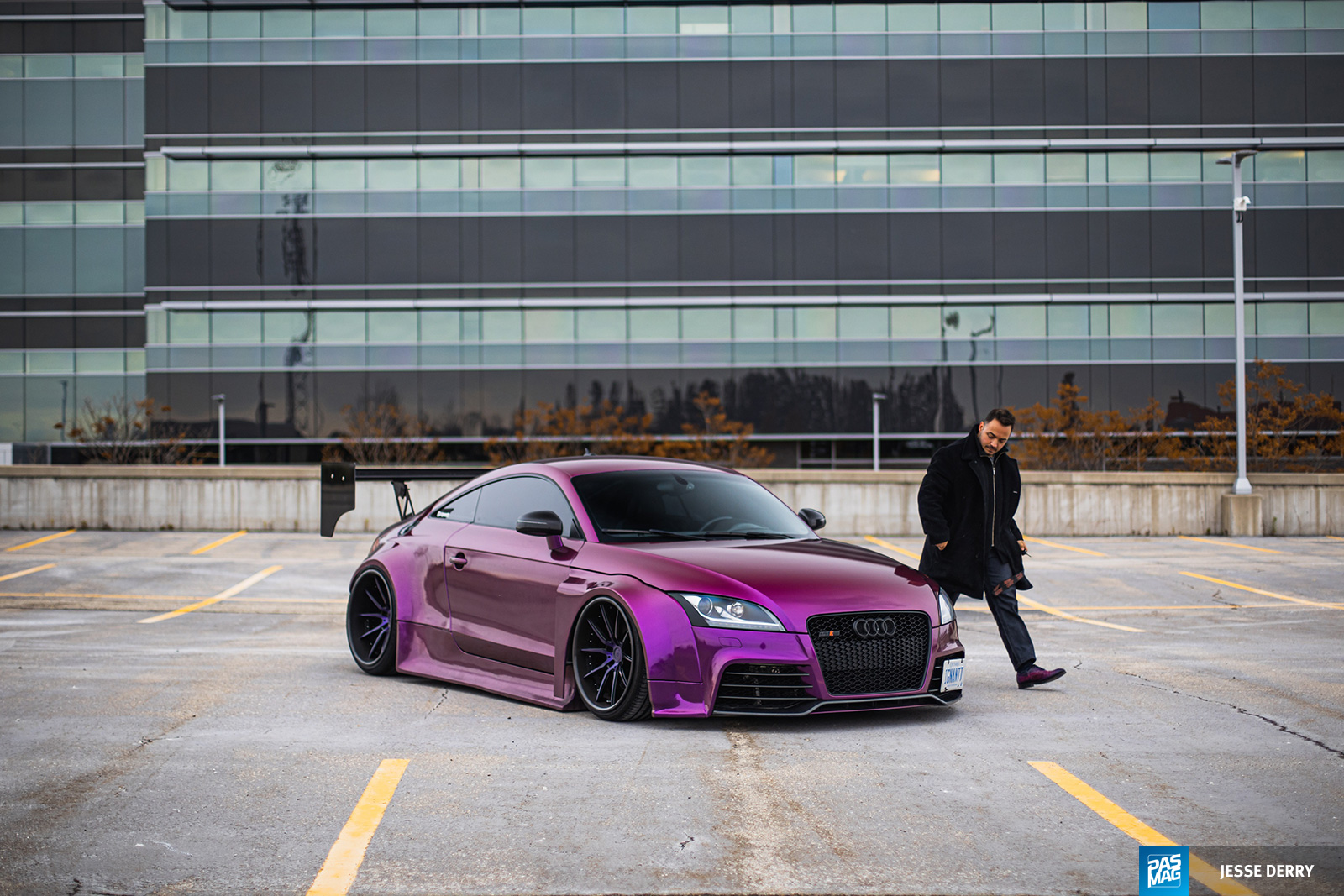 Nick Cosentino's 2012 Audi TT RS is featured in PASMAG #162. (Order Here)
Photography by Russell MacDonald (@basisvisuals), Jesse Derry (@dialed_in), Sharaz Arfeen (Primo Photography), Alex Lakatos (@frozenfraim)
---

ESSENTIALS

Owner: Nick Cosentino

Location: Waterloo, Ontario, Canada

Vehicle: 2012 Audi TT RS

Horsepower: 700


SOCIAL
Facebook: /ignantt

Instagram: @ignantt


ENGINE
IMS1000 Turbo Kit from Iroz Motorsports
Xona Rotor 95-67 turbo with T51-R mod
Fully built 2.5L 5 cylinder (rods, pistons, springs, etc...)
034 Motorsports Catch Can
Wagner EVO3 intercooler
Purple powdercoated block by JP Powder Coating
CTS Turbo air intake
EXHAUST
Iroz Motorsport 3.5" downpipe
Custom 3" mid-pipe setup
Quad-tip Armytrix exhaust with carbon tips
PERFORMANCE ELECTRONICS
Syvecs S7PLUS ECU
P3 Boost Gauge
Tuning by Lavigne Motorsports
DRIVETRAIN
WHEELS / TIRES / BRAKES
Incurve IF-M10 3-piece wheels with custom coating by JP Powder Coating, carbon-lipped; 20x11 (f), 20x13.5 (r)
Dual-coloured and custom branded Brembo brakes by JP Powder Coating
CHASSIS / SUSPENSION
Air Lift Performance Air Suspension
EXTERIOR
OSIR Design carbon trim (front lip, grill fins, rear valence)
APR Performance carbon rear wing with custom endplates and mounts
Teckwrap Passionate Purple wrap by Limitless Wraps
Vertical door hinges
Custom carbon fuel door
LIGHTING
LightingTrendz galaxy wheel rings
LightingTrendz underglow
LightingTrendz flow series strips for engine bay
LightingTrendz footwell kit
Sound-Activated LEDs for trunk display
INTERIOR
OSIR Design carbon trim (center console, instrument moon, glove box, door runner)
Custom carbon air vents
Custom carbon dash side panels
Custom audio/air display in the trunk by Chopshop featuring some beautiful hardlines
Dual air tanks coated by JP Powder Coating
Dual VIAR compressors
AUDIO / MOBILE ELECTRONICS
Kenwood Excelon head unit
Focal component speakers
Dual JL 12w6v3 subwoofers in custom sealed box
Alpine PDX 1.1000 amp
Alpine PDX 4.450 amp
SPONSORS
JP Powder Coating
Incurve Wheels
LightingTrendz
---
PHOTO GALLERY