The lack of aftermarket support for a platform can be a total bummer, especially when you want to thrash it, but those tough situations can also give way to some unique part swaps that end up making a build that much cooler. Harrison Roske's Mitsubishi Starion is one such example. Built to be a drift car, Roske had to be creative when it came to making his Starion a more reliable tire slayer.
Roske's Starion experience actually started with a Conquest, the Americanized version. A work friend's friend rolled up in a red, 1989 Chrysler/Dodge/Plymouth (pick one) Conquest that they had just picked up, though they weren't too sure if they'd keep it. Roske had never seen one before and offered to buy the car a few weeks later, enamored with the sharp, origami-like body lines. As the new owner of a defunct rust-bucket sportscar, he quickly figured out what he'd like to change: the handling and the engine reliability.
Unfortunately, the Conquest didn't last too long, but the car had left an impression on Roske, who chased down an '86 Starion soon after - green, crashed, and gutted - as a project. The Starion had some front-end impact damage and was picked over from a part-out by the owner at the time, but it was rust-free and Roske could see the potential, especially after he sectioned the front end, fixed a couple dents, and painted the whole thing in a wicked "Blazeberry" purple.
Seeking the reliability that his departed Conquest sorely lacked, Roske picked up a Craigslist deal 2JZ-GE. Originally, he thought a turbo would be the next eventual step, but after enjoying a drifting season with no engine issues, the Starion has stayed NA since the swap's key was turned. Ironically, the swap itself wasn't as easy. With no kits available for the chassis, Roske had to roll up his sleeves.
"My motor and transmission mounts had to be made by myself and the wiring was figured out by a couple friends that 'like wiring' - weird," he chuckles. "Some bits needed some fabrication to fit right, though I'm sure one could say that of any swap. I went through ordering and fitting three different exhaust manifolds before finding one that fit, though I still had to modify it to fit properly."
The other sore spot on the car was the handling, and while it was on coilovers, they needed a refresh and new bushings were looking like finding buried treasure. Then, the diff blew, which would be an even harder replacement.
One night in the shop, however, everything changed. One of Roske's friends/shopmates/teammates mentioned how rad it would be if the Starion could use an S-chassis diff and suspension, then followed up that thought with, "you know, we have a rear subframe upstairs…" After tons of measuring and help with fabrication, Roske was ripping around in the most responsive and reliable Starion around. "My teammates, Dirty Love, were definitely a sounding board for me, especially Sam and Chris," Roske says of his influences. "Inspiration also came from watching old drift videos on YouTube. AE86-style driving and styling have been a hit for me - little wheels, low power, and aggressive car handling."
With the total package exactly how he wanted it and more, Roske is focused on enjoying his Starion to the fullest, and he's not the only one. His wife, who originally loaned him some cash to buy that '89 Conquest back in the day, has made a deal between them that the "origami car" stays around until it's crumpled or taken over by their kid. If that's not real love, I don't know what is!
Harrison Roske's 1986 Mitsubishi Starion was featured in PASMAG #165. Click here to order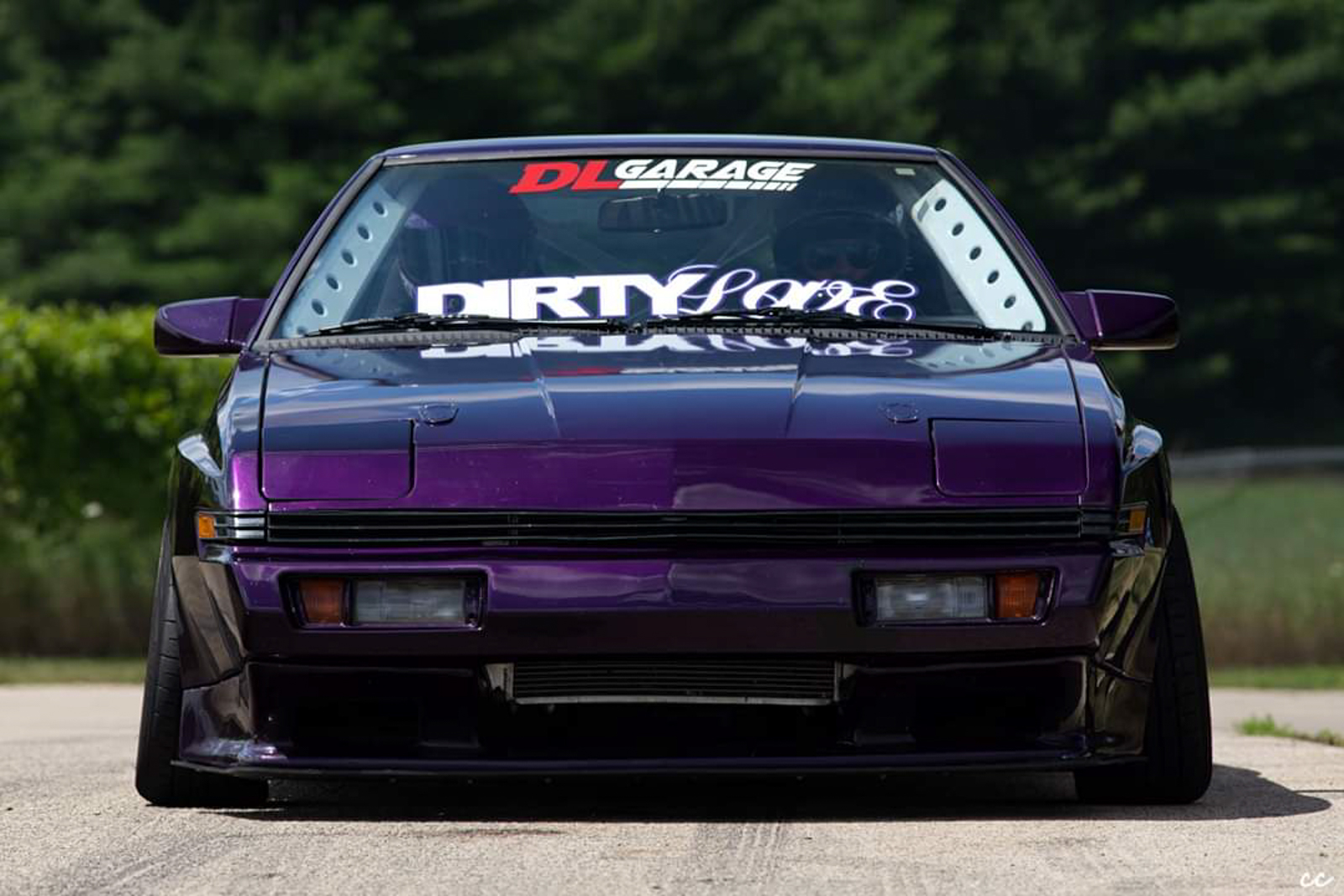 ---
PHOTOS BY Colin Cook (@colin_cook), Alex Nagy (@tracermedia)
ESSENTIALS
Owner: Harrison Roske
Location: Faribault, MN
Vehicle: 1986 Mitsubishi Starion
Engine: Toyota 2JZ-GE 3.0L I6
Horsepower: 180 (est.)
Club: DirtyLove
SOCIAL
Instagram: @dirtylove_harry
ENGINE
Toyota 2JZ-GE engine swap
EXHAUST
Custom 2.5-inch exhaust system
DRIVETRAIN
Toyota Mk3 Supra W58 transmission
Custom driveshaft
ACT clutch
Nissan R200 welded differential
WHEELS / BRAKES
Rota Grid Classic wheels - 15x8 (f), 15x9 (r)
ASD passthrough hydraulic handbrake
CHASSIS / SUSPENSION
Nissan 240SX (S13 steering rack, S14 rear subframe)
Stance S14 240SX coilovers
DLGarage (extended front lower control arms, modified knuckles, custom adjustable rear suspension arms)
MKS Motorsport bushings
Energy Suspension bushings
EXTERIOR
Blazeberry custom paint job
Custom (front splitter, body work)
INTERIOR
Bride style seats
Corbeau harnesses
DLGarage custom roll cage
Grip Royal custom painted wood steering wheel
GlowShift gauges
---
PHOTO GALLERY