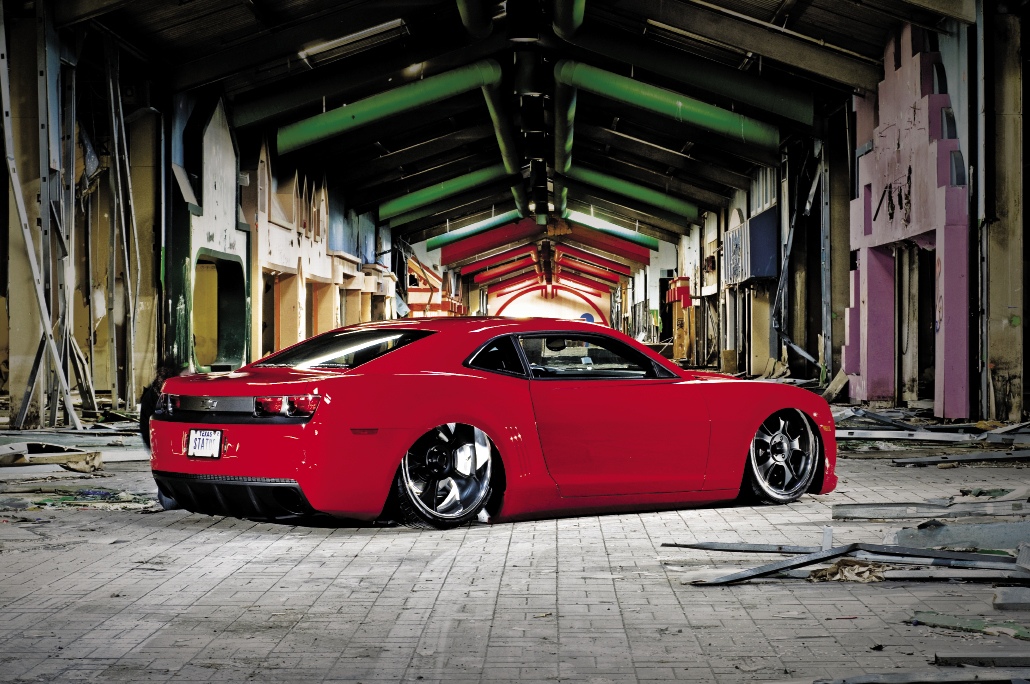 Written by Dave Pankew | Photos By John Jackson
The crew over at Status in Rockwall, TX wanted to create a SEMA project that would get noticed. The owners of the shop, Rich and Julia Stokes had to think outside the box and carefully choose the right vehicle and modifications before anyone else beat them to it.
The selection of the car was certainly unusual since both Rich and Julia had new 2010 Camaro SS' sitting in their garage. They were discussing a SEMA build and after realizing how unusual it would be to cut up a brand new Camaro, Julia had an idea. "Hell, use my Camaro, I haven't even driven it yet" she said. And so the project got underway. Outside, the shell received some of the most extensive work, as everything you see is custom built and fabricated. The doors were shaved of trim and side mirrors for a clean look. The filler neck was relocated to build a custom flip down license plate fuel door just like a '69 Camaro. Brian Vastine of Status got to work and smoothed all the lines to perfection before paint. The paint scheme consists of 12 stages to achieve the deep luster and custom accents.
The whole rear of the car was back-halved with tubing and the independent rear suspension was narrowed 7.5-inches, and the cradle was moved up 5-inches. It was the only way to accommodate a set of Bonspeed Vinspeed wheels sized at 22 x 8.5-inches (front) and a massive 24 x 10-inch (rear) with Toyo Proxes ST tires.
At the core of the build is the Pro Charger system that transforms the big 6.2 LS3 Chevy V8 from mild to wild. The Pro Charger kit comes complete with an intake, intercooler and blow-off valve along with larger injectors. The net horsepower is estimated to be in the 650hp range!
The audio and multimedia install features some of the finest Memphis Car Audio products. A Memphis Car Audio 16-EQ P4 and a 16-6ix processor stem from the factory head unit to a Memphis Car Audio 16-MC5.1400 amp driving a pair of 16-MCP1054 10-inch subwoofers. A pair of Memphis Car Audio 16-MC5.1400 amplifiers feed 15-MCC6 component speakers. The speaker wires, fuses and distribution blocks are all Memphis Car Audio while the system is powered with a trio of bulletproof Kinetik HC1200 Power Cells and an intelligent 60A charger.
This Camaro project definitely turned some heads during its debut at SEMA 2009, considering the car bagged a 2009 SEMA Design Award for Best New GM exterior. Not an easy task to do, especially in the short weeks they had to get the car done. But considering what the car has done for them, their business and all of their partners, I'm sure Julia is happy she gave it up.