Although the Nissan 350Z is among one of the most potent and popular tuner cars out there, the revamped and redesigned 370Z has managed to make a great car even better! The aftermarket support and potential is undeniable for the 350Z, which means it was only a matter of time until we started spotting the new 370Z platform following in its footsteps. The 370Z represents a performance-per-dollar value that is hard to beat (about half the price of the GT-R), especially when you consider the countless aftermarket upgrades available for it.
Having had some seat time in the new 370Z last year, the verdict was quick and resounding; this is the best sports car for the money. But, for some Z enthusiasts the capable 332 horsepower just isn't enough. Tuner Mike Mixon is the man behind this insane 370Z, as his horsepower craving was simply out of control.
GT Motorsports (GTM), based in Rancho Cucamonga, CA have been rewriting the rules of Z performance with stroker kits and turbos pushing the VQ engines into the quadruple digits, and were ready to help Mixon realize his dream. "I've always wanted a super car, but really wanted to build one myself… The 370Z is an ideal platform to start with and has the classic lines of the original Z's but with a new motor capable of making some serious power," says Mixon.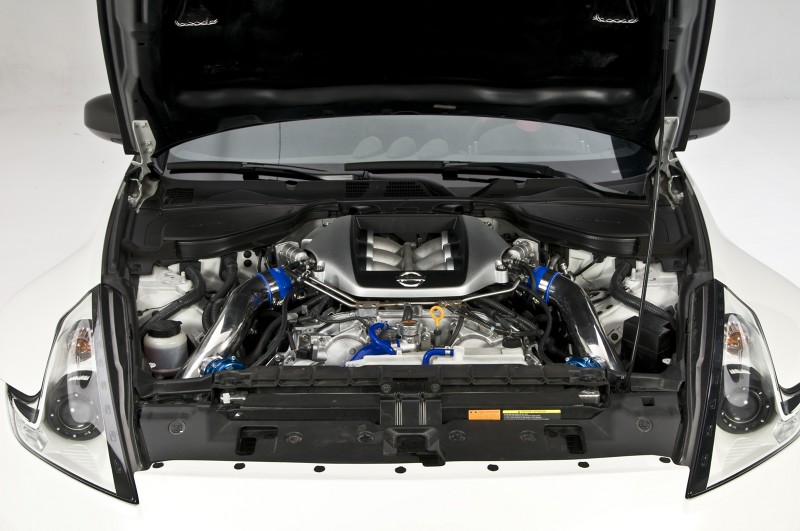 With that, the GTM crew tore out the brand new VQ37VHR and stroked the potent 3.7L mill to whopping 4.5L. The heads were ported and polished then filled with a full GTM valvetrain and titanium retainers. A GTM 4130 billet stroker crank was connected to Arias pistons with GTM billet rods. The Cometic headgaskets were then sandwiched under the heads with ARP L19 head studs. With the motor in check, GTM got to work installing their flagship Stage 6 twin turbo kit. Supporting mods included a GTM fuel system using a single stage of Bosch 2156cc injectors and a Nissan GT-R OEM intake manifold mounted with GTM's GTR Intake Manifold Conversion kit.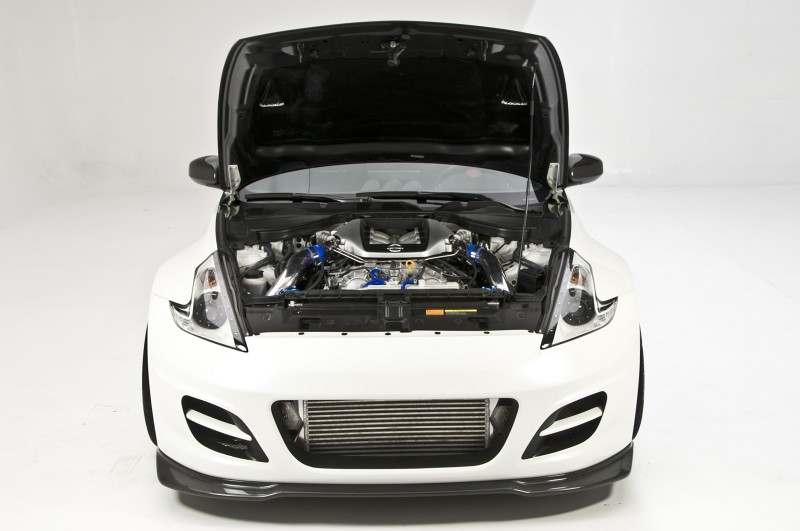 The GTM front mount is vented by a set of TiAl Q 50mm blow-off valves and the boost is regulated with twin TiAl 38mm wastegates hanging off GTM headers dumped into a stainless GTM system. The results were very impressive and enough to earn Mixon and GTM the title belt for a massive horsepower claim. The peak horsepower was over 1,000 at the wheels with an estimated 800lb-ft of torque!
All that jam needed to be harnessed, so Mixon added an OS Giken triple plate clutch along with an OS Giken LSD and Race Logic traction control system. The balance of the drivetrain, including the carbon fiber driveshaft is all Nissan. The Z is already endowed with unreal athleticism, but Mixon knew there was a bit more left in it. The Sport dampers were pulled in favor of HKS Hipermax 3 coilovers for advanced adjustability.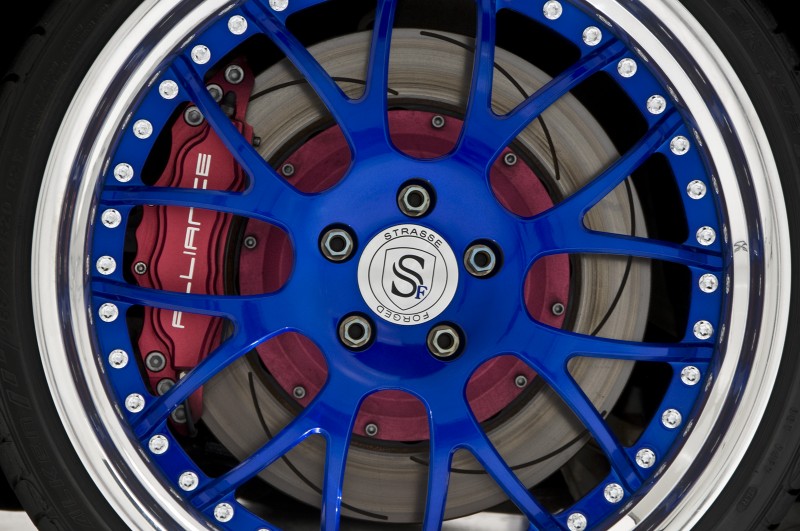 The connection to the road was critical and Mixon sourced a set of Strasse Forged SM8 forged wheels measuring 20x10-inch and 20x12-inches with insanely low offsets making the even most hellaflush followers jealous. Fitting under stock body work, the tires are Falken FK452s with Alliance 8-piston/380mm brakes featuring a 6-piston/355mm rear setup. The sultry lines of the 370Z are complimented by a rare Zele body kit straight from Japan thanks to the partnership with Zele Japan and Bulletproof Automotive this is the first Zele kit in the western world complimented by a Seibon TS-Style hood, carbon fiber mirror covers and pillar bar covers installed by Artcraft Collision.
Inside of the cockpit JPM Coachworks put together an outstanding interior retrofit in black suede and red Italian leather with black suede accents throughout the cabin. The OEM seats were replaced with Bride Gias and driving inputs are made with a Shutt S3R steering wheel and gear-banging Shutt ME01 Elegance shift knob.
For audio, Mixon decided to design a fully featured MB Quart sound system. The OEM navigation unit connects with an MB Quart ONX500 mono amplifier to a pair of MB Quart RLP254 10-inch shallow mount subwoofers to produce some solid thump. The mids and highs are directed to an MB Quart ONX4.80 4-channel amp driving a set of MB Quart PVI210 4-inch 2-way speakers and a set of PVI164 6.5-inch components. The stereo system was tuned to perfection using an MB Quart MX-1 High/Low level controller.
Mixon spared no expense on this project, as he accomplished his super car mission with a unique tuner twist. His 370Z pushes the kind of power to easily hang with the exotic Enzos, Zondas and possibly even Veyrons of the world. The Nissan 4.5L stroker displaces as much as many high revving V8s, but has two turbos hanging off it to really seal the deal.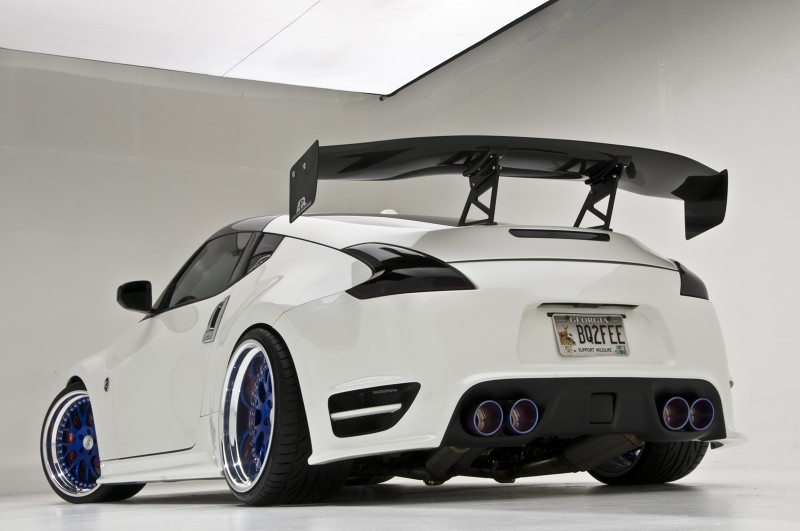 ---
ESSENTIALS
Owner: Mike Mixon
Location: Duluth, GA. USA
Vehicle: 2009 Nissan 370Z
Power: 1,000whp (est.)
ENGINE MODIFICATIONS

GTM 4.5L Stroker VQ37VHR V6
GTM Stage 6 Twin Turbo Kit with GT35R Turbos
TiAl Q 50mm BOVs & 38mm Wastegates
GTM Competition Oil Cooler Kit
HKS Spark Plugs
FI Clinic Bosch 2156cc Injectors
GTM Stage 5 Fuel System
ENGINE ELECTRONICS
HKS EVC6 Boost Controller
HKS CAMP2
HKS F-con Vpro tuned by GTM Motorsports
DRIVETRAIN

OS Giken Triple Plate Clutch & LSD
EXHAUST
GTM 3" Quad Exhaust with Titanium Tips
GTM 3-inch Downpipes
WHEELS / TIRES / BRAKES

Strasse Forged SM8 (Custom Candy Blue)
Falken FK 452 Tires
Alliance Big Brake Kit
SUSPENSION

HKS HyperMax III Coilovers
SPC Performance Camber Adjusters
EXTERIOR
Zele Japan Aero Kit
Seibon TS-Style carbon fiber hood
Seibon carbon fiber mirror & pillar covers
APR GT500 carbon fiber wing
INTERIOR
Bride Gias (custom covers)
Shutt Shift Knob
Shutt SE3 Steering Wheel
MULTIMEDIA SYSTEM

MB Quart ONX4.80 Amplifier
MB Quart ONX500 500W Mono Amp
MB Quart PVI210 4-inch Speakers
MB Quart PVI164 6.5-inch Components
MB Quart RLP254 10-inch Subwoofers
MB Quart MX-1 High/Low level Controller
SHOUTOUTS
GTM Motorsports, Zele Japan, Motoconnect, Avacado Studios, JPM Coachworks, Strasse Forged, Artcraft Collision, 180 Customs, Bulletproof Automotive, MB Quart, SPC Performance, Bulletproof Automotive
---
PHOTO GALLERY