Photography by Jacob Leveton.
---
Say what you will about the over the edge styling of VeilSide but sometimes they really hit the mark. As pioneers in the game, you can't fault them for leaving the safe zone of convention we see out there and just getting wild. And some of their creations really cause a stir, case in point the Fortune RX-7, one of the hero cars in FNF4. At first it seemed to be an attack on a car with styling that already is the sex. But as it sunk in, it became more apparent that the lines were truly outstanding and that conflicting 2-tone paint job popped up on everything from Lambos to Sunfires. So when we first clocked the VeilSide S15 adorned with Sakura trees (cherry blossoms) on the sides some critics scoffed but we knew, it was certainly going to be repeated.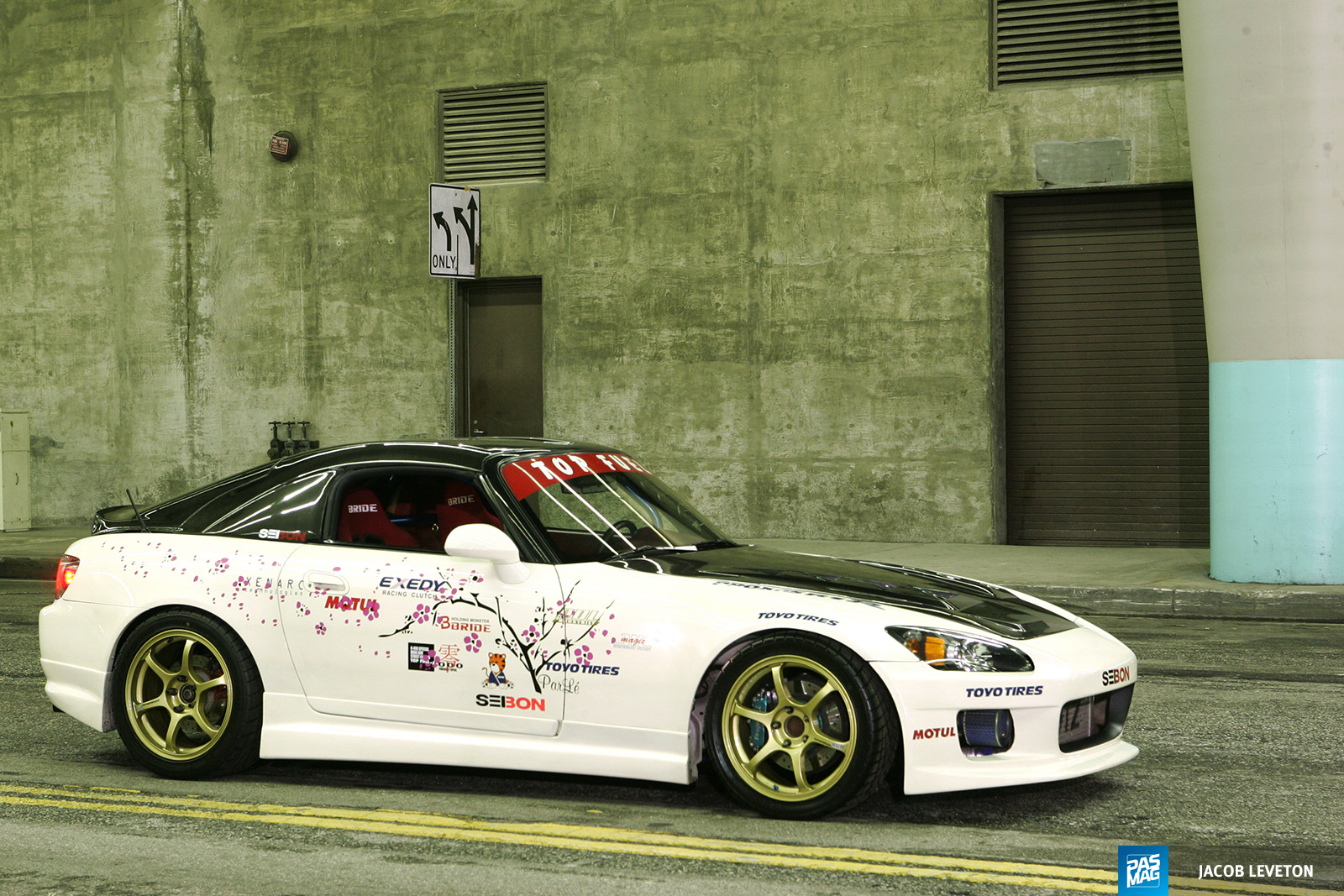 And then again, it depends on the quality of the car itself. When we first saw Greg Park's S2K it had changed a lot and figured we'd give it a chance and well, you can thank us later. This Sakura stunner has all of the right parts and that swept back carbon fiber hardtop Honda wished they made. Staring with GP Sports aero, the front sides and rear fins all boost the appearance of this car to new levels. A vented Seibon hood is matched with a Seibon carbon fiber trunk lid to complete the look with the roof. Now we know why there is a carbon fiber shortage. Spoon wide mirrors and a set of JDM clear sidemarkers bring this S2000 that much closer to Japan.
Power wise, Park didn't build one of those lame intake and exhaust efforts like you see elsewhere. Park isn't the type of guy to list a Spoon brake reservoir sock as a mod either.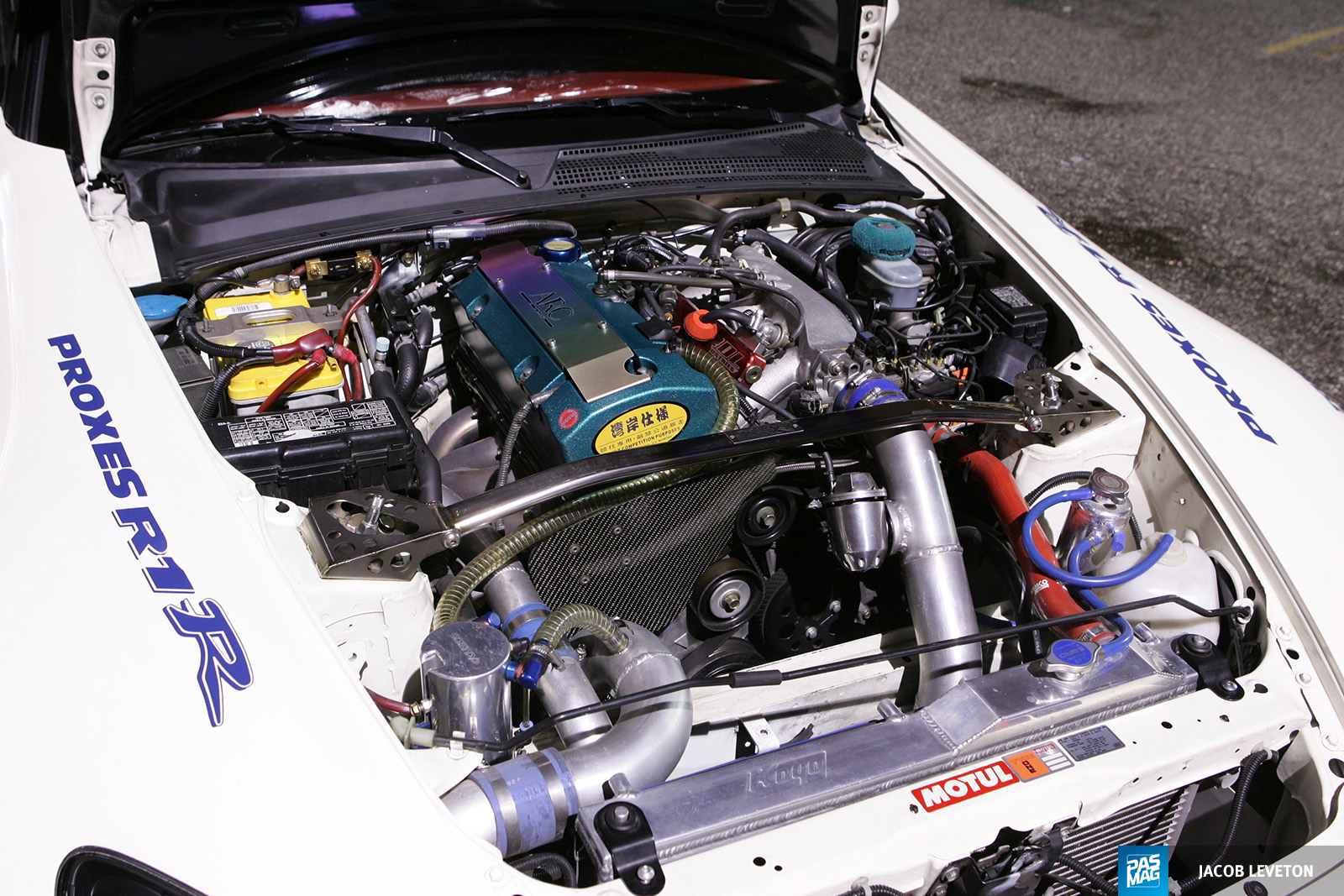 The motor was completely rebuilt with Darton sleeves, CP pistons and Cunningham rods bumping the compression down to 9.5:1 but the displacement up slightly to 2.1L. Alaniz did all of the headwork and sealed it all back up with ARP fasteners. Now here is where it gets funky, this S2000 has been blessed with a Top Fuel turbo kit based on the HKS 2535 turbo. The Top Fuel manifold provide the base for the turbine and the spend gas dumps into an A'PEXi N1 exhaust. The cold pipes are mostly custom unless we are talking about the Blitz front mount and HKS SSQV blow-off. The air gets pulled in though a SARD filter and gets introduced to high octane via four 770cc RC injectors mounted on a BDL rail.
The system has been converted to speed density and now runs a MAP sensor with a AEM EMS at the controls. After some late nights on the rollers, the car put down 346whp making it a real party in this lightweight and then to slap all the haters, the F20C coughed up 305lb-ft around 3000RPM. We've seen blown NSXs making less twist than that.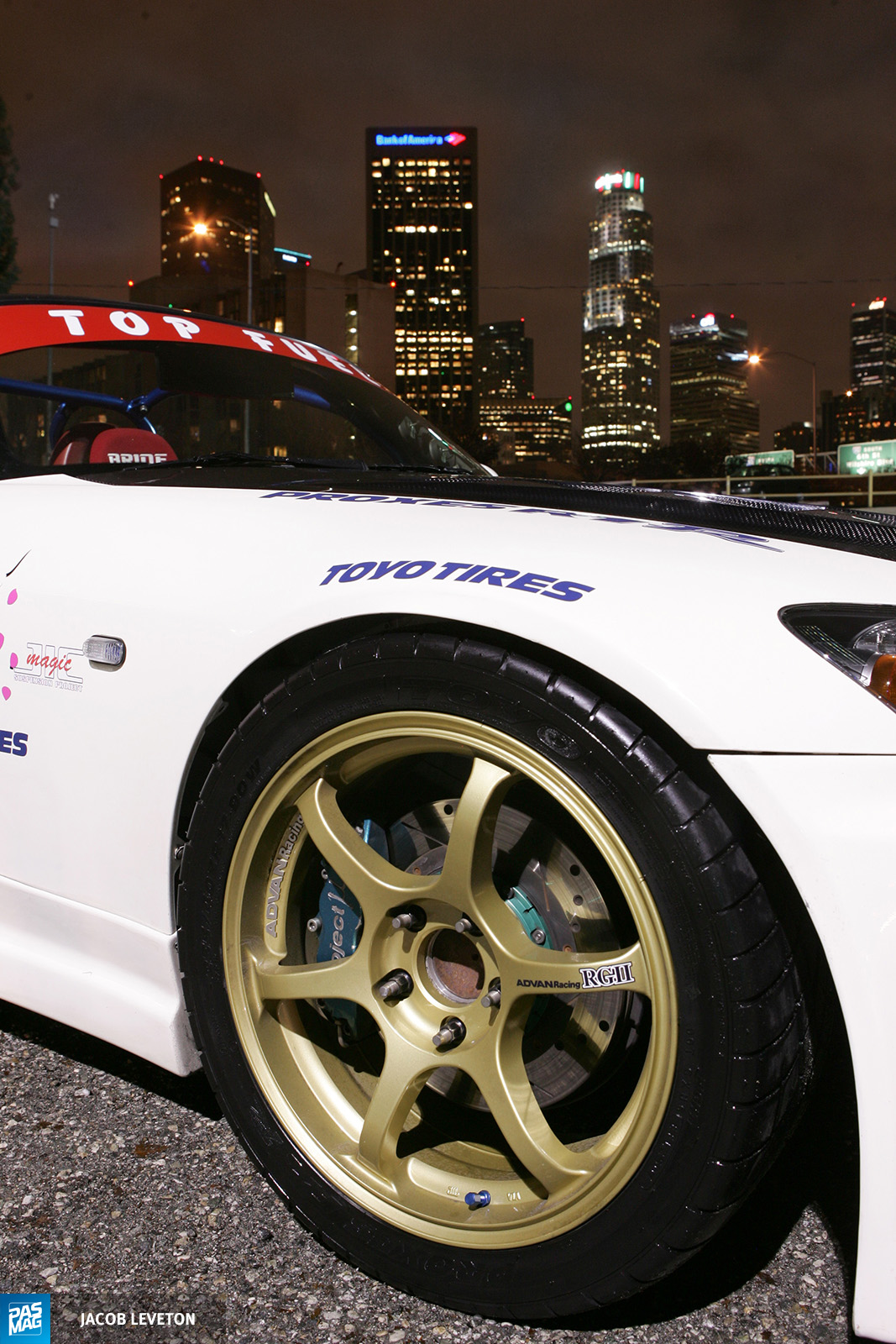 Rolling on some classic gold RGIIs from Advan, we knew Park didn't want to go over the top here. The Toyo R1R race rubber though is over the top, since he crammed 235/40R17 into the front and 255/35R17s into the rear. A nimble suspension is only made more phenomenal by JIC's FLT-A2 coilvers and Mugen sway bars. The chassis went stiff when a Spoon strut tower bar was added, Cusco under-brace and a 6-point cage tying it all together. When it comes to braking, you know Project Mu has your back. Park added some big-bore 4-pistons with 2-piece drilled and slotted rotors while simply swapping the pads and rotors in the rear for Project Mu.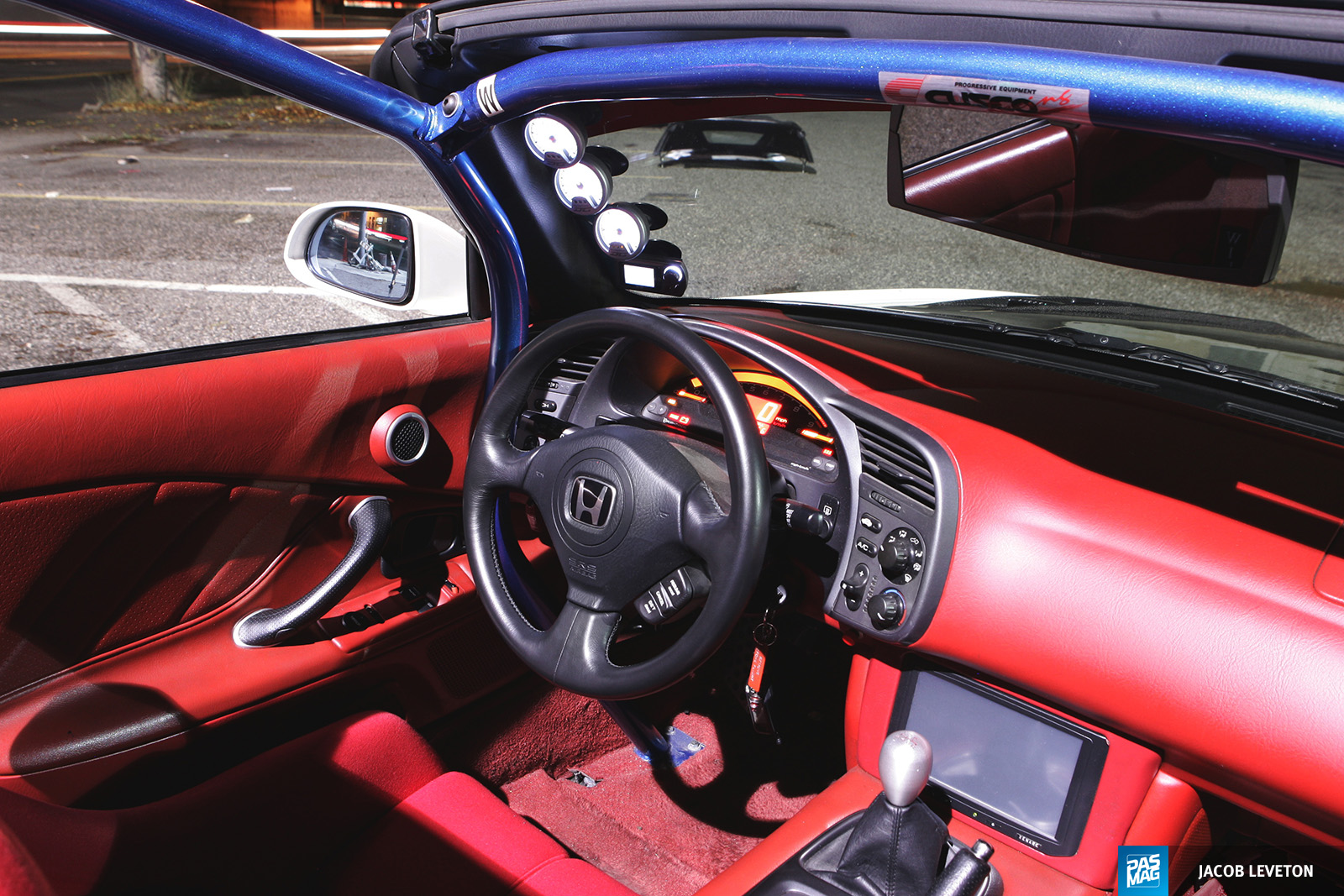 The tight cabin can be considered cramped by some or race ready by others. Park has a pair of Bride Exas III seats slipped past the cage with Willans 4-points to keep occupants inside. Ignited switches and purge button are at the ready, minus the "naws" of course. The Blitz gauges keep an eye on the engine duty incorporating: boost, water and oil temp up front. The boost is monitored by the Blitz SBC-iD boost controller tucked into the console.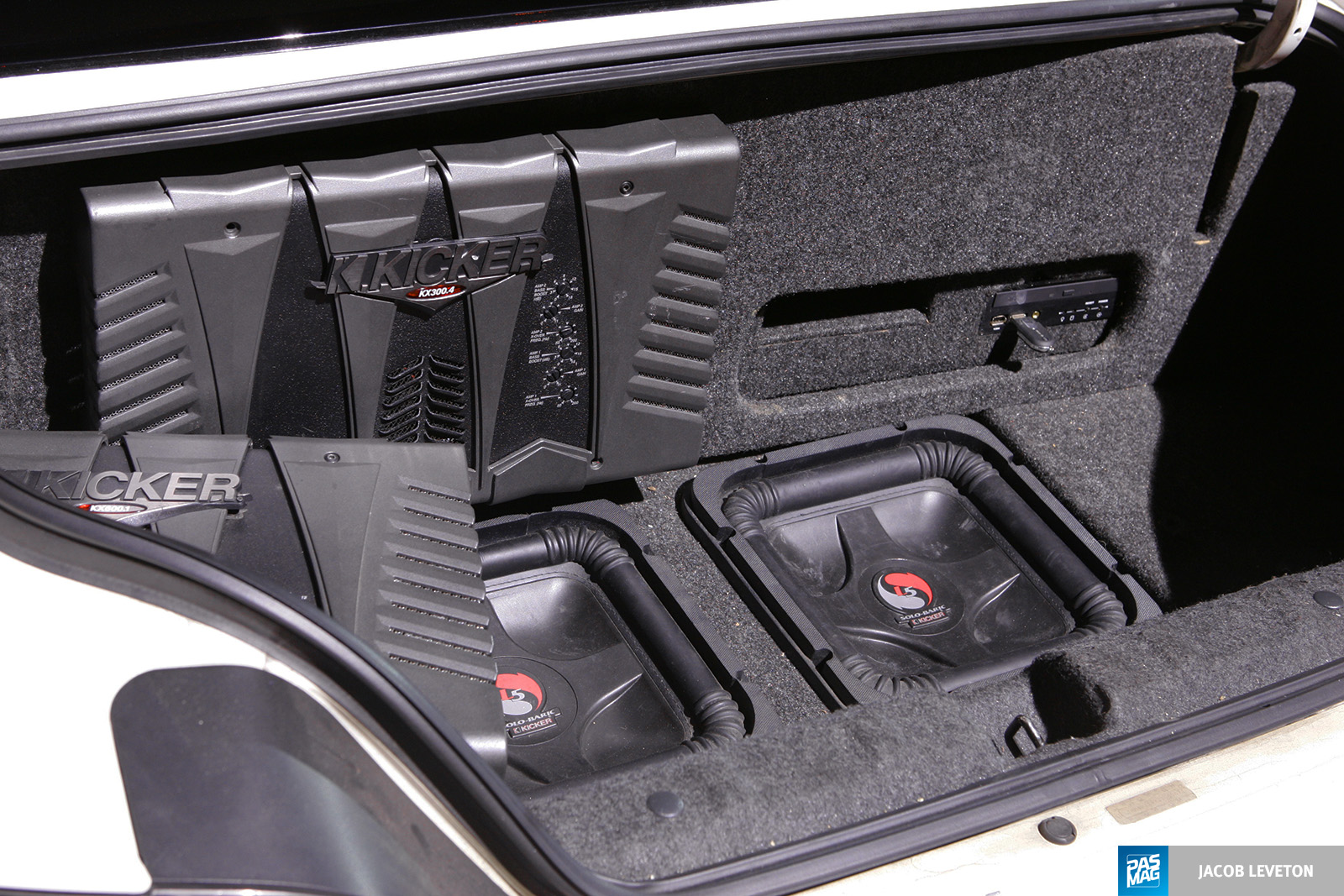 Some may say "I.C.E has no place in an S2000" while others will say "there is no place to put it in an S2000!" Either way, Park did it, the system weight is hardly recognizable considering his S2000 makes more torque than two of them. First off, a Xenarc 7-inch touchscreen monitor was sunk into the dash to power all the entertainment. There is a complete mini-PC integrated into the car powered by Pentium with 40GB of storage. The system is also fed by a Playstation2, a SAVV TV tuner and SAVV backup cam. The audio signals get fed out to Kicker 600Wx4 and 300x2 amps for their intended speakers. A pair of Kicker 10-inch L5 subs bump out the lows, while Sony component speakers tweak out the highs. And in such a tight space, the sound quality is hard to match, the speakers are almost on top of you.
This compact rocket is packing more than a handful for some of the faster cars out there. And best of all it gets driven hard, there isn't anything Park doesn't do in it. A run-of-the-mill S2000 might have a hard time fitting in if their feature ran in this issue. Sure there are enough pretty S2Ks around but few are going to run with this one.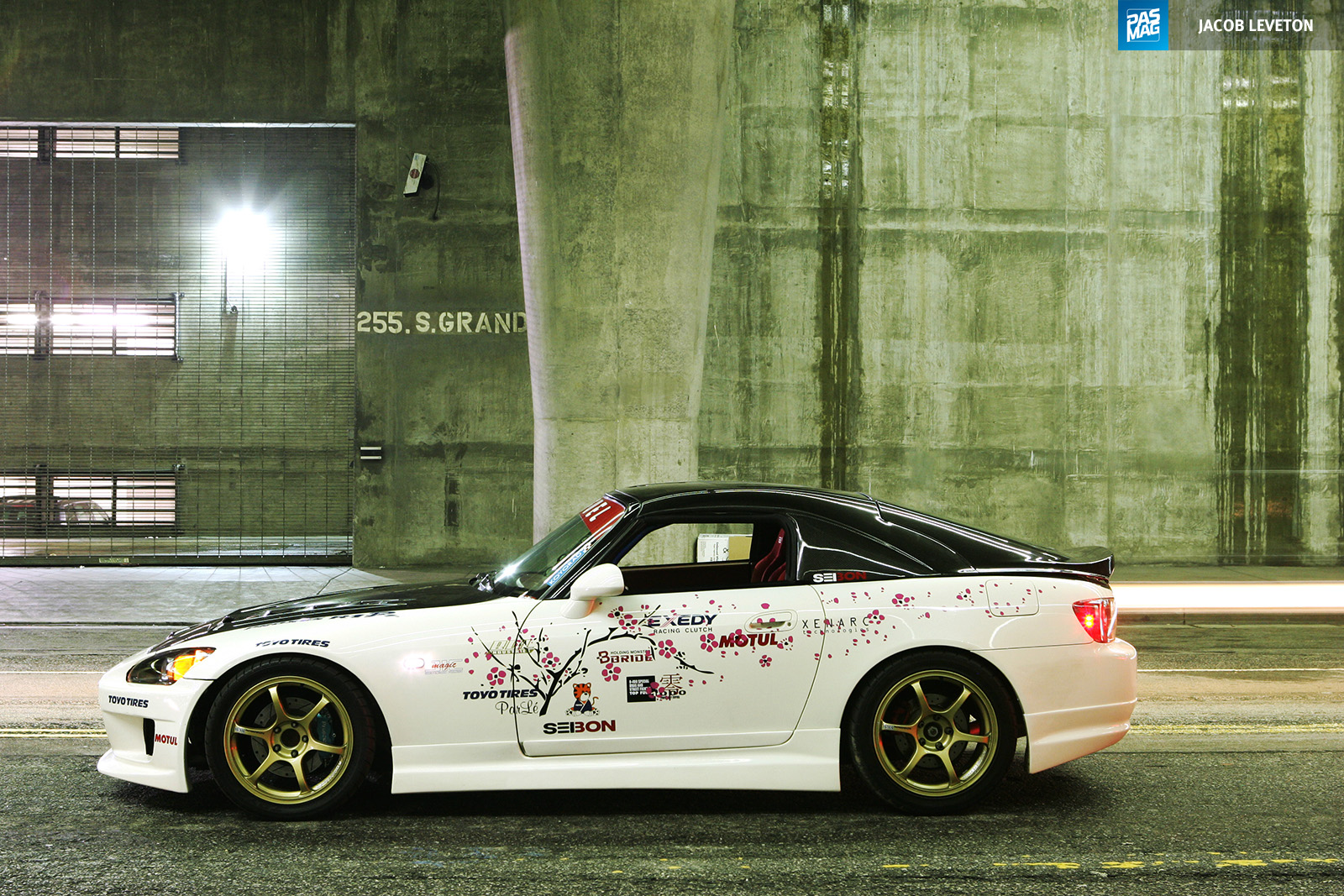 ESSENTIALS
Owner: Greg Park
Location: Los Angeles, CA
Vehicle: 2003 Honda S2000
Power: 346whp with 305lb-ft
ENGINE / PERFORMANCE
Honda F20C bored to 2.1L
Cunningham Rods
Darton Sleeves
CP Pistons
Alaniz Head Work
Top Fuel Turbo (GT2535)
Top Fuel Manifold
Top Fuel Fuel Magnet
Apex N1 Exhaust
SARD Air Filter
GReddy Oil Filter Relocation Kit
RC 770CC Injectors
BDL Fuel Rail
Samco Radiator Hoses
Blitz Front Mount Intercooler
HKS SSQ BOV
ARC Spark Plug Cover
Koyo Rad
Optima Battery
Top Fuel Manifold
B&M Oil Cooler
ENGINE MANAGEMENT
AEM EMS Standalone
AEM MAP Sensor
SUSPENSION
JIC FLT-A2 coilovers
Mugen sway bars
Spoon strut bars
EXTERIOR
GP Sports Front Bumper
GP Sports Sideskirts
GP Sports Rear Fins
Seibon MG Carbon Fiber Hood
JDM Clear Sidemarkers
Spoon Wide Mirrors
Seibon Carbon Fiber Trunk
Seibon Carbon Fiber Hardtop
INTERIOR
Bride Exas III Seats
Willans 4-Point Harness
Custom Molded Monitor
JDM Shift Knob
Blitz Boost Gauge
Blitz Water Temp Gauge
Blitz Oil Pressure Gauge
Blitz Boost Controller
Ignited Switches
Cusco 6-point roll cage
WHEELS TIRES BRAKES
Advan RGII 17-inch
Toyo R1R 235/40R17 front
Toyo R1R 255/35R17 rear
Project Mu slotted rotors
Project Mu 4-piston calipers
Project Mu pads
AUDIO / MULTIMEDIA
Xenarc 7-inch Touchscreen Monitor (Playstation 2, Mini 40GB PC)
10-inch L5 kicker Solo Baric Subs x2
Sony XPLOD Competition Components
Kicker 600.4 Amp
Kicker 300.1 Amp
Savv Rear View Monitor
Savv keyhole rear-view cam
Savv TV Tuner
PHOTO GALLERY