Photos by Jacob Leveton.
---
Imagine for a moment that you were handed $3,000 and given the freedom to spend it on anything you want. What would you do with it? Would you treat yourself to a well-deserved vacation, buy that new high-definition television you've been eyeing or maybe just stash the cash away for a rainy day? Personally, I'd hit jump on the nearest computer and continue my search for my perfect project car – a 1986 Toyota Corolla GTS. Though the car is well over 20 years old, I still consider it my unicorn and a few thousand dollars would definitely go a long way in getting a great specimen of the Hachi Roku in my garage.
Like its Nissan 240SX (Silvia) brethren, the AE86 Toyota Corolla rose up from the depths of obscurity and was catapulted into the industry spotlight thanks to the popularity of drifting in North America. Though the vehicle was considered a fine-tuned piece of Japanese machinery when it was initially released in the mid 1980s, tearing up circuits and rally courses all over Japan, it was the help of an animated delivery boy-turned-mountain racer (Initial-D) that the AE86 reached celebrity status.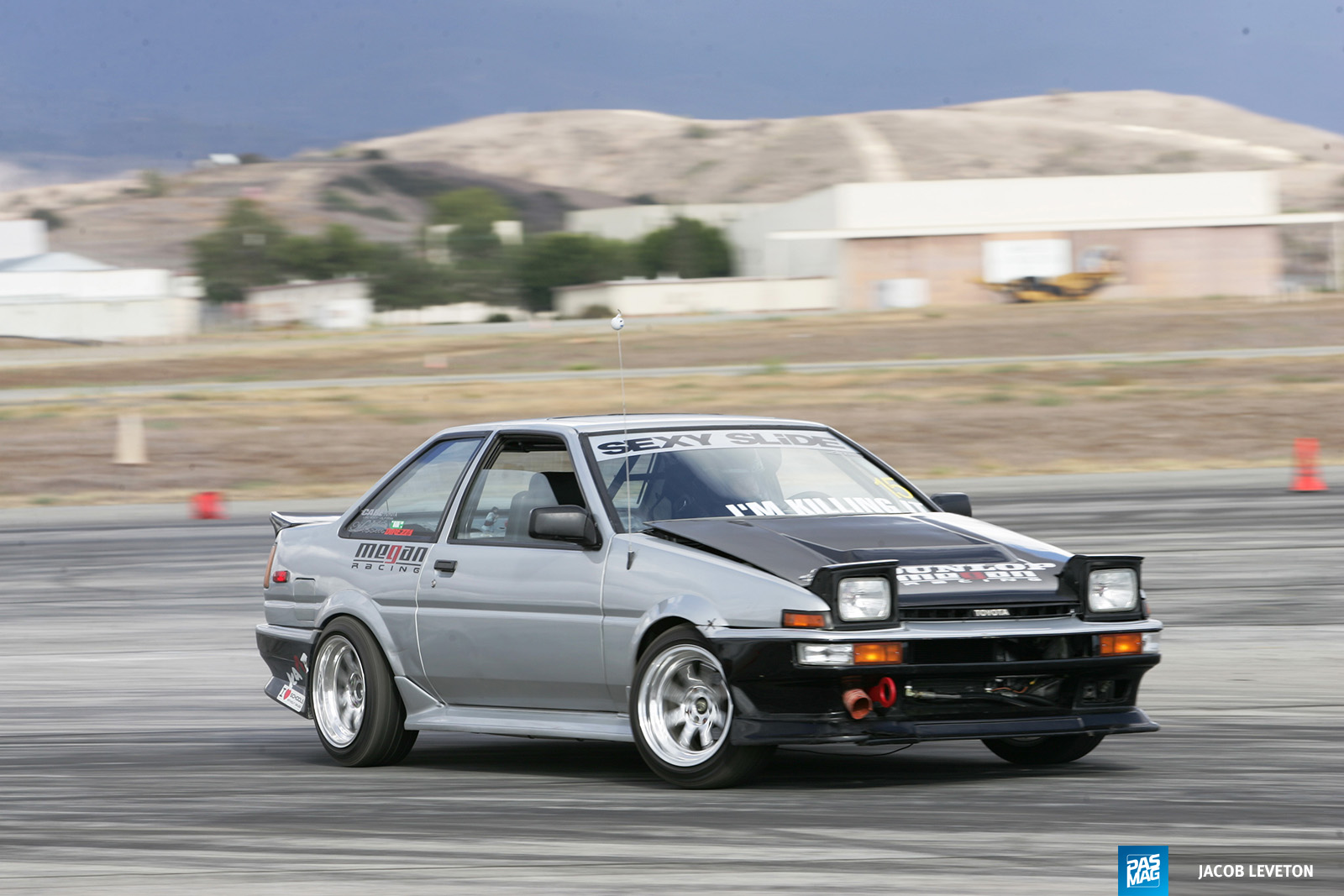 A 1986 Toyota Corolla in good condition is becoming a rare find these days, but we were fortunate enough to catch up with Cyrus Martinez to take a closer look at his coupe. Unlike the rust buckets that I'm used to seeing on Autotrader.com, this SoCal Hachi is in great condition and is built for the rigors of competitive drifting.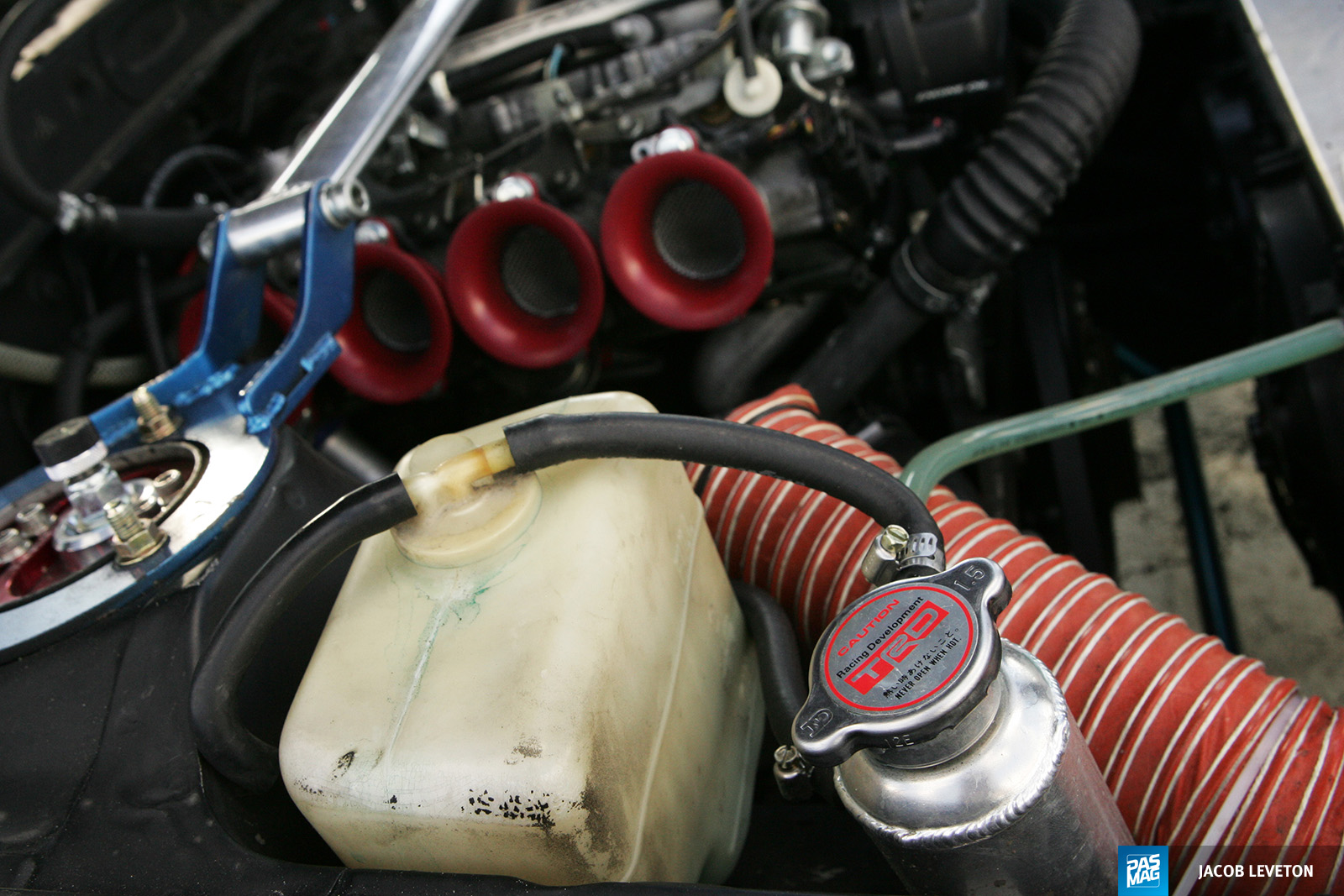 A peek under the hood is a sure sign that Martinez has done his homework, slipping a 20V 4AGE out of an AE111 to motivate the rear wheels. The car's new heart transplant was also accompanied by a set of Yamaha individual throttle bodies with Pass Racing stacks – a custom setup that will definitely wet your pants like your first-ever Playboy. The local Toyota legends at Danstoy Automotive hooked Martinez up with a high-rise exhaust manifold that guides the spent gases through the GReddy DD cat-back exhaust. A C&R radiator and custom double electric cooling fans help keep the temperature from rising too high, while a Haltech E6X ECU was tuned with precision to keep everything working in harmony.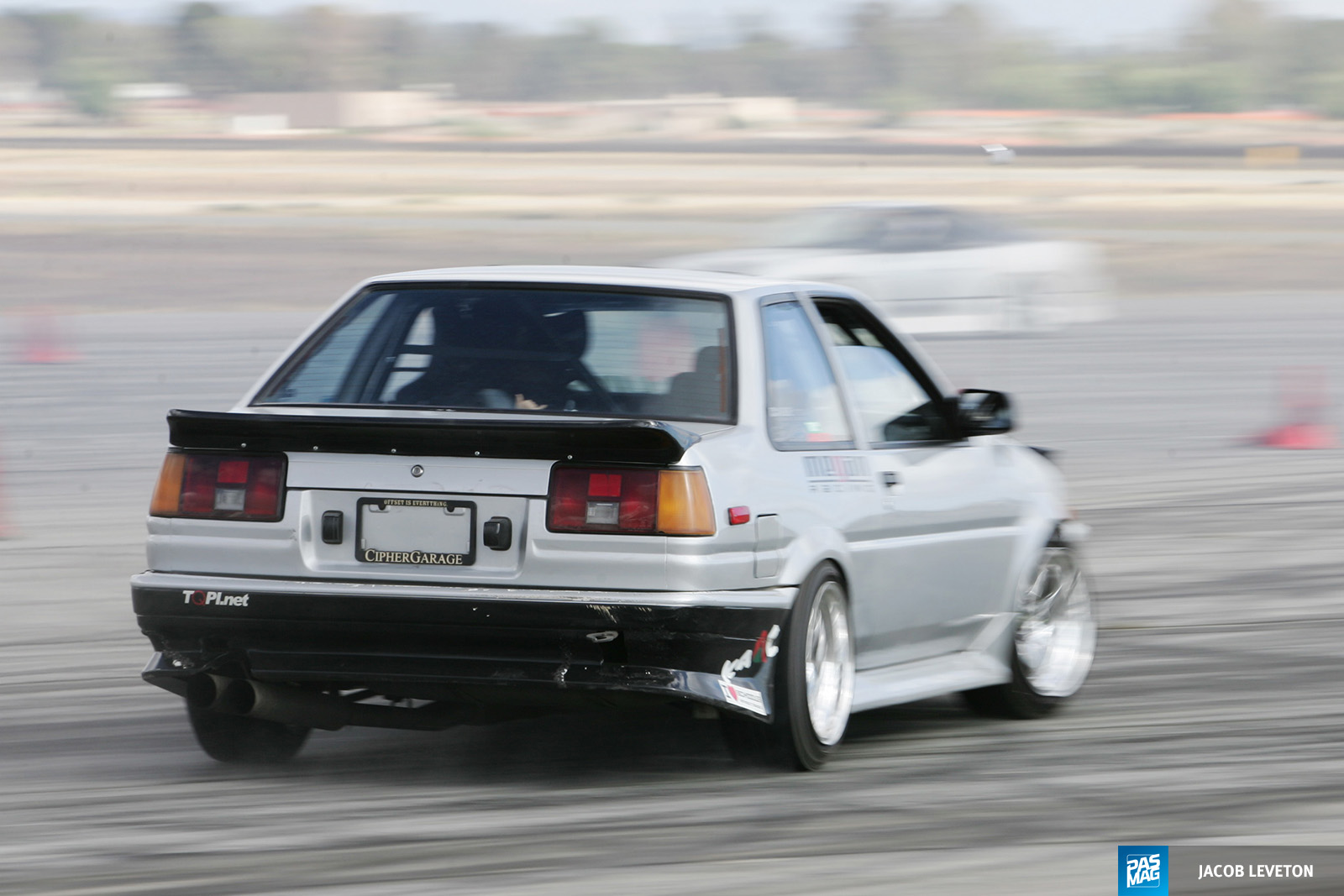 However, drifting is a sport that values grace just as much as power, so Martinez sought the assistance of the top players in the game to help is AE86 perform like it was a contestant on Dancing with the Stars. The folks at Battle Version came to the rescue, as the Corolla specialists produce a number of track-specific suspension products to get that geometry dialed in oh-so-right. Custom-built Megan Racing Track Spec coil-overs handle the damping and rebound, while Cusco bars in the front and rear help solidify the chassis.
The task of properly transferring the power from the motor to the wheels wasn't over-looked, as a TRD 4.778 Final Drive, ORC Hyper Single clutch / flywheel assembly, and an aggressive Kaaz two-way LSD enable Martinez to get this car dancing like it was Mario Lopez grooving to a latin beat.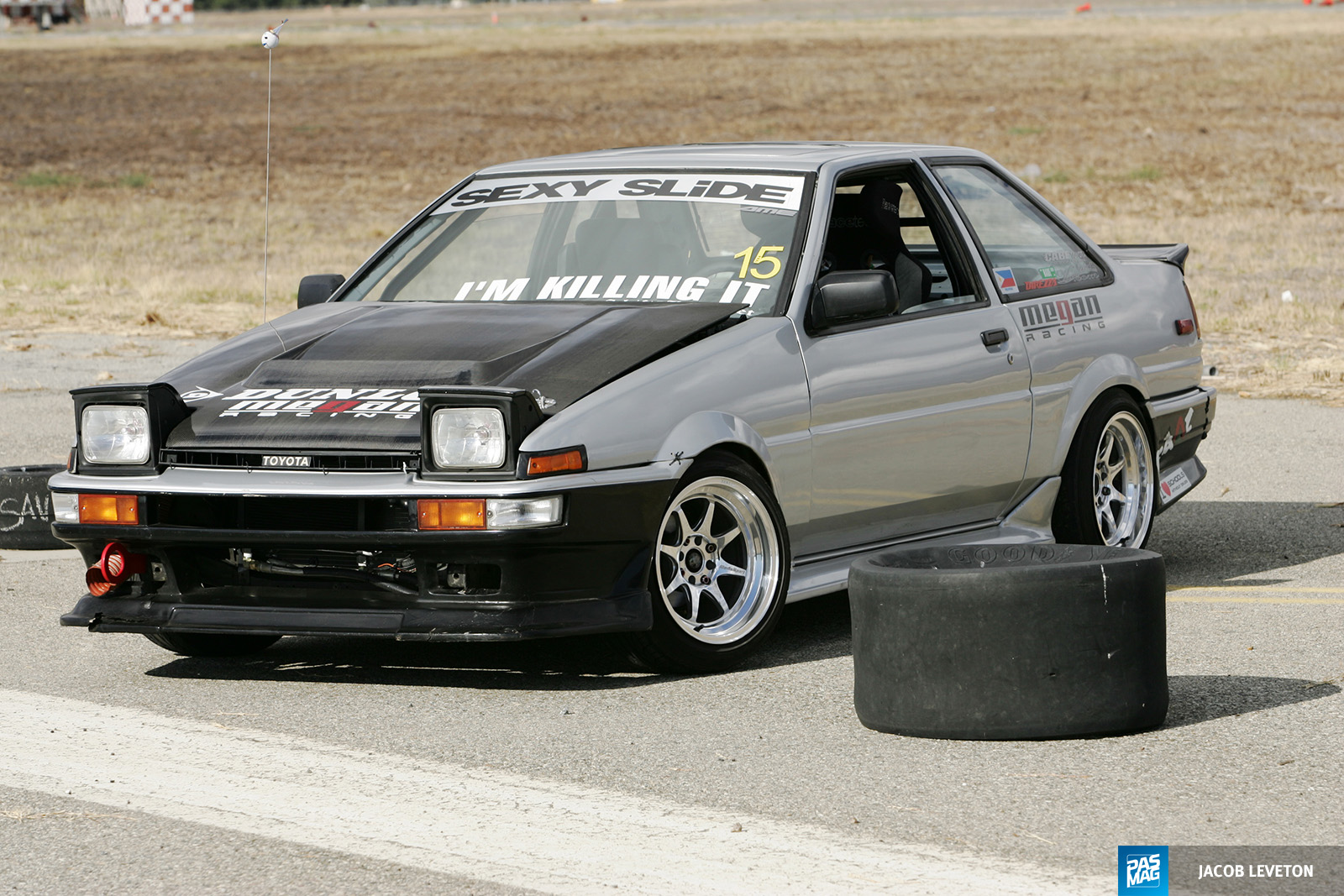 The exterior of the Corolla has been kept tried and true to its racing roots, as Martinez opted to go with a Silver Metallic / Black two-tone appearance. To visually inject new life into the AE86, a new front bumper and side skirts from J-Blood adorn the exterior, as does a Vertex rear bumper. A 15-inch combination of Wedsport MA86 wheels and Dunlop Direzza rubber keep this lightweight racer drifting in the right direction.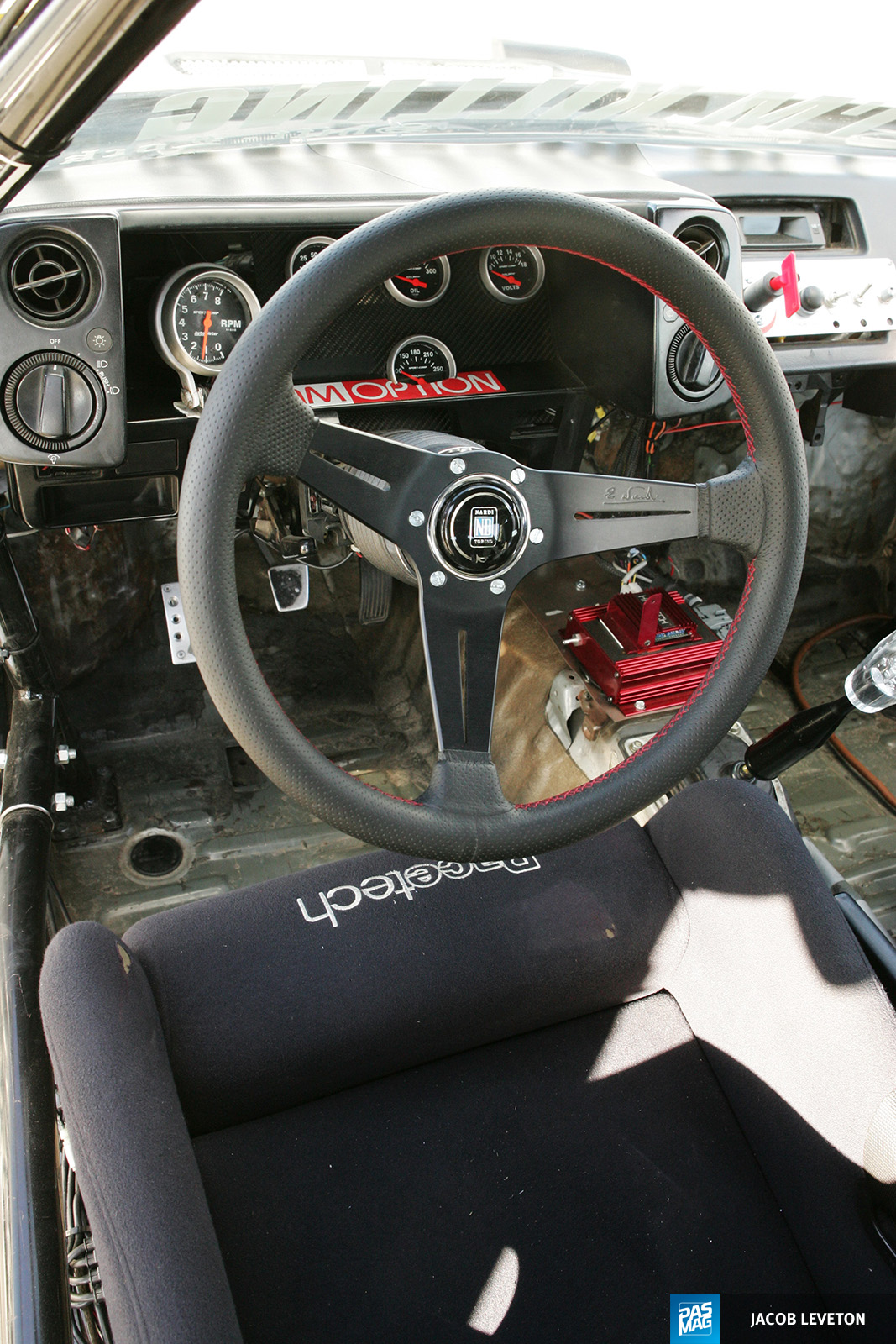 Inside the coupe's cabin is strictly business, as an Auto Power six-point roll cage, Racetech bucket seat (driver) and Sparco five-point harness are evidence that this hachi isn't meant to cruise on the street. Martinez's hands are kept busy via an HCI deep-dish steering wheel that's mounted on an NRG quick-release hub. Auto Meter gauges help the driver keep tabs on the 4AGE's vitals including oil pressure, oil temperature, air/fuel and water temperature.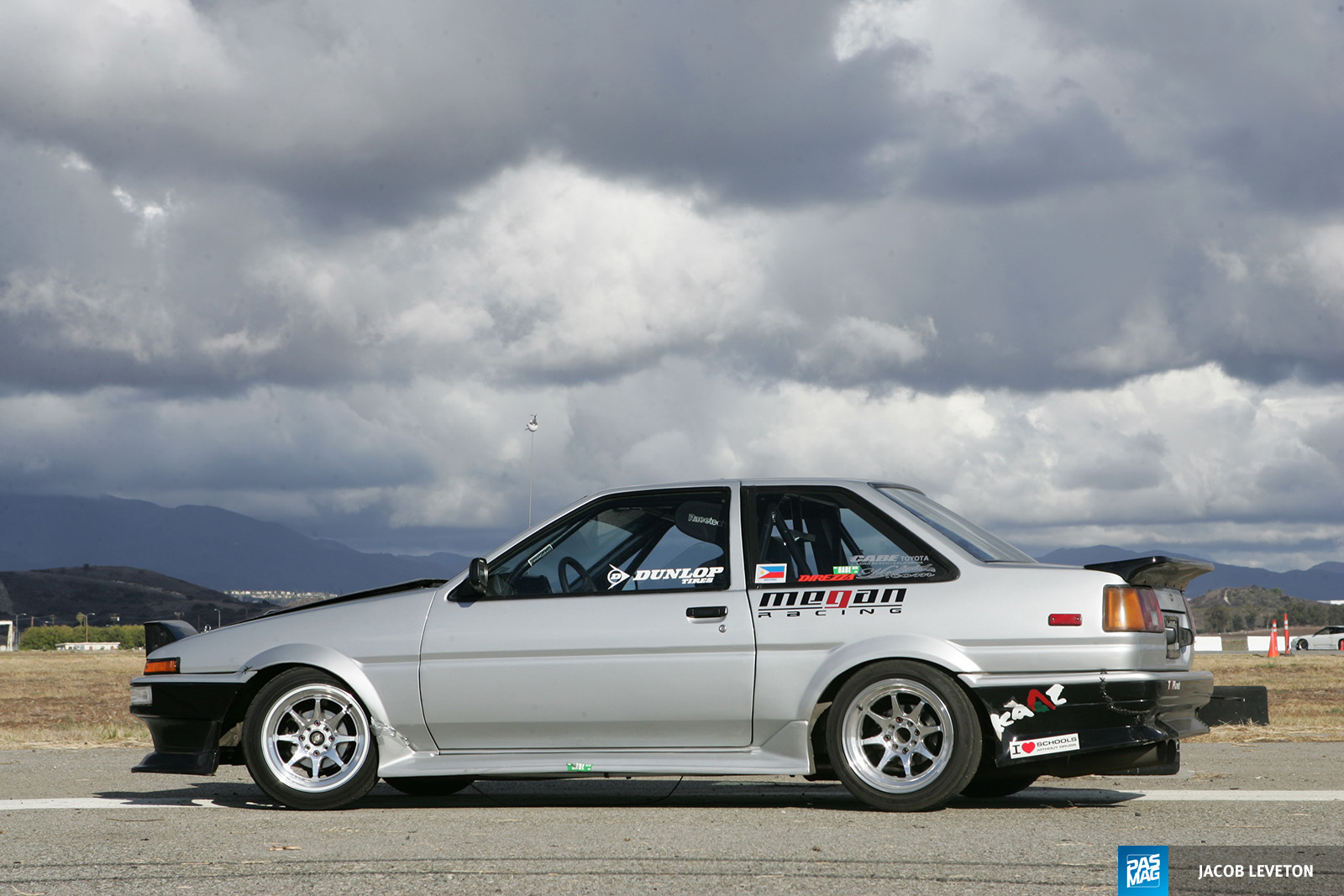 Known to appear on the Forumla D circuit and local drifting events, Martinez's drifting resume is getting stronger with every passing week. The Murrieta, CA native is quick to thank everyone that's been involved in the project, including Modiride USA, Dunlop Tires, Megan Racing, Battle Version, Sinful Enhancements, Shift-lock.net, Cipher Garage, Cartricks, Drift Buffet, Team Hinga, Cabe Toyota and Tqpi.net. So you yuppies can keep your vacation on the beach, HD LCDs and investment opportunities, if I got $3,000 in my pocket, I'm getting sideways in a Hachi Roku.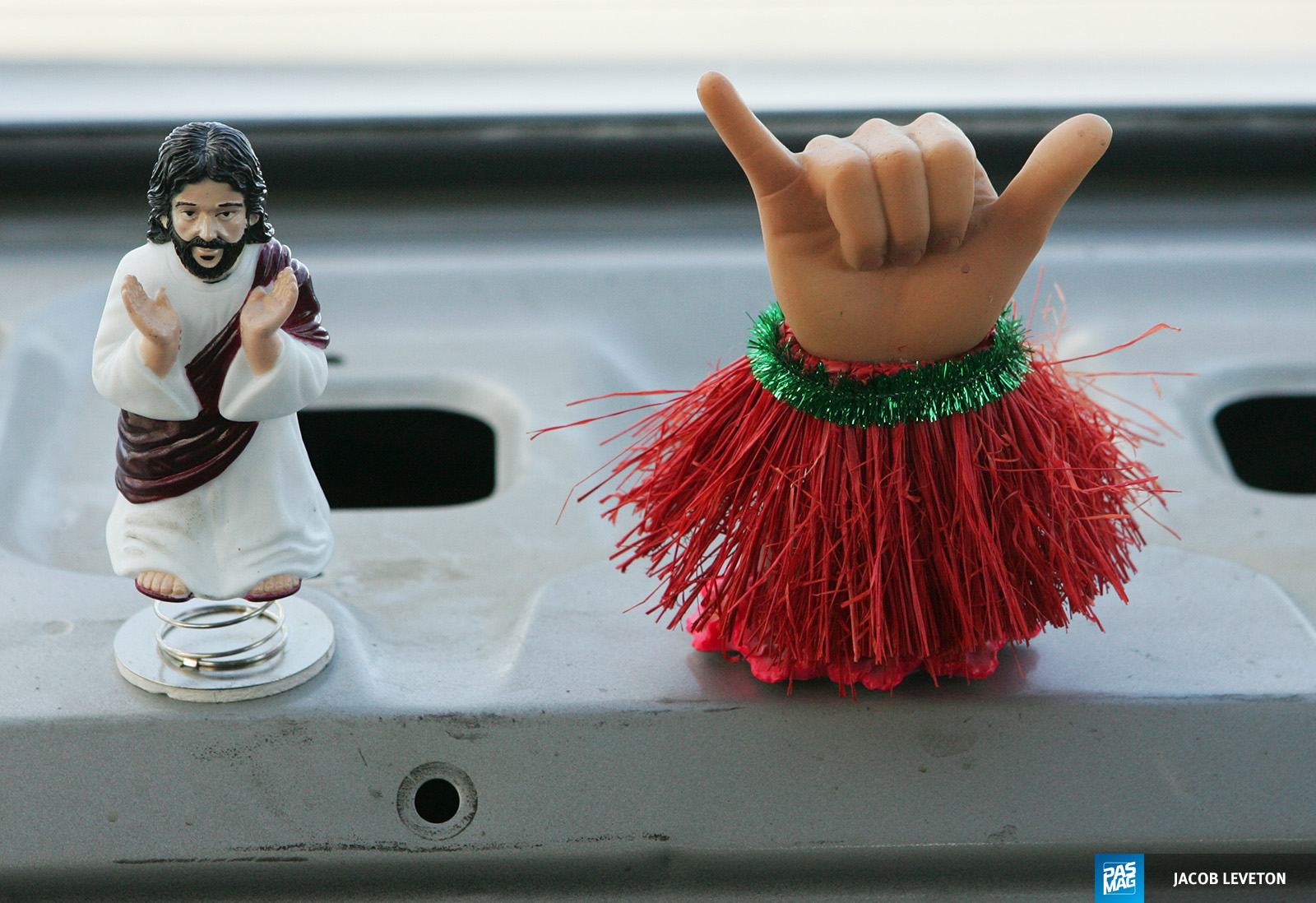 ESSENTIALS
Owner: Cyrus Martinez
Vehicle: 1986 Toyota Corolla GT-S
Location: Murrieta, CA
ENGINE & PERFORMANCE
Toyota AE111 – 4AGE 20V Black Top
NGK Platinum Spark Plug
Yamaha Individual Throttle Bodies w/ PASS RACING stacks
TRD 0.8mm Head gasket
Dan's Toy High Rise Exhaust Manifold
Megan Racing Motor Mounts and Transmission Mount
C&R Radiator
Custom double electric cooling fan
TRD Timing belt
GReddy DD Cat-Back Exhaust
GReddy Oil Filter Relocation kit
GReddy Oil Catch Can
GReddy Radiator Breather Tank
Megan Racing Fuel regulator
ARP front pulley bolt
ARP Head Bolts
MSD Custom Ignition Wires
LS1 coil packs
PERFORMANCE ELECTRONICS
E6X Haltech ECU
Auto Meter RPM Gauge
Auto Meter Oil Pressure Gauge
Auto Meter Oil Temperature Gauge
Auto Meter Volt Gauge
Auto Meter A/F Gauge
Auto Meter Water Temp Gauge
DRIVELINE
KaaZ 2 way Limited Slip Differential
ORC Hyper Single disc clutch
ORC Flywheel
ARP Flywheel Bolts
TRD 4.778 Final Drive
EXTERIOR
J-blood front bumper
J-Blood sides skirt
Vertex rear bumper
Silver Metallic / Black two-tone
Modiride USA graphics
Under Light neon kit
WHEELS & TIRES
Wedsport MA86 wheels - 15x8.5 (f/r)
Dunlop Direzza 101 tires
SUSPENSION
Megan Racing Track Spec. Coilovers
Battle Version NRCA
Battle Version Tension Rod
Battle Version 4 link
Battle Version Traction Bracket
Battle Version Lateral Rod
Battle Version Stage 2 Steering Rack Adapter
Megan Racing Camber Plates
Cusco Front Tie Bar
Cusco Rear Tri Bar
Cusco Radius Bar
25mm Wheel Spacers Front/Rear
Goodyear Steel Braided Brake Lines
Largus Front and rear Sway bars
T3 Tow bar
INTERIOR
Auto Power six-point roll cage with dual door bars
Racetech bucket seat
Sparco 5 point harness
GReddy shift knob
HCI deep dish steering wheel
NRG quick release
Power Kill Switch
PHOTO GALLERY