It is no mystery that Scion's genius marketing scheme targets the younger enthusiast generation. They continuously persuade tuners to let their personalities dictate the art of modification and design. Scion has always demonstrated individual expression, encouraging anyone with an imagination and creative will to transform their base vehicles from regular daily drivers into show stopping, performance oriented beasts. That is exactly what Pennsylvania native Shawn Baker decided to do during the custom build of his new 2011 Scion TC.
As a competitor in, and eventual winner of the "Scion tC Tuner Challenge" Baker was faced with very tight time constraints, along with some pretty intense competition. But he ultimately proved his "ALPHA" title, 12 weeks later, during the unveiling of his masterpiece at SEMA in Las Vegas, NV. Baker demonstrated extreme attention to detail, executed flawlessly right down to the last element.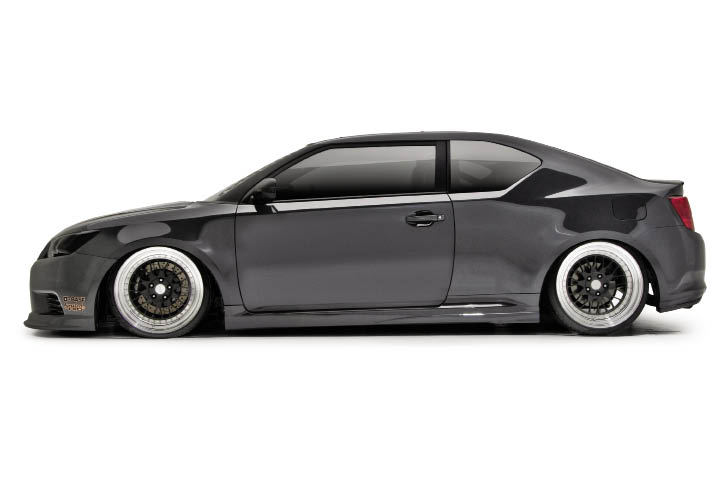 From the outside this aggressive looking tC displays clean body lines laced with a RS2 lip kit customized for tC fitment. This Scion proudly displays smoked headlights, a custom rear duck-bill spoiler and all-red tails. The bodywork is complimented with "BASF RMNimbus Onyx Pearl" paint, coupled with subtle matte black badges, mirrors and A-pillars to give the car a sinister appearance. This unique paint scheme allows enthusiasts to not only appreciate the exterior, but it also hints at what tweaks to the engine, suspension and interior might accompany this imm aculate creation.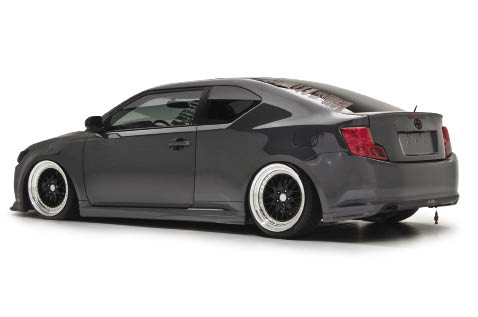 The stance of this machine is definitely worth a second look. Laid out on AirLift suspension, Baker's Scion tC sits on 19x8.5-inch front & 19x9.5-inch rear Rotiform 3-peice forged SJC rims, conveniently wrapped in Falken FK452 tires. This showpiece pays its dues with a flush look, making even the most traditional tuner impressed with the workmanship. In addition to the fitment, sheer stopping power is provided by custom-fit Wilwood 4-piston calipers, 14-inch drilled & slotted rotors with stainless steel braided brake lines.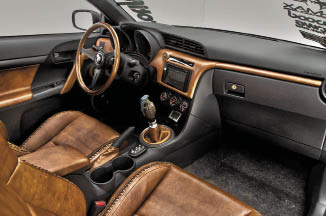 Glancing inside this tC only gets better. The need to create something out of this world and gain full attention from SEMA onlookers (and judges) was obtained through contrast and texture. Cognac Sedonna leather seating was finished nicely with "baseball glove style" stitching. And although this look is striking enough in detail, the interior would have looked incomplete without a matching headliner, door panels, bezel and shift boot topped with a dummy hand grenade in the place of a shift knob. The custom roll cage painted to match the exterior allows fully functional rear seating, which is typically rare move in show vehicles with cages.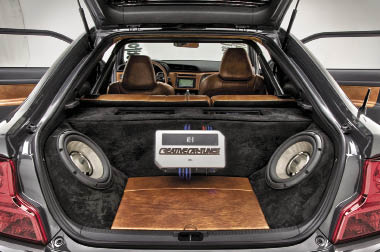 When given the chance to speak directly with Baker about the color scheme and why it was chosen, he said, "I really wanted to use a finish that I haven't seen a lot of other people use. Chrome and polished finishes are cool but everyone uses them. Plus, being a graphic designer, I knew the interior would complement the grey and matte black really well."
The recrafted instrument panel is decorated with Stewart Warner gauges to relay the vitals. The stock audio system was replaced with a Pioneer head unit and JBL MS-8 digital processor to modulate the signals. Baker selected Infinity components, subwoofers and amplifiers for the build. This set-up provides excellent sound quality without a complete loss of trunk space.
A smooth matte black engine bay encases a potent 2.4L engine ready to throw down. The motor is built to pump out more than double the stock horsepower, with a solid 333whp and 303lb-ft torque at only 8psi. The valve cover, coolant reservoir and piping are accented with translucent copper powder coating, providing a complete colour match to the interior upholstery. A custom built 55mm turbo setup includes; Descendant racing manifold, downpipe and aluminum intercooler tubing, a TiAL MV-S wastegate, Bosch VAG bypass valve and an S-Max Intercooler, coolant reservoir & oil catch can.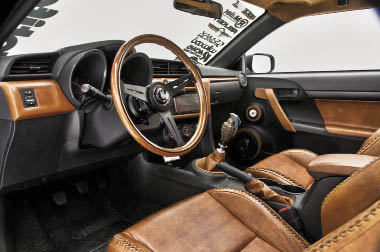 When Shawn was asked to comment on the competition and the opportunity to participate in this challenge he stated, "Being asked to be a part of the Tuner Challenge program was a great honour for me. I wanted to create a car that Scion would be proud of, one that enthusiasts could see themselves owning and more importantly driving. I didn't expect to win the contest. In fact, I tried not to think of the competition aspect during the process at all. I just built the car according to the mission. When they announced my name as the winner it was extremely exciting and I'm very grateful that I had this opportunity."
Scion may promote itself as being "United by Individuality" but Baker Baker's custom tC stood out from the rest based on innovation and a quality driven design. The end product resulted in a modest yet, elegant representation of Scion's aftermarket culture. This was a well-deserved accomplishment for Baker and we're glad to feature it.